"It was a more favourable result for us than for Norwich as they were the home side. It was two teams that worked hard and restricted the opposition. For us it was important to get a clean sheet. I had the luxury of putting some senior players on the pitch and the result showed that.
"That was a key game. We have Reading at home and Aston Villa away coming up so it is an important time for us.

It is pretty obvious that we need another striker. We didn't really have the chance to mix it up or an option so we had to stick to the game plan that we had at the start of the game. Norwich could bring on Grant Holt to change the game plan a bit but we don't have that luxury. So we need to recruit in the next couple of weeks.
"With the two games we have next we have a chance to gain some momentum. It was a really important day today. Then we have Chelsea at home (after Reading at home and Villa away).
"If we have our best players available then we will give them a good game. Getting (Yohan) Cabaye back was a massive lift for us. He had 20 minutes today and he will start next week.
'He (Coloccini) was excellent today. Of the four centre -halves on the pitch he was the most assured. He gave us that calmness in the heat of battle and you need that. We will speak to him this week and we will resolve that situation.
"We are pursuing three or four players and they all seem to be warming up a bit. We need a bigger pool of players, but coming here today was always going to be difficult. Norwich are very efficient at set-plays and crosses, but we defended really well as a team.

"The work we did on the back four this week was evident. We were a lot tighter as a team. You could say it was a bore draw but it was definitely a step forward for us.

"I think coming here is a difficult place. Norwich are an efficient side at set plays and crosses into the box but I felt we defended really well. You could see the work we did on the back four this week was evident. We looked tighter as a team and that is very important going forward for us.Ē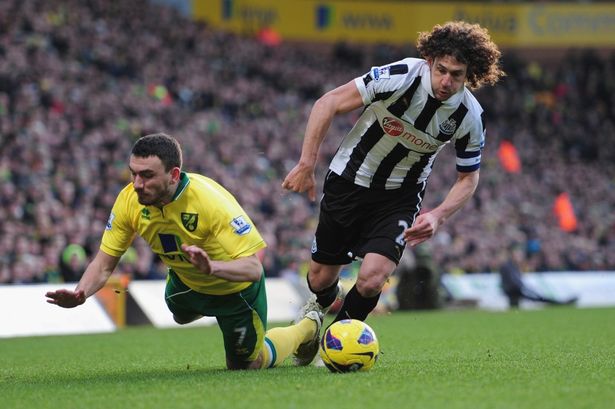 Newcastle produced one of their poorest Premier League performances of the season but thankfully it was more than matched by their below-par hosts, as both sides drew a blank at Carrow Road.

Avoiding another defeat and securing a first away clean sheet of the season were the main positives to take from th