Date: Saturday 19th January 2013, 3pm

Venue: St. James' Park

Conditions: mournful






Newcastle United

Reading

1 - 2


Teams
35 mins a rare forward movement at pace ended with Sylvain Marveaux being chopped down just outside the Gallowgate End box, Yohan Cabaye stepping up to strike a perfect free-kick into the top corner of the goal. 1-0

Half time: Magpies 1 Royals 0

71 mins Reading broke down the right through Jimmy Kebe, who took advantage of the space afforded him by Davide Santon to sling a low ball across the six yard box. Only Mike Williamson will know what he was trying to do, but the ball missed him and hit substitute Adam Le Fondre before ending up in the net via a deflection off his chest.

There was a hint of fortune about the goal but closer inspection of replays saw no possible handball call though - unlike Demba Ba's dubious effort in the corresponding fixture in Berkshire. 1-1

77 mins A left wing cross beyond the far post wasn't dealt with properly and fell to Le Fondre via a miskick. He almost casually tucked it past Tim Krul's left hand from 15 yards 1-2

Full time: Magpies 1 Royals 2

Alan Pardew said:

"It was a painful day for Newcastle. First half we could not have played better, you could see the extra quality. At that point you'd like to think we'd get away from them, but second half we could not get a grip of the game and, as well as we defended, we gave away two sloppy goals.
"When you're down the bottom things go against you and we lost our way a bit. It was a tough day for us today, we felt we were in a really good place to win today and we couldn't and that is a worry.
"We had to take Cabaye off because of an injury, that brought negative reaction from the crowd and that spread around.
"We need some impetus in terms of signings. It needs a little boost, to get everyone to get their heads up. We have lost Demba Ba and Cheik Tiote. We have got Cabaye back, but he is just on the first stage of his comeback. We needed him towards the end of the game.
"He said he was struggling with his groin. I did not want to take him off, but when a top player tells you he's injured you listen to him."
About Coloccini:
"That is something we will sort out this week and hopefully we will in a positive way."


Brian McDermott commented:

"It's a fantastic win, I don't know if we'll get the coach back or fly now (Reading's flight to Newcastle fell victim to the weather on Friday and they drove to Tyneside instead) - but to be honest I don't care, I'll walk home! But I have to say we have such great support - I was really surprised so many of our fans managed to get up here.
'We know we've got resilience. I personally have learned, our staff have learned, the players have learned - you have to try and manage games at this level. You have to stay in games in this division and we did that at 1-0. All the players are happy. We've got a really good spirit within our club....everyone wants to play.

"It was a tough game, they got the goal - but I just felt we were in the game, came out second-half, made a couple of changes and the boy who came on did really well, It was an important win. To win last week and today that gives us momentum and I have absolute belief in these players as I always have.
"Adam (Le Fondre) wants to play, everyone does - it is all about the group and he understands that, and he knows he is doing what he needs to and I am so proud of the lads. He (Federici) made a couple of really good saves and when you come to somewhere like Newcastle you need your goalkeeper to play well."

If the half time scoreline in our Premier League games this season had been replicated at full time, we'd be sitting on 29 points, not 21. In five of our last six league outings we've either been leading or drawing at half time, but gone on to lose the match.

Yohan Cabaye scored his third goal of the season, but again failed to finish on the winning side (his other two came in 1-1 draws at the mackems and Liverpool).

Royals in Toon:

2012/13 lost 1-2 Cabaye
2009/10 won 3-0 Sh.Ameobi 3
2007/08 won 3-0 Martins, Owen, Viduka
2006/07 won 3-2 Sibierski, Martins, Emre
1989/90 won 4-1 McGhee 2, Quinn, Robinson (FAC)
1989/90 won 4-0 Brazil, Brock, Thorn, McGhee (LC)
1968/69 won 4-0 Craig, Dyson, Robson, Scott (FAC)
1899/00 won 2-1 Stevenson, Rogers (FAC)

Seasonal comparison - NUFC last five PL seasons after 23 games:

2007/08: 27 points, 12th (scored 27, conceded 39) (Allardyce)
2008/09: 23 points, 16th (scored 29, conceded 39) (Keegan/Hughton/Kinnear/Hughton)
2010/11: 30 points, 7th (scored 36, conceded 31) (Hughton/Pardew)
2011/12: 39 points, 5th (scored 34, conceded 30) (Pardew)
2012/13: 21 points, 16th (scored 28, conceded 41) (Pardew)

In terms of home games, then the stats with the current campaign vs the relegation one are:

2008/09: 22 points from 19 matches (5 wins, 7 draws, 7 defeats, 24 goals scored)
2012/13: 16 points from 12 matches (5 wins, 1 draw, 6 defeats, 14 goals scored)

Still to play at SJP: Chelsea, Southampton, Stoke City, Fulham, mackems, Liverpool, Arsenal)

Waffle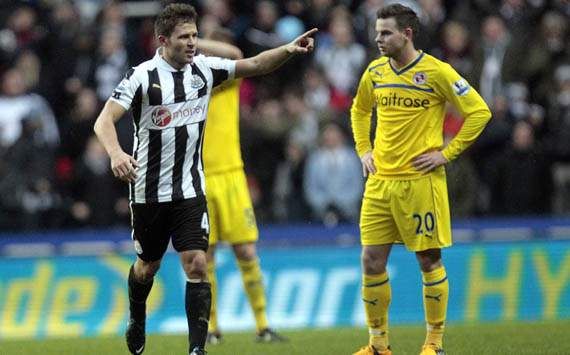 One French national may have made his home debut and another produced a goalscoring return to the home side, but they were both overshadowed by the contribution of a visiting player with a Gallic-sounding surname who actually hails from Stockport.

The SJP DJ aired "I'm A Boy" and "Baba O'Reilly" but could have easily have made it a hat trick of Who tracks by spinning "Substitute" at full time, in tribute to Adam Le Fondre ("Won't Get Fooled Again" with it's "meet the new boss" line may have been appropriate for disgruntled home fans...)

Ex-Stockport, Rochdale and Rotherham forward Le Fondre replaced old boy Danny Guthrie and went on to grab his ninth and tenth Premier League goals of the season - compare that to the four that our sole striking threat Papiss Cisse has managed, only three of which he actually knew about.

The two goals in eight minutes from his first two touches of the ball - one via his breast plate and the other from his foot - were enough to push Alan Pardew and his side further into the merde, as yet another lead was squandered and another opportunity to take points from fellow strugglers was spurned. It need hardly be said that we gifted points to yet another of Pardew's old sides.

In fairness though, there was little mystery about what Reading achieved, having done exactly the same the previous Saturday when sending Le Fondre on to help turn a 0-2 deficit at home to West Brom into an eventual 3-2 victory. Presumably that was witnessed and noted - assuming that our penny-pinching hasn't extended to no longer sending someone to actually watch the opposition.

Featuring the thoroughly rotten Adrian Mariappa in the heart of a creaky defence (one previous Toon transfer target we're more than pleased to have missed out on), Reading were comfortably the weakest side to have visited Gallowgate domestically this season in the opening 45 minutes.

With the visitors conceding ground far too easily, Newcastle could hardly do anything but press on and a trio of chances came to Cisse only to be wasted, two of them gilt-edged opportunities when he blasted the ball straight at 'keeper Adam Federici.

Mercifully though, the breakthrough came through when a rare forward movement at pace ended with Sylvain Marveaux being chopped down just outside the Gallowgate End box, Yohan Cabaye stepping up to strike a perfect free-kick into the top corner of the goal.
The relief was tangible and it should have provided the platform for a convincing victory but after the break things began to unravel once again, as we seldom looked like adding to our tally and got steadily sloppier and more aimless. We remain incapable of playing well in adjoining halves.

In time to come, we may look back on this match as something of a watershed moment in the SJP career of the manager, who received - and acknowledged - strong support from the crowd in the first hour of the game. However, reserves of patience with him and his failing side began to run out when they were still 1-0 ahead when Marveaux was replaced by James Perch - an apparent admission that after showing no signs of grabbing a second goal, we were shutting up shop.
Inevitably, that brought the first boos; a general frustration at our negativity/complacency, in the face of what was by then a genuine Royals revival. Cabaye's departure was more understandable given his recent injury layoff (and later confirmation that he was struggling) but prompted more booing and a chorus of "you don't know what you're doing."

Quite why Marveaux was sacrificed first though is less clear, as is why Jonas Gutierrez was left on the field to demonstrate to all and sundry his total lack of attacking effectiveness. Whether the ongoing saga of his fellow countryman is affecting him is unclear, but he's now regressed from below par through mediocre to diabolical. Still, he walked off happy enough at full time having swapped shirts with an opponent - I'd have cheerfully throttled him with the damn thing.
Gabriel Obertan was then thrown on with ten minutes remaining but it was Cisse again who blew a seemingly unmissable chance that fell to him just six yards out, his effort somehow managing to clear the bar by a mile. He'll play on though, because he is our nominated striker - the master plan that ignores the vagaries of form, fitness, confidence and international call-ups.
The manager's post-match comments seemed to suggest that the withdrawal of Cabaye was the source of the discontent, but the waiting figure of Gael Bigirimana was hardly cause for optimism that we'd look for a winner. And seeing their chances of what would have been only a third win in fourteen Premier League games evaporating before their eyes when Reading scored again, many left their seats while those who remained booed the side off at full time.
While hardly helpful, that's a completely understandable reaction to what was presented to them in return for their time, money and perseverance in making it here in the first place - telling fans who travelled from far and wide despite the conditions to witness this tripe to keep their opinions to themselves is a very dangerous policy. Presumably he'd prefer a mood of quiet desperation.
Quite what the owner made of it all from his seat in the Directors Box remains to be seen (although he reportedly left at 1-0), but whatever brave face Pardew puts on it, the team lost another "must win" game and as a result, must increasingly rely on the failings of relegation rivals - none of whom share our current dreadful form. Yes we have momentum, but it's in the wrong direction.
If history is to repeat itself, defeat at the hands of Reading and the consequent reaction of Toon fans proved to be the point of no return for Sam Allardyce here, when his negatively-minded side were deservedly beaten 1-2 at the Madejski in October 2007 - although he limped on for another dozen games after that.

There seems to be a certain amount of fatigue with the public comments of the manager and putting aside the anger generated among a thoroughly hacked off fanbase by being blamed for spreading "negative vibes" (something backed up by the glass house-dwelling Nile Ranger on Twitter later that night), the inconsistent messages from Pardew point at someone beginning to unravel.

Lamenting that things don't go your way when you're down at the bottom of the league does of course conveniently ignore the fact that our opponents lay beneath us. And similarly, his selection of Steven Taylor and Ranger on the bench was odd, given that he later confirmed the former wasn't fit enough to play and then bemoaned the lack of a substitute forward to turn the game round. Picking just five subs may have been a more obvious ploy to try and get his "help wanted" message over....

The comments of "You don't know what you're doing" though could just has easily have been addressed to those sitting a few rows behind him as to the manager, as we once again shamble through another transfer window with a strategy more and more akin to the McKeag era.

Only a clown or a criminal would pay Loic Remy's ransom/wages, but surely there's a middle ground of moderately talented assets with something to contribute in the way of leadership and experience, not random teenagers from the continent who may be worth a few extra euro in years to come?

For the sake of recording the fact (again), replacing departed players isn't enough - that ignores the numerical issues and the fact that many of our first-choice lot just aren't good enough. Coloccini leaves and is replaced, but the two options to partner the new man are either incapable of retaining fitness over a season or not fit for purpose. You're no better off in here and now.

The proximity to our last self-inflicted demotion means that Newcastle supporters are collectively apprehensive when similar circumstances present themselves, as happened on Saturday. And who can blame them, as they see the same ham-fisted responses on and off the field as in 2009?


Biffa