In association
with NUFC.com



Date: Tuesday 29th January 2013, 7.45pm

Venue: Villa Park

Conditions: damp and tense

Admission: £39 (£43 in 2011/12)

Programme: £3

Aston Villa

Newcastle United

1 - 2

Teams
19 mins Debutant Moussa Sissoko slotted an inch-perfect ball for Papiss Cisse to run onto and tuck under Brad Guzan at the Holte End. Hopefully the letting off of a green smoke bomb by one toon fan at this point isn't the start of our lot following this stupid trend.

Bizarrely this meant Villa fans stood and applauded as our opener coincided with their tribute to Stiliyan Petrov but the away contingent continued their celebrations long after the home fans had sat back down again. Incidentally, if Villa fans stand and applaud from 19:00 through to 19:59, doesn't that mean they are making the gesture to their no.19 in the 20th minute...? 1-0

31 mins Jonas Gutierrez floated a cross into the box from the United right and when the ball was only half-cleared by Ron Vlaar, it fell perfectly for Yohan Cabaye to hit an unstoppable effort into the top corner of the from outside the box - a goal from the moment it flew off his right boot. 2-0

Half time: Villans 0 Magpies 2

49 mins Paul Lambert introduced Gabby Agbonlahor and Andreas Weimann for the second half and immediately they had an impact, when Agbonlahor tumbled in the box after outpacing Debuchy, who made a failed attempt to wrap his foot around the ball and instead caught the man - a soft but correct decision. Christian Benteke sent Krul the wrong way from the spot. 2-1

Full time: Villans 1 Magpies 2


Alan Pardew

said:

"When you are looking for players and trying to find the secret ingredient for your team, it's not always easy for players to come and fit in as they did in the first half.

"I was a little bit surprised myself (by Sissoko) if I'm honest. I don't think we would have won that game if we hadn't signed Sissoko. That is how important that signing was. He did really well to get that deal over the line in time.

"I thought he was magnificent and will be a superb player for us. We were superb in the first half, as good as we have been all year, and he played a big part in that.

"I envisage him playing in a role where he can use his energy and power. I don't want to compare him to anybody but he can play all three roles in that midfield.

"It was the kind of performance that if someone said to me 'what would be the perfect night?', it would to be fluent, play really good football, and then show another side - battling qualities and a spirit.

"We showed both sides of what you need to win a Premier League game - and then some. Villa absolutely bombarded us for 15 minutes before the end. We had to stand those bombs coming in.

"We have worked really hard on integrating the new players into things. They are not here to save us, they are here to help us. That was my message to the established players.

"We had a nice evening in the hotel with them (the new signings) last night and a really good team meeting. There was a good feeling about them and a bit of a laugh with the French translations.

"I think it was obvious when Demba Ba went (we needed to buy) but the new players coming in have given us the lift we needed.

"We were superb in the first half and we played as well as we have played all year. They got an early goal and then we had to show another side as we showed real fight.

"It was lovely to see us play the football Newcastle fans want to see us play. It's been a real struggle for us so far but we've got 14 big games left.

"It was a terrific day for us because we were under a lot of pressure to win at Villa."

On Marveaux:

"He was meant to play, if I'm honest, but he got injured. It's a real blow for him, and it looks like two or three weeks, which is a real shame.

"He would have enjoyed that. I feel for Sylvain, a little bit. He's hurt the bone that runs across his foot."


Paul Lambert garbled in his best Gorbals:

"We paid the price for starting too slowly. We just never got going in the first half. The second half, that's the way to play football. The first goal was really disappointing; the second goal, you sometimes can't stop them - it was a terrific strike - and then you are facing an uphill battle.

"But I couldn't fault them for the way they played in the second half. It is the first time I've seen a standing ovation when you've been beaten, especially at home.

"I just said to the players 'you can't play like that in the first half and turn that performance in during the second half'.

"It is sometimes easier to play when you are 2-0 down because no-one expects anything then. You've got to start like that - and we never started."


Newcastle's eighteen game winless run away from home in all competitions was ended by this result, our first victory on the road since the memorable 2-0 success at Chelsea in May 2012.

That's our worst start away from home ever. From United's debut league season of 1893/94 onwards, they've never taken as long to register a first victory win in any competition. This season had seen us recently break that of the 1967/68 campaign, when a first away win occurred on January 20th.

In terms of league matches only, the boys of 2012/13 have managed to do better than their counterparts in 1895/96, when they failed to win on the road until February 22nd.

In terms of a winless away run in the Premier League era, the twelve match sequence that was ended by this victory is eclipsed by the sixteen PL games endured between victory at Fulham in October 2003 and a three point haul at Southampton in September 2004.

Alan Pardew gave debuts to Moussa Sissoko, Yoan Gouffran and Mapou Yanga-Mbiwa, bringing the number of players to have represented us in the Premier League to 178.

Here's how that total breaks down by

actual country of birth (meaning for example that Hackney -born Shaka Hislop is one of the 72 English players despite representing Trinidad & Tobago).



71 England
22 France
8 Scotland
6 Ireland
4 Argentina, Northern Ireland, Netherlands, Senegal, Spain, Wales
3 Nigeria, USA
2 Australia, Brazil, Cameroon, Czech Republic, Denmark, DR Congo, Germany, Greece, Georgia, Italy
1 Angola, Belgium, Burundi, Canada, Central African Republic, Chile, Colombia, Croatia, Cyprus, Ivory Coast, Jamaica, Kosovo, Norway, Paraguay, Peru, Portugal, Slovenia, South Africa, Sweden, Switzerland, Turkey, Uruguay

Toon @ Villa Park - Premier League:

2012/13 won 2-1 Cisse, Cabaye
2011/12 drew 1-1 Best
2010/11 lost 0-1
2008/09 lost 0-1
2007/08 lost 1-4 Owen
2006/07 lost 0-2
2005/06 won 2-1 Ameobi, N'Zogbia
2004/05 lost 2-4 Kluivert, O'Brien
2003/04 drew 0-0
2002/03 won 1-0 Shearer
2001/02 drew 1-1 Shearer
2000/01 drew 1-1 Solano
2000/01 lost 1-0 (FAC)
1999/00 won 1-0 Ferguson
1998/99 lost 0-1
1997/98 won 1-0 Batty
1996/97 drew 2-2 Shearer, Clark
1995/96 drew 1-1 Ferdinand
1994/95 won 2-0 Lee, Cole
1993/94 won 2-0 Allen (pen), Cole

Full record against Villa:

P

W

D

L

F

A

SJP

74

46

14

14

159

89

VP

74

19

18

37

78

135

League

148

65

32

51

237

224

SJP

(FA)

2

1

1

0

5

3

PB/VP/W/CP

5

1

0

4

3

15

SJP(LC)
0
0
0
0
0
0

VP
0
0
0
0
0
0

Cup

7

2

1

4

8

18

Tot

155

67

33

55

245

242
This was our 67th league and cup victory against the Villans which is second only to the 70 victories over Manchester City and one more than the 66 against Arsenal. However, it has come in just 155 games, rather than the 166 against City and 171 games versus Arsenal.

The 245 goals scored are also just a shade behind the 248 scored against Manchester City and three more than 242 netted past Everton.

Waffle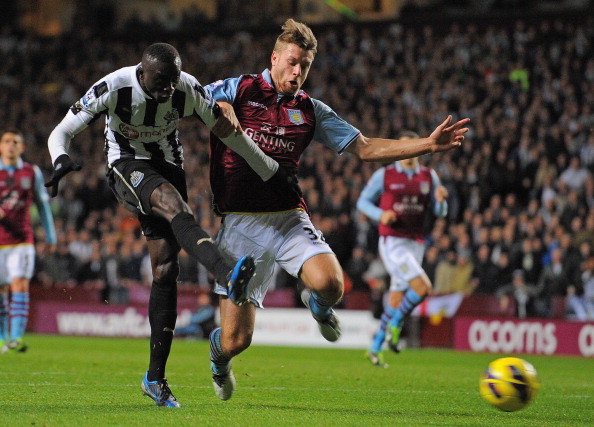 Alan Pardew was able to celebrate victory in his 100th game in charge of United, as his team won a game both managers had billed beforehand as a "Cup Final."

That cliché was as painful as it was predictable, but nevertheless this game had much riding on it and pre-match almost had the feel of a derby - the events of May 2009 on this ground making this a grudge match in the eyes of many black and white followers.

United's first away success of the season was ultimately secured by Yohan Cabaye's stunning strike, but only after an unbelievably nervous second half that will probably live as long in the memory as that fateful day here when we bade a (thankfully) temporary farewell to the top flight.

There were four changes from the team beaten at home by Reading, with Steven Taylor returning after a ten league game absence. He partnered Fabricio Coloccini after his recent well-publicised travails while James Perch was preferred to Vurnon Anita in midfield.

Both Sylvain Marveaux and Gabriel Obertan were omitted from the squad due to fitness issues, but our French contingent were in full effect nonetheless, with messrs Cabaye and Debuchy joined on the field by debutant duo Yoan Gouffran and Moussa Sissoko.

They both acquitted themselves well, with the latter a crucial presence in midfield and setting up our opener in a first half couldn't have gone much better for the Magpies. On the front foot right from the off, Villa were second best and looked every inch a side knocked out of two domestic cup competitions by lower league opposition in the previous week.

Ex-mackem Darren Bent was so anonymous that his presence hardly registered with Newcastle fans, while the sole moment of discomfort came when our former Frenchman Charles N'Zogbia thumped an effort that flew back off Tim Krul's post.

A slick exchange of passes gave lone striker Papiss Cisse a chance that he gratefully gobbled up and then Cabaye's heat-seeker deservedly doubled our advantage; the same player also close to emulating his dead-ball strike against Reading from a free kick in a similar position.

However, despite Villa's well-known defensive weakness in the air, United's delivery from corners and free-kicks remained poor and over elaborate when Bradford City had amply demonstrated that a simple out-swinging ball could be attacked successfully, in the presence of the Newcastle boss.

N'Zogbia was booked and then tripped Debuchy minutes later and as half time approached Gouffran hit a shot narrowly wide, Mike Dean calling time on a half that we didn't really want to end.

The second 45 however was a different story; Paul Lambert having managed to reshape and inspire his struggling side with a couple of substitutions and a more aggressive approach. That manifested itself in a string of fouls and bookings and greater pressure towards our box, with Krul making a couple of decent stops straight away before picking the ball out of his net after a penalty.

With United again demonstrating their inability to serve up successive 45 minute chunks of good form we were seldom seen as a forward force and began to retreat further and sit deeper - giving Villa every encouragement to dominate, although they creating few genuine opportunities.

Desperate clearances from Coloccini and Taylor followed as attempts to clear our lines got ever more frantic and wasteful, with reinforcements from the bench desperately required. And although our eventual success in this game meant that the nature of our replacements was glossed over, concerns remained - and at the time were the subject of much conjecture, if not booing.

Jonas in particular looked to be running on empty out on the left, but the first change saw the combative James Perch make way for Shola Ameobi, who seemed not to have received the instruction to actually run around....

Now lacking a player prepared to go toe to toe with Villa, the pressure increased and Anita's arrival saw him replace the tiring Gouffran: perhaps a less contentious replacement than the equally fatigued Cabaye, given the negative reaction from the SJP crowd against Reading.

In fairness, Sissoko was by now visibly wilting and our final replacement saw Mapou Yanga-Mbiwa introduced to English football in a central midfield role that did nothing to help him settle For Shola to be by then acting as a makeshift third central defender while Mapou wandered around in midfield in a daze, showed that we were well and truly in panic mode.

Before that replacement, Steven Taylor had actually come over to the bench and told our new no.13 to sit back down again after he was stripped and ready to replace the number 27 - who was by then routinely coming second best to Benteke as his lack of match fitness became more evident.

That was an off-the-cuff, on the pitch decision that could have been calamitous and one that should have been made by those paid to do so. Thankfully it didn't matter, but....

Entering the closing stages, time seemed to stand still as Villa launched wave upon wave of attacks, although many elongated passes into the box were harmless and second balls invariably dropped to a black and white shirt. At this point, our hopes of victory were genuinely in the balance - with both Anita and Ameobi struggling with the pace despite only recently arriving.

A flick of the boot by Jonas on the line and then a vital tackle by makeshift midfielder Yanga-Mbiwa kept Krul's goal intact as captain Colo and his men threw themselves in the way of everything.

Both Debuchy and Cabaye were nursing knocks as the clock inched forward towards the 90 minute mark and then agonisingly through an additional five minutes (although in truth we'd wasted at least that) with Cabaye by now treading water as a static forward.

Somehow though, United held out to secure a first away win of the season. And amid the inevitable relief and euphoria, banishing the memories of that relegation nightmare on this ground and at the same time dropping Villa deeper into the mire was cause for much celebration. The new arrivals certainly gave the side a boost but perhaps it was the decision of our captain to stay and fight, that was the difference between delight and despair, as he inspired his side to success.

Despite the positivity that this result engendered, our second half performance was as shambolic as it was heroic and while our French foreign legion was instrumental in the victory, their contribution could have been catastrophic.

Debuchy's ludicrous challenge on Agbonlahor for the penalty was worryingly unprofessional, given that Pardew's half-time rabble-rousing must have also hammered home the point about keeping things tight for 15 minutes, frustrating the home fans, giving them nothing to build on etc. etc.

It was also admitted by our manager that the "French lads tired" although that was a massive understatement as Gouffran and Sissoko were out on their feet well before their replacement. Both had played their part and "hit the ground running" but it'll be some time before they can run at Premier League pace for 90 minutes - with Dutchman Anita arguably still not there yet.

Pardew's contention that "they are not here to save us, they are here to help us" is crucial and Cabaye, Ben Arfa, Cisse, Obertan and Marveaux need to continue to translate the messages were given out pre-match by Steve Harper, Shola, Taylor and others.

It's the "ancien regime" who need to do the jobs that messrs Owen, Viduka, Martins, Bassong, Duff and Geremi failed so badly to do last time, not the new lads. Anything they contribute is a bonus, with no less a craftsman than Thierry Henry taking the best part of a year to settle in this league.

Quite how we got away with 45(+5) minutes of incredibly sloppy football is inexplicable but doing so probably made it a more memorable and glorious victory. It was scarily similar to the previous defeat at home to Reading but crucially, Villa had no Adam Le Fondre to take advantage.

Crucially, Cabaye's stunner had come in addition to a Cisse strike, unlike the Reading game where it had followed a series of misses from our number nine. We needed that cushion, as our second half display was almost as bad as Villa's in the opening half. Thankfully though they remain a poor side with minimal investment in this window - we should improve over the coming weeks regardless of when Ben Arfa returns as the new lads start to gel, but Villa fans should be very, very worried.

Having been forced to play teams composed of the players available to him for much of this season, Pardew's selections and substitutions will be vital in the coming weeks and as the new signings bed in, their withdrawals will need to be both timely and thoughtful. On this occasion they were neither.

Our exit from the ground was surprisingly similar to the way we departed in the relegation season - bolting for the exits as soon as the final whistle sounded, leaving others to salute the team in rather better circumstances than back in 2009. The perplexity remained at what had been witnessed. but the desire to depart this time as soon as possible was based on very different emotions.

This time we'd got away with it.


Niall Mackenzie