Date: Saturday 2nd February 2013, 3pm

Venue: St. James' Park

Conditions: mental/monumental





Newcastle United

Chelsea

3 - 2


Teams
41 mins Progressing down the United left, Davide Santon checked inside and sent over a flat cross that Jonas Gutierrez converted with a glancing header beyond Cech - a momentary lull as the ball looked to be heading wide giving way to an ear-piercing roar as it nestled inside the far post.

The goalscorer meanwhile headed towards the celebrating Strawberry Corner, seemingly in the grip of a demonic possession and barking unintelligibly at the moon. He later confirmed that he'd been thanking his dead Grandmother for her divine intervention...1-0

Half time: Newcastle 1 Chelsea 0

55 mins There looked to be little danger when a Chelsea throw level on the left level with our box was funneled back by Mata. However Frank Lampard picked up possession and with Yohan Cabaye and Yoan Gouffran both hanging back arrowed home an unstoppable drive 1-1

61 mins Ivanovic found space down the Chelsea right and delivered a low centre. A deflection off Gouffran's boot was enough to divert the ball away from Coloccini in his own area, dropping instead for Torres to lay it into the path of Juan Mata. The Spaniard artfully curled it home 1-2

68 mins A smooth counter attacking move begun by Gutierrez and helped on by Cisse saw Gouffran pelt forward over halfway and bear down on goal. Outpacing Oscar and getting his shot off before Gary Cahill arrived with an attempted block tackle, Cech parried that but succeeded only in teeing up Moussa Sissoko to side-foot home from 12 yards at the Leazes End 2-2

90 mins The move that led to our winner was initiated by Santon in his own half, striding forward to find Cabaye infield and crucially continuing his unmarked run down the touchline. Moussa Sissoko then took Cabaye's short pass and returned the ball to Santon, who by now was towards the left side of the Chelsea box and able to elude the lumbering Ivanovic before feeding it into the path of Sissoko to drill home his second of the game with a low shot from the edge of the area 3-2

Full time: Newcastle 3 Chelsea 2

Alan Pardew said:

"The whole team was magnificent but it would be silly to ignore the fact that Sissoko announced his presence in the game, not just with his technical quality but his power. It's been something that's been missing from the team.

"We accelerated (his signing) because he was going to come in summer and he's paid us back handsomely. I don't need to say anything about him because his performance said it all. We watched him and looked at him for a long time and we'd set our sights on him early, which is a good thing.

"It was undoubtedly the game of the season. I don't think we're going to better that between now and the end. It was a fabulous game. It's a massive win for us today.

"When you're against a top side it's important to put them off their stride and show no fear and put them under pressure and we did that really well in the first half. Perhaps we should have scored earlier, from Papiss, (Cisse) but we got the goal.

"We had an intelligence about us today - you see the injection a lift can give. The injection of players, the injection of a win. Suddenly you look at us and we can climb the league but this was an important victory.

"We are going to cherish it because we have had some really rough days. It was an unbelievable game. Truly, I can't remember seeing a game as good as that.

"We suffered two unbelievable goals against us to find ourselves behind in the game but we weren't to be denied and it was a fantastic end to the game.

"Teams do move on. This team's had Andy Cole and Alan Shearer, blimey it's difficult to move on from players of that sort of quality. Demba (Ba) came and did a great job for us but he's moved on and new stars emerge.

Asked about the atmosphere:

"It was unbelievable - thatís what weíve got. Dembaís going to miss it at Chelsea, trust me. Iíve been at some big clubs where you donít get an atmosphere like that, big, big clubs.

"Even at Manchester United - you can go to three quarters of their home games and you donít get an atmosphere like that. Itís unbelievable when itís like that.

"Itís our duty to get ourselves in that position. We did that. It was a really outstanding performance.Ē
Asked if he had seen a better home debut:

"Not since I have been here. (Papiss) Cisse made an instant impact when he arrived, but our fans, who are an intelligent set of fans - these people love their football here.

"They told me last time that they didn't like me, that my subs were all wrong - and they were probably right - but they know a good player when they see one. He didn't just give us the goals, he gave us a lot more than that.

"I remember seeing him at Toulouse about 14-16 months ago and there are only two players that I have seen that I was desperate to get here. One was Cabaye and one was Sissoko, and we have managed to do that."

On translator Jean-Paul Ndoumin, who ended up celebrating on the field at full time:

"When we ran through points I needed to make (in the team talk) he was really good. I think he's better than me; maybe I should retire. Afterwards he asked: 'Do you want me to do the post-match interviews?' and I said: 'No, that's my job.'

"I did actually ask the French boys if he was taking the piss at times because I saw a couple of them laughing at his translations. I don't know if he's expressing a bit more than what I'm saying but it seems to be working. We like him."


Rafa Benitez commented:

"Win, lose or draw I like to analyse games. It doesnít matter. I always try to do my best and be ready for the next one. I pay ≠attention to every single detail I can. We were winning 2-1 and then allowed them to play counter-attacking football four or five times. We have experienced players but didnít do well.
"I was really pleased with the reaction of the players when we went one down, and the second half ≠performance, but we have to manage it in a better way and show better experience. Demba Ba has broken his nose. We have to wait, but we will see the specialist and he will decide.

"He could not carry on. It was a penalty and it should have been a red card. A penalty and red card, very simple.Ē

Goalkeeper Petr Cech added:
ďI have never heard noise like it in my life when Newcastle scored, this place is unbelievable.Ē
Newcastle registered three goals against Chelsea in a Premier League game for the first time in 29 attempts, since a 3-1 home win over Gianluca Viali's side in May 1998.

Moussa Sissoko became the 106th Newcastle player to score in the Premier League for the club and the first Magpie to net more than once on his home debut since Patrick Kluivert (vs Hapoel Bnei Sakhnin in Sept 2004). The last player to achieve that in the Premier League was Duncan Ferguson (vs Wimbledon in Nov 1998).

Jonas Gutierrez scored his first goal of the season and eleventh for the club in all competitions. In doing so, he ended a 33 match barren run going back to February 2012 (at home to Wolves). This was his first headed effort.

Tim Krul completed a century of senior appearances in a Newcastle shirt, having made 97 starts and three sub appearances in all competitions since a memorable debut at Palermo in a UEFA Cup tie during November 2006.

This was the first time we have come from behind to win a Premier League game since October 2010, when goals from Kevin Nolan and Andy Carroll cancelled out Carlton Cole's opener for West Ham at Upton Park.

A 2-1 victory over Sheffield United in April 2010 was the last occasion that home fans saw a comeback at SJP in a league game, with Peter Lovenkrands and Nolan again replying to a Richard Cresswell effort on the night we secured promotion from the Championship.

And in terms of an SJP comeback in the Premier League, finding ourselves 0-1 down in just three minutes to the smoggies in May 2009 inspired us to a 3-1 victory, with Steven Taylor, Obafemi Martins and Peter Lovenkrands netting to spare OG scorer Habib Beye's blushes.

Steven Taylor ended the game wearing a different shirt after he bled on his original one and was requested to change it. Rather than his usual 27 squad number, the replacement one was nameless and numbered 46.

Blues @ SJP - Premier League era:

2012/13 Won 3-2 Gutierrez, Sissoko 2
2011/12 Lost 0-3
2010/11 Drew 1-1 Carroll
2008/09 Lost 0-2
2007/08 Lost 0-2
2006/07 Drew 0-0
2006/07 Lost 0-1 (LC)
2005/06 Won 1-0 Bramble
2004/05 Won 1-0 Kluivert (FAC)
2004/05 Lost 0-2 (LC)
2004/05 Drew 1-1 og(Geremi)
2003/04 Won 2-1 Ameobi, Shearer
2002/03 Won 2-1 og(Hasselbaink) Bernard
2001/02 Lost 1-2 Shearer
2000/01 Drew 0-0
1999/00 Lost 0-1
1998/99 Lost 0-1
1997/98 Won 3-1 Dabizas, Lee, Speed
1996/97 Won 3-1 Shearer 2, Asprilla
1995/96 Won 2-0 Ferdinand 2
1995/96 Drew 2-2 Albert, Beardsley (FAC) (lost on pens)
1994/95 Won 4-2 Cole 2, Fox, Lee
1993/94 Drew 0-0

Full record v Chelsea:
P
W
D
L
F
A
SJP
68
35
17
16
102
73
SB
68
11
19
38
72
129
League
136
46
36
54
174
202
SJP(FA)
5
1
1
3
5
9
SB
6
2
2
2
7
7
SJP(LC)
2
0
0
2
0
3
SB
3
1
0
2
5
6

Cup

16

4

3

9

17

25

SB(CS)
1
0
0
1
0
3
Tot
152
50
39
63
191
227
Waffle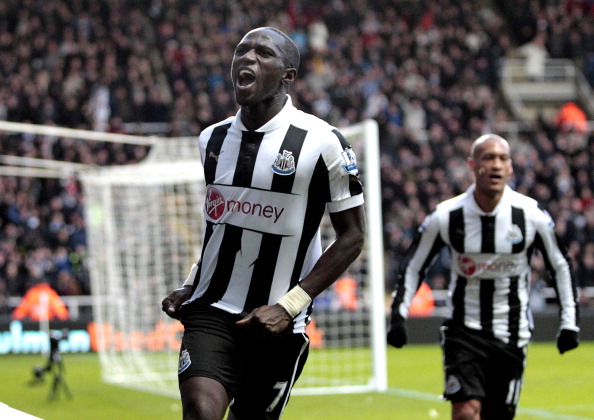 From every quarter the refrain was the same: for the first time in a long time, Saturday evening's edition of "Match of the Day" would be watched and enjoyed, as opposed to being endured or just deleted straight away. For once, we didn't have to look away now.

The reason for that sea change in Tyneside viewing habits was the unprecedented afternoon of entertainment and endeavour served up by United's not-so-local heroes for 50,000 of the faithful, who had bought tickets before our spending spree. Their fortitude was to be richly rewarded.

If Tuesday's hard-fought Villa victory was the aperitif then was a full-blown feast, lapped up by fans who had continued to attend despite a diet of scraps for much of this season, finally losing patience at the meek surrender to Reading. No lack of feeling, no absence of support, just frustration at the continuing malfunction of their team and a lack of action in rectifying what was patently misfiring.

The contrast between those Blues and Royals visits was so vast as to be almost unimaginable: to trigger this sort of turnaround between successive home games usually takes the departure of a manager, ie Gullit's mackem monsoon loss followed by Sir Bobby's 8-0 baptism.

Even the bare facts were remarkable enough; United holding a half-time lead against the reigning European champions and then recovering from going 1-2 behind to score twice in the last 25 minutes - the deserved winner arriving in the last minute of normal time.

Those stats fail to convey the sheer unadulterated joy - and relief - of a simply remarkable afternoon of football though. An even more jubilant full time celebration than at Villa Park ended up in a partial lap of honour by overjoyed Newcastle players old and new; such over the top scenes curiously appropriate, given our outrageous reversal of fortune in a fortnight.

Having opened the scoring in all but one of our four previous home wins this season, Demba Ba was 11/10 to find the net on his first return to Gallowgate. However it was his former strike partner / rival Papiss Cisse who initially came closest, twice testing Petr Cech from close range.

Ba's first meaningful opportunity appeared just after the half hour mark when he outpaced Fabricio Coloccini and shot from inside the box, only for Tim Krul to parry his effort. Attempting to head in the rebound though, Colo's boot caught Ba full in the face, breaking the striker's nose and leaving face down on the turf and beating it in agony. He certainly wasn't giving thanks on this occasion...

The striker returned following treatment on the sidelines (during which time the match restarted and a further injury to a Chelsea player saw the United physio treat him). However Ba soon made way for Fernando Torres to a mixture of boos and applause before the game restarted after our opener.

Rafa Benitez later sought to portray this incident as a game-changer, asserting that Colo should have been red-carded and Chelsea awarded a penalty. However those punishments are only applicable should the referee decide that the Newcastle player commits a foul.

Replays clearly show that Colo is concentrating on the ball and doesn't intend to cause injury to Ba. He would need eyes in the back of his head to have seen him. Meanwhile, a blatant two-footed assault by Ramires on Jonas just moments earlier was violent, but warranted only a yellow.

This fixture has a recent history of non-decisions; Mike Dean inexplicably failing to dismiss David Luiz for felling Demba Ba on the edge of the Blues box here last season. Our visit to Stamford Bridge in May 2012 meanwhile saw Cheick Tiote stretchered off after an elbow from Jon Obi Mikel that divided opinion over whether it was accidental or not. Mark Halsey deemed that not to be a foul.

Having grabbed the advantage before the interval and with thoughts of our midweek struggles still fresh, the second half was as testing as expected, United again caught cold soon after the restart and conceding two word-class strikes after allowing their opponents a glimpse of the target.

At that point, reality seemed to have bitten and after their little upturn, the black and whites had reverted to disappointing type. Hang on though, we're not finished yet - these lot are still running, probing, trying - and pushing Chelsea back.

In retrospect the quickness of our equaliser was key - not only in providing renewed encouragement to team and fans, but in also deterring the manager from making any substitutions at that point. For whatever reason, the side that Pardew set up and sent out was allowed to atone for its own slackness - and proceeded to dig themselves out of trouble in genuinely heartening style.

Sissoko's first goal was then followed by two further runs from our new number 7 that brought the crowd to their feet. One energetic burst down the right saw Cole left trailing in his wake and Cech diving to tip away a fierce shot beyond the far post. The other meanwhile involved him weaving into the box and bamboozling Cahill before trying a right footed toe poke that crucially lacked power.

That was merely the warm-up though to the winner though, greeted with scenes glimpsed only at times of extreme emotion such as Tiote's equaliser against Arsenal. There was still time for Lampard to lead appeals for a penalty in added time as Steven Taylor threw himself in the way of a shot but
referee Howard Webb ignored him and blew to trigger further wild celebrations on and off the pitch.

A real red letter day then, but at this point perhaps the most pivotal moment came two weeks earlier, when the owner saw his side take a fragile lead against Reading before leaving well before full time. Hearing later about Le Fondre's decisive double seems to have spurred him into action.

Had we held out for the win that day, it's debatable what level of investment would have followed. The temptation to just see it through with just Debuchy added to the mix (plus whoever ended up as the Ba replacement once the Remy deal died) might well have been over-riding. As it is, we've boosted the squad for a second successive January, following 2012's capture of Papiss Cisse.

It's early days, but the interchangeability of Cisse, Gouffran and Sissoko was eye-catching and it promises to be interesting to see what the returning Hatem Ben Arfa adds to the mix - in addition to testing the manager's mettle in terms of dealing with the increased personnel choices and keeping players outside the first XI happy; two problems he's not had this season. Whether those recent investments meet with the approval of Ben Arfa remains to been however.

So, goodbye Xisco, hello Sissoko; the Frenchman achieving more in two games than the Spaniard managed in four and a half years and for a fraction of the price. We may still be reliant on the youth setups of other clubs, but at least our transfer policy has become less potty in recent seasons.

The cynic in us wonders though that the immediate impact of Sissoko brings nearer the day when the "too good to turn down" offer arrives. The Cheick Tiote situation is worthy of note, in that the optimum time to sell him for a maximum return passed with no deal done. Suitors then got wise to his various "drawbacks" and the Ivorian's desirability - and market value - diminished. We remain a selling club, we need to trade - that's what the mission statement says.

Part of Pardew's recent patter has been to stress that his new arrivals aren't a footballing version of international rescue, but equally designed to inspire or frighten those already in situ out of their comfort zone.

And in that regard, the resurgence of Gutierrez in this game was more than welcome. God knows what's been wrong with him recently but he's simply not been worth a place in the side. Today though he was somehow reinvigorated, showing glimpses of his old form before grabbing the goal.

Add in the timely return of Steven Taylor and only the continued defensive waywardness of Davide Santon is causing us heartache - there's nowt wrong with his assists, but marking and tracking opponents is a more haphazard element of his game that doesn't go unnoticed by opponents.

Much more of this and we could yet have the luxury of a tilt at the almost forgotten Europa League, rather than replicating the demoralising embarrassment of Brighton in Kharkiv.

Our first back to back league wins since April took us six points clear of the third-bottom side and an unlikely win at Spurs could propel us into the top half of the table, albeit briefly. However, we remain fifteen points and nine places worse off than at the same point last season. That ain't great.

A fabulous week then, with six points added to our meagre total and just as importantly, renewed faith and optimism that we're alive and kicking, not sliding back into the ooze as was the case back in 2009. Having the same manager also has to help, whether you like the bloke or not.

To believe that everything's now fine though would be a cardinal sin akin to the latter stages of that awful season, when beating Boro in our penultimate home game led to an apparent club-wide complacency that just turning up the following Saturday against Fulham would be sufficient.

It wasn't.

Biffa