In association
with NUFC.com



Date: Saturday 2nd February 2013, 12.45pm
Live on Sky

Venue: White Hart Lane

Conditions: light showers

Admission: £41 (£40 in 2011/12)

Programme: £3.50

Spurs

Newcastle United

2 - 1

Teams
5 mins A free-kick thoughtlessly conceded by Fabricio Coloccini on the edge of the box was taken by Gareth Bale, who struck a low effort over the wall and inside Tim Krul's left hand post, finding the gap between a sides-stepping Jonas Gutierrez and stationary James Perch (apparently obeying instructions by not attempting a blocking jump 0-1

24 mins Yoan Gouffran, who had looked lively on the left, controlled a Moussa Sissoko cross and fired past Hugo Lloris, with his strike catching Michael Dawson on the back and wrong-footing his 'keeper 1-1

Half time: Cockerels 1 Magpies 1

78 mins Bale took advantage of some hesitancy from Steven Taylor and a weak Coloccini challenge to stride clear from the halfway line and hit a left-footed shot that squirmed under Krul. 2-1

Full time: Cockerels 2 Magpies 1

Ex-Spurs player Alan Pardew said:

"We got ourselves into a good situation in the game. We did really well to get back to 1-1 after a really fast start by Spurs. I felt we looked a team that would go on and win it.

"They started to get frustrated and played a few loose passes, from Scott Parker etc, and there were a few boos from the fans.

"Iíve been here before when the crowd has turned on them a little bit, but the second goal came at a crucial time for them. That and the injury to Gouffran really decided the game.

"I look at my team today as one that has competed against a good Spurs side who are in a good situation right now. They were lively and we coped well with that.

"We have gone up a couple of levels as a team. This fixture and Man City away are the two most difficult we had left. We gave a good account of ourselves and we will go into the remaining games looking like we did last season. We have good power in the team now. We will be OK.

"We should have done better there (for the second goal). They (the defence) should have dealt with it.

"Yoan (Gouffran) received a heavy impact on his shin. He has a gash that might have forced him off anyway because players donít like to see that.

"Yohan (Cabaye) gave another assured performance. He has an intelligence on the park and it was something we lacked when he was out.

"I actually thought we contained him (Gareth Bale) quite well. We didnít want him to cut in on his left foot, but he is so quick, so agile and he has a consistency in his shoot. He has really fine technique.

"He had two shots late on when the game opened up as we looked for an equaliser Ė which we almost got Ė but thatís what he can do to you. Bale is difficult to contain. He is a first class footballer.

"I can take a lot of positives. Last year we were well beaten, but today we almost nicked an equaliser. On this occasion, Bale was the difference. All the big moments came through him. Heís in a rich vein of form.

"It was a good game of football. We tried to play and I would have to say Moussa Sissoko produced another great performance."


AvB:

"It was a good win for the team. Newcastle were on a good run of form, so it was always going to be a hard game. We stepped it up in the second half and showed team spirit to get three points. Both sides had chances. We showed more determination in the second half and took control.Ē
On the return of Adebayor:

"Yes, (we sent a jet to get him from Africa). He arrived in Luton yesterday around 6 o'clock and then joined the team at the hotel. It was obviously good to have him. He helped the team the result so it is good to get him back.

"It's very difficult. First he was authorised to come back on Friday. Some issues arose that have put that comeback in jeopardy, but he still was in time to come back and make an impact from the bench."
On his goalscorer:

"He's on a par with the best players in the world. He has really helped the team with his goals this year. The player is getting the best out his great individual season by scoring and obviously he has a great motivation and I think he is enjoying playing.
"Ronaldo plays more on the left and comes in on his left foot, with Gareth we've tried to use him on the right a couple of times and through the middle.
"When he plays down the middle it gives him so much freedom, so many options he is able to enjoy it. It doesn't mean we will always stick with that position but I think he is such a good player he is able to play in different roles and positions.
"Most teams have to hang on to their best players, Barcelona losing Messi would be a disaster, Real Madrid losing Ronaldo would be a disaster so this is exactly the same. Teams are dependent on great organisation and also great individuals when they are able to express their football to the maximum.
"There isn't a release clause in English football, it's very difficult to negotiate with Tottenham as you know and we are not willing to let our best assets go. We can't turn this into a debate every time a player does well.
"It was a great individual performance and it was outstanding to see a player enjoying his football. Gareth is, whatever position he plays. Great teams are made of great individuals too and Gareth is decisive. I am happy for him and this is a win we want to dedicate to Tony Parkes and Joe his son, as Joe tries to hang on to his life."
Yoan Gouffran became the 107th player to score in the Premier League for Newcastle and the eleventh different Magpie to net in that competition so far this season.

United made it four defeats out of four in London - at Chelsea, Fulham, Arsenal and Spurs - with visits to West Ham and QPR still to follow.

Magpies @ Cockerels - Premier League era:

2012/13: Lost 1-2 Gouffran
2011/12: Lost 0-5
2010/11: Lost 0-2
2008/09: Lost 0-1
2007/08: Won 4-1 Butt, Geremi, Owen, Martins
2006/07: Won 3-2 Huntington, Martins, Butt
2005/06: Lost 0-2
2004/05: Lost 0-1
2003/04: Lost 0-1
2002/03: Won 1-0 Jenas
2001/02: Won 3-1 Acuna, Shearer, Bellamy
2000/01: Lost 2-4 Solano, Dyer
1999/00: Drew 1-1 Speed (FAC)
1999/00: Lost 1-3 Solano
1998/99: Lost 0-2
1997/98: Lost 0-2
1996/97: Won 2-1 Ferdinand 2
1995/96: Drew 1-1 Ginola
1995/96: Won 2-0 Sellars, Ferdinand (FR)
1994/95: Lost 2-4 Fox 2
1993/94: Won 2-1 Beardsley 2
Waffle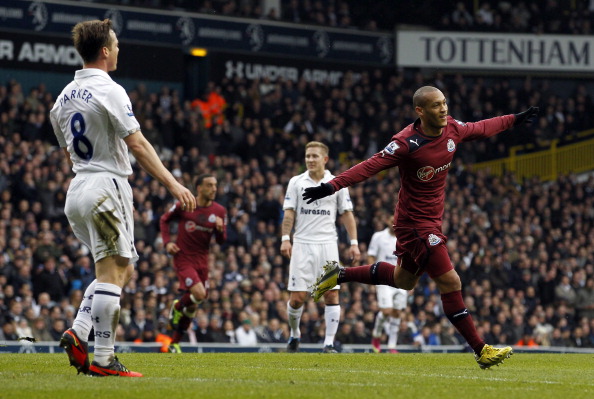 Newcastle's recent mini revival may have halted at White Hart Lane, but a season on from a 0-5 demolition here mercifully omitted from our end of season compilation, there were at least some positive aspects to take from this loss, rather than sheer relief at hearing the final whistle.

The much-coveted Gareth Bale ultimately proved to be the difference between the two teams and the on-fire Welsh dragon gave his side the ideal platform with a free kick conversion before the visitors had drawn breath.

Crucially this season though, the deficit stayed at one goal and failed to become 0-2 and 0-3, with opportunities of the type that were buried last season whistling past Tim Krul's goal instead. And with the home side lacking inspiration, United gradually fought their way back and missed one good opportunity to level when Papiss headed Coloccini's centre wide when well placed.

A deserved equaliser did arrive though, Yoan Gouffran getting off the mark for his new club and registereding our first goal at White Hart Lane in a minute over five hours of play. And with Spurs creating little in the absence of the injured Jermain Defoe, United shaded the remainder of the half - Clint Dempsey well shackled up front and Bale well marshalled by Mathieu Debuchy out on the left.

Meanwhile, Yohan Cabaye almost got on the end of a Jonas Gutierrez pass but the Frenchman's first touch was heavy and Lloris was able to shepherd the ball away.

Once again United started the second period slowly, but Krul still wasn't being tested by anything other than speculative long shots, Emmanuel Adebayor remaining on the Spurs bench after his belated return from African Nations Cup duty in South Africa with Togo.

What proved to be a pivotal moment though saw Gouffran stretchered off after a 55th minute incident when Kyle Walker followed through with a clearance and caught him full on the shin. The former Bordeaux man went down in some pain and needed oxygen before he was stretchered from the field and to a nearby hospital, where a precautionary x-ray thankfully showed no broken bones.

Instinct suggests that Walker's contact had some intent in it and his body language - and past history - points towards a level of opportunism in the challenge. James Perch then clattered Bale on the touchline and the Spurs man appeared to be badly hurt, but carried on after having his ankle sprayed. Quite why the game had to be stopped while this took place remains a mystery though...

There was less doubt about Cabaye's challenge on Mousa Dembele and he was lucky not to see red after leaving his studs on the Belgian's ankle in the 89th minute - with the nearby Cheick Tiote not quite so fortunate earlier in the season against the mackems.

by then United were chasing an equaliser and Bale then had a trio of chances to claim the match ball, missing an open goal with his right foot and then seeing Krul make two fine interventions from shots from the edge of the box - tipping one over the bar and palming another low effort away.

With Sylvain Marveaux having replaced Gouffran in what proved to be a failed like-for-like swap, Shola Ameobi appeared in place of Jonas to offer belated support to Cisse. The man who looked at one stage as if he'd be playing this weekend for Nigeria then almost salvaged a point, but could only awkwardly toe-poke the ball goalwards when it to him in the area - and Lloris smothering his effort.

Over eight minutes of added time - due mainly to the Gouffran injury - failed to allow United to break the maroon shirt hoodoo, this our sixth competitive winless game wearing it. And closer inspection of this record confirms that we've never even managed to take the lead clad in this unloved clobber.

The scoreline suggests an unwanted reversion to type on our travels, but the display was largely encouraging and not the worst return from what was perhaps the most tricky of our remaining domestic fixtures with the exception of the visit to Manchester City. A lack of forward momentum during the second half was concerning though, with nobody willing to capitalise on the players Cisse dragged towards him whenever he had possession - three opponents routinely clustering round him.

Results elsewhere on Saturday meant that daylight remains between us and the relegation zone, although Aston Villa's victory over West Ham the following day gave them a welcome boost at the expense of a West Ham side whose win on Tyneside was a rare away day success for Big Sham.

Next up in the Premier League is a home game against Southampton in a fortnight, with the Saints bolstered by a surprise defeat of Champions Manchester City at St. Marys on Saturday night. That put them level with us and ahead on goal difference, adding extra spice to a game that will come immediately after our Europa League away tie in Kharkiv.

The installation of Mauricio Pochettino in place of Nigel Adkins has seen some better performances from the Saints, with their away results remaining decent - a narrow 1-2 loss at Old Trafford their only defeat on the road in six outings.

Having seen both Reading and West Ham leave SJP with maximum points so far this season, Alan Pardew will doubtless be desperate to avoid a defeat by another one of his former clubs. The return of Hatem Ben Arfa could potentially be a game-changer - a player who at his best is unplayable. Much like Gareth Bale today.


Biffa