In association
with NUFC.com



Date: Thursday 14th February 2013, 8.05pm
Live on ESPN

Venue: St.James' Park

Conditions: exasperating

Admission: £15


Newcastle United

Metalist

0 - 0

Teams
Half time: Newcastle 0 Metalist 0

Full time: Newcastle 0 Metalist 0

Alan Pardew
said:


"
Both 'goals' were goals. When you see the replays, you can see that.

"The first one, I have to say, I was a little bit undecided from where I stood, but the second one I thought was a definite goal, so that was tough to take because in these games, those margins are the difference.

"The benefit on those lines is for the striker, that's the rule, and both decisions were level. He (Cisse) could have two goals to his name as well if the decisions had gone his way.

"When you get decisions like that going against you, it puts fire in your belly. We came off the pitch very, very disappointed with those decisions and we are going to take that into the second leg."

About Metalist going into the second leg as favourites:

"No, I don't think they do. Looking at the game, it was a very even game - but it will be a different game in their stadium and a different agenda.

"They need to come and beat us and the way we defended tonight were organised and the pace in the team suggests to me that it's very, very exciting, and I think the second leg will be the same.

"There's no way we were going to win that game 3-0, no way. I knew the opposition were good enough for that not to happen, so we were always going to take a slender lead or, as in this case, no goals scored.

"A score draw takes us through, so that's some bonus for us to take into the second leg.

"Some of our best moments tonight when Metalist came on to us tonight and on the break, and I think that might be a feature of the second leg, hopefully."


Myron Markevich:

"The game came out quick enough and interesting from both sides. Fans enjoy the game. Nobody sat out in the defense and tried to attack. We could both win and lose. Everything will be decided in Kharkov."
Ukrainian teams (in UEFA competition) four games - three draws and a defeat ...
"This is obvious, since we only played friendly matches. "Newcastle" on the go, they are a championship, a similar situation and "Bordeaux" and "Borussia". There is nothing surprising in this."
Do not you think that in the second half of the game "Metalist" played better?
"The last twenty minutes of the initiative was the "Newcastle". I think the draw - the natural result, and everything will be decided in Kharkov."
You do not consider yourself a favorite in the second game?
"50 to 50"
Sergei Kurchenko (the owner) whether communicated with the team after the match?
"Yes"
How to evaluate a game? What he said in the locker room after the game?
"Thanked the team for the dedication."
How do you evaluate goals that were not counted?
I have not seen reruns. We are located in the center of the field, there is no evidence
In the end the "Newcastle" was one of the most dangerous moments
"Papa Gueye said that the ball stopped, proving something. All the players are - believe that the judge is better than the referee."
"Newcastle" not surprised?
"A good team, it on the go. I believe that they should be in the top ten of his championship. Why are they on the fifteenth place - it is the second question. The team is balanced. Do not be surprised, but played good football."
We're now unbeaten in their last 23 European home games (excluding the Intertoto Cup*), winning 18 and drawing the other five ties staged at SJP since losing 0-1 to Partizan Belgrade in 2003.

* if the Intertoto Cup defeat by Deportivo La Coruna is included, Newcastle's record is twelve games (eight wins and four draws).

This was Newcastle's 11th 0-0 draw in European competition and fifth at SJP:

1968/69 Rangers (a)
1969/70 Porto (a)
1969/70 Southampton (h)
1977/78 Bohemians (a)
1999/00 AS Roma (h)
2000/01 Troyes (a)
2003/04 Marseille (h)
2006/07 Ventspils (h)
2006/07 Eintracht Frankfurt (a)
2012/13 Maritimo (a)
2012/13 Metalist Kharkiv (h)

And a third competitive fixture at SJP against Ukrainian opposition:

1997/98 won 2-0 Barnes, Pearce (Champs Lge)
2002/03 won 2-1 Speed, Shearer (Champs Lge)
2012/13 drew 0-0 (Europa Lge)

(Kiev also provided the opposition in a friendly back in November 1982, goals from Waddle and Varadi helping United to a 2-1 victory)


A charter flight containing the 23-man Metalist squad had flown into Teesside Airport the previous Friday and based themselves at Redworth Hall, near Newton Aycliffe. Training at Newton Aycliffe's Moore Lane Park, the former home of Darlington FC and Bishop Auckland's Heritage Park, they then played a friendly match against Northern League Whitley Bay on Sunday evening.

That game at Hillheads Park on saw Metalist fall behind to a close-range effort after a corner kick, before levelling through Brazilian Marlos soon after. The score remained 1-1 at full time, watched by an appreciative crowd of around 700 that included coaches John Carver and Steve Stone.

Waffle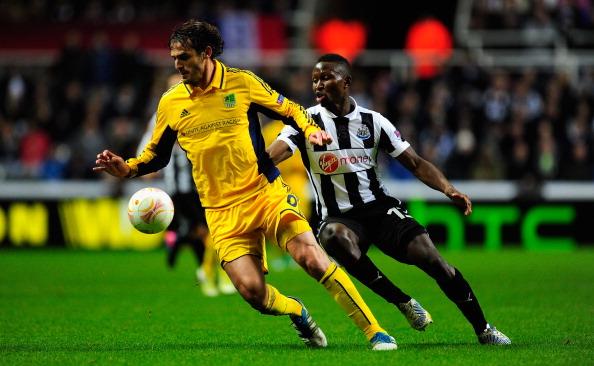 A linesman's flag and some poor finishing denied Newcastle what should have been a first leg victory against Metalist Kharkiv in their Europa League tie at St. James' Park on Thursday evening.

The welcome wins over Aston Villa and Chelsea - combined with squad additions and a fixture-free weekend - allowed manager Alan Pardew to select what he rightly called his most experienced Cup side. That was exemplified by the omission of Gael Bigirimana (ending his run as our only European ever-present), while previous mainstay Vurnon Anita had to be content with a spot on the bench.

Retaining eight of the starting XI from Saturday's defeat at White Hart Lane, the ineligible Mathieu Debuchy and Yoan Gouffran dropped out and Cheick Tiote was recalled in place of James Perch.

Making his first start was Mapou Yanga-Mbiwa and after some initial hesitancy at right back, he grew in confidence and began to push forward down the flank after the interval.

The headlines were stolen by Papiss Cisse, who twice had the ball in the back of the Metalist net and embarked on euphoric goal celebrations - only to then discover that offside calls by the referee's assistants had rendered his efforts meaningless.

A slack opening with numerous misjudged passes was followed by Gabriel Obertan fashioning and missed our first chance of the evening, driving a low shot narrowly wide on 16 minutes.

Cisse then took over duties as our main goal threat and aside from the two that didn't count was frustrated on three separate occasions by Oleksandr Goryainov - the veteran goalkeeper making a trio of good stops to deny our number 9 and also smothering Sissoko's effort before half time.

The increased importance of Cisse to our goalscoring ability post-Demba Ba adds greater frustration to his continued inability to remain onside. While someone has to try and work on that with him though, part of his problem lies in the fact that the forward ball doesn't get to him quickly enough. In that regard, the undoubted talent Sissoko has shown so far could yet be very special indeed, if he can get on the same wavelength.

Cabaye and Cheick Tiote were both booked for silly fouls, Cabaye's raised arm putting him in danger of a dismissal as he took retribution for a similar clout from Cristaldo that had left the Frenchman nursing a cut lip.

The second period started with Cisse taking a great touch to control a Cabaye pass but his shot from a narrow angle cleared the crossbar. Soon after though, United could have been down to ten men when the referee waved play-on as Metalist broke clear and Tiote brought down Edmar from behind. Thankfully referee, Tom Harald Hagan, didn't go back and show the Ivorian a second yellow.

Sylvain Marveaux replaced Obertan just after the hour mark and both showed good skill and pace without any end product as once again our delivery from the flanks was disappointing. It hardly needs to be written that the effectiveness of our corners was sadly lacking - despite Metalist having looked distinctly ill at ease from flag kicks against Whitley Bay on the previous Sunday.

Shola Ameobi replaced Tiote as United tried to find a way through the dense ranks of visiting players but the final chance of the evening fell to Cisse, who looked certain to convert with a diving header from Davide Santon's cross, but saw Goryainov made a point-blank stop to keep the tie goalless.

While a score draw in Kharkiv would take us into the last 16 of the competition and keeping a clean sheet tonight was a necessity, this has to go down as a missed opportunity. What could count in our favour is the fact that Metalist will need to show a more positive attitude in front of their own fans, but they're no mugs.

What may be the biggest danger to our progressing though is the fact that we'll face Southampton at Gallowgate on Sunday afternoon after returning from Kharkiv. One look at the current Premier League table confirms that the latter fixture is the more important of the two, and that will doubtless be reflected in our second leg team selection.

Biffa