In association
with NUFC.com



Date: Thursday 21st February 2013, 6pm GMT Live on ESPN

Venue:

Metalist Stadium



Conditions: dry, clear and cold
(-6 by full time)

Admission: £15
(corporate VIP seats were £55)

Programme: Sold for the equivalent of £1.20 outside the stadium although unpriced - confirmed as an official issue, but thought to be officially for VIP distribution only.

Metalist

Newcastle United

0 - 1

Teams
Half time: Metalist 0 Newcastle 0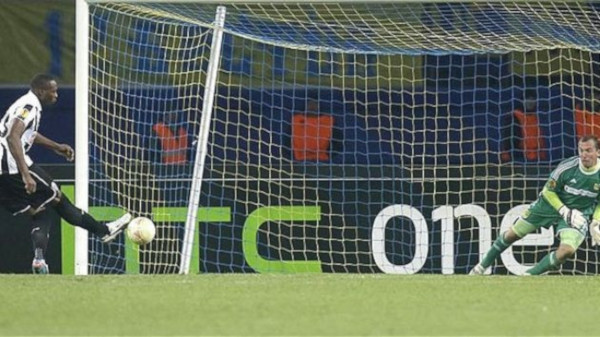 64 mins A long punt forward by Tim Krul dropped well over halfway and was headed on by Shola Ameobi but looked to fall too far ahead of the advancing Moussa Sissoko.

Defender Papa Gueye had the simple task of finding his goalkeeper Oleksandr Goryainov, but inexplicably chose to roll the ball across goal and away from him. In nipped Moussa Sissoko to be tripped by the desperate home custodian, although it's debatable whether the Newcastle player would have been able to turn the situation to his advantage had he been able to reach the ball.

The referee was in no doubt about the foul - although from the away section it looked as if the attacker had gone down under minimal contact - and home protests were less severe than the disagreements with each other as to who was at fault

With Sissoko receiving treatment off the pitch, up stepped penalty king Shola Ameobi to tuck the ball into the opposite side of the goal to the one Goryainov had chosen, maintaining his perfect record from the spot. 0-1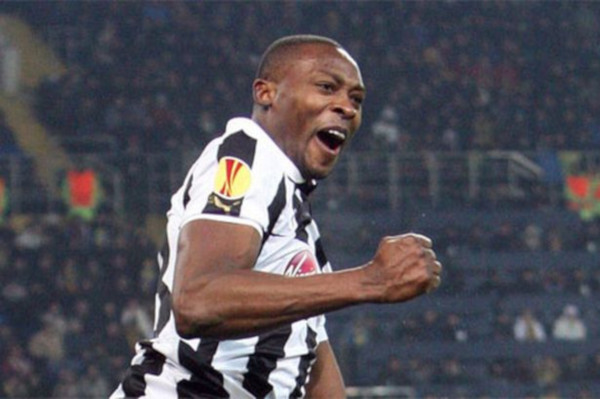 Full time: Metalist 0 Newcastle 1

Alan Pardew
said:


"When you come to grounds and scenarios like this, you need a good start and we got that. We took control early and that helped settle us.

"We had some real heroes out there. Now we need to recover quickly and get ready for Sunday against Southampton.

"We will be fighting on two fronts - we have some very important Premier League games to come as well as continuing in this competition. We can give this tournament a real go now.

"With (Hatem) Ben Arfa coming back and Cheick (Tiote) to add to that side, I really feel as though we can give this competition a good go.

"We lost Cheick just before the game, but Anita did an excellent job coming in late - he only knew an hour before we kicked off that he was going to play.

"I had a little quiet word with Shola (Ameobi) before the game because, in the last few weeks, I thought his contribution could have been greater, but he's shown tonight what quality he has.

"Against this team, I always thought he might influence the game. He did that all night really and it bodes well moving forward.

"We had some real heroes today and it's been a great week for us. We just need to repeat it on Sunday because that will be an important game."

The goalscorer:

"
I thought tactically we were sound today – they didn't really threaten us until 80 minutes. I always felt we were in control and we had a few chances.

"We got the away goal, which was important – we had talked about that before the game, that it would mean they would have to score two goals and how we could stop them doing that.
"There's no doubt going through my mind when I take a penalty. It's a free shot at goal so I just try to step up and put it where I want to put it and fortunately I've never missed one yet.

"The confidence is always there and will always be there – it's just a matter of applying myself.
"Tim (Krul) goes to another level when he plays like he did in the last ten minutes – he shows how much of a top, top keeper he is and is becoming. He really saved us at the end.

"Obviously they were always going to pile on the pressure and sometimes you need to rely on your keeper. Tim never lets us down and he took a knock today for the cause, but he was magnificent."

Myron Markevich:

"Our opponents played strictly and correctly against us. At the same time, they played simple - pressure in their own half and long passes.

"We were ready for this game, but it lasts for 90 minutes. In the first half, I believe, the game was equal, no goal chances. In the second one we couldn't create absolutely anything, we may have conceded.

"Frankly, I was preparing two subs - Jaja and Willian, because something had to be refreshed. But the mistake was unnecessary. I don't want to blame someone - whether Papa or someone else. After all, we only remember the bad times and we forget when Papa saved us.

"I don't want to blame anyone - the players tried but it happened that way and there's nothing you can do. This is football, We didn't score, and Newcastle succeeded in doing so."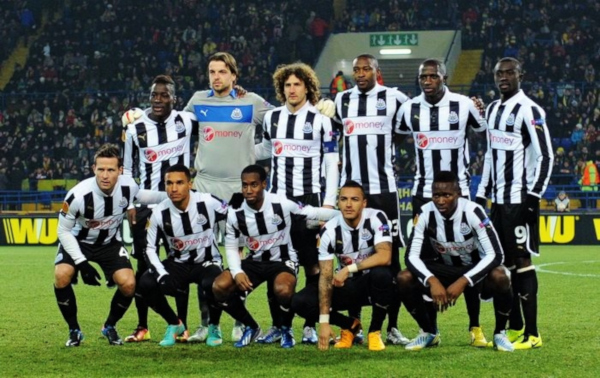 United won their first away fixture in UEFA competition in six attempts (after two losses and three draws), ending a run that began after a 3-1 success against Belgians Zulte-Waregem in 2007.

This was Newcastle's 130th European fixture and to date they've won 73, drawn 27 and lost 30. 218 goals have been scored and 125 conceded (exc. shootouts).

This was our third competitive away fixture against Ukrainian opposition - and first victory:

1997/98 Drew 2-2 Beresford, OG (Champions League)
2002/03 Lost 0-2 (Champions League)
2012/13 Won 1-0 Sh.Ameobi (Europa League)

Massadio Haidara made his first team debut for the club in all competitions and became the 33rd player to have featured for us in ten Europa League fixtures to date this season.

Shola Ameobi netted for the fourth time this season to take his total in all competitions for the club up to 76. This was his fifteenth strike in European competition and he remains second in our all-time UEFA scorers, behind Alan Shearer's 30 goal haul.

His first penalty conversion this season was the tenth of his Magpies career, a first in European competition and a first away from SJP. He's yet to miss from the spot during a competitive game (and also netted during a shootout against Partizan Belgrade in the Champions League in 2003).

Shola 100% from the spot:
27.10.2004 Norwich City (h) LC (Leazes End)
22.04.2006 West Brom (h) PL (Gallowgate End)
15.10.2006 Bolton (h) PL (Gallowgate End)
01.02.2009 mackems (h) PL (Gallowgate End)
15.08.2009 Reading (h) Championship (Gallowgate End)
26.08.2009 Huddersfield Town (h) LC (Gallowgate End)
24.04.2010 Ipswich Town (h) Championship (Leazes End)
31.10.2010 mackems (h) PL (Gallowgate End)
07.05.2011 Birmingham City (h) PL (Gallowgate End)
21.02.2013 Metalist (a) EL (n/a)

Metalist - UEFA home record (modern era):

2007/08 Everton lost 2-3
2008/09 Besiktas won 4-1
2008/09 Hertha Berlin drew 0-0
2008/09 Olympiacos won 1-0
2008/09 Sampdoria won 3-0
2008/09 Dynamo Kiev won 3-2
2009/10 Rijeka won 2-0
2009/10 Sturm Graz lost 0-1
2010/11 Omonia Nicosia drew 2-2
2010/11 PSV Eindhoven lost 0-2
2010/11 Sampdoria won 2-1
2010/11 Debrecen won 2-1
2010/11 Bayer Leverkusen lost 0-4
2011/12 Sochaux drew 0-0
2011/12 AZ Alkmaar drew 1-1
2011/12 Malmo won 3-1
2011/12 Austria Vienna won 4-1
2011/12 Salzburg won 4-1
2011/12 Olympiacos lost 0-1
2011/12 Sporting Lisbon drew 1-1
2012/13 Dinamo Bucharest won 2-1
2012/13 Rapid Vienna won 2-0
2012/13 Rosenborg won 3-1
2012/13 Bayer Leverkusen won 2-0


Waffle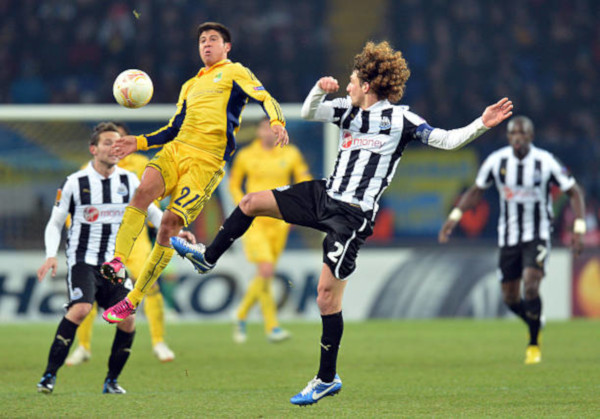 A Shola Ameobi penalty conversion and a top-class goalkeeping exhibition from Tim Krul sent United into the last sixteen of the Europa League on Thursday evening, silencing the massed ranks of home fans at the Metalist stadium in the process.

And for the intrepid supporters who followed Alan Pardew's side via Istanbul, Vienna, Kiev and God knows where else, at last there was a European victory to savour and celebrate, after drawing blanks in Athens, Madeira, Bruge and Bordeaux in this campaign.

In truth the result and the occasion outweighed the quality of the football and we seldom looked like scoring from open play. In terms of guts, fight and determination though there was nothing lacking from those in black and white and their post-match celebrations looked genuine enough.

Crucial blunders from defender Papa Gueye and goalkeeper Oleksandr Goryainov just after the hour mark gifted Newcastle what was an ultimately deserved progression thanks to Shola Ameobi's spot kick conversion. And Krul then conjured up memories of his Palermo debut with a series of fabulous stops to keep Metalist at bay, United see the job through and recording a second clean sheet against the Ukrainians, who only belatedly upped their game once they needed to score twice.

However the victory did come at some cost, with Krul requiring treatment in the closing stages after a clash with Jonathan Cristaldo left him with an ankle problem. And with all three replacements used, he stayed on the field and strode over to take the deserved applause from toon fans at full time.

By the time he'd reached Kharkiv airport however, Tim was sporting a protective boot on his left foot and a crutch. Confirmation later came that he'll undergo a scan on Monday to assess the level of damage incurred. With Steve Harper sidelined, that opens the door for Robbie Elliot.

Felding a strong line-up despite losing Cheick Tiote to illness on the day of the game and leaving Davide Santon behind in England to rest, United dominated the early exchanges without really threatening the Metalist goal.

With Steven Taylor benched, a new-look defence saw Mapou Yanga-Mbiwa in the centre to partner Fabricio Coloccini, Massadio Haidara debut at left back and Danny Simpson return on the other flank - playing his first game of 2013 after recovering from a toe problem and wearing his lasses tights.

Shola Ameobi led the attack, with Papiss Cisse tending to work down the right and our best chance of the half came shortly before the break when the latter saw his shot beaten away by Goryainov.

Only a header from Cristaldo that went wide gave home fans much hope that they would break the deadlock and a stop-start first 45 minutes suggested that the scoreless tie could well remain that way - with the threat of extra time and penalties to achieve a result.

Sylvain Marveaux had a great chance after the break, but after a fine run into the box his shot flew over when squaring it would surely have seen the unattended Ameobi find the net.

But with a decided lack of forward options on the bench, United soon took advantage of slack play by Metalist to win the penalty. That goal belatedly spurred the home side into action and after a double substitution, new arival Gomes Willian forced a fabulous one-handed save from Krul.

Krul then saved his side twice more in quick succession, pulling off a fantastic double save to deny Cristaldo, seeing Perch block a goalbound effort and the pushing Willian's near post flick against the post - the latter resulting in a mass exodus of disenchanted home fans.

A valiant victory then and one which does confirm that we've reached the point in this competition that it ceases to be an unspoken inconvenience. The goalscoring capacity remains a worry, but we're strong enough and interested enough to have a genuine go at getting as far as possible - hopefully that will be reflected by an upsurge in interest from those season ticket holders who have so far boycotted the Europa League in a full house and a raucous atmosphere in the next round.

Had those six points not come our way from the Villa and Chelsea games though, this could have been a long and chilly night indeed to witness a rerun of the Bordeaux and Brighton away games when our fringe players willfully passed up the chance to stake a claim for regular starting spots.

And on a purely personal basis, taking the lead in the tie and then holding out successfully did in some small way atone for the 2005 disaster in Lisbon when we threw away a two goal lead. You can never say that these competitions don't matter: that Sporting defeat setting Graeme Souness on a slippery slope, while our AZ exit in 2007 fatally holed Glenn Roeder below the waterline, after he surfed a wave of optimism in the wake of Intertoto Cup qualification to get the job in the first place.

What matters now though (of course) is the Premier League and in a week when Sir Bobby Robson's name and legend was again evoked in connection with European adventures, it's worth recalling one of the principal strengths of his United side was to return from a midweek overseas game - and then do the business in the Premier League. No hangovers, no jet lag.

Seeing an almost first choice team in action here though did make it evident that we had either fielded players with some pre-knowledge in playing these games (like the man mountain that is Sissoko) or we're learning on the job in terms of how to modify our usual behaviour. Not cheating, just playing the situation and appreciating what UEFA referees (incorrectly) deem to be foul play.

The approach of opposition sides and the match officials is unlike anything you'll see in our domestic game and an adjustment to our style is required - losing the services of Tiote may have actually been a blessing.

United's Europa League adventure now extends to a dozen fixtures and to the previously uncharted territory of Russia, with last 16 opponents Anzi Makhachkala forced by UEFA decree to play their home ties in Moscow - almost 1,000 miles from their volatile native Dagestan.

That adds the problem of visas to the logistics of transport for the away travellers - something that thankfully wasn't required to visit the Ukraine - but that was of little consequence to those who applauded the team off at full-time before beginning the 2,000 mile trek back home.

Things were a little quieter on the early morning flight back from Kiev a few hours later, but the victory celebrations continued for some, who were cheerfully downing pints at 6am - or in one case, Jagermeister and Martini - truly a breakfast of champions.


Biffa