In association
with NUFC.com



Date: Saturday 2nd March 2013, 3pm

Venue: Liberty Stadium

Conditions: sunny intervals

Admission: £35 (£35 in 2011/12)

Programme: £3

Swansea City

Newcastle United

1 - 0

Teams
Half time: Swans 0 Magpies 0

85 mins Magpies old boy Wayne Routledge took possession down the Swansea left and checked back inside Debuchy before floating over a cross. Both Davide Santon and Yanga-Mbiwa jumped for the ball and it looked to deflect off the former and into the path of Luke Moore.

The substitute had been on the pitch for less than ten minutes managed to shoot beyond Elliot from seven yards despite a lung from Steven Taylor (a team mate at Wycombe Wanderers almost a decade earlier) and via a deflection from Cabaye - almost an apology for a goal. 1-0

Full time: Swans 1 Magpies 0

Alan Pardew said:

"To come here and play as well as we did, to boss Swansea at home in the second-half ... there are not many teams can do that. Swansea are a good team. They wouldnít have won the League Cup and be having this season unless they had some great players. They are a good unit and are a well-educated side.
"We did really well today. It is absolutely galling that we didnít get anything. We are absolutely disappointed and frustrated that we didnít even get a draw because we more than deserved that.

"We sat off them a bit, for 20 minutes in the first half, and you know they will cause you problems. We put that right at half-time.

"Watching from the sidelines, you could see they had settled for a draw. They knew they were doing well to stay in it, I honestly thought that. But when we didnít score in that great period we had, you do start to think that any mistake we made would be costly, and thatís what happened.

"The mistake for the goal was quantified by the fact we missed two or three great chances. You canít do that at this level, Iím afraid. We lost a sloppy goal. Itís just a ball in the box and we have four defenders there. It should have been better dealt with, but unfortunately it wasnít. That cost us.Ē

Michael Laudrup:

"There was a lot to be pleased about today. Firstly the win and secondly our attitude. I spoke in the week about the fact you sometimes see a negative reaction after a big win, but our reaction was an excellent first half where we showed lots of good touches, movement off the ball, and we created chances.
ďWe went in at 0-0 but we deserved so much more. After that, Newcastle came into the game and had some very good chances but, like us, they did not score when they were at their best and so that late goal decided the game.
ďIt shows our maturity, sometimes with smaller teams when they do well and get recognition from the media you see a reaction in the game after. You can forget every game starts 0-0. I expected what I saw today, but I still had to say it as when you win a cup a negative reaction is normal.

ďIt is good for Luke (Moore) to come in and score in a very important game. He has helped us to reach 40 points a week after the cup win and it has made this a really great week. He has been out of the side for several weeks but when we have rotated the squad we have tended to do well.Ē
Magpies @ Swans -all time:
2012/13 lost 0-1
2011/12 won 2-0 Cisse 2
2009/10 drew 1-1 Carroll
1983/84 won 2-1 Wharton, Mills
1980/81 lost 0-4
1979/80 won 3-2 Hibbitt, Rafferty, Shoulder
1964/65 lost 1-3 McGarry
1964/65 lost 0-1 (FA Cup)
1963/64 won 1-0 Anderson
1962/63 lost 0-1
1961/62 lost 2-3 Thomas, Wright
1951/52 won 1-0 Mitchell (FA Cup)
1946/47 won 2-1 Shackleton, Wayman
1938/39 won 1-0 Clifton
1937/38 lost 0-2
1936/37 won 2-1 Rogers, Smith
1935/36 won 2-1 McMenemy, Smith
1934/35 won 4-3 Boyd, McMenemy, Murray, Weaver
1914/15 won 2-0 King, Pailor (FA Cup)
Full record v Swansea:
| | | | | | | |
| --- | --- | --- | --- | --- | --- | --- |
| | P | W | D | L | F | A |
| SJP | 16 | 9 | 3 | 4 | 38 | 16 |
| VF/LS | 16 | 9 | 1 | 6 | 23 | 24 |
| League | 32 | 18 | 4 | 10 | 61 | 40 |
Swansea City came into this game on the back of their Capital One Cup victory, after beating Bradford City 5-0 at Wembley the previous Sunday. That made them the 32nd British club to have enjoyed major domestic cup success since Newcastle claimed the FA Cup in 1955:

15: Liverpool (8LC/7FA)

13: Manchester United (4LC/9FA)

11: Chelsea (4LC/7FA)

10: Tottenham (4LC/6FA)

9: Arsenal (2LC/7FA)

6: Aston Villa (5LC/FA)

5: Manchester City (2LC/3FA), Nottingham Forest (4LC/FA),

3: Everton (3FA), Leicester City (3LC), West Ham (3FA), Wolves (2LC/FA),

2 Birmingham City (2LC), Norwich City (2LC), WBA (LC/FA), Leeds United (LC/FA)

1: Blackburn Rovers (LC), Bolton Wanderers (FA), Coventry City (FA), Ipswich Town (FA),
Luton Town (LC), Middlesbrough (LC), Oxford United (LC), Portsmouth (FA), QPR (LC),
Sheffield Wednesday (LC), Southampton (FA), Stoke City (LC), mackems (FA),
Swansea City (LC), Swindon Town (LC), Wimbledon (FA),

Just three other current Premier League sides have failed to lift the League Cup or FA Cup since our last success; Wigan, Reading and Fulham. Of course, us Geordies with our "unrealistic expectations" have the audacity to think that we should feature somewhere in the above list....

Waffle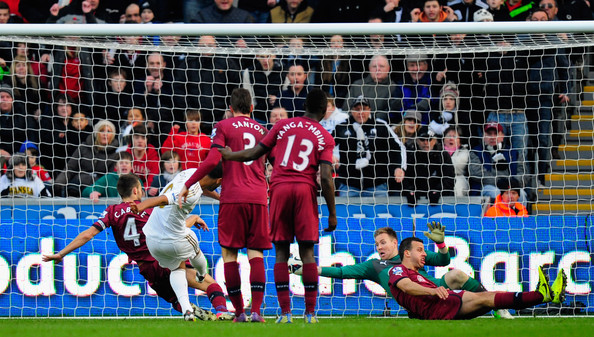 Another outing for our apparently-cursed change kit saw Newcastle slip to their first-ever defeat at the Liberty Stadium - although only the maroon-clad Magpies will know how just they failed to find the net at least once on Saturday afternoon at a sunny Swansea.

Breaking their trophy duck the previous weekend was a momentous achievement for the Swans, but not necessarily a bad thing for The Magpies, as they sought to prevent Michael Laudrup's men from completing a seasonal win double.

Certainly the Swans looked below-par in the opening exchanges as we sought to take a stranglehold on the game in the manner that led to our last away success at Aston Villa. However, they failed to achieve that level of domination in a disjointed first half, with Rob Elliot kept far busier than Michel Vorm. Steven Taylor was forced into a vital goal line clearance from Michu and his central defensive partner Mapou Yanga M'Biwa tested as City threatened on several other occasions

The former Montpellier captain was the only alteration to the starting XI from the Southampton victory, with Fabricio Coloccini missing with back trouble and fitness issues again delaying the long-heralded return of Hatem Ben Arfa.

Handling his first top-flight fixture, Craig Pawson incurred the wrath of the travelling support by booking both Yohan Cabaye and Cheick Tiote when similar challenges by the opposition went unpunished. And the rookie referee also did himself no favours by indulging Swansea's amateur dramatic act every time a semblance of contact with an opponent took place.

A double stop by Elliot in the opening stages of the second half proved to be a rare upfield excursion for City, as Newcastle upped their game and began to dominate the crucial midfield areas. Before the hour mark, Mathieu Debuchy, Yoan Gouffran, Moussa Sissoko and Papiss Cisse had all missed the target from good positions and a Newcastle goal looked inevitable as Vorm tipped a Cabaye effort on to his crossbar before pawing away a goal bound effort from Sissoko.

Resisting the temptation to alter what looked like a winning line-up for far longer than he'd done previously as Newcastle boss, Alan Pardew watched his side continue to dominate possession and City looked grateful to escape with a point as the prospect of a 0-0 stalemate looked inevitable.

However there was to be a sting in the tail, with Swans substitute Luke Moore bringing another vital block from Taylor in the closing stages before the ex Aston Villa forward almost apologetically found the net.

That triggered the manager into action and he threw on Shola Ameobi and Sylvain Marveaux as the 90 minute mark ticked by. Hardly surprisingly though, that failed to provoke an instant response and Swansea played out three minutes of added time with something to spare, before a disheartened United side trooped off after acknowledging their backing from the away section.

In defeat one often learns more than in victory and after tinkering with his teams via substitutions on a regular basis to our frustration, it would be unfair to criticise Pardew for sticking his with first XI until the late panic caused by going behind.

Again though, it's hard to understand quite what he's seeing in terms of contribution from Gutierrez and Santon's defensive work remains decidedly shaky. Realistically, the remaining ten league games are a learning curve for the manager as he attempts to blend his resources into an effective unit, ahead of further personnel changes in the summer. Days like this are part of that process.

Leaving here in the knowledge that we'd enjoyed a greater proportion of the play than when winning here 2:0 last season was no more than cold comfort though - as was the certainty that points will come from worse performances than this. Onwards to Moscow then, that's a novel line to end on.

Biffa