Date: Sunday 10th March 2013, 3pm

Venue: St. James' Park

Conditions: bitingly cold and blustery





Newcastle United

Stoke City

2 - 1


Teams
Half time: Magpies 0 Potters 0

67 mins An overhit cross from Mathieu Debuchy was cleared from forward from the left back position by Shotton and fell to Cameron Jerome on edge of the centre. The striker slipped past Tiote's challenge and strode forward before finding Walters in a supporting run to his left.

The Ireland international took the ball into the left corner of the United area and checked inside as Tiote caught him up and lunged forward, knocking Walters off his standing foot. A clear penalty, Walters blasted the spot kick home with ease, sending Elliot the wrong way. 0-1

72 mins With the huddle of Potters fans belting out a chorus of "Delilah", Whelan inexplicably passed the ball back towards his goal from a central position midway in his own half. Gouffran reached it first but was dispossessed as Begovic hurtled from his goal to edge of the box and hacked clear.

That half-clearance fell into the path of the advancing Sissoko and he made for goal, with Begovic standing his ground just inside the box. Before the Newcastle player reached him though, a pair of Potters defenders caught up and one shoved him in the back, sending him toppling into the area.

A free kick was correctly awarded and after some delay, Yohan Cabaye took two paces back and with the minimum of fuss flighted a perfect right footed effort in off the crossbar. Magnifique. 1-1

90+2 mins Haidara and Gutierrez chugged forward down the United left but when the former made an overlapping run, the latter turned infield and found Sissoko on the edge of the City box. With a posse of defenders round him and his back to goal, the Frenchman played a pass back to Campbell and he in turn took a touch and sent it sideways right, with Cabaye dummying.

Falling to Marveaux, the substitute hesitated until a gap ahead of him opened up and then looped a forward pass through to an unmarked and onside Papiss Cisse. The Newcastle number 9 knocked the ball up with his left foot and then netted from eight yards with a flat volley. Anyone as sad as us, may have been reminded of Kevin Keegan's goal from Mick Martin's pass away to Rotherham back in October 1982 2-1

Full time: Magpies 2 Potters 1

Alan Pardew said:

""To be honest, I think we are done. You have got to get 40 points, of course, but we are now seven points from that with nine games left, and you would expect this team to follow through with the standard it has got now to be able to do that.

"But the bigger picture is to finish strongly like Everton (last season) and take it into next year, and we are showing some good signs in terms of doing that.

"We are looking no further than Thursday night because we could have a really special night here on Thursday now. We have got a great opportunity in that competition. We are in the last 16 in Europe.

"We have had to battle through too many games - that competition is too many games for a Premier League team, I'm never going to change my opinion on that.

"But we are down to the real nitty-gritty now. We have got a real quality team coming on Thursday and our fans are well-educated enough to know that it will be tough for us and we are going to need every one of them in here to make the atmosphere such that we squeeze through.

"Papiss (Cisse), I think, would be the first to tell you he was awful today. He didn't do anything, really, to influence other than doing well on some defensive issues for us.

"But then the moment comes. It's an eye-of-the-needle pass from (Sylvain) Marveaux, which he has (the ability to produce). The ball pops up and most strikers would snatch at that.

"But he let it come all the way down and finished it and in the 92nd minute, that's not easy to do, trust me.

""People get them mixed up sometimes, they talk about the spirit of the side and 'You must have a fantastic spirit to come back from a goal down'.

"You need world-class players. You need a world-class player to put that in the top corner from that free-kick to give you a foundation to win the game."


The tramp in the tracksuit commented:

"He's (Papiss Cisse) pushed Marc Wilson in the face and he's slapped Ryan (Shawcross). He shouldn't have been on the pitch.

"The performance will give everybody a lot of heart but the result is devastating and you are distraught after the game because we didn't deserve that. The lads have done smashing. It's a very good away display and we looked dangerous all game on the break.

"All the supporters who came will be devastated, like we are, because they've seen their team compete and get nothing for their efforts. It's frustrating and I'm absolutely gutted. It hurts. Having taken the lead, we have gifted them the equaliser because I thought they had run out of steam and if anything we should have been next to score.

The whole team is disappointed and it's been the story of our season away from home. By hook or by crook, we have shot ourselves in the foot or not seen games out, but you cannot fault the effort and commitment. I'm so disappointed for them because they haven't half put a shift in."

"We are 11th in the Premier League with nine games remaining and that isn't bad for Stoke City."

There were Premier League debuts in this game for both Massadio Haidara and Adam Campbell, extending the total of players to have featured for Newcastle in that competition to 181.

Campbell became the fifth-youngest debutant of that 181:

1st: Kazenga LuaLua Bolton Wanderers (h) 19.01.2008 (17 years and 40 days)
2nd: Andy Carroll Wigan Athletic (a) 25.02.2007 (18 years and 50 days)
3rd: Aaron Hughes Sheffield Wednesday (a) 10.01.1998 (18 years and 63 days)
4th: Steven Taylor Bolton Wanderers (a) 28.03.2004 (18 years and 64 days)
5th: Adam Campbell Stoke City (h) 10.03.2013 (18 years and 69 days)

Cisse's late winner saw United reach the 40 goal mark in the Premier League this season, matching their final total in the relegation campaign of 2008/09. Since then, both top-flight seasons have seen us find the net 56 times.

We've now won three and lost three of the six Premier League games that have following our Europa League excursions into the Europe on the previous Thursday:

Atromitos (a) drew 1-1, Chelsea (a) lost 0-2
Maritimo (a) drew 0-0, Norwich (h) won 1-0
Brugge (a) drew 2-2, West Ham (h) lost 0-1
Bordeaux (a) lost 0-2, Fulham (a) lost 1-2
Metalist (a) won 1-0, Southampton (h) won 4-2
Anji (a) drew 0-0, Stoke (h) won 2-1

United managed three consecutive home wins in the PL for the first time this season.

NUFC on The Late Show, 2012/13:

Everton (a) Demba Ba (90)
West Bromwich Albion (h) Papiss Cisse (93)
Swansea City (h) Demba Ba (93)
Chelsea (h) Moussa Sissoko (90)
Stoke City (h) Papiss Cisse (92)

Potters on Tyne - last ten:

2012/13 won 2-1 Cabaye, Cisse
2011/12 won 3-0 Cabaye 2, Cisse
2010/11 lost 1-2 Nolan
2008/09 drew 2-2 Owen 2
2007/08 won 4-1 Owen, Cacapa, Milner, Duff (FAC)
1989/90 won 3-0 Kristensen 2, Quinn
1984/85 won 2-1 Waddle, Anderson
1978/79 won 2-0 Connolly, Withe
1976/77 won 3-0 T.Craig, Burns, Nattrass (LC)
1976/77 won 1-0 Cannell

Total record against Stoke:

| | | | | | | |
| --- | --- | --- | --- | --- | --- | --- |
| | P | W | D | L | F | A |
| SJP | 37 | 26 | 7 | 4 | 90 | 31 |
| VG/BS | 37 | 8 | 10 | 19 | 33 | 59 |
| League | 74 | 34 | 17 | 23 | 123 | 90 |
| SJP(TM) | 1 | 1 | 0 | 0 | 2 | 1 |
| VG(TM) | 1 | 0 | 0 | 1 | 0 | 1 |
| SJP(FA) | 4 | 4 | 0 | 0 | 11 | 4 |
| VG/BS | 3 | 1 | 2 | 0 | 5 | 3 |
| SJP(LC) | 1 | 1 | 0 | 0 | 3 | 0 |
| VG | 1 | 1 | 0 | 0 | 4 | 0 |
| Cup/TM | 11 | 8 | 2 | 1 | 25 | 9 |
| Tot | 85 | 42 | 19 | 24 | 148 | 99 |
Waffle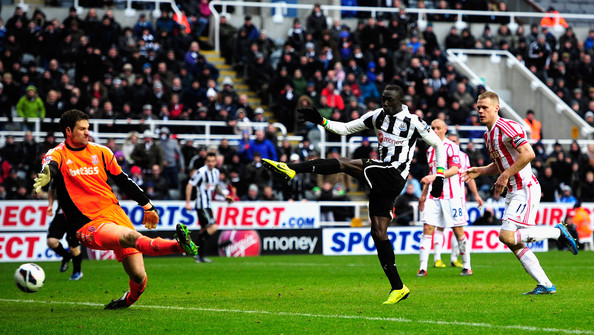 For the third successive home league game, Newcastle recovered from falling behind to claim victory and once again conjured up a stoppage time winner to delight supporters who wisely opted not to beat the traffic.

Making seven changes from the side who ground out a scoreless draw in Russia on Thursday, Alan Pardew was without both Shola Ameobi and Hatem Ben Arfa, but boosted by the return of Papiss Cisse from illness.

A drab first half saw neither goalkeeper seriously called into action with Cisse looking below par and the only efforts of note from Yohan Cabaye and Yoan Gouffran, the latter seeing him contrive to lift an effort over the Leazes crossbar from barely seven yards.

Opting to retain the same lineup for the second half, Alan Pardew watched his side go through the same process once again, enjoying plenty of possession but singularly failing to threaten in the final third - a steady succession of crosses falling nicely for Potters custodian Asmir Begovic.

A rash challenge by Cheick Tiote to halt the progress of Jonathan Walters then gave Stoke the chance to boost the worst away goal record in the division, and Walters duly obliged from the spot after his recent penalty woes.

That came against the run of play but added a sense of urgency to Newcastle's efforts and they were soon level in memorable style through Cabaye - slotting home a fine free kick at the Gallowgate End after Moussa Sissoko was shoved over on the edge of the area.

The events between the foul and the free kick conversion are worthy of note, with Steven Taylor apparently trying to haul Begovic to his feet after the City 'keeper threw himself to the ground in apparent agony.

Knowing a fellow thespian when he saw, Taylor's next ploy after pushing and shoving some defenders was to position himself right in front of the recovered Begovic and emulate his every movement, to the delight of the supporters behind that goal.

Retreating back into the wall on a couple of occasions as referee Marriner looked to have finally restored order elsewhere in the box, Taylor gave Begovic one further demonstration of his Haka before getting in his face as Cabaye's free kick nestled in the goal.

Hardly the pinnacle of sportsmanship, but chucklesome and a suitable response to the Acapulco cliff divers impressions exhibited by various City players. And like the mugging Kevin Nolan before him, it's not the first time that we've indulged in such antics just before scoring.

The equaliser coincided with a double substitution for United, Alan Pardew deciding that there weren't enough Frenchmen on the field and adding Sylvain Marveaux and Massadio Haidara - the latter for his Premier League bow.

However, the hoped-for assault on Stoke's goal for the winner didn't really materialise, with neat work from Marveaux in a deep midfield position failing to inspire genuine opportunities for those further forward.

Still Newcastle persisted though and with rookie reserve Adam Campbell on the field for his Premier League debut, added time saw him find Marveaux with a short pass and the Frenchman thread the ball to an unmarked and onside Cisse, who smashed home his ninth goal of the season.

That one's for Swifty.


Biffa