In association
with NUFC.com



Date: Sunday 17th March 2013, 4pm
Live on Sky Sports

Venue: DW Stadium

Conditions: overcast - not just in the sky

Admission: £25 (£25 in 2011/12)

Programme: £3

Wigan

Newcastle United

2 - 1

Teams
18 mins Callum McManaman got past Haidara to centre from the Wigan right and as Davide Santon made an unsuccessful attempt to reach the loose ball, Jean Beausejour steered it past Rob Elliot and Steven Taylor from seven yards. 0-1

Half time: Latics 1 Magpies 0

72 mins A slick move from United saw Sylvain Marveaux gain possession on halfway and nod the ball forward to Papiss Cisse, who wasted no time in stabbing it towards the right flank and into the path of the advancing Davide Santon. The full back - who had started the game on the left flank before switching after the loss of Debuchy - evaded the challenge of Maynor Figueroa and cracked home a low right footer into the far corner of the goal 1-1

90 mins Jordi Gomez sent over a corner that was obviously handled by Figueroa as he jumped at the near post. Most of the Newcastle side appealed as the ball bounced towards Paul Scharner in the six yard box, Elliot's attempted clearance rebounding off Di Santo and James Perch for Kone to hook home from close range as Santon made an unsuccessful attempt to reach the loose ball 1-2

Full time: Latics 2 Magpies 1

A remarkably restrained Alan Pardew said of the Haidara assault:

"It is an awful challenge. The pictures speak for themselves. I thought it was a bad challenge and I was 60 yards from the incident. The players knew because they were on top of it and there was a lot of bad feeling about that incident when it goes unpunished.

"He (Halsey) said 'If I've missed it I apologise' - that was at half-time.

"If it goes unpunished it doubles the impact on the mentality of the players and the team and it did have an impact on us, you can't get away from that.

"My job was to calm the players at half-time, not go looking for retribution, and try to win the second half - which to all intents and purposes we did.

"But again there's a decision at the end where we should have had a corner, it goes up the other end and there's a handball - that is tough to take.

"The linesman is looking right at it, the referee is there and all our players reacted and in that split second we didn't clear the ball - that's what happens when you miss a decision as big as that."

"The doctor assessed him quickly before he was scuttled away to be assessed later.

"It looks like knee ligaments and bad bruising and that's the best we can hope for."

About Debuchy:

"We will send him to France (for this week's international duty) for them to assess him but we think he will be on his way back. We don't think it is a particularly bad tear - a strain hopefully."

About Carver's sending off:
"I have no idea. I heard a kerfuffle outside, that's all I know."

Ryan Taylor on twitter:

"...the definition of a shithouse tackle."

Roberto Martinez:
"Remember Callum McManaman was making his full debut in the Premier League and, as a young man, you know you are going to give your life for everything. I haven't seen it but I believe he gets the ball and then it's a bad challenge.
"No-one wants to see that but I guarantee that is just a striker trying to win the ball over-enthusiastically because he is making his (full league) debut. What you need to look at in those incidents is if there is intention, a nastiness about the tackle. We are not a nasty team.
"He has not a nasty bone and is not bad-intentioned. The referee was in a perfect position, he is looking at the incident, where the ball is and where the ball is hitting. When you get the ball and then there is a follow-up it is very difficult for a panel to punish that."

On the Carver incident:

"I have not seen it but it is something which should never happen. It is not for anyone to take justice into their own hands."


Wigan owner Dave Whelan and manager Roberto Martinez quickly leapt to the defence of McManaman, claiming he is not that kind of player.
Oh really?
Taken from the match report for the Manchester City v Wigan Athletic U21 league game on March 1st, 2011:
John Guidetti scored a late winner as City's Elite Development Squad returned to winning ways against Wigan. However, the gloss was taken off the victory when former Barcelona youngster Gai Assulin was stretchered off in the 90th-minute following a reckless tackle by Latics' Callum McManaman which led to his second yellow and resulting red card.
Dave Whelan post-match:
"The ball was there and McManaman went in for the ball and got the ball, as clean as a whistle, then followed through and they collided. He hasn't gone over the ball. That's an accident.
"When I broke my leg in the (1960 FA) Cup Final it was exactly the same type of tackle. We both went for the ball. It brought back memories. It ruined my career.
"I am not going to criticise Norman Deeley - these things happen in football. He came over the ball, but he didn't do it with the aim of breaking my leg."
That'll be the same Dave Whelan who told the Lancashire Telegraph in May 2010 that:

"Norman Deeley came right over the ball. Today he would have been sent off and banned for a long time. He came six inches over the ball, he came for me not the ball."
Make your mind up you silly old bugger.

The long-time adversary of Mike Ashley continued:
"Can I say to the Newcastle player* that I hope you're soon well and hope you don't miss any matches, it was a pure accident and so we wish you a speedy recovery.
"I was watching the match and the referee was only 15 to 10 yards away, the ball came down between the two players, they both went for it. Our lad got the ball, no question he got the ball, but they collided - the still pictures look like he has gone for the player and gone over it, but he didn't, he got the ball.
"The referee was only 10 yards away and didn't even give the foul - it was a fair challenge, you have to see it all - our lad went for the ball, and they collided, it is football. It is tough game but it was an accident.
"We have to have 100 per cent commitment from every player, and I don't care who you're playing - they were fighting for the ball as much as ours - but our lads won't be unfair.
"It was a complete accident and hope the lad from Newcastle recovers quickly."

* Obviously Whelan was too busy to find what the name of the lad whose playing career and livelihood is now in the balance.
Laws of the game - Serious foul play:
A player is guilty of serious foul play if he uses excessive force or brutality against an opponent when challenging for the ball when it is in play.
A tackle that endangers the safety of an opponent must be sanctioned as serious foul play.
Any player who lunges at an opponent in challenging for the ball from the front, from the side or from behind using one or both legs, with excessive force and endangering the safety of an opponent is guilty of serious foul play.
A player who is guilty of serious foul play should be sent off and play is restarted with a direct free kick from the position where the offence occurred (see Law 13 – Position of free kick) or a penalty kick (if the offence occurred inside the offender's penalty area).

Davide Santon scored his first competitive goal in Newcastle colours to become our 12th different Premier League scorer of the current season and the 108th in the history of that particular competition.

Mags @ Latics:

2012/13 lost 1-2 Santon
2011/12 lost 0-4
2010/11 won 1-0 Sh.Ameobi
2008/09 lost 1-2 Guthrie
2007/08 lost 0-1
2006/07 lost 0-1
2005/06 lost 0-1 (LC)
2005/06 lost 0-1
1953/54 won 3-2 (FA) Broadis, Keeble, White*

(* at Springfield Park; all others at JJB/DW Stadium)

Full record against Wigan:
| | | | | | | |
| --- | --- | --- | --- | --- | --- | --- |
| | P | W | D | L | F | A |
| SJP | 7 | 5 | 2 | 0 | 14 | 6 |
| JJB/DW | 7 | 1 | 0 | 6 | 3 | 11 |
| League | 14 | 6 | 2 | 6 | 17 | 17 |
| SJP(FA) | 1 | 0 | 1 | 0 | 2 | 2 |
| SP | 1 | 1 | 0 | 0 | 3 | 2 |
| JJB(LC) | 1 | 0 | 0 | 1 | 0 | 1 |
| Cup | 3 | 1 | 1 | 1 | 5 | 5 |
| Tot | 17 | 7 | 3 | 7 | 22 | 22 |
2008/09: NUFC after 30 games: 29 points, 18th position (scored 36, conceded 49)
2010/11: NUFC after 30 games: 36 points, 11th position (scored 44, conceded 45)
2011/12: NUFC after 30 games: 50 points, 6th position (scored 44, conceded 42)
2012/13: NUFC after 30 games: 33 points, 13th position (scored 32, conceded 43)

Away record seasonal details:

With visits to Manchester City, West Brom, West Ham and QPR remaining, our record on the road this season is in grave danger of being the worst of our nineteen Premier League campaigns:

1993/94: 31 points from 21 matches (9 wins, 4 draws, 8 defeats, 31 goals scored)
1994/95: 24 points from 21 matches (6 wins, 6 draws, 9 defeats, 21 goals scored)
1995/96: 26 points from 19 matches (7 wins, 5 draws, 7 defeats, 28 goals scored)
1996/97: 26 points from 19 matches (6 wins, 8 draws, 5 defeats, 19 goals scored)
1997/98: 15 points from 19 matches (3 wins, 6 draws, 10 defeats, 13 goals scored)
1998/99: 19 points from 19 matches (4 wins, 7 draws, 8 defeats, 22 goals scored)
1999/00: 17 points from 19 matches (4 wins, 5 draws, 10 defeats, 21 goals scored)
2000/01: 17 points from 19 matches (4 wins, 5 draws, 10 defeats, 18 goals scored)
2001/02: 32 points from 19 matches (9 wins, 5 draws, 5 defeats, 34 goals scored)
2002/03: 22 points from 19 matches (6 wins, 4 draws, 9 defeats, 27 goals scored)
2003/04: 18 points from 19 matches (2 wins, 12 draws, 5 defeats, 19 goals scored)
2004/05: 16 points from 19 matches (3 wins, 7 draws, 9 defeats, 22 goals scored)
2005/06: 20 points from 19 matches (6 wins, 2 draws, 11 defeats, 19 goals scored)
2006/07: 15 points from 19 matches (4 wins, 3 draws, 12 defeats, 15 goals scored)
2007/08: 14 points from 19 matches (3 wins, 5 draws, 11 defeats 20 goals scored)
2008/09: 12 points from 19 matches (2 wins, 6 draws, 11 defeats, 16 goals scored)
2010/11: 20 points from 19 matches (5 wins, 5 draws, 9 defeats, 15 goals scored)
2011/12: 27 points from 19 matches (8 wins, 3 draws, 8 defeats, 27 goals scored)
2012/13: 8 points from 15 matches (1 win, 5 draws, 9 defeats, 18 goals scored)



Waffle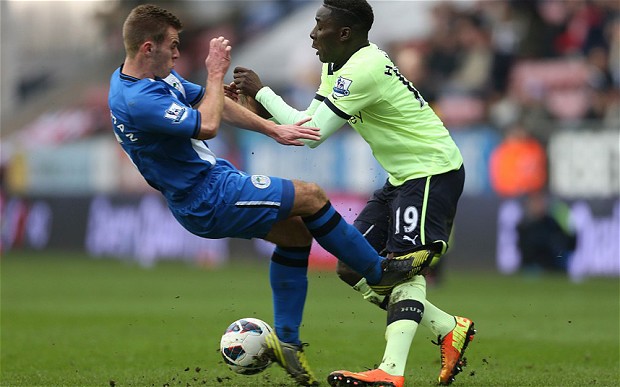 Putting together what is the 52nd first team report of this season does require some pre-planning (aside from buying a double round at last orders) and for this occasion, a line about Alan Pardew's defensive choices in general and full back options was left unused from the Anji home jottings.

Had that appeared in Thursday's report though, a hasty rewrite would have been required following the events of Sunday afternoon, when we went from a surplus to a shortage of full backs within a fifteen minute period. Things were obviously just going too well for the black and whites.

Having already seen Mathieu Debuchy limp off with a thigh strain while stretching to net after the referee's whistle had sounded, his replacement Massadio Haidara departed on a stretcher after falling victim to one of the most horrific challenges inflicted on a Newcastle player in living memory.

The severity of that incident overshadowed United's travesty of a defeat here, with the manner of Wigan's winner - stemming from a blatant handball - knocked off top spot in the grievance table.

Callum McManaman made a wild, knee-high, studs-up, two-footed lunge towards Haidara that left the visiting player prone on the turf in obvious distress. However match referee Mark Halsey incredibly allowed the game to continue until the assailant punched the ball out of play and the Newcastle physio attended to the player, followed closely by a clutch of medical staff.

With Haidara en route to hospital, the game then belatedly restarted with a free kick to Newcastle for the handball and no punishment for McManaman. It could be argued that the deliberate handball was deserving of a card, but it defies logic that there was no sanction for the assault.

That sequence of events affected the rest of a first half that was played out in decidedly muted fashion, Wigan already ahead and Newcastle never looking particularly like finding an equaliser.

Having barely threatened Rob Elliot's goal save for their opener, Wigan carved open the United defence not long before half time and McArthur bombed into the box, only to be promptly dispossessed by an immaculately-timed intervention from Jonas Gutierrez.

The departure of the two teams from the field was then punctuated by what Alan Pardew later called a "kerfuffle" between the two benches, with an incensed John Carver trying to administer his own form of vengeance on McManaman. Both he and Latics coach Graham Barrow were red-carded as a result and saw the second half from the stands, with misconduct charges later following.

A reinvigorated Magpies side began to push forward towards the away contingent after the break, soon doing enough to crank up the noise levels from that end of the ground.

Papiss Cisse had a great chance to get his side back on terms but went for the near post and fired wildly over when three of his colleagues were well placed in the six yard box. However normal service then looked to be restored when Davide Santon fired home a maiden strike for the club, the Italian pressing forward as United went looking for what seemed a fairly likely winner at that point.

With three minutes remaining Cisse almost prodded the ball home at the near post only to see his effort saved - although a corner was inexplicably not given. The Latics duly took advantage and counter-attacked, forcing Mapou Yanga-Mbiwa to nearly slice the ball into his own net and concede a flag kick as the game moved into the final minute of normal time.

Given Newcastle's recent run of late winners, there was a certain depressing inevitability about being similarly caught out at some stage. However to concede a goal in such obviously illegal circumstances after half of our side hesitated for an obvious handball that wasn't given added insult to injury on yet another cursed afternoon in Wigan for us.

Just what is it about this bloody place? With one exception, our visits here have been wretched in the extreme ever since our first visit in 2005 saw Alan Shearer's equalising header clearly cross the line only for a myopic linesman to disagree. Subsequent seasons then saw a missed penalty from Nobby Solano and rocket shots from future Magpies Ryan Taylor defeat us, before the blackest day we'd experienced before today in this part of Lancashire - Boxing Day 2008.

Seeing Jose Enrique limp out of the pre-match warm up gave the first indication that a wretched afternoon awaited the toon contingent and sure enough, things rapidly imploded after the usual Ryan Taylor howitzer strike. Within ten minutes Lee Cattermole had clattered into Habib Beye and left him needing to be stretchered off with knee damage, the Latics man remaining on the field.

And to put the tin lid on things, a clash between Sebastien Bassong and Emile Heskey midway in our own half was allowed to progress by locally-based whistler Mike Dean, who ignored a linesman's flag and played on until the pair reached our box. Cue a Latics penalty and a red card for the Magpies defender. The only loss here we concede total responsibility for is last season's 0-4 howking.

Back to this game and it's possible to level criticism at United for not playing to the whistle but the glaring error here is of the officials in allowing play to continue, not our lot stopping for what was seemingly the most obvious piece of ball to hand cheating since Bobby Robson's darkest hour.

Similarly, some teams would have downed tools. but the half-hearted protests directed towards Halsey were from players sickened by the multiple misfortunes of the afternoon and the callous disregard for their own safety that the officials displayed - a stance later backed up by the FA.

Roberto Martinez later attempted to excuse his young thug on the grounds of inexperience, the same applies to our highly promising recruit . Memories of the career-defining injuries suffered by Haidara's SJP predecessors Malcolm Brown and Mark Robinson were regrettably invoked by what happened here today. Awaiting full medical updates, you genuinely fear for the lad.

It's probably just as well that Carver was well away from the bench by the time that goal went in, otherwise things could really have got out of hand. In retrospect though, it's a pity he was unable to stick one on the loathsome Dave Whelan up in the posh seats.

The Latics owner later attempted to justify the indefensible actions of McManaman and the pair succeeding in hoodwinking the FA, who were only too eager to sit on their hands and pretend nothing had happened. No, that wasn't a stretcher. Nothing to see, move along now. Official.

Their success in hastily rewriting history here may well lead a call from South Africa for some lucrative legal consultancy work defending a well-known runner...

Exiting here both pointless and luckless, United must now try and deal with a steadily lengthening injury list and the fact that we're not sufficiently in the comfort zone yet points-wise to completely devote ourselves to the pursuit of Europa League glory. Those two or three required PL victories now look slightly harder to achieve than they did earlier this month.

After last season's 0-4 DW debacle, Danny Simpson had been widely and correctly ridiculed (making Wigan's deadline day move for him all the more bizarre) but after the turn of events here may have an unexpectedly significant role to play in the closing weeks of our season, along with fellow forgotten mag Mike Williamson. That's hardly cause for a great amount of optimism, frankly.

Regardless of our welcome transfer activity in January, the upcoming set of internationals may well do much to decide how this campaign concludes - with misadventures in France, Italy or Guinea having ramifications back on Tyneside. I really, really hate this bastard place.

Biffa