In association
with NUFC.com



Date: Saturday 30th March 2013, 3pm

Venue: Etihad Stadium

Conditions: Sunny, chilly and bleak

Admission: £49 (£38 in 2011/12)

Programme: £3

Manchester City

Newcastle United

4 - 0

Teams
41 mins Gael Clichy's ball from the City left flew across the six yard box and although Jonas Gutierrez got there ahead of Carlos Tevez towards the far post, it was the home player who managed to get the final touch when our man tried vainly to clear it. 0-1

45+2 mins Some tippy-tappy stuff around the edge of the Newcastle box left a clutch of visiting players mesmerised and when the ball fell to David Silva, he promptly smashed it beyond a helpless Rob Elliot from the left side of the six yard box. 0-2

Half time: City 2 Magpies 0

56 mins A right-footed shot from Gareth Barry was going nowhere until Vincent Kompany flicked a leg at it and diverted it past Elliot. 0-3

69 mins Yaya Toure got down by the byline on the City right before smashing the ball across the six yard box to where it hit James Perch and beat Elliot at his near post. The City player was credited with the goal. 0-4

Full time: City 4 Magpies 0

After the game Alan Pardew said:

"Benfica are top of the Portuguese league and are going very well. They could be on a par with this City side in terms of quality, but I donít think anyone else we are going to play will be as good.
"That gives us more of a chance to win games that remain. There is nothing I can do about the other results. Even with my best players today I think we would have struggled against City. They were as strong as I have seen them for a while.
"We have got to our business in the other games coming up, letís be honest. They are the ones we look forward to now. I donít think we ever thought we were out of it. Until you get to 40 points you are never out of it. We havenít really looked away from that.
"I felt in the first half that City had an assurance about them that comes from no pressure, I donít think they are going to win the league after Manchester United won today and we didnít help by not putting them under pressure.
"So when you have players like they have who are under no pressure then they are going to play well. That was our biggest problem.
"We were lucky, I thought, to get to 40 minutes without conceding a goal. We were not as technically good as we have been and I just wanted to get them in at half-time at 1-0, which if we did we would have had a better second-half.
"But itís always difficult at 2-0. We had a good attitude in the opening 10 minutes of the half. We put them under pressure and looked quite good.
"We needed to nick a goal at that stage, but couldnít manage it. The goals came at a great time for City. We couldnít get them in an uncomfortable position. If we could have got them in at 1-0, or had scored at 2-0 when Yohan Cabaye had a big chance, we could have made it uncomfortable.
ďWe never got the pressure to score a goal.Ē
ďI thought Rob (Elliot) made two or three superb saves. He has been terrific for us in Timís absence. Tim will be available for Thursday. Itís a difficult call in terms of who will play in goal.Ē
"They were very relaxed and that is very dangerous when you have great players like they have, playing without any fear. But having said that, in the first half we didn't put enough pressure on them or technically keep the ball as well as we have done in previous games.

"Therefore you are asking for trouble, and we certainly got that today."

Roberto Mancini purred:

"Vinnie (Kompany) is important for us."

"We played without him for 60 days, which was very bad for us, like when we lost Yaya Toure for a month. There are some players that are very important and if they don't play for three, four, five games it is a big problem.

"It is impossible we can win the title but it is important to finish the season well. If we play like this we won't have a problem in the last couple of months of the season. We want that second place and to win the FA Cup semi-final."

This was our heaviest defeat by City since a 4-0 thumping at Maine Road on Boxing Day 1977.

City v United - Premier League era:

2012/13 Lost 0-4
2011/12 Lost 1-3 Gosling
2010/11 Lost 1-2 Gutierrez
2008/09 Lost 1-2 Carroll
2007/08 Lost 1-3 Martins
2006/07 Drew 0-0
2005/06 Lost 0-3
2004/05 Drew 1-1 Shearer
2003/04 Lost 0-1
2002/03 Lost 0-1*
2000/01 Won 1-0 Shearer*
1995/96 Drew 3-3 Albert 2, Asprilla*
1994/95 Drew 0-0*
1993/94 Lost 1-2 Sellars*
1993/94 Drew 1-1 Jeffrey (LC)*

(*At Maine Road - all others at CoM/Etihad Stadium)

Total record against Manchester City:

| | | | | | | |
| --- | --- | --- | --- | --- | --- | --- |
| | P | W | D | L | F | A |
| SJP | 77 | 48 | 15 | 14 | 149 | 79 |
| MR/CoM | 77 | 16 | 20 | 41 | 79 | 140 |
| League | 154 | 64 | 35 | 55 | 228 | 219 |
| SJP(FA) | 6 | 3 | 2 | 1 | 8 | 5 |
| MR/W | 4 | 3 | 0 | 1 | 10 | 7 |
| SJP(LC) | 1 | 0 | 0 | 1 | 0 | 2 |
| MR/W | 2 | 0 | 1 | 1 | 2 | 3 |
| Cup | 13 | 6 | 3 | 4 | 20 | 17 |
| Tot | 167 | 70 | 38 | 59 | 248 | 236 |
Just five of the fourteen players Alan Pardew utilised in the 1-3 loss to City at SJP in December featured today: Simpson, Perch, Anita, Gutierrez and Cisse. Nine others were absent for a variety of reasons: Ba, Krul, Coloccini, Santon, Tiote, Marveaux, Shola Ameobi, Ferguson & Williamson.

Away record seasonal details:

With visits to West Bromwich Albion, West Ham and QPR remaining, our record on the road this season is in grave danger of becoming the worst of our 19 Premier League campaigns so far:

1993/94: 31 points from 21 matches (9 wins, 4 draws, 8 defeats, 31 goals scored)
1994/95: 24 points from 21 matches (6 wins, 6 draws, 9 defeats, 21 goals scored)
1995/96: 26 points from 19 matches (7 wins, 5 draws, 7 defeats, 28 goals scored)
1996/97: 26 points from 19 matches (6 wins, 8 draws, 5 defeats, 19 goals scored)
1997/98: 15 points from 19 matches (3 wins, 6 draws, 10 defeats, 13 goals scored)
1998/99: 19 points from 19 matches (4 wins, 7 draws, 8 defeats, 22 goals scored)
1999/00: 17 points from 19 matches (4 wins, 5 draws, 10 defeats, 21 goals scored)
2000/01: 17 points from 19 matches (4 wins, 5 draws, 10 defeats, 18 goals scored)
2001/02: 32 points from 19 matches (9 wins, 5 draws, 5 defeats, 34 goals scored)
2002/03: 22 points from 19 matches (6 wins, 4 draws, 9 defeats, 27 goals scored)
2003/04: 18 points from 19 matches (2 wins, 12 draws, 5 defeats, 19 goals scored)
2004/05: 16 points from 19 matches (3 wins, 7 draws, 9 defeats, 22 goals scored)
2005/06: 20 points from 19 matches (6 wins, 2 draws, 11 defeats, 19 goals scored)
2006/07: 15 points from 19 matches (4 wins, 3 draws, 12 defeats, 15 goals scored)
2007/08: 14 points from 19 matches (3 wins, 5 draws, 11 defeats 20 goals scored)
2008/09: 12 points from 19 matches (2 wins, 6 draws, 11 defeats, 16 goals scored)
2010/11: 20 points from 19 matches (5 wins, 5 draws, 9 defeats, 15 goals scored)
2011/12: 27 points from 19 matches (8 wins, 3 draws, 8 defeats, 27 goals scored)
2012/13: 8 points from 16 matches (1 win, 5 draws, 10 defeats, 18 goals scored)

Waffle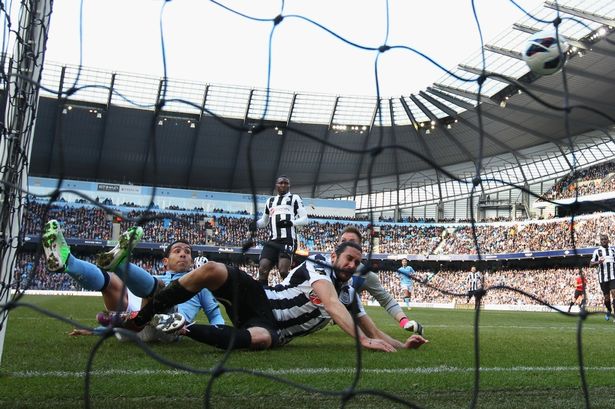 All but the absurdly optimistic element of our travelling support pitched up here with little or no expectations of anything but a blank return and after Newcastle received a footballing lesson from the soon-to-be-deposed Champions, that's exactly how they departed, a mere £50 lighter.

And save for a brief ten minute burst of effort at the start of the second half (roughly equating to £5 per minute of toon entertainment, not including travel / subsistence expenses) there was precious little to entertain those in the lower tier of the South Stand who made the effort.

The four-goal defeat equalled the 7-3 margin suffered at the Emirates last December as United's heaviest thumping of the campaign left them back on the edge of the relegation fight. With sides below them picking up points to further complicate matters at the wrong end of the table, increasing our negative goal difference by four was regrettable, albeit tinged by a certain relief that it was no worse.

Shorn of three full backs following the Wigan debacle and international break, the side fielded by Alan Pardew was unpleasantly reminiscent of the point earlier in the season when his best ten outfield players were selected and sent out to try and muddle through as best they could.

Mike Williamson was nowhere to be seen, but fielding a full back pairing of Jonas Gutierrez and Danny Simpson on our thirteenth successive attempt to beat the Citizens since September 2005 was never likely to be a formula for anything other than yet another pointless away return.

Stonewalling from the off, a rerun of last season's 1-3 loss here saw the home side dominate but fail to get their game together until the kettle was on for the half time cuppa. It was Carlos Tevez this time four minutes before the interval rather than Mario Balotelli and David Silva in the dying seconds as opposed to Micah Richards, but the end product was the same: the prospect of a further 45 minutes of keeping the score down before exiting from this miserable suburb as rapidly as possible.

It was difficult to argue with the scoreline based on City's dominance of the first period but The Magpies, with Rob Elliot performing well between the posts, had defended reasonably well and stifled the misfiring City attack for the most part.

That was despite the former Old Trafford combo of Simpson and Gabriel Obertan offering the home side the freedom of the left wing. The former performed about as well as he had in a nearby kebab shop some months ago, while the latter emulated his pathetically feckless display in Moscow. In some odd way it's fitting that Obertan's second "United" career ends in Manchester, like the first...

However Obertan's poorness was hardly an isolated instance, with both Vurnon Anita and Yohan Cabaye opting for observer roles rather than combat service after picking up first half yellow cards - frustrating at the time, but hopefully beneficial in the long run when they're available for upcoming, more winnable, Premier League fixtures.

The burden of trying to initiate and support attacks consequently fell to Moussa Sissoko and he took it upon himself to try and make a difference with a succession of futile solo dribbles reminiscent of our pal Lomana LuaLua.

The one bright moment of the opening half had been a shot on the volley from Papiss Cisse that hit the foot of the post from a tight angle. Other than that though, guffawing at Gareth Barry's awful miss from six yards and feeling vaguely embarrassed at toon end chants of "you're just a sh*t Man United" and "you're not champions anymore" were the main events of a joyless 45 minutes.

United emerged after the break with James Perch in for Obertan at the break and with City still mentally in the dressing room, Newcastle caused them more problems in the opening 90 seconds than in the whole of the first half.

Yohan Cabaye hit an effort that flew narrowly past the far post and Cisse almost converted a Vurnon Anita cross but would have been disappointed by the offside flag, had he found the net. Never mind goal line technology, is there no sort of gizmo/cattle prod that could be used to keep him on the correct side of his man?

Just when United looked like making a game of it though, a cruel deflected Vincent Kompany effort put clear daylight between the sides. The hard-working Yoan Gouffran was theny replaced by Dan Gosling - an inexplicable decision given the Frenchman's ineligibility for the Benfica tie - but it made little difference and City continued to swarm forward before grabbing a fourth goal.

However it was a lack of appetite from the home side rather than the arrival of Gael Bigirimana and Dan Gosling that ultimately kept the score down. Having relinquished the title, Roberto Mancini had given his players license to play without pressure and they took full advantage. Had we not been otherwise engaged this coming Thursday, a different starting XI would presumably have taken to the field here and we may have lost in slightly more palatable circumstances.

As it is though, we've now reached the point in our two campaigns when the European element overshadows the domestic one rather than the other way round. After having griped about the failure of successive Newcastle managers to prioritise cup success over league places then our support of Pardew's stance remains. However our proximity to the bottom places is still a massive cause for concern, as it the reliance on taking six points from our next two home games - never mind the mackem Mussolini's effect, we're still traumatised by the home loss to Fulham in 2009.

If the grand Amsterdam or bust scheme backfires though, it's worth recalling where the real damage of this season will have been inflicted on us. Not here by Mancini's mancs, but at St.James' Park during a terrible set of pre-Christmas displays and on pitches everywhere from wearside to Wigan, via Norwich, Fulham, Stoke and Swansea where we've continually underachieved.

This was expensive, frustrating, dispiriting and joyless, but entirely predictable and seemingly unavoidable. Money talks.

Niall MacKenzie/Biffa