In association
with NUFC.com



Date: Thursday 14th April 2013, 8.05pm
Live on ITV4

Venue: St.James' Park

Conditions: unbowed






Newcastle United

Benfica

1 - 1

Teams
Half time: Newcastle 0 Benfica 0

71 mins A probing run from Hatem Ben Arfa looked to have come to nothing but the United number 10 pressed on into the Benfica area as home players dithered, managing to stab the ball towards Ameobi on the goal line. His dinked cross from the byline took a deflection and was nodded into the Gallowgate End net from point-blank range by Papiss Cisse. Game on. 1-0

90+2 mins Neat interplay between Rodrigo and Cardozo down the Benfica left took them into the United box and when the former pulled the ball back, the leaden-footed Sissoko was powerless to prevent Salvio streaking past him and rifling the ball into the Leazes End goal from about eight yards. The Portu-geezers away up the Gods understandably erupted. 1-1

Full time: Newcastle 1 Benfica 1

Alan Pardew
said: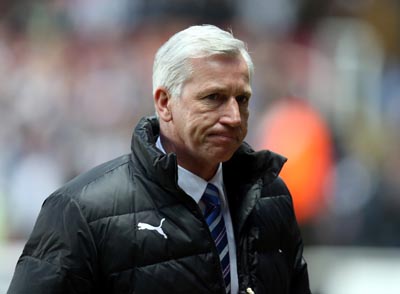 "No regret, in terms of the game plan, they are a good side, so you can't let them have the lead.

"We almost got one before half time and in the second half we (knew we) would give them a real good seeing to.

"I can't ask for anything more from the crowd and the players. You have to respect the opposition, they are a superb side, they have three or four players there that will be around in European football for 10 years.

"I am proud of the players, you can't ask for anymore. I'm proud of the performance and the way they played.

"I think they (Benfica) can win it. The game was over and I just thought they conducted themselves well, there was a great spirit, no animosity and great respect. I wished him (Jesus) good luck and we will be following their progress.

'We used all our powers to get over the line. I am proud of the club and proud to be manager of this club. We didn't protect ourselves for Sunday.

"Sunday was in my mind yet not in my mind. We had a real go, had all our big hitters on at the end and that is probably the most attacking side I have put out here. And we nearly got it. I thought that was our moment (when Ben Arfa shot over on 89 minutes). He just got too much on it.

"We've gained experience. We have been out of Europe for a number of years but put ourselves back on the stage. We want more and our main aim next year is to qualify for Europe again.


"Our next target after going out tonight is to try to secure a top-10 finish if we can. With all the injuries we have had and the credible performance we have put in in Europe, I would have to take that as a real learning curve for us in terms of the injuries we have sustained.
"The next time we go into Europe, we need to be better prepared than we were at the start of this season. You have to put into context what we are. The financial restrictions we have are so much greater than the top clubs in this country."

Jeebers: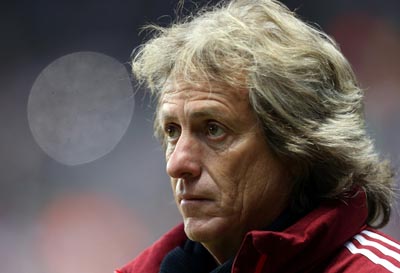 "It was hard, especially the last 20 minutes, after Newcastle scored.

"In the first half we stayed in the game, had two scoring opportunities and stopped Newcastle attacking down the flanks.

"In the second half we again did well, but when Newcastle gave everything things became complicated and tactics were abandoned.

"Things went well - it's wonderful to go through and congratulations are due to the players and the supporters of Benfica.
"Some players ended the match in difficulty, at least Salvio did. Rodrigo came in very strongly. Our secret is to have 19 or 20 good players. When some can't play, others step in.
"We want to get to the final. But we have some very tough league games in between."

Alan Pardew's side are now unbeaten in their last 25 European home fixtures (excluding the Intertoto Cup*), winning 19 and drawing the other six ties staged at SJP since losing 0-1 to Partizan Belgrade in 2003.

01 2003/04 UEFA Cup NAC Breda (h) Won 5-0 Bellamy 2, Bramble, Shearer, Ambrose
02 2003/04 UEFA Cup FC Basel (h) Won 1-0 og (Smiljanic)
03 2003/04 UEFA Cup Valerenga (h) Won 3-1 Shearer, Ameobi 2
04 2003/04 UEFA Cup Real Mallorca (h) Won 4-1 Bellamy, Shearer, Robert, Bramble
05 2003/04 UEFA Cup PSV Eindhoven (h) Won 2-1 Shearer, Speed
06 2003/04 UEFA Cup Marseille (h) Drew 0-0
07 2004/05 UEFA Cup Hapoel Bnei Sakhnin (h) Won 2-0 Kluivert 2
08 2004/05 UEFA Cup Dinamo Tbilisi (h) Won 2-0 Shearer, Bellamy
09 2004/05 UEFA Cup Sporting Lisbon (h) Drew 1-1 Bellamy
10 2004/05 UEFA Cup Heerenveen (h) Won 2-1 og (Breuer), Shearer
11 2004/05 UEFA Cup Olympiakos (h) Won 4-0 Dyer, Shearer 2, Bowyer
12 2004/05 UEFA Cup Sporting Lisbon (h) Won 1-0 Shearer
13 2006/07 UEFA Cup FK Ventspils (h) Drew 0-0
14 2006/07 UEFA Cup Levadia Tallinn (h) Won 2-1 Martins 2
15 2006/07 UEFA Cup Fenerbahce (h) Won 1-0 Sibierski
16 2006/07 UEFA Cup Celta Vigo (h) Won 2-1 Sibierski, S.Taylor
17 2006/07 UEFA Cup Zulte Waregem (h) Won 1-0 Martins
18 2006/07 UEFA Cup AZ Alkmaar (h) Won 4-2 og(Steinsson), Dyer, Martins 2
19 2012/13 Europa League Atromitos (h) Won 1-0 Vuckic
20 2012/13 Europa League Bordeaux (h) Won 3-0 Ameobi, og(Henrique), Cisse
21 2012/13 Europa League Brugge (h) Won 1-0 Obertan
22 2012/13 Europa League Maritimo (h) Drew 1-1 Marveaux
23 2012/13 Europa League Metalist Kharkiv (h) Drew 0-0
24 2012/13 Europa League Anji Makhachkala (h) Won 1-0 Cisse
25 2012/13 Europa League Benfica (h) Drew 1-1 Cisse

* if the 2005 Intertoto Cup loss to Deportivo La Coruna is included, the record is fourteen games (nine wins and five draws).

Papiss Cisse netted his thirteenth goal in all competitions this season, to equal his tally in the 2011/12 campaign. He's now scored in each of the last five home games in all competitions.

A first appearance by Mike Williamson in fifteen games saw the defender complete a century of games for Newcastle in all competitions (97 starts, 3 as sub).

The Portuguese Men 'o' War in Toon:

In seven competitive fixtures on Tyneside, we're still to be beaten by a side from Portugal:

1968/69 Sporting Lisbon (h) won 1-0 Robson
1968/69 Vitoria Setubal (h) won 5-1 Davies, Foggon, Gibb, Robson 2
1969/70 Porto (h) won 1-0 Scott
2004/05 Sporting Lisbon (h) drew 1-1 Bellamy
2004/05 Sporting Lisbon (h) won 1-0 Shearer
2012/13 Maritimo (h) drew 1-1 Marveaux
2012/13 Benfica (h) drew 1-1 Cisse

United's European Quarter Final history:

1968/69 Vitoria Setubal won 6-4 (won 5-1 h, lost 1-3 a)
1969/70 Anderlecht drew 3-3 (lost on away goals) (lost 0-2 a, won 3-1 h)
1996/97 Monaco lost 0-4 (lost 0-1 h, lost 0-3 a)
2003/04 PSV Eindhoven won 3-2 (drew 1-1 a, won 2-1 h)
2004/05 Sporting Lisbon lost 2-4 (won 1-0 h, lost 1-4 a)
2012/13 Benfica lost 2-4 (lost 1-3 a, drew 1-1 h)

Quarter Final Results:

Rubin Kazan 3-2 Chelsea (Chelsea won 5-4 on agg)
Basel 2-2 Spurs (4-4 agg, Basel won 4-1 on pens)
Lazio 1-1 Fenerbahce (Fenerbahce won 3-1 on agg)
Newcastle 1-1 Benfica (Benfica won 4-2 on agg)

Friday's draw saw Benfica drawn against Fenerbache with the first leg played in Turkey. Chelsea meanwhile will face Basel in the other semi-final, with the first leg staged in Switzerland.

Waffle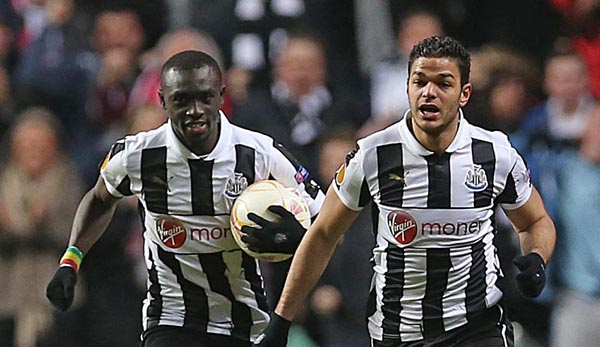 The Eagles eventually soared into the last four of the Europa League on Thursday, but only after a stern test of character from a Newcastle side who came rather closer to achieving the required result than many had expected.

Under pressure to preserve the club's membership of the far more lucrative Premier League, this game had been widely portrayed as the least important of the week's trio of home games. And with injuries and availability of players complicating the picture, few expected Alan Pardew to start with his first XI despite the previous Sunday's league victory.

The manager had spoken of it being a fourteen man test - a nod to the importance of utilising his three replacements to maximum effect - and although eyebrows were raised by the appearance of Gael Bigirimana in a wide right role, the pattern of the game was to endorse United's tactics.

An instantly forgettable first half saw Benfica threaten an early goal through Lima and then almost catch Tim Krul off his line for the second game in succession, Massadio Haidara (in for the crocked Santon) returning to make a timely interception to deny Nicolas Gaitan on this occasion.

With the visitors looking to press at every opportunity, United were unable to find any rhythm and pattern to their play and repeatedly struggled to get out of their own half, save for aimless whacks forward. Moving into the final seconds of the half though and having mustered only a weak effort from Bigirimana, Papiss Cisse netted from close in - only to be correctly penalised for offside.

With Shola Ameobi appearing for the second half, United indulged in a pre-kick off huddle that was interpreted as a statement of intent and saw home supporters ramp up the volume still further.

At the business end of a 180 minute tie, this fourth quarter would decide our fate for good or ill. The task was simple: score twice and preserve a third successive clean sheet here in this competition in order to progress to the semi-final stage.

However a lack of punch up front saw fans soon shouting for Hatem Ben Arfa to make his entrance, the Frenchman replacing Vurnon Anita and instantly providing a welcome threat down the right.

Cisse had the ball in the Benfica net once again with a neat finish but was well offside and duly penalised, before United's final change saw Sylvain Marveaux come on for Haidara. Conspicuous by his absence from the squad was Gabriel Obertan, with his consequent appearance in a reserve game less than 24 hours later confirming that he's been barred from the last chance saloon.

Pardew had spoken of scoring by the 70 minute mark in order to set up a fighting finish and his wish was granted when Cisse finished from close range at the Gallowgate End, close enough in for even he not to have strayed offside.

There was no elongated excursion into the crowd this time from the scorer, while his manager's celebrations was a brief clenched fist salute and then instructions to his coaches to simmer down.

For all the pressure and possession that they enjoyed as the Portuguese league leaders were placed firmly on the back foot, United failed to seriously test Artur, their best chance seeing Ben Arfa force his way into the box before sending an 89th minute pile-driver high into the crowd.

A hack on Marveaux then set up Yohan Cabaye for a free kick just outside the box in added time, but the captain capped a frustrating night by flicking his effort of the defensive wall and into the arms of a grateful goalkeeper.

Having prospered on various occasions recently via an extra time goal, Newcastle's interest in this competition would be ended by a slick counter-attack and finish by Benfica, Salvio sliding the ball home to make it 1-1 and kill off United. Had he done that after we'd got a second (as we had privately predicted pre-match) that would have been a real kick in the plums, but if nothing else we retained our admirable home record in this competition.

The equaliser prompted some to sneak out early, but most fans remained in their places to applaud both sides from the field when the final whistle sounded - something acknowledged by the visiting coach Jorge Jesus, who deliberately turned and applauded the Milburn Stand at full time.

For all the disappointment, the result was a fair one and there looked to be a recognition among home fans that they'd lost out to a genuinely talented side - beaten just twice in the last year (by Barcelona and Spartak Moscow) and arriving on Tyneside in search of a thirteenth successive win.

Spirit will only take you so far and the individual errors of the first leg ultimately proved to be insurmountable. Regardless of Pardew's team selection tonight, scoring twice and keeping a clean sheet was a very tall order indeed, even ignoring the Premier League tests that bookended it.

United's first European foray in six seasons ended at a respectable point in the competition and while domestic fixture alterations were a pain and the League Cup and FA Cup surrenders a source of much angst, the positives outweigh the negatives at this point - not least of which was giving the likes of Adam Campbell, Rob Elliot and Bigirimana some proper pitch time and match experience.

The true cost of the dropped league points will only become evident at season's end though - and despite all of the warm words and handshakes, it's that which the manager will be judged on.

There's a fine line between throwing caution to the winds and taking the proverbial to the point of making participation in the competition a nonsense and we just about straddled it (in years to come, the fact that Nile Ranger started in Bordeaux will be dismissed as a clerical error....)

And from a purely personal perspective, the chance to swap Birmingham for Brugge and Manchester for Moscow was a welcome one, regardless of transport and paperwork issues. We like a challenge and anything has got to be better than spending time in desperate holes like Stoke.

A new generation of toon fans have now sampled the unique and mostly pleasurable experience of seeing their side abroad and hopefully it's whetted their appetites for future adventures as much as the players - unless they've developed such a thirst for midweek games that they seek to continue the experience somewhere else in 2013/14 (players not fans, that is).

We won't be playing European football next season, but after the experience of contending with no less than fourteen UEFA ties this time round, there's simply no reason why both domestic cup competitions can't be taken seriously, with first choice XIs selected.

Now let's go and stuff it right up that lot down the road to round off the week in fine style, in front of what will be a third 50,000+ Gallowgate crowd in eight days.

Biffa