Date: Sunday 14th April 2013, Noon
Live on Sky Sports

Venue: St. James' Park

Conditions: catastrophic





Newcastle United

mackems

0 - 3


Teams
27 mins A dreadful attempt at a pass from Jonas Gutierrez to Mathieu Debuchy on the halfway line was cut out by James McClean, who strolled forward before threading a pass to the unmarked Stephane Sessegnon ahead of him.

The striker shrugged off a hopeful attempt at a tackle by the retreating Gutierrez before cutting infield to avoid Steven Taylor and sending a low 20 yard shot between Tim Krul and the post at the Gallowgate End. A decoy run across the box by Danny Graham looked to have bewildered Mapou Yanga-Mbiwa, who fatally hesitated in Krul's line of vision 0-1

Half time: Magpies 0 mackems 1

74 mins Replacement 'keeper Rob Elliot was powerless to prevent Adam Johnson from rifling home a curling shot from outside the box, the ex-Manchester City man cutting in from the right flank and letting fly in much the same way as he did against us at the Etihad in October 2010, Gutierrez this time showing him inside and Cheick Tiote failing to provide sufficient blocking protection 0-2

82 mins Sessegnon turned provider, knocking the ball across the edge of the box to David Vaughan, who had jogged forward to join a counter-attack. With Tiote advancing to close him down, the former Blackpool midfielder promptly fired the ball into the top right hand corner of the goal, past an astonished and helpless Elliot. 0-3

Full time: Magpies 0 mackems 3

Alan Pardew said:

"I don't feel particularly great, it was a tough day. They looked like a team who had worked all week on us and we looked like a team that had a really tough game on Thursday night. It was a great day for Sunderland and an awful day for us.

ďWe couldnít match them. They had an energy level above us. In the end, a couple of good saves from their goalie and a couple of wonder strikes, have made a horrible result for us.
"Youíre looking at the team, and you just know that ainít our team. We looked tired in the mind and tired in the body. Iím not making excuses for me or the team, but I donít think you needed to be a professional to know that one team looked really fresh, and one didnít.
ďWe still had a big chance in that game. If the linesman had given that (Papiss Cisse) goal suddenly a goal can do wondrous things to your energy levels.
ďThree or four players ... you have to (ask) whether they could play that game. Mapou (Yanga-Mbwia) and (Yohan) Cabaye, in particular, looked really tired. You donít really know until you get out there.
"I think they (the derby debutants) got it but if youíre not at your full battery levels, itís difficult to put that out of the pitch. Sometimes your levels are such that you just canít match the opposition.

"That was a tough decision (not to start with left back Massadio Haidara). He is a young boy and I wanted to play a bit of experience, people who I I think know the game and with hindsight, perhaps I should have played him. I didnít think he could get through that after Thursdayís match, his first game back, also get the intensity of it.

ďMaybe if Tim (Krul) hadnít got injured at that crucial point, it could have been 1-1, and we could have had an extra sub with extra energy. We could have brought on an extra offensive or defensive player, or whatever we needed. That got taken away. It was a game that really didnít work out for us.
"I will make sure it hurts the players. We've got to do some work with the team. There's no Europa League left and we need to make sure we get our shape right and get ourselves disciplined and try to win games.

"This (result) won't leave me because it's our home and we don't want to get beaten by our rivals."


the mackem mussolini said:

"It's the second pair of trousers I have lost - but I would like to lose my trousers every weekend. I would lose all my money, to be honest. I wanted to go further, but I couldn't because I am too old. I have only 20 yards in my legs now - that's why I fell down.

"Before the kick off I saw the face of my mother smiling. Before the kick off I believe in this thing. It is one year since she passed away. It is not an accident. I believe in this energy. For this, I was sure today, you may think maybe 'he's mad'.
"It's obvious it was an emotional moment. Exactly one year ago, there was the same situation. I was in the dugout the day after she passed away and we won the game. I was at Swindon and today it happened again. For this I have to thank not only my Mamma, but otherwise my Dadda, he is next to her. My dedication goes to my mama today.
"I understand why they sing the manager's name but they have to sing the player's name. They players worked so hard. My players were warriors today. The derby was beautiful. This stadium full of passion. Approximately 2,800 of our fans, they were very far, I didn't remember it was so far away. They were loud during the game and that was fantastic.

"The big rivalry we have got in this area is very famous around the world, so to get the three points away from home against Newcastle was fantastic. But now we have to drop back and put both feet on the floor.

For the result in the area, it is a massive step, but in terms of the table, it's a small step. We are on 34 (points) now, we are not safe, but it's obvious that it was a fantastic result for everybody."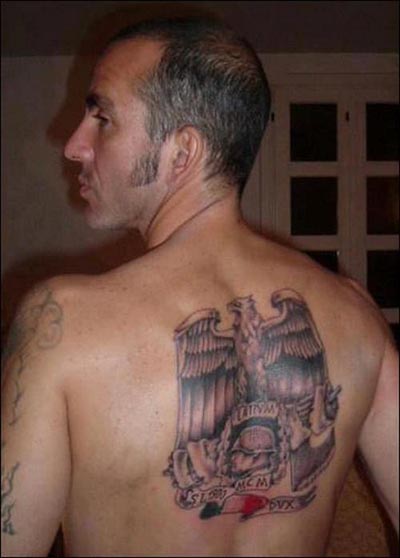 "I am not political, I do not affiliate myself to any organisation."
So you just fancied getting a dictator tattooed on your back?
The 148th derby saw win number 46 for our foes compared to 53 United victories. There have been 49 stalemates to date, with United netting 221 times and conceding 217.

United lost for the first time in seven derby matches, since the red and whites won 2-1 at their place in October 2008. The mackem victory at SJP was their first here in eight attempts, since the 2-1 success of November 2000 that featured Alan Shearer's penalty miss.

Newcastle failed to put the ball in the mackem net for the first time in 13 derby games at SJP, since the Division Two playoff second leg game in May 1990 that ended 0-2 to the visitors.

This was our largest margin of derby defeat home or away since the 1-4 home reverse in February 1979 and in terms of top-flight home losses to the mackems, it equals a 0-3 loss in October 1966.

This defeat also ended a seven match unbeaten home run in all competitions and denied United a fifth straight home victory - something they've not achieved since the 2003/04 season.

The scoreline equaled our worst home loss of the season, by Manchester United.

smb @ SJP since 1980:

2012/13: Lost 0-3
2011/12: Drew 1-1 Ameobi
2010/11: Won 5-1 Nolan 3, Ameobi 2 (1pen)
2008/09: Drew 1-1 Ameobi (pen)
2007/08: Won 2-0 Owen 2 (1pen)
2005/06: Won 3-2 Ameobi 2, Emre
2002/03: Won 2-0 Bellamy, Shearer
2001/02: Drew 1-1 Bellamy
2000/01: Lost 1-2 Speed
1999/00: Lost 1-2 Dyer
1996/97: Drew 1-1 Shearer
1992/93: Won 1-0 Sellars
1991/92: Won 1-0 Kelly
1989/90: Lost 0-2
1989/90: Drew 1-1 McGhee
1984/85: Won 3-1 Beardsley 3 (1pen)
1979/80: Won 3-1 Cartwright, Cassidy, Shoulder

All Time Tyne-wear stats:
| | | | | | | |
| --- | --- | --- | --- | --- | --- | --- |
| | P | W | D | L | F | A |
| SJP | 68 | 31 | 18 | 19 | 118 | 101 |
| SoS/JP | 68 | 20 | 25 | 23 | 91 | 99 |
| League | 136 | 51 | 43 | 42 | 209 | 200 |
| SJP(PO) | 1 | 0 | 0 | 1 | 0 | 2 |
| JP | 1 | 0 | 1 | 0 | 0 | 0 |
| SJP(FA) | 5 | 1 | 2 | 2 | 5 | 9 |
| NR/JP* | 3 | 1 | 1 | 1 | 3 | 2 |
| SJP(LC) | 1 | 0 | 1 | 0 | 2 | 2 |
| JP | 1 | 0 | 1 | 0 | 2 | 2 |
| Cup/PO | 12 | 2 | 6 | 4 | 12 | 17 |
| Tot | 148 | 53 | 49 | 46 | 221 | 217 |
(includes the Newcastle East End FA3QR game at Newcastle Road in 1888)
Waffle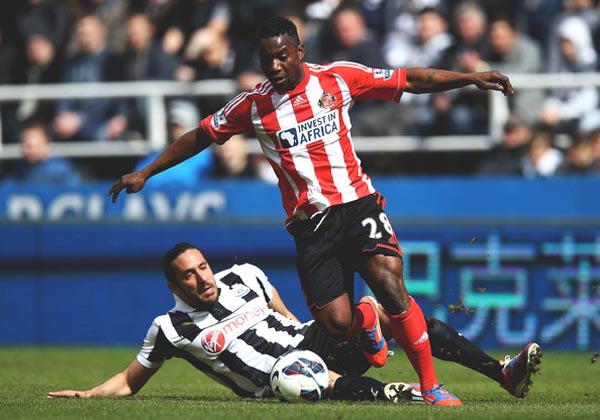 Ten days ago in Lisbon, an eagle memorably lapped the stadium before kick off, but at full time on Sunday Alan Pardew may have glanced upwards for evidence of vultures beginning to circle.

His side had just served up arguably their poorest home display of the season in a game that had massive significance not just on a regional level, but also in terms of deciding whether Newcastle would once again take their place among the elite of English football next August.

Much press attention had focused ahead of this fixture on the recently-installed mackem manager and whether he would be greeted at Gallowgate by a forest of one-armed salutes from home fans - police and stewards receiving specific pre-match guidance on rooting out offenders.

In the event though, the only hand signals evident were the three fingers held up by Paolo Di Canio towards full time - and the metaphorical two-fingered gesture the United players gave to a third successive capacity crowd in an eight day period. If they were at all bothered, they didn't show it.

A week before, the Newcastle boss had extravagantly celebrated an added time winner against Fulham, having fielded a stronger side than anticipated the previous Thursday night in Portugal.

Given the increased riches now on offer for Premier League membership, that seemed like a high-risk strategy at the time and one at odds with his employers, who plainly regard the 38 domestic games as their bread and butter - and the UEFA stuff as a sideshow. If he extricated his head from the noose last Sunday though, it may now be back in there. It's not called Gallowgate for nothing....

Of course things could have been different, with Mignolet making two stops to deny Papiss Cisse, one more cleared off the line and an errant linesman's flag denying our number nine the goal that would have taken him ahead of former colleague Demba Ba in our seasonal rankings.

Unfortunately though, today was the day when Newcastle's reserves of energy and good fortune both ran out and our local rivals succeeded in unmasking our inherent failings. For once we were unable to profit from a dubious handball or a tragic defensive slip in added time. Luck runs out.

Those late home escapes camouflaged the fact that the preceding 89 minutes or so weren't always of sufficient quality. Cracks were papered over by the talisman up front - initially Demba and now Papiss - an ongoing lack of quality in terms of set pieces in particular and crosses in general. If you were being super-critical of our crowd, you'd say many had no idea of what they were watching and purely based their conclusions and opinion on the final score.

Our listlessness and lack of invention today was reminiscent of desperate home losses to the likes of Reading that prompted the influx of new faces in January to try and prevent a drama from becoming a crisis. The result of that was a rot-stopping victory at Aston Villa, renewed momentum in the Europa League and a run of home victories that added crucial points to our total and brought a renewed sense of optimism that we were indeed still going in the right direction.

Away from home though we remain porous and pliable, in stark contrast to the latter part of last season, when genuine momentum was achieved. Only bottom of the table Reading have a worse away record than us this season - and three of their five points were gifted to them on Tyneside.

The titanic effort of last Thursday (and the previous ones) is the obvious explanation for our inability to compete today, but it's not quite as simple as that. Messrs Debuchy, Gouffran, Taylor and Tiote didn't feature in midweek, while Ameobi, Marveaux and Ben Arfa only had bit part roles - facts that were no doubt trotted out when the manager was asked to justify this week's team selections.

The same cautious, stalling tactics as the Benfica home game were again evident and it took the red and whites most of the half to understand their manager's frenetic gesticulations and cotton on to the face that we were there for the taking: no snarling Kevin Nolan, no in your face Joey Barton, no noticeable leadership at all in a match now afforded too much importance but requiring at least a never-say-die approach in defeat, not this hollow no-show.

Pardew admitted to regretting his decision to field Jonas Gutierrez at left back and leave Massadio Haidara on the bench, although the enforced withdrawal of his goalkeeper may have robbed him of the chance to bring him on and push Jonas into the position that he excelled in eight days earlier.

The manager's rationale was that the more experienced player may have given him more and the young Frenchman could be suffering from his efforts on Thursday, but that ignores the fact that Haidara was brought back to face Benfica - something doubtless noted by Pardew's employers.

And like the reasons for his slavish devotion to the cult of Jonas, we may only know the true story of how Hatem Ben Arfa has managed to be on the verge of returning from injury since well before Christmas in years to come.

Needing surgery, or not, Having had surgery, or not. Back in training, or back in France. Raring to go, or out of condition. We've lost track of what the truth (or spin) is, but it's evident that he's in no position to contribute sufficiently in our hour of need. Roared into the fray here by the fans, there also seemed to be a worrying reliance on him by team mates, keen to abdicate responsibility.

Obviously under instructions not to repeat his red card transgression in the last derby, Tiote was a complete waste of space. Unable to kick people, his contribution instead consisted of some passes of wildly varying quality and almost random direction and one awful air shot.

Yohan Cabaye was similarly inert - you'd like to think he was playing on despite being less than 100%, but that remains to be seen. Gouffran remains peripheral and like Anita, uncertain just what his role is, Marveaux again flitted in and out and flattered to deceive, while Sissoko just looks mentally and physically done in. All will doubtless contribute in the future, but the time to do so is now, starting at the Hawthorns on Saturday.

As ever though, the picture is obscured by ill-timed injuries: Tim Krul will miss the remainder of the season after dislocating his shoulder, while Davide Santon may not feature in the remaining games. The return of Fabricio Coloccini meanwhile remains open-ended, another now-familiar Pardewism.

Regardless of whatever political doctrine he may subscribe to, the ideology successfully imparted here by the mackem mussolini to his troops was one of self-belief and desire. The result was an unexpected home humiliation with unwelcome echoes of the 1990 playoff defeat, certainly in the degree of post-match gloom felt in nearby hostelries.

A first mackem win in their last ten games was achieved despite the absence of top scorer Fletcher and second top scorer (Gardner, who watched the game from the away section in L7). Had we been the same position, going into this game without Cisse would have been a tall order indeed.

It's easy to jump to conclusions about the actual superiority of the visitors, who let's not forget, remain below us in the table and with some tricky fixtures ahead of them. At least their manager got his knees dirty today though - more than a few of our players did.

So from photo calls with One Direction to a side with no direction - and no real idea of where their next point is coming from. Pardew is entitled to feel let down by many of his players, but it didn't do his predecessors much good.

Similarly, saying to people that "I told you so" after the exertions of a European campaign afflicted his side's domestic performances may win the manager sympathy in some quarters, but being the possessor of an inconvenient truth isn't always a good thing in terms of job security.

For United to remain in the top flight due to the inadequacies of our fellow strugglers may keep the bean counters happy, but having set the standard last season - and acquired that grandiose but meaningless contract - then the manager may well have raised the bar to unachievable levels.

A good amount of the necessary raw materials look to be here, but it may well be left to someone else to try reach that intangible "next level" next season. Whether it's of his own success or his failings, Alan Pardew is starting to look like a victim - and the expression on the owner's face at 0-3 hardly suggested that he was dashing off to organise a support group....


Biffa