In association
with NUFC.com



Date: Saturday 20th April 2013, 3pm

Venue: The Hawthorns

Conditions: Sunny and benign.

Admission: £39 (£29 in 2011/12).
Where did that 34.5% rise come from? Not exactly index-linked and the second big hike in as many away games after Manchester City (£38 to £49)

Programme: £3

West Bromwich Albion

Newcastle United

1 - 1

Teams
8 mins A stunningly simple goal - Papiss Cisse was played in on the left of the box and then turned and clipped a precise cross for Yoan Gouffran to glance into the far corner of the net in front of the away section.

Jonas Olsson and Ben Foster didn't cover themselves in glory for the Albion - the latter caught in no-man's land and left to stand helplessly and watch the ball bounce into the net. 1-0

Half time: Albion 0 Magpies 1

64 mins James Morrison played the ball up to Romelu Lukaku who laid it off to Billy Jones as space opened up in the box for him to place the ball past Rob Elliot and Massadio Haidara on the line - the latter getting a slight touch but failing to divert the ball wide of the target.

The Shrewsbury-born player netted his first senior goal for the Baggies and in doing so, became their first English-born scorer of the season. 1-1

Full time: Albion 1 Magpies 1

After the game Alan Pardew said:

"I'm really pleased with a point, it is important at this stage of the season. We have got four games to go and I don't really care where we finish in the league as long as we are in the league.

"You need to make sure you secure the points and don't rely on other people not getting them. It is very important now we keep battling to the end.

"The club is in a great financial position, we have good players and if we have them all fit, we are stronger than we were today. Therefore, I would expect us to challenge for top 10 next season but we have got to stay in the division.

"The energy levels we had on Sunday were not good enough to cope with that sunderland performance. We needed to show today, after we get some rest, that we ain't a bad team.

"First half we really should have put the game to bed - we had two or three good chances at 1-0 and we were coping really well with West Brom. But they went direct in the second half and with their powerful strikers, we had to show another part of our game, to roll our sleeves up and defend. We did a good job of that.

"The overall feeling is we have shown exactly what we needed to show today without getting the three points. This was our 50th game, which goes a little bit unnoticed. Fifty professional games, and all the travelling involved as well, that's tough.
"I think clubs will look at the impact the Europa League can have, not only the extra games, but the injuries we've had on the back of that. There's no doubt that our league position would be better than it is (without involvement in the Europa League).
"We loved the Europa League, it was brilliant and we fully attacked it. There's only four teams left, and they're all Champions League teams. It's a tough one to win.
"If we have to take criticism for making sure we played hard in that competition, then we have to accept that. It's affected our league form. But you're in competitions because you want to win them. This club have not won a trophy for God knows how many years. But we've had to pay a heavy penalty on the Sundays, not just against Sunderland but in previous games.
"I want to finish in the Premier League. I think we've got a strong team but we need to prove that. We're still fighting for our lives. But we've got to fight like that for the remaining four games. I'm not being confident, and I'm certainly not being arrogant about it, and we've still got work to do and tough games to come.
"That's why this point was so important. They're gold dust at this time of year, especially when you're away from home. We've got two games away from home when we need to get a solid return.
"We've got to keep pushing. It's so tight, the division, we could get end up around 11th, or we could end up being relegated. We need to make sure we try to focus the same energy levels, the same commitment, on every game, and hopefully that will take care of itself.
"I don't really want to think about what it would take to put (relegation safety) to bed – 39 points, 41, 42. You're talking to a (former) West Ham manager who inherited a team that went down with 42 points. So not even a win at Liverpool would make us safe."
About the Perch tackle:
"I certainly didn't think it was a foul. I was standing in a direct line with his foot and thought he got the ball. I didn't see anything wrong with it."

Steve Clarke said:

"I was a bit concerned we had only played two games in 34 days and I think that showed at the start. Newcastle picked up the game much quicker than we did. In the first half they were better than us.

"On another day they could have got a second goal and it would have made it more difficult for us, but they didn't and it gave us the avenue back into the game, which I think we grabbed with both hands. Second half we were much, much better.

"We had much more aggression and intensity. On another day we could have nicked all three points. He (Jones) is the first Englishman to score for us this year.

"He has done well, Billy, he gets in those positions quite a lot. I am delighted he scored because it gets us a point and delighted for Billy. He deserves it.

About the Perch tackle:
"The referee gave a free-kick and the challenge was clearly inside the box. On another day we might have got it."

Newcastle gained only their ninth away point of the season from a possible 51 as they halted a run of four consecutive away defeats in the Premier League. The worst run under Alan Pardew was five, recorded earlier this season (Southampton, Stoke, Fulham, Man United, Arsenal).

Yoan Gouffran's second goal in Newcastle colours was our 19th away goal in the Premier League this season so far, coming in the 17th game. That compares to 27 scored last season in 19 games.

United managed 19 away goals in the 1996/97, 2003/04 and 2005/06 seasons, but due to improved defensive performance collected more points and as a consequence achieved 2nd, 5th and 7th place finishes respectively.

Number of away clean sheets in 2011/12: six
(mackems, QPR, Bolton, Blackburn, Swansea, Chelsea)
Number of away clean sheets in 2012/13: one
(Norwich)

Away record seasonal details:

With only visits to West Ham and QPR remaining, our record on the road this season is in grave danger of becoming the worst of our 19 Premier League campaigns so far:

1993/94: 31 points from 21 matches (9 wins, 4 draws, 8 defeats, 31 goals scored)
1994/95: 24 points from 21 matches (6 wins, 6 draws, 9 defeats, 21 goals scored)
1995/96: 26 points from 19 matches (7 wins, 5 draws, 7 defeats, 28 goals scored)
1996/97: 26 points from 19 matches (6 wins, 8 draws, 5 defeats, 19 goals scored)
1997/98: 15 points from 19 matches (3 wins, 6 draws, 10 defeats, 13 goals scored)
1998/99: 19 points from 19 matches (4 wins, 7 draws, 8 defeats, 22 goals scored)
1999/00: 17 points from 19 matches (4 wins, 5 draws, 10 defeats, 21 goals scored)
2000/01: 17 points from 19 matches (4 wins, 5 draws, 10 defeats, 18 goals scored)
2001/02: 32 points from 19 matches (9 wins, 5 draws, 5 defeats, 34 goals scored)
2002/03: 22 points from 19 matches (6 wins, 4 draws, 9 defeats, 27 goals scored)
2003/04: 18 points from 19 matches (2 wins, 12 draws, 5 defeats, 19 goals scored)
2004/05: 16 points from 19 matches (3 wins, 7 draws, 9 defeats, 22 goals scored)
2005/06: 20 points from 19 matches (6 wins, 2 draws, 11 defeats, 19 goals scored)
2006/07: 15 points from 19 matches (4 wins, 3 draws, 12 defeats, 15 goals scored)
2007/08: 14 points from 19 matches (3 wins, 5 draws, 11 defeats 20 goals scored)
2008/09: 12 points from 19 matches (2 wins, 6 draws, 11 defeats, 16 goals scored)
2010/11: 20 points from 19 matches (5 wins, 5 draws, 9 defeats, 15 goals scored)
2011/12: 27 points from 19 matches (8 wins, 3 draws, 8 defeats, 27 goals scored)
2012/13: 9 points from 17 matches (1 win, 6 draws, 10 defeats, 19 goals scored)

The maroon change strip was worn for the seventh and hopefully last time and once again United proved unable to post a clean sheet. They did at least though take the lead for the first time while wearing the damn thing:

Atromitos (a) drew 1-1 (Europa League)
Reading (a) drew 2-2 (Premier League)
Fulham (a) lost 1-2 (Premier League)
Brighton (a) lost 0-2 (FA Cup)
Spurs (a) lost 1-2 (Premier League)
Swansea City (a) lost 0-1 (Premier League)
West Bromwich Albion (a) drew 1-1 (Premier League)

Magpies @ Throstles - last 20:

2012/13 Drew 1-1 Gouffran
2011/12 Won 3-1 Cisse 2, Ben Arfa
2010/11 Lost 1-3 Lovenkrands
2009/10 Lost 2-4 Carroll 2 (FAC)
2009/10 Drew 1-1 Duff
2008/09 Won 3-2 Duff, Lovenkrands, S.Taylor
2005/06 Won 3-0 Owen 2, Shearer
2004/05 Drew 0-0
2002/03 Drew 2-2 Jenas, Viana
1990/91 Drew 1-1 Quinn
1989/90 Won 5-1 OG, Brazil, Brock, McGhee, O'Brien
1985/86 Drew 1-1 Wharton
1984/85 Lost 1-2 Baird
1977/78 Lost 0-2
1976/77 Drew 1-1 Barrowclough
1973/74 Won 3-0 Tudor, Macdonald, Barrowclough (FAC)
1972/73 Won 3-2 Tudor 2, Smith
1972/73 Lost 1-2 Hibbitt (TC)
1971/72 Won 3-0 Macdonald 2, Busby
1970/71 Won 2-1 Dyson, OG

Full record v West Brom:
| | | | | | | |
| --- | --- | --- | --- | --- | --- | --- |
| | P | W | D | L | F | A |
| SJP | 57 | 29 | 13 | 15 | 120 | 82 |
| TH | 57 | 13 | 19 | 25 | 74 | 110 |
| League | 114 | 42 | 32 | 40 | 194 | 192 |
Waffle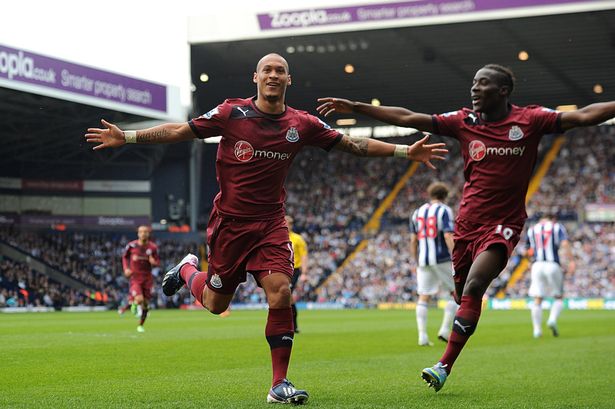 Newcastle and West Bromwich Albion shared the points at The Hawthorns on a sunny Saturday afternoon - a logical return for two sides who dominated one half each.

The opening 45 minutes belonged to United, who took an early lead from their first meaningful chance, Yoan Gouffran flicking home a header from a Papiss Cisse cross. And boosted by that breakthrough, the visitors took the fight to a Baggies side safely in mid table but without a win in three games and having played just twice in the previous five weeks.

Rather than being refreshed however, Albion looked positively dozy and showed few signs of testing Rob Elliot, with top scorer Romelu Lukaku noticeably out of sorts. Despite failing to hit the heights of a first half display that brought three goals here in 2012, United should have gone in at half time well on the way to what would have been only their second away win of the season.

However, they failed to do so courtesy of a glaring miss from Cisse, an unfortunate miskick by Steven Taylor and two Yohan Cabaye efforts - one narrowly off target and the other beaten out by goalkeeper Ben Foster.

Albion ended the half convinced that they'd been denied what would have been a third penalty award in as many matches, with replays showing that referee Mike Jones was guilty of two glaring, simultaneous errors.

Penalising James Perch for a legitimate challenge on Billy Jones, the whistler then chose to award the home side a free kick outside the box, although what he wrongly ruled as a foul actually took place in the Newcastle area.

Some reaction from the Baggies after the resumption was inevitable and manager Steve Clarke opted to combine forward pair Lukaku and Shane Long, rather than swapping them as he had at SJP earlier in the season.

That helped Albion to pin United back and force a series of corners, Lukaku heading one against the crossbar and home followers hopefully claiming a penalty for an alleged foul and/or handball offence in the aftermath.

Just when it seemed that Newcastle had soaked up the pressure though, Lukaku set up an equaliser shortly after the hour mark. At that point, the curse of the maroon shirt seemed certain to strike again as Albion sought further goals and United remained toothless up front, despite the introduction of Shola Ameobi and Hatem Ben Arfa.

Aside from occasional threats to the Newcastle goal from set pieces however and one decent tip over from Elliot to deny Morrison, the home side's threat gradually receded and the points were ultimately shared.

Defeats for the bottom three (Reading, QPR and Wigan) on Saturday left our future looking slightly more secure - albeit three places further down the table in 16th, with victories for the mackems and Stoke seeing them edge ahead of us on goal difference.

Our cause then received a further boost at Old Trafford on Monday evening, thanks to Manchester United's 3-0 title -confirming victory over Aston Villa.

While the final day showdown between Wigan and Villa could well decide who accompanies QPR and Reading to the Championship, the onus remains on United to remove any remaining doubts about their status.

Victory against Liverpool on Saturday would be almost priceless - and give Alan Pardew's SJP career a boost equivalent to the one that beating the Reds in his first game in December 2010 provided.

As it was, this rot-stopping point rounded off a difficult week for the manager that at times he did little to alleviate. Calling criticism of his side's worst derby defeat since 1979 "heavy-handed" was neither helpful or accurate, with neither the press or supporters guilty of any significant movement against him.

For him to comment on what he obviously deemed as unfair comments directed towards him though does show the singular lack of negative coverage/abuse so far this season. For a combination of reasons he's a had a smooth ride so far, as people variously took on board calls for unity and stability, showed patience and understanding with player recruitment and availability issues and clung to the hope of an end to our trophy drought via the Europa League.

If he wants to know what heavy-handed means round here, phone calls to the likes of Graeme Souness (bedsheet protests at Man City) and Glenn Roeder (season tickets thrown on the pitch at home to Blackburn) while John Carver will be able to supply chapter and verse on the spectacular vote of no confidence in Bobby Robson at home to Wolves shown by the mass fan walkout.

And quite why he felt the need to rake over the ashes of the derby defeat in his pre-Baggies press conference was unclear, his needless comment about mackem envy of our Europa League involvement inevitably seized upon by the press.

It's a tricky line to get the derby games right in terms of their significance: not leaving oneself open to charges of underplaying the importance of the occasion (as Ruud Gullit did with his infamous unfavourable comparison with the Milan set-to's) or going to the other extreme and hamming it up as if the world was about to end. I don't give a toss whether we finish above them.

Over-egging the pudding prompted the departure of Steve "agent" Bruce from the mackems, with his Geordie ancestry ultimately outweighed by a fixation with losing to us.

The manager isn't alone in talking nonsense in the wake of the mackem loss though - some crass questioning directed at Jonas Gutierrez resulting in his agreeing that this had been the worst week of his time as the club. Worse than relegation? Don't talk bloody rubbish man!

It's in the area of team selection though that more and more fans are expressing disquiet. There seemed little wrong with Haidara when he was dragged off here to allow Jonas another chance to reprise the left back role that had aided our demise last Sunday, while Gouffran's continuing inability to play for more than an hour just baffles us - and don't forget that he wasn't eligible for Europe.

Yet again were prompted to ask, just what is Vurnon Anita's intended role? What circumstance requires his input to resolve? Chasing a goal, defending a lead, you tell us. Having failed to sell anyone in pre-season, our entire £8m transfer budget went on him. Baffling.

There was some additional concern about Sissoko and Cabaye, who both lost the plot in the closing stages of this game. The former was lucky not to receive a second booking for dissent, while the captain almost downed tools before going off, hardly leading by example - or in fact, leading at all.

And while we're not suggesting that Gabriel Obertan's treble for the reserves on Friday night should have resulted in his recall (the expression too little, too late comes to mind), it does raise the question of quite what benefit rookie Adam Campbell is getting from his perpetual role as an unused substitute, aside from filling the bench.

A cynic could be forgiven for wondering whether the young forward's Geordie roots mean that he's serving some sort of obscure purpose for the manager by being bracketed in with the first team. A lack of reserve team games in the last two months though seems like stagnation to us, enforced idleness a rather odd reward for earlier endeavour.

It's beyond doubt that injuries and an increased workload have adversely affected our season. Having established those factors however, other questions over selection, training, coaching and fitness remain unanswered - with an increasing cynicism over the level of injuries and the variable accuracy over return dates (poor Ryan Taylor excepted).

As we've written on these pages too often over the years, we're on the final lap and in some distress, staggering towards the finishing line. This season is proving to be no exception.

Niall MacKenzie/Biffa