Date: Saturday 27th April 2013, 5.30pm
Live on ESPN

Venue: St. James' Park

Conditions: indescribable






Newcastle United

Liverpool

0 - 6


Teams
3 mins Agger header 0-1

17 mins Henderson shot 0-2

Half time: Toon 0 Reds 2

54 mins Sturridge shot 0-3

60 mins Sturridge shot 0-4

74 mins Borini shot 0-5

76 mins Henderson free kick 0-6

Full time: Toon 0 Reds 6

Alan Pardew said:

"Well Iím worried, of course. You canít come off a defeat like that, and the manner it was without being worried. Iím not going to criticise my players, Iím not going to criticise the team in any shape or form on an individual basis.

"It was a collective effort, and we fell down collectively. We havenít become a bad staff or a bad set of players overnight. But we definitely need to roll our sleeves up and make sure we make a really good fist of these last three games.

"I didn't see that coming; it is a tough blow. We lost our discipline. It is very important now that we get at least four or five points more to get safe. We are in a battle, more so than we have been in all season.
"We need to show some discipline. A guy got sent off and we completely lost our way. It was a day that started badly and we never really recovered. There were poor goals and defensively we were not good enough.
"They were very good and we were very bad. We have to put it right and the only way to do that is 10.30am at training on Monday morning and everyone sticking together.
"We lost a little bit of fight today. The players need to show we have the heart for this. We will fight to the end. Hopefully that will be enough; I think it will.
"Perhaps we need a bit more experience and I will look at that in the selection next week. Of course I'm worried. I'm deeply disappointed that Liverpool looked so much better than us but I believe we've got enough in the dressing room to keep us up.
"Liverpool were faster and sharper than us. We never recovered from our start and, after going 3-0 down, we turned ragged, which isn't like one of my teams and which we can't accept.
"I do not think the language barrier is a problem. I think it is perhaps experience and knowledge of what is needed in games and different scenarios. A lot of those players have never lost 3-0 at home before never mind six and I think that showed. Some of our play was naive and disorganised.

"They've got every right to boo, that performance was not good enough for Newcastle. I think we're all aware of that - not just myself but my staff and my team.
"And on Monday morning at 10.30 I expect to see all my team out there whether their foot's hanging off or whatever, ready to train. Because now we've got to show we've got the heart for this little scrap that we're in because other teams certainly have.
"I thought in hindsight the team selection didnít work for us. The performances looked affected by the goals; to be 2-0 down so early looked like it affected a few bodies.
"All my teams are organised and are on the front foot, looking to win the game, but that wasnít the case. We looked disorganised and itís not anyoneís individual problem Ė itís a collective problem weíve got to put right.
"Weíve got three or four people in that dressing room who have been in this position and got relegated and weíre going to have to draw on that experience to make sure it doesnít happen again.
"Now we really need to roll our sleeves up and show the fans that weíve got the fight in us to get out of this because weíre now right in it."
Aside from the manager, the only two club staff who presented themselves to the media were Steven Taylor and unused substitute Shola Ameobi.

Brendan Rodgers:

"You saw today that it was very much about the collective. We pressed together and we passed together. We scored six goals and maybe could have had a few more but the clean-sheet was important.
"We're certainly no one-man team - we're very much a collective and the focus and concentration from the group today was very good. I've never thought that we rely on Luis. He's been an outstanding player for us this season and I'm sure he'll continue to be. Other players have scored goals but he has just been a talent.
"We're up to 67 goals now. I've seen progress previous to today. The players have been outstanding since I have come in.
"I think he's a top player already (Countinho), considering he's 20 years of age. He might be small in stature but you can see his strength. Technically, if you look at him, he's got all the passes in the bag. He makes some wonderful passes and the weight of his passing is incredible.
"Look at his strength for the third goal, where he outmuscles Hatem Ben Arfa on the line and then dinks the ball between two defenders. After that, Sturridge's finishing was awesome. Coutinho's a wonderful player, who fits well with what we're trying to do and the great thing is that he'll only get better.
"It was a great performance, we'll enjoy it and move on - we've got a great game coming up at the weekend against Everton. We need to keep pushing and keep progressing. There are still elements of our game that we can improve. Even today we could have been better.
"The players really want to improve and learn and that bodes well for us. We knew that we had to be at our best because they needed a win. I think you could see the concentration and the character of the players. It was different class."

Mathieu Debuchy was dismissed for the first time in his Newcastle career, becoming the fourth red card offender for the club so far this season, after:

Cheick Tiote (mackems away, PL)
Fabricio Coloccini (Liverpool away, PL)
Shola Ameobi (Brighton away, FAC)

Reds @ SJP - Premier League Years:

2012/13: Lost 0-6
2011/12: Won 2-0 Cisse 2
2010/11: Won 3-1 Nolan, Barton, Carroll
2008/09: Lost 1-5 Edgar
2007/08: Lost 0-3
2006/07: Won 2-1 Martins, Solano (pen)
2005/06: Lost 1-3 Ameobi
2004/05: Won 1-0 Robert
2003/04: Drew 1-1 Shearer (pen)
2002/03: Won 1-0 Robert
2001/02: Lost 0-2
2000/01: Won 2-1 Solano, Dyer
1999/00: Drew 2-2 Shearer, Ferguson
1998/99: Lost 1-4 Guivarc'h
1997/98: Lost 0-2 (LC)
1997/98: Lost 1-2 Watson
1996/97: Drew 1-1 Shearer
1995/96: Won 2-1 Ferdinand, Watson
1994/95: Drew 1-1 Lee
1993/94: Won 3-0 Cole 3

Barrack Road batterings: worst NUFC home scores:

1-9 mackems 1908/09 D1
1-7 Blackburn Rovers 1925/26 D1
0-6 Liverpool 2012/13 PL
1-6 Manchester United 1907/08 D1
1-6 Chelsea 1960/61 D1
2-7 Burnley 1928/29 D1

Worst defeats by Liverpool anywhere:

0-6 (h) 2012/13 PL
0-6 (a) 1967/68 D1
0-5 (a) 1971/72 D1
1-5 (h) 2008/09 PL
1-5 (a) 1985/96 D2
1-5 (a) 1893/94 D2

Worst home defeats by Liverpool:

0-6 2012/13 PL
0-4 1930/31 D1
1-5 2008/09 PL
1-4 1998/99 PL
1-4 1987/88 D1

If you're looking for a statistical nugget to cling onto, Liverpool's failure to score more than six meant that they were unable to match the highest margin of defeat in games against Newcastle. That remains seven goals, courtesy of a 9-2 home victory at SJP back in the 1933/34 season.

This was Liverpool's third 6-0 away victory in the Premier League, following similar scorelines at Ipswich in 2001/02 and West Bromwich Albion in 2002/03. And the Reds recorded their second successive clean sheet away from home, following a rather less impressive 0-0 draw at Reading.

Saturday's implosion meant that with three games still to play, this Magpies defence are now officially the leakiest ever to have served the club in the Premier League:

Goals conceded by NUFC per season:
| | |
| --- | --- |
| 1993/94 41 | 2003/04 40 |
| 1994/95 47 | 2004/05 57 |
| 1995/96 37 | 2005/06 42 |
| 1996/97 40 | 2006/07 47 |
| 1997/98 44 | 2007/08 65 |
| 1998/99 54 | 2008/09 59 |
| 1999/00 54 | 2010/11 57 |
| 2000/01 50 | 2011/12 51 |
| 2001/02 52 | 2012/13 66 |
| 2002/03 48 | |
Daniel Sturridge - SJP record:

2008/09 Manchester City drew 2-2 (came on as sub)
2010/11 Chelsea drew 1-1 (came on as sub)
2010/11 Bolton drew 1-1 (started, scored)
2011/12 Chelsea won 3-0 (started, scored)
2012/13 Liverpool won 6-0 (started, scored twice)

Opposition goalscoring substitutes at SJP in 2012/13:

Victor Anichebe (Everton): 58th minute arrival, 60th minute scorer
Adam Le Fondre (Reading): 69th minute arrival, 71st minute scorer
David Vaughan (mackems): 65th minute arrival, 82nd minute scorer
Fabio Borini (Liverpool): 72nd minute arrival, 74th minute scorer


Waffle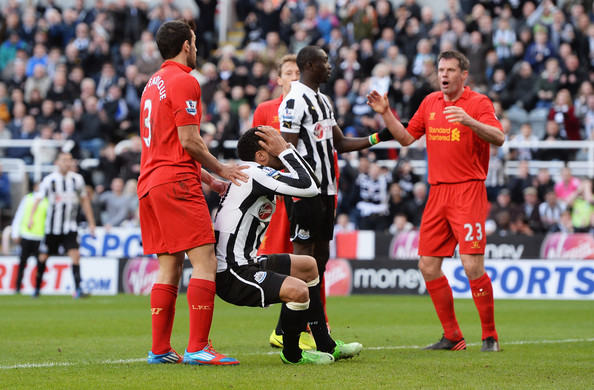 Less than two weeks after the disastrous derby defeat, Newcastle hit rock bottom on Saturday after suffering their worst home loss since 1925.

United were hit for six by a Luis Suarez-less Liverpool and relegation worries remain real for Alan Pardew after what could have been the biggest success of his time in charge here but instead became his worst nightmare.

The Magpies lacked direction on and off the field and although the score was catastrophic, the meek and gutless manner of the defeat was even more worrying.

Capitulation is the word we chose for our headline, other fellow sufferers rightly using phrases including "disgrace to the shirt". It was always going to take something special to eclipse the heartache that the 0-3 mackem reverse triggered, but United managed to do so emphatically.

Mathieu Debuchy made a bad day even worse with a mindless dismissal after picking up a second yellow card for a reckless challenge in between the fifth and sixth goals - the subsequent free-kick gifting Jordan Henderson his second strike of the game.

Daniel Agger's third minute header got things off to a terrible start as some early bombardment into our box paid dividends for the visitors - our ragged backline playing Agger onside and Rob Elliot's hesitancy allowing a weak header to elude him.

Henderson doubled the lead after 17 minutes when he and Daniel Sturridge waltzed through our defence for the former mackem to slot into the empty Gallowgate net. James Perch - possibly our best performer in the first half - then wasted a glorious chance to pull one back with a missed header from six yards which looked harder to put wide.

He was subbed at the break along with Jonas Gutierrez, to be replaced by Hatem Ben Arfa and Yoan Gouffran, meaning that seven Frenchmen were on the pitch - the first time that any side has ever fielded that many players from a single overseas nation in the Premier League.

United briefly showed some purpose and intent, with Yohan Cabaye having a poor touch when the opportunity to test the otherwise idle Pepe Reina presented itself. That all backfired though when Ben Arfa was easily relieved of possession on the halfway line and Philippe Coutinho picked out Sturridge who fired home for 0-3.

The home fan who threw a scarf at the home dugout moments later may have unwittingly shown a keen sense of history, echoing the shirt tossed at Kenny Dalglish when his toon side went 0-3 behind at Anfield in 1997.

Unlike that night however, there was to be no semblance of a fightback from those clad in black and white, who looked as if they would have gladly surrendered and deserted if given the opportunity to down tools.

Sturridge then got his second and the Reds' fourth as Debuchy made a terrible attempt to play offside, before two goals in three minutes from Henderson and substitute Fabio Borini, either side of Debuchy's deliberate dismissal, compounded the agony.

The shameful sight of the home side playing out the final few minutes of the game to avoid further embarrassment, was awful to see, each successful backward pass being ironically cheered by those home supporters who hadn't already departed in exasperation and disgust.

If there was a surprise, it was that the visitors failed to pile on the agony after having registered half a dozen with more than quarter of an hour to go. At that point, thoughts of Tottenham's 9-1 pummeling of Wigan and Manchester United's 9-0 massacre of Ipswich were to the fore, not to mention the record away win in the Premier League, Nottingham Forest 1 Manchester United 8.

Incidentally, Vurnon Anita looked to drop back into the vacant right back slot of his own accord following Debuchy's departure. At least someone had an inkling of what was required....

Seeing Newcastle stuffed on home turf is a fact of life and a rite of passage, with Liverpool past masters at inflicting pain on Tyneside. However, the manner of this loss evoked memories of a rather different disaster - the 1974 FA Cup Final.

Applauding supporters as he headed for the dressing room, Yohan Cabaye was the last home player off the field, bizarrely balancing a Liverpool shirt on his head.

If the manager deserves both criticism and abuse for our ongoing disintegration though, then some blame must also be laid at Cabaye's door - both for his own performances in recent weeks and also for an apparent lack of leadership or encouragement of his fellow countrymen.

If, as it seems, our French-speaking contingent take their cue from the influential midfielder, then we'd best check the postcode for Turf Moor and Pride Park ahead of next season. There's a worrying lack of responsibility in this side and the much-vaunted team spirit suddenly seems sadly lacking. The "C" word is apparently back: clique.

Successive home catastrophes have eradicated our once favourable goal difference in comparison to fellow strugglers Wigan, Aston Villa and Norwich. And having found themselves in the unfamiliar position of cheering on Spurs at Wigan on Saturday, toon fans now face the equally unedifying prospect of willing the mackem mussolini's side on to victory at Villa Park on Monday.

Up next is a trip to Pardew's previous club West Ham, where an ex-Toon boss, captain and centre forward (messrs Allardyce, Nolan and Carroll) will doubtless relish the chance to complete a seasonal double and inflict further misery on an owner who moved them all on.

The manager's task is now to fashion a side with some stomach for the fight, assuming that he doesn't pay the price for a run of one league victory in six attempts and the leakiest defence in our Premier League history.

The circus then moves on to Loftus Road before a season closing home game against an Arsenal side who could be in the situation of needing points for their own objectives - or alternatively free from any constraints and able to post the sort of fluid performance Liverpool did today.

It's also worth recalling that Arsene's mob managed to score seven times against us earlier in the season, when messrs Krul, Coloccini and Santon were in the backline.

If there is a positive to be found, it's that Aston Villa and Wigan play each other on the final day so they both can't achieve maximum points from their remaining games. Papiss Cisse's added time winner against Fulham could still prove to be crucial in terms of our survival prospects.

Pardew threw himself into the crowd at the end of that one, but after another home humiliation he may have felt more like jumping off the Tyne Bridge on Saturday night. There was probably a queue....


Biffa