In association
with NUFC.com



Date: Saturday 4th May 2013, 3pm

Venue: The Boleyn Ground

Conditions: sunshine and showers,

although Cheick Tiote wore gloves on what was one of the hottest days of the year so far...



Admission: £39 (£36 in 2010/11).

Programme: £3.50

West Ham

Newcastle United

0 - 0

Teams
Half time: Hammers 0 Magpies 0

Full time: Hammers 0 Magpies 0

Alan Pardew said:

"Unfortunately Iíve had a season where most incidents have gone against me. Weíve got to try and keep our minds together that we can ride all of that and get through the season. Itís a bit of a mental blow. Iím still smarting from the Sunderland goal that we got to make it one-all. It would have been massive for us to get a goal against West Ham.

"We have got two games and we have to try to take six points and if we can, I think that will be enough. We have to push for both wins - we can't accept anything else and that's what we will do.

"Wigan still have to beat Swansea and then they have to win another game. They have Villa at home and Arsenal away so it's still difficult for them.

"We dispelled some of the stupid myths floating around us, that there's a rift, and we put that to bed today. The players needed to show a lot of what was said this week (in the media) was complete rubbish and we showed that.

"We had good unity and spirit in the team and we should have had a goal, it was touch and go but it should have been given.

"I thought it was in, just purely by the reaction of the players, particularly the West Ham players, but the linesman slipped so he couldn't see it - so it was in the hands of the referee and he didn't want to give that today.

"I think if we had have taken the lead, it would have bolstered our confidence and we could have gone on and won."


Big Sham kept his own counsel and sent ex-Mag Neil McDonald out to face the press:

"It's a clean sheet in the Premier League, which is vital. I suppose a draw in the end was probably fair in our opinion. Newcastle probably had the better chances in the first half, but we certainly had the better chances in the second half.

"Both teams were unable to get the ball over the line and it's a nil-nil draw, but it's only the second time we've failed to score at home, which is pretty good for a newly-promoted team.

"I think Newcastle, with their two previous results, were going to come here and be a little more compact. They certainly did that and they passed it better than us in the first half and created a couple of chances.

"Second half, I felt we played off the front foot better and created a lot more chances in open play, as well as from putting them under pressure from our free-kicks and corners.

"We were just unable to breach their defence in the end, and that's disappointing because we created three or four chances to win the game. Overall a 0-0 is a fair result.

"We were sitting on the bench thinking we might have had a penalty. Sometimes you get them, sometimes you don't, but we're more disappointed that we haven't scored from the chances we've created at the end.

"For them, Cisse's made some clever runs in the first half which caused us a few problems. He got in behind, got past Jussi (Jaaskelainen), but defenders want to keep clean sheets and Winston was in the right place at the right time to clear the ball off the line.

"They (Carroll and Nolan) are 100 per cent behind West Ham. Obviously they have a past with Newcastle and good times with them but they are so focused on West Ham trying to get in the top 10 now with two games left, after getting newly promoted and theyíve been solid all the way through. Theyíve contributed as much as anyone in the team which is fantastic.
"Iíve said before, I think Newcastle have got enough to stay up, but everyone is slightly still under pressure with the result that Wigan have had so everyone needs to do the best in the next game to try and get the points on the board so they canít be caught, but personally I think they will be OK.Ē

United avoided their fifth successive bout of capital punishment, after defeats at Chelsea, Fulham, Arsenal and Spurs this season.

Fabricio Coloccini was restored to the side after missing the last eight Premier League games due to a back injury. In his absence, United managed to register just one clean sheet.

Magpies @ Upton Park: Premier Years:

2012/13: Drew 0-0
2010/11: Won 2-1 Nolan, Carroll
2008/09: Lost 1-3 Owen
2007/08: Drew 2-2 Martins, Geremi
2006/07: Won 2-0 Duff, Martins
2005/06: Won 4-2 Owen 3, Shearer
2002/03: Drew 2-2 Bellamy, Jenas
2001/02: Lost 0-3
2000/01: Lost 0-1
1999/00: Lost 1-2 Speed
1998/99: Lost 0-2
1997/98: Won 1-0 Barnes
1996/97: Drew 0-0
1995/96: Lost 0-2
1994/95: Won 3-1 Lee, Mathie, OG
1993/94: Won 4-2 Cole, Lee 2, Mathie

Total record against West Ham

:



| | | | | | | |
| --- | --- | --- | --- | --- | --- | --- |
| | P | W | D | L | F | A |
| SJP | 59 | 31 | 19 | 9 | 115 | 63 |
| BG | 59 | 15 | 15 | 29 | 65 | 102 |
| League | 118 | 46 | 34 | 38 | 180 | 165 |
| SJP(FA) | 3 | 3 | 0 | 0 | 7 | 3 |
| BG | 2 | 0 | 2 | 0 | 2 | 2 |
| Cup | 5 | 3 | 2 | 0 | 9 | 5 |
| Tot | 123 | 49 | 36 | 38 | 189 | 170 |
With West Ham confirming that they will relocate to the Olympic Stadium for the 2016/17 season, it remains to be seen whether this will prove to be our final visit to this venue. If it is, then we bowed out in the manner we began, registering a scoreless draw on our debut in February 1909.

Waffle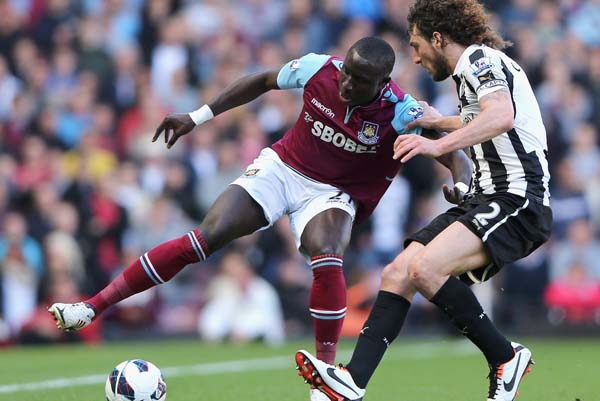 What seemed initially to have been a good point at the Boleyn Ground on Saturday afternoon was soon made to look like two points dropped, when news of away victories for fellow strugglers Aston Villa and Wigan propelled Newcastle closer to filling the final vacant relegation place.

Having registered just a single away win this season, Newcastle looked to have their work cut out against a team boasting old boys Andy Carroll and Kevin Nolan who were strong at home and took three points off us at Gallowgate last November - to the delight of manager Sam Allardyce.

Our last visit saw messrs Carroll and Nolan both score win that contributed to West Ham's demotion - with a consequent 5-0 towsing on Tyneside further adding to their woes. The recent good form of the two old boys and our ongoing fragility had led to a downbeat atmosphere pre-match, thoughts already turning to the need for a win next weekend at QPR before a ball was kicked here in E13.

As it turned out though, the Hammers were no better than us for the most part and firmly in the comfort zone after securing a happy ending to their first season back in the top flight. The £35m man ("he's not even yours" sang the toon fans) strained every sinew, but his sidekick/minder grimaced and winked his way through the game, only once threatening to score against us. Again.

A better all-round performance from Newcastle was underpinned by the return of Fabricio Coloccini - something which instantly made Steven Taylor a better player by relieving him of the responsibility to be the dominant figure in a centre half pairing. The somewhat shell-shocked Mapou Yanga-Mbiwa filled in at left back while there was a recall at right back for Danny Simpson.

Lacking the injured Tim Krul, Davide Santon, Sylvain Marveaux and Massadio Haidara plus suspended Mathieu Debuchy, the withdrawal of Moussa Sissoko saw the unlikely figure of Sammy Ameobi return from his loan spell at Boro to travel, although he ultimately wasn't selected for bench duty.
More out of necessity than desire, seven of the side who began the 0-6 thrashing by Liverpool kept their place, Papiss Cisse boosted by the adoption of a 4-3-3 formation which placed Hatem Ben Arfa and Yoan Gouffran within the same postcode.

And given the lowered expectations and reduced circumstances that we're now routinely expected to accept, the fact that Newcastle summoned up a handful of shots on goal is worthy of note - although efforts from Ben Arfa, Cabaye and Gouffran were all off-target or posed no threat.

The one Newcastle shot that did arrive in the vicinity of its intended destination and eluded Jussi Jaaskelainen came after 20 minutes, when Papiss Cisse looked to have ended his recent goal drought by dinking the ball beyond the advancing goalkeeper and towards the empty net.

As was the case in the Benfica away game though, the effort lacked enough momentum to hit the back of the net and home defender Winston Reid was able to retreat and clear the ball as it reached the goal line. A lack of fuss from Newcastle players accompanied the decision that the ball hadn't fully crossed the line, with the linesman patrolling that half slipping over as he retreated.

Conspiracy theorists seized on the fact that the flag waver in question was Matthew Wilkes, who saw nothing wrong with a barbaric tackle by a Wigan player on Massadio Haidara six weeks ago.

Despite a host of other inept decisions from him though, various inconclusive camera angles of the incident confirmed that he was right not to give something he couldn't see - unlike his disgraceful non-decision at the DW and later collusion with Mark Halsey. The ramifications of that decision are what will be costly if Wigan stay up, not this one.

As an aside, several toon fans who were nearer to pitch level were in no doubt that the decision had been entirely correct. Had our number 9 made better contact with the ball then there would have been no doubt about the outcome though.

Goal line technology may or may not have decided the decision in our favour, but by the time that's in place at this ground we could well be plying our trade a few miles away, against Millwall.

Old boy Demba Ba had visited the United team hotel on Friday to pass on his support, ahead of this meeting of his former clubs - something that's almost as much of a splendidly futile gesture as Alan Pardew moaning on about the non-goal, grasping it like a lifebelt. Deeds not words count now.

The manager's persecution complex was rekindled by the decision, adding to everything else that has conspired against us this season in what is now an increasingly lengthening and tiresome list. That reached a low point with some frankly astonishing pre-game stuff about the "nouse" of Kevin Nolan being something we missed - what a pity that he didn't say that before we got rid of him...

Forgetting the excuses, the fact remains that at the point that his side were denied that "goal", they had 70 minutes left of a 0-0 draw in which to get ahead of uninterested opponents and stay ahead of them to collect three priceless points. They failed to do so - and neither linesman, Phil Dowd, UEFA, London Underground or anyone else is to blame except his Newcastle team.

And never mind waffling on about poor decisions psychologically damaging players or denying dressing room unrest, attacking the root causes of our failure to pass the ball effectively, press the opposition, hit the target or create anything from set pieces are all rather more pressing matters.

It now seems obvious that there's no unrest in the dressing room at all - and not much of anything else for that matter. Parallels with the awful finale of 2009 as we inexorably slipped out of the league become more significant, be it the non-speaking captain or the fact that Gutierrez and Ameobi are playing like drains and the whole thing looks to be suffering from a lack of care. Newcastle United, the Stafford Hospital of the Premier League.

The point taken here (more than Chelsea managed and as good as the two Manchester clubs) may yet prove to be our salvation and while Rob Elliot was entitled to give his little speech to the press after thwarting Nolan with a spectacular 65th minute double block from close range, the rest of the sound bites from the visiting camp were deeply concerning. We're nearly safe apparently. Really?
The home side are forever blowing bubbles - we just seem to exist in a bubble, cocooned from reality and apparently believing that we'll be OK with a win, or other teams will stumble at this late stage and magically elevate us. That lucky rabbit's foot policy doesn't wash with us and will presumably be equally poorly-received in the offices of a certain sports retailer in Shirebrook.
The foot of the Premier League table looks even more alarming after this round of fixtures and while Norwich and the mackems remain in the mix with us, Villa have now seemingly made their escape. Roberto Martinez and his Wembley wonders still remain favourites to join Reading and QPR but their spirit and confidence looks way higher than ours at the moment - as evidenced by a victory against West Brom achieved with rather more skill and tenacity than our recent draw at the Hawthorns.
Matches elsewhere in the Premier League on Monday and Tuesday may well leave us in the bottom three ahead of a visit to Loftus Road, where victory is essential but now not enough in isolation. It is now theoretically possible to win our last two games and be relegated.

Like the goal that was or wasn't, whether there's a rift in the dressing room is immaterial: the fact remains that those players called into action are currently lacking form, fitness, confidence and direction and that threatens to bring this season to an unimaginable conclusion. Today didn't help.

Biffa