In association
with NUFC.com



Date: Sunday 12th May 2013, 3pm

Venue: Loftus Road

Conditions: turned out nice again

Admission: £45 (£45 in 2011/12).

Programme: £3

QPR

Newcastle United

1 - 2

Teams
11 mins A neat exchange of passes between Hoilett and Remy down the Rangers left allowed the former Blackburn man to kick on towards the United box, with Mathieu Debuchy in pursuit. The Frenchman tugged at Hoilett outside the box but he went to ground inside the line and Lee Probert pointed to the spot after a short pause for deliberation.

Loic Remy's low right footer sent Elliot the wrong way, but the transfer turncoat showed a distinct reluctance to celebrate his sixth goal in twelve starts. Perhaps he was just unimpressed by the Loftus Road PA blaring out the Pigbag tune - does "me" Mark Page have a southern cousin? 0-1

18 mins Having seen one attack prompted by Ben Arfa broken up, the Frenchman stayed upfield just outside the QPR box as Coloccini came forward into space before finding him with a pass.

The United number 10 tried a shot but saw it charged down and scampered forward in possession of the rebound before being illegally halted by Bosingwa's prolonged tug in the box. Hatem Ben Arfa seized the ball and propelled it at speed into the top left hand corner of Robert Green's goal, possibly taking a slight touch off the crossbar en route into the net. Absolutely unstoppable. 1-1

35 mins Green came to the right hand side of his box before rolling the ball out under the merest of pressure from the retreating Cisse to Bosingwa. With Gutierrez closing him down, the defender weakly shovelled the ball backwards, Jonas reaching Green just as he attempted a first time clearance down the field.

The ball span infield and landed in the path of Yoan Gouffran, who was able to sidefoot a first time right-footed effort home into the unguarded net from around 22 yards out in front of the Loftus Road Stand 2-1

Half time: R's 1 Magpies 2

Full time: R's 1 Magpies 2

Alan Pardew said:

"I'm very pleased. It was a very important game for this football club. Particularly this year with the extra finance of staying in the Premier League. I thought the first 10 minutes we were almost playing with a noose around our neck we were so tense and tight and it took a decision by the referee.

"I don't really care if Arsenal win 4-0 (next Sunday)** if I'm honest, I'm sure Spurs will - but I only care that our fans enjoy themselves. The accusations have been so ridiculous. You don't get a draw at West Brom and West Ham and a win here today if you've got rifts going on.

"Their penalty looked a bit dubious to me and I thought ours looked dubious but once that went in I thought we settled down on a difficult pitch and played quite well.

"But we showed a real determination and resilience today to get the job done, for not just this club but for the north east. It's massive for north-east football that we are a Premier League club so I'm absolutely delighted for our fans and players.

"We need to have a stronger squad, and be stronger in terms of depth. If I could put my first XI out, I think we're a top-eight team.

** Pardew later clarified this comment by saying:

"I know people will have picked up on my comments about not caring about the result against Arsenal, which were, of course, a joke.

"It is definitely not the case that I would be happy for us to lose 4-0 against Arsenal on Sunday. I simply want our players and fans to be able to enjoy the game without looking over their shoulders.

"Even though we are now safe, we will be putting in the same effort that we would for any other Premier League game.

"Our last two results at St James' Park - against Sunderland and Liverpool - have been nowhere near good enough, and Sunday gives us the chance to put that right.

"We want to end the season on a positive, to finish in as high a position as possible and to give the fans something to cheer about on the final day of what has been a frustrating season.

"Arsenal will be doing everything they can to try and achieve a Champions League spot and we won't make it easy for them, make no mistake about that. This is a game everyone at this football club wants to win.

"Our season has been difficult, but we have come through it. I don't care what anybody says, getting over the line with some of the misfortune we have had is an achievement.
"We have had three cruciate injuries and no other club has had that. We missed key players at QPR – Sissoko, Shola Ameobi, Tim Krul and Davide Santon. All year we have had that, but we still got over the line. That is the main thing."
About the post-match pitch invasion which saw QPR stewards fail to control their own fans and hasten the departure of Toon players from the pitch:

"It looked a bit dangerous for the players, I thought. It would have been nice to give them (the away section) applause – they've been brilliant for us all year.

They've only seen us win twice, and that's not good enough I'll tell you that as the manager."


Dirty 'Arry said:

"It wasn't going to help anyone (home fans abusing Jose Bosingwa), it was a negative. You can't play with that negativity around the place. I decided to change him. He cost us a couple of goals.

"I decided to bring Shaun Derry on and brought Fabio on. I thought he might give us some energy going forward. I think so. I just made a couple of substitutions – that's what I did.
"He didn't make mistakes purposely. He didn't make them because he wanted to. It cost him and it cost us. I took him off as I felt it wasn't a good feeling when you're trying to get back in the game.
"People pay their money and we all get grief at some stages - managers, coaches, the players. They decided they weren't happy with him.
"How do I know who's going to go? You need to shift people to bring people in. It's difficult to shift players you want to shift. We'll always shift a few that other teams want. We'll have to see what happens. One thing is for sure, if you kept that team here, you wouldn't finish in the top half of the Championship."
"It's down to lack of quality. Don't keep saying character. Have a look at the team - we are short of good players who can really play at the top level. People might think they can because they've been somewhere a few years ago."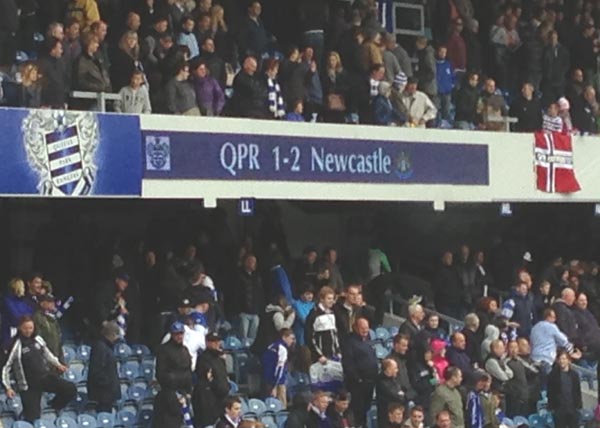 Newcastle extended their unbeaten run at Loftus Road to five games, having not lost in W12 since a 1-2 reverse at the hands of temporary occupants Fulham in April 2003:
Geordie Loft conversions:
2012/13 QPR won 2-1 (PL)
2011/12 QPR drew 0-0 (PL)
2009/10 QPR won 1-0 (Championship)
2004/05 Yeading won 2-0 (FAC)
2003/04 Fulham won 3-2 (PL)

United came from behind to win away from home in the Premier League for the first time under Alan Pardew, having last achieved the feat at West Ham back in October 2010, another 2-1 success.
Our first double of the season was finally recorded, having beaten QPR 1-0 at SJP in December.

United avoided setting an unwanted record of their fewest away victories in a Premier League season - equaling the two wins managed in 2003/04 and 2008/09. Collecting maximum points also meant we finally won the last away game of a PL season, at the nineteenth attempt.

No longer a win-free Zone - PL closing away games:

2012/13 won 2-1 at QPR
2011/12 lost 1-3 at Everton
2010/11 drew 2-2 at Chelsea
2008/09 lost 0-1 at Aston Villa
2007/08 lost 1-3 at Everton
2006/07 drew 1-1 at Watford
2005/06 drew 0-0 at Birmingham
2004/05 lost 0-2 at Everton
2003/04 drew 1-1 at Liverpool
2002/03 drew 2-2 at West Bromwich Albion
2001/02 lost 1-3 at Southampton
2000/01 lost 0-3 at Liverpool
1999/00 drew 0-0 at Derby
1998/99 lost 0-2 at Leicester
1997/98 lost 0-1 at Blackburn
1996/97 drew 0-0 at Manchester United
1995/96 drew 1-1 at Forest
1994/95 lost 0-1 at Blackburn
1993/94 lost 0-2 at Sheffield United
Rob Elliot became the fourth Newcastle player to be dismissed in the Premier League this season, following on from Cheick Tiote, Fabricio Coloccini and Matheiu Debuchy. Our all time PL total now stands at 61 red cards, of which five were rescinded upon appeal.
And although Steve Harper and Shay Given saw red in Cup games for the club, Elliot became only the second Newcastle goalkeeper to be dismissed in the Premier League, after Pavel Srnicek - who sampled an early bath on no less than three occasions between 1993 & 1995.

After eight winless outings in all competitions since Everton last May, Newcastle's maroon change strip was dispatched to the laundry bin of history in favour of the lemony third one, donned for the tenth and final time in anger:

Atromitos (h) won 1-0 (Europa League)
Maritimo (a) drew 0-0 (Europa League)
Bordeaux (h) won 3-0 (Europa League)
mackems (a) drew 1-1 (Premier League)
Club Brugge (h) won 1-0 (Europa League)
Club Brugge (a) drew 2-2 (Europa League)
Bordeaux (a) lost 0-2 (Europa League)
Manchester United (a) lost 3-4 (Europa League)
Wigan (a) lost 1-2 (Premier League)
QPR (a) won 2-1

Mags v R's @ the Bush - all-time:
2012/13 won 2-1 Ben Arfa (pen), Gouffran
2011/12 drew 0-0
2009/10 won 1-0 Lovenkrands
1995/96 won 3-2 Ferdinand 2, Gillespie
1994/95 lost 0-3
1993/94 won 2-1 Clark, Beardsley
1988/89 lost 0-3
1987/88 drew 1-1 P.Jackson
1986/87 lost 1-2 Goddard
1985/86 lost 1-3 Gascoigne
1984/85 drew 5-5 Waddle 3, Wharton, McDonald
1982/83 lost 0-2
1981/82 lost 0-3
1980/81 won 2-1 Hibbitt, Boam
1979/80 lost 1-2 Ferguson
1977/78 won 1-0 Robinson
1976/77 won 2-1 Barrowclough, Nattrass
1975/76 drew 0-0 (FAC)
1975/76 lost 0-1
1975/76 won 3-1 Macdonald, Burns, Nulty (LC)
1974/75 won 2-1 Tudor, Burns
1974/75 won 4-0 Macdonald 3, Tudor (LC)
1973/74 lost 2-3 Moncur, McDermott
1968/69 drew 1-1 Foggon


Waffle

Reports of Newcastle United's imminent demise thankfully proved to be premature, as our away campaign concluded with confirmation of preservation of our top flight status, mercifully achieved without the aid of mental arithmetic and final day Chinese whispers about events elsewhere.

Add to that the novelty of an away win, an uncommon capital success and the perennial pleasure in putting one over on old 'Arry (more and more resembling Churchill the Dog) and today was a decent enough experience for the long-suffering travellers, save for their rotten view of a poor game....

Almost a year to the day after securing our last win in London against Chelsea, the Magpies made it three away games without defeat thanks to a deserved win over deflated and demoted opponents. We'd commented in our preview that failure to do so meant in our jaundiced eyes that we deserved to follow them down and thankfully the necessary three points were rightly acquired.

The style and context of those two victories couldn't possibly have been greater however. There may have been some Kings Road swagger from United in 2012, but a year on, this Shepherds Bush success was more of a back street affair - although of massively more consequence.

There was one constant between those two games however - José Bosingwa da Silva.

Twelve months ago, the Portuguese defender was unable to prevent two sumptuous strikes from Papiss Cisse, but consoled himself with FA Cup and Champions League winner's medals in Chelsea's following two games before making the switch to Loftus Road.

Today though, Bosingwa was the object of derision from his own fans after a succession of recent non-performances culminated in his chucking his way to the dressing room at Reading, moments after Rangers had been officially relegated. He could at least argue he'd bothered to put his boots on - unlike Christopher Samba - but aside from one point-blank block from Yohan Cabaye, his major contributions to this game were of benefit to us.

Conceding a brainless penalty after an early attempt at shirt swapping with Hatem Ben Arfa, the defender was then sufficiently intimidated by the approaching Jonas Gutierrez that he attempted a horrible pass back to his 'keeper from which Yoan Gouffran was able to steer home his third goal in our colours.

Those two goals cancelled out an early penalty conversion for the home side and there certainly seemed to be an element of tit for tat in the two spot kick awards, although an offside call to deny Papiss Cisse a headed goal at 1-1 looked spot on.

Bowing to the choruses of "we don't want you here", Redknapp left Bosingwa in the dressing room for the second half, along with the thoroughly rotten Stephane Mbia - who had looked odds-on to be dismissed, such was his bad fettle. Cameroonian Mbia was scouted by United when with Rennes back in 2008 - proof that our Gallic obsession pre-dates the arrival of Graham Carr.

United meanwhile continued with Cheick Tiote for a short time before replacing him, although the Ivorian had taken a hefty whack from Mbia before the break and it was a surprise when he re-emerged to take his place.

Gabriel Obertan meanwhile made his return from exile and was surprisingly preferred to Sylvain Marveaux when the time came to replace Gouffran. Our best chance to make the game and our immediate future safe then came and went when a goalline clearance from Shaun Derry denied Gutierrez from close range after a scramble in the box.

We've previously argued that Alan Pardew cannot convincingly claim to have been the victim of misfortune this season after draw-saving and match winning goals such as Demba Ba's handball effort at Reading and Papiss Cisse's inadvertently deflected winner at home to West Brom.

And today there was an upside to the decision that saw his side incorrectly reduced to ten men with 81 minutes played, when Rob Elliot was wrongly adjudged to have carried the ball out of his area and cautioned for the second time in the match.

Although he ended up standing outside the box, TV replays confirmed that his hands and the ball that they were holding remained inside the line. The linesman however thought otherwise and seemed to be influenced by the home fans breathing down his neck.

Incidentally, it's debatable whether the United 'keeper was deserving of his first half booking, when a sliced clearance towards the halfway line was interpreted as kicking the ball away when play was halted for a free kick to Rangers.

The good fortune for the United boss - and perhaps what may just have kept him in employment - is that he was only seconds away from making his third and final substitution when Elliot was sent off.

Had that happened and the already-stripped Vurnon Anita made his entrance, then Steve Harper would have had to watch helplessly from the bench as an outfield player went between the sticks. Even QPR may have been able to take advantage of that.

Harper wasn't troubled though by the hapless home side as he registered his 198th appearance for United and had a gentle workout ahead of the 199th and final one next week, with Tim Krul injured and Elliot now suspended for his contract-closing visit of Arsenal to Gallowgate. The last time he kept goal against the Gunners, we ended up sharing eight goals with them....

Full time brought obvious relief to the visiting fans, players and managers, but despite a significant stewarding operation, a pitch invasion from home followers meant that the Magpies squad were quickly ushered out of sight and prevented from saluting the travelling support.

The scoreline, pokiness of the ground and presence of dis-chuffed home fans on the pitch at a full time were all reminiscent of the season-closer at Leicester City in 1992. Unlike that day at Filbert Street there was no air of malevolence from home fans here, although the decision not to allocate the Lower End of the School End to Newcastle fans ended up looking like a wise one.

In this age of accessibility for all, it was heartening to see an all-embracing incursion by home fans with an age range from toddlers to OAPs, several on crutches, one pushed on in a wheelchair and even a blind man led across the pitch. One punter was also apprehended trying to steal turf.

The win propelled United up the table to a nose-bleeding 13th and the unlikely opportunity of a top half of the table finish, should they somehow manage to overcome an Arsenal side who will arrive on Sunday in form and requiring three points of their own to confirm Champions League qualification.

Given the events of the last two home games it could be a long afternoon and although the return of Coloccini has coincided with an upsurge in form, he was one of those given the run around when we conceded seven at the Emirates last December.

In the greater scheme of things it doesn't matter though (aside from the extra prize money available for each place). Thankfully, the unimaginable agony of being relegated on our own ground remains the stuff of nightmares. Staying up isn't cause for celebration, but it's a colossal relief.

Biffa