Date: Sunday 19th May 2013, 4pm

Venue: St. James' Park

Conditions: Ponderous






Newcastle United

Arsenal

0 - 1


Teams
Half time: Toon 0 Gunners 0

52 mins A senseless tackle by Yohan Cabaye on Bacary Sagna down the Arsenal right was rightly penalised with a free kick - although hapless whistler Howard allowed Walcott to move the set piece away from the rut in the pitch that was caused in the tackle.

A year after scoring the winning goal for Arsenal in their season-closer at West Brom, Laurent Koscielny once again secured Champions League qualification for his side. The French defender was able to elude marker Fabricio Coloccini and flick home from close range after Lukas Podolski headed on the free kick. 0-1

Full time: Toon 0 Gunners 1

Alan Pardew said:

"I'm pretty confident I'll be the manager here (next season). I love being the manager and I will be speaking to Mike (Ashley) and Derek (Llambias) this week to make sure we get a response and the right reaction.
"It was certainly a more composed performance from us, we showed that we have got class in the side and that it wasn't going to be easy for Arsenal.
"First half we had a great period, and we really needed to score in that period and didn't quite find the goal, and when Arsenal had their best period of the game they scored, that's the margins we talk about in the Premier League.
"It's obvious that the Europa League campaign, which we did brilliantly in, really hurt us in terms of energy, and it's the depth in quality that we need to improve on. Next year we haven't got that pressure and we can go week to week in this Premier League.
"We're not going to be foolish enough to think that we don't have a couple of issues to sort out in the team, not major issues, but certainly one or two players to add to offer us a different look.
"We're very, very lucky to have the support that we got and therefore we owe them a debt next year to make sure that we serve up a better standard of football and better quality of results.
"We showed we've got great players. We've had some performances out there which were top drawer. We know, in that (dressing) room, we've got 80 per cent of the team. There's no problem with that.
"The younger players are going to be better for the experience this year, dealing with the criticism we've had and the hardship we've had to face.
"We still need to make sure we get two or three recruits in there which take us forward. If we can do that, they'll grow as well, and we'll be much, much better next year.
"Of course. You hear managers taking about needing three players to make the perfect side – Arsene would probably say the same – but we genuinely, genuinely need a couple in that first team that complement the others.

"It was a shame we didn't have a bit more punch from the bench in terms of a Shola* or a Sissoko, but that's the story of our season. We've had players missing in every game."

*Shola Ameobi appeared as a substitute in 20 Premier League games, scoring.....once (QPR home).

Ahead of this game Pardew spoke about the future of a quartet of his current first team squad:

Fabricio Coloccini (183 games):

"For me as a manager, he is a fantastic captain, who has been very important in this last period in particular. When he did not play in those couple of games against Sunderland and Liverpool, I thought we really lacked a bit of leadership on the pitch.

"For all the other players' strengths, he has got that experience that you need. And that's told in the games against West Ham and QPR massively. He has been a big, big difference to the team.

"I think his situation is something that for me is hard to discuss because it was a personal issue and it still is. Therefore it is difficult for me to comment on Colo's actual feelings of wanting to return home.

"We have some fantastic young players at this club and this year is going to serve them well, particularly those we bought in the January window.

"We have got a lot of young players with potential now and we need a little bit of guidance around them to help them and particularly Coloccini. His position will be quite critical really. If there is a situation where he is not here next year then we replace that.

"Like all clubs, we will be sitting down, discussing plans for next year. The plans will include pre-season, recruitment and mistakes made this year and that's it."

Shola Ameobi (368 games):

"Shola has a year left and I have already spoken to him, perhaps being here next year or what do you want to do? He is a little bit undecided about what he wants to do. With Shola too, we could lose two or three experienced players this summer."

Danny Simpson (138 games):
"Danny has played his last game for us. His contract is up and I think we would have renewed it by now. He has been terrific for me as the manager and I think there are two emotions with Danny.
"One is that he has been a great player for me, even at this late stage when he got called up against West Ham he was absolutely terrific and he has always given me everything. I know he will find a Premier League club but it will not be this one.
"I think it was fairly obvious that we were not able to do a financial deal. It all needs to line up. It is not about bad relationships or anything like that. I have a strong personal relationship with Danny - I think he is a terrific lad and any Premier League club that takes him, will have signed a terrific player."

Steve Harper (198 games):
"I spoke to him and he definitely wants to play one more year or two more years. I think that he should. He definitely has the ability to do that and he can show that on Sunday, but for us it will be his last game."


Wenger:

"We played against Newcastle and against the nerves as well - you could see that in big parts of the game. We knew before the game that a draw was not enough, we had to find a goal from somewhere and we did and (the win) rewards a group with an exceptional attitude.

"This group of players is special, professional, classy with their attitude and were determined until the end to give absolutely everything. I believe that the last three months the team has shown we are ready (to challenge for silverware) because we are consistent.

"The strengths we have built and the way the team has grown can be transferred into next season. That is very positive so let's keep the group together, rest well and come back in a strong way.

"Since February 1, we have taken more points than everybody else in the league, and I don't believe that's just down to coincidence, but just to the fact that the group has grown, this team has grown through the season.
"We lacked belief for long periods because we couldn't win a big game, but the Bayern game changed our season away from home. In the last three months, I believe we have been remarkably consistent. We have won every away game, so it is a good springboard for next season, to transfer that belief into the start of next season.
"That means we need to have stability and strengthen our group if possible because there are many clubs out there with a lot of money, so the competition is very hard and there is not as much talent as money today in football.
"It means to us to be able to play with the top teams in Europe - that's what you want. It means as well that it's easier to bring in players when you have a chance to be in the Champions League - let's not forget, we are not in yet, we have to qualify and that is always a very tricky round for us, but at least we have a chance."

Newcastle lost three successive home games for the first time since the 2008/09 relegation season, when Manchester United, Arsenal & Chelsea left with maximum points in March/April 2009.

And losing their final three home games of a season set an unwanted record, that's something that no Magpies side had ever contrived to do in their entire history.

Prior to this game, the current side already had the unwanted distinction of being the leakiest ever to represent United in the Premier League. Conceding one more meant that 68 goals had hit our net, worse than the 65 conceded in the 2007/08 season.

And failure to win left this side boasting Newcastle's second-lowest points total in the 19 seasons of PL participation, our 41 points inferior only to the miserly 34 of the 2008/09 relegation season.

United failed to win their final home game for the seventh successive season and were unable to send their fans away with a goal for the fifth time in that sequence.

2012/13 Arsenal lost 0-1
2011/12 Manchester City lost 0-2
2010/11 West Bromwich Albion drew 3-3
2009/10 Ipswich Town drew 2-2
2008/09 Fulham lost 0-1
2007/08 Chelsea lost 0-2
2006/07 Blackburn Rovers lost 0-2
2005/06 Chelsea won 1-0

Gunners in Toon - Premiership years:
2012/13: Lost 0-1
2011/12: Drew 0-0
2010/11: Drew 4-4 Barton 2, Best, Tiote
2010/11: Lost 0-4 (LC)
2008/09: Lost 1-3 Martins
2007/08: Drew 1-1 S.Taylor
2006/07: Drew 0-0
2005/06: Won 1-0 Solano
2004/05: Lost 0-1
2003/04: Drew 0-0
2002/03: Drew 1-1 Robert
2001/02: Drew 1-1 Robert (FAC)
2001/02: Lost 0-2
2000/01: Drew 0-0
1999/00: Won 4-2 Speed 2, Shearer, Griffin
1998/99: Drew 1-1 Hamann
1997/98: Lost 0-1
1996/97: Lost 1-2 Shearer
1995/96: Won 2-0 Ginola, Ferdinand
1994/95: Won 1-0 Beardsley
1993/94: Won 2-0 Cole, Beardsley
Total record against Arsenal:
P

W

D

L

F

A

SJP

7

9

40

19

20

142

90

H/Em

79

22

17

40

8

5

1

34

League

15

8

62

36

60

22

7

2

24

SJP

(FA)

2

0

2

0

4

4

H/Em/W/VG

8

4

0

4

7

12

SJP(LC)
1
0
0
1
0
4

H/Em
3
0
0
3
0
8

Cup

14

4

2

8

11

28

Tot

17

2

66

38

6

8

23

8

2

52
Arsenal extended the best defensive away record in the Premier League this season, having conceded 14 goals in their 19 away fixtures and recording a ninth clean sheet.

The Gunners recorded a tenth away win of the season in the Premier League and their fifth in succession, after maximum returns from visits to Swansea City, West Bromwich Albion, Fulham and QPR. Their most recent trio of away victories have all ended 1-0.

Final PL Table - bottom half:
| | | | |
| --- | --- | --- | --- |
| 11 | Norwich City | -17 | 44 |
| 12 | Fulham | -10 | 43 |
| 13 | Stoke City | -11 | 42 |
| 14 | Southampton | -11 | 41 |
| 15 | Aston Vila | -22 | 41 |
| 16 | Newcastle | -23 | 41 |
| 17 | mackems | -13 | 39 |
| 18 | Wigan (R) | -26 | 36 |
| 19 | Reading (R) | -30 | 28 |
| 20 | QPR (R) | -30 | 25 |

NUFC Top Scorer 2012/13 (all competitions):
Demba Ba 13 (all in PL)
Papiss Cisse 13 (8 in PL, 4 in EL, 1 in LC)
Yohan Cabaye 6 (all in PL)
Shola Ameobi 4 (1 in PL, 3 in EL)
Hatem Ben Arfa 4 (all in PL)
Yoan Gouffran 3 (all in PL)
Moussa Sissoko 3 (all in PL)
Sylvain Marveaux 2 (1 in PL, 1 in EL)
OG 2 (both in PL)
Vurnon Anita 1 (EL)
Gael Bigirimana 1 (PL)
Jonas Gutierrez 1 (PL)
Gabriel Obertan 1 (EL)
James Perch 1 (PL)
Davide Santon 1 (PL)
Ryan Taylor 1 (EL)
Haris Vuckic 1 (EL)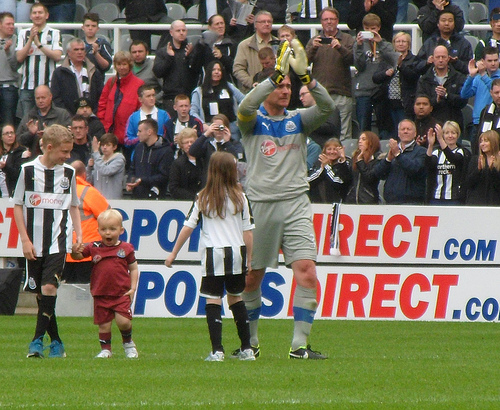 Steve (38), James (9), Olivia (7), Leo (2)
Steve Harper bowed out in his 199th first team appearance for Newcastle:

Premier League starts: 104
Premier League subs: 8
Championship starts: 45
FA Cup starts: 9
FA Cup subs: 1
League Cup starts: 12
European starts: 17
European sub: 3

Other senior games (all on loan):

Bradford City (1995/96): 1
Hartlepool United (1997/98: 18
Huddersfield Town (1997/98): 24
Brighton and Hove Albion (2011/12): 5

From the Sunday Mirror, May 19th 2013:

Newcastle owner Mike Ashley has promised Toon backroom staff a £1million bonus if today ends with victory against Arsenal – a pledge with massive implications for the race to finish fourth.
The cash is set to be shared among the unsung heroes of St James' Park – from tea lady to kit man – and while the players will miss out, the pledge has them 100 per cent motivated for today's final-day showdown.
Ashley knows that the difference between victory and defeat could amount to £5m for Newcastle. if results go their way they could finish 10th and pocket around £8m in Premier League prize-money. Defeat, however, could see them finish 17th – with £5m less.
From the Sunday Mirror, May 22nd 2011:
A posse of unsung Newcastle United workers are set to enjoy an unexpected pay-day if their team beat West Bromwich Albion today. Toon owner Mike Ashley is ­offering a £500,000 bonus to the likes of office staff and ­caterers at the club if the team complete the ­Premier League season with a morale-boosting home victory.
Newcastle have enjoyed a solid first season back in the top flight. They have never slipped into the relegation zone and are gaining some stability. After two years of dramatic change Ashley wants to show his ­appreciation for the work the unheralded workers have put in.

In that 2011 game United led 3-0 with less than 30 minutes to play, but ended up drawing 3-3 with the Baggies - due in part to a sentimental final appearance from the bench by Alan Smith. Taking just a point allowed both the mackems and Villa to sneak past us as we blew the chance of ninth spot and ultimately had to settle to twelfth.
Waffle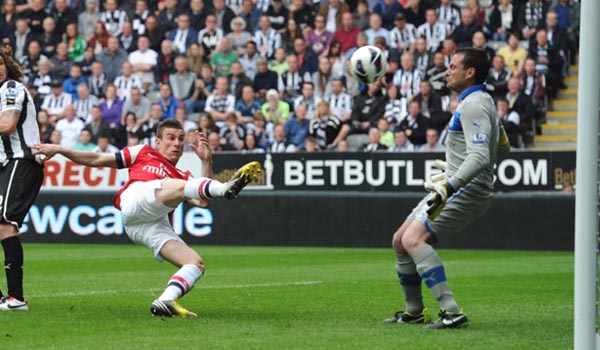 What a difference a year makes.

Final day victories for Arsenal and Spurs meant that the result of our season closer at Everton in May 2012 became immaterial, with the unlikely prospect of Champions League qualification vanishing to be replaced by the consolation prize of Europa League involvement; aka the poisoned chalice.

Fast forward twelve months and the two North London rivals were once again engaged in their own private tussle, but our position today was strictly in a supporting role, grateful only that neither the scoreline here or anywhere else mattered to our immediate future.

Free from the spectre of relegation, Alan Pardew pledged that his side would put on a show, but they were quite literally also-rans, failing to net for the third successive home game and seldom looked like doing so. Statistically this is the poorest season in living memory not to end in demotion and relying on the efforts of others to steer us away from the unthinkable is a sad state of affairs.

In years to come we'll deny shouting encouragement at the telly for Spurs and Swansea, while David Moyes deserves thanks for his fine achievement in steering Everton to a 0-3 home defeat by Wigan in the FA Cup - removing the only credible challengers Whelan's mob met en route to winning the trophy that relegated them (Bournemouth, Macclesfield, Huddersfield & Millwall were the others).

The Newcastle manager was indebted to the departing Steve Harper for ensuring that roughly half of the crowd remained in their places after full time to give the long-serving 'keeper a fitting send-off, sparing some support for his colleagues.

Captain for the day at the suggestion of armband owner Fabricio Coloccini, Harper made a couple of useful stops during the afternoon and looked visibly moved when a break in play coincided with the clock ticking round to his 37 shirt number.

The first half saw United open brightly and Papiss Cisse fire narrowly over, but Arsene Wenger's half time team talk - and news that the mackems were holding Spurs - saw a slight raising of the tempo and pretty soon, the only goal of the game.

A scrappy effort with a good shout for offside was enough to ensure a nineteenth league defeat of the season in our thirty eighth outing, as we once again failed to carve out a chance worthy of the name in a half-hearted pursuit of an equaliser. And had the ball somehow ended up in the Arsenal net, they'd doubtless have raised their game a fraction to regain the lead.

To see a trio of Newcastle players saunter off when substitutions were made underlined the fact that the result of this game was of no consequence to the black and whites whatsoever - while many of the shortcomings evident during this season were once again to the fore.

Take your pick: be it our laughable attempts at taking corners, recurring indiscipline when coming under attack and flocking to the ball rather than marking targets, or the aching slowness of our attacking moves.

Our shortcomings at dead ball situations are the subject of much debate, but regardless of whether they are sent over short or long, back post or front, the basic problem of the players standing in a different postcode to that where the ball lands is a fairly fundamental one....

But it's not just corners: free kicks not aimed at goal are hardly inspirational. Those toon fans who still insist on roaring their approval and encouragement when we get one may reflect that while we've failed to score via that method this season, we're the only side whose goalkeeper managed to be credited with an assist - not once, but twice.

Papiss Cisse was the recipient on both occasions, latching on to upfield punts from Tim Krul (Everton at home) and Rob Elliot (Southampton at home), which means in effect that crowd hollering should accompany the return of the ball to our custodian - and our corners should be taken in silence!

NB: The official OPTA stats for this season record that we have in fact scored from a corner this season. In their world, Vurnon Anita's flag kick at home to Manchester City was an assist, being
cleared by a City player to Coloccini, whose return ball was then headed home by Demba Ba. In reality, the last goal was Ba's - from Yohan Cabaye's corner on October 1st 2011 at Wolves.

The set piece situation lies at the heart of our current problems, of being a team who look to be composed of one type of player, but looking to play an entirely different style of football.

Other clubs who habitually play the long ball usually do so in compensation for a lack of footballing talent. That leads to a reliance on the dark arts of dogged defending, playing percentages and looking to profit from any dead ball situation, including long throws. In recent months we've been almost criminally negligent at most of these things, especially when Coloccini was missing.

The search for a set of circumstances suitable for Anita to be utilised continues, while the attempt to get more out of Cheick Tiote in playing terms has been counter-productive. Quite where both Moussa Sissoko and Yoan Gouffran should play remains a mystery to us - and perhaps Pardew.

Mediocre, listless and unconvincing, yet again. If the manager truly believes that only minor tweaks are required to fashion this side into something worth watching, then he's in need of urgent psychiatric help. Or perhaps some decent coaching staff to help him out.

Following the full time whistle and Arsenal's celebrations, Harper and his bairns led the side back out, with Pardew and his staff joining the throng before retreating to what was no more than sparse applause. The players (minus Harper) then made a circuit of the pitch, with Fabricio Coloccini acknowledging the "love of my life" chants of the Gallowgate End but noticeably blending in with his colleagues - hardly the actions of someone leaving.

Mike Williamson and Shola Ameobi by contrast were the last to take their leave after posing for photos with their offspring - whether they will prove to be farewell souvenirs remains to be seen.

One absentee was Ryan Taylor - away in the USA for knee surgery at the Steadman clinic - but the long-forgotten Haris Vuckic was sighted. The sheer quantity of offspring on show was commented upon meanwhile; maybe it's not just the Europa League that sapped our strength this season.

Salvation may lie in the fact that the fourteen Europa League games played this season won't be a burden next time round, but the domestic cup success of both Swansea and Wigan this season was a timely reminder that the stranglehold of "big clubs" on silverware isn't always inevitable.

A full-blooded assault on both domestic cup competitions is a pre-requisite, as Champions League qualification looks unlikely and the Europa League causes more problems than it solves, although this widely-held belief ignores the squad rotation successfully pursued the bulk of our ties.

Elsewhere, Kevin Nolan's hat trick for Sam Allardyce's West Ham helped them to a tenth place finish, while a 3-2 victory at Manchester City helped Chris Hughton's Norwich City into eleventh, three points ahead of us. But we're better than that now. Apparently.

Although his unfortunate "safe now" quote after beating Stoke ultimately failed to bite him on the backside, it remains to be seen whether Pardew's confidence that he'll remain in post is justified.

Unsurprisingly, the should he stay or go topic has been the subject of most correspondence and conversations since the Benfica defeat and our line remains the same as it was during the time that Ardiles, Roeder, Allardyce, Hughton etc. were here - show him the door if you can improve on what you have (exactly the same attitude that we have about players by the way).

And therein lies the problem. Unless there's a change in attitude and strategy then Pardew's replacement would come from exactly the same average level of management:

Not in current employment (TV studio excepted) or not requiring payment of compensation.
Willing to work within a rigid structure, where player sales and purchases are decided elsewhere.
Willing to work for a basic salary towards the lower end of what top-flight clubs pay.
Willing to accept a limited transfer budget and guidance on how to spend it.
Not in demand by other clubs - ie glad to have the job.

Take those criteria on board and the ongoing talk of Rafa Benitez is laughable. Not impossible, but only achievable by dumping the current organisation - or attempting to convey that impression.

Given the trials and tribulations of this season, there has to be a certain sympathy for the manager in what he's been expected to deal with - even if his response to circumstances hasn't always found favour and his inability to keep quiet at certain times has grated. If he does go, then publicly urging the owner to share the blame for our underachievement won't have helped his cause

But while he's right about missing big players at crucial times due to misfortune and misadventure, other situations remain unresolved, principally the long-term unavailability of Hatem Ben Arfa, the mismanagement of his fitness and the misleading public statements about it. That HBA returned from France looking like the Michelin Man is also a worry, although that looks more attributable to power shakes than visits to the patisserie.

So, glad it's all over and glad it's not worse. As is customary, we must express our gratitude to the movers and shakers, pourers and steerers, readers, advertisers and those who do proper jobs. We know what we are: unbelievably lucky.

It also seems appropriate to register an appreciation of the departing custodian, whose arrival at United in 1993 coincided with the founding of this particular cyber-chunk of the world wide web.

For him and us, twenty years at Gallowgate have flown by at some points - and seemed like several lifetimes at others. The reception he received today was both a shared expression of loyalty and a mutual respect. One of us, for better or worse, and thus open to simultaneous praise and criticism for showing stoicism and loyalty in the club. His/our greatest strength or weakness? You choose.

Having suffered the pain of relegation in 2009, for Harper to have had another demotion on his CV without the opportunity to rectify matters the following season would have been an unjustly cruel end to his time here. On that basis, the fact that this game was a dead rubber was a massive plus.

Like Alan Shearer though, he leaves with nowt of note in his trophy cabinet and has to content himself with less tangible rewards in the form of his memories. Plus a few quid in the bank...

Steve can now return to being a fan like the rest of us, demanding effort and application from his successors to achieve respectability and maintain the dream of winning a trophy. One day, eh?
Biffa