Alan Pardew said:

"We are disappointed with the referee – he lost control of the game. When you let tackles go, you're asking for trouble. It frustrates the players.

"In the end we had a scene which has cost us our captain - that was the big disappointment of the night because the performance was different class. We deserved to win that game.

"I thought we looked stronger than them. In terms of our top players, they put on a good performance. We were on our game.

"It got tasty, and the referee's played a big part in it. There's nothing we can do about it. We just have to deal with what's in front of us. We weren't going to lie down.

"Gouff got a nasty one at the end. It was another tackle that was missed by the referee, but he seems to be OK.

"They're in the Champions League, and wanted to show what they could do. I actually thought we were far better than them. We deserved a win.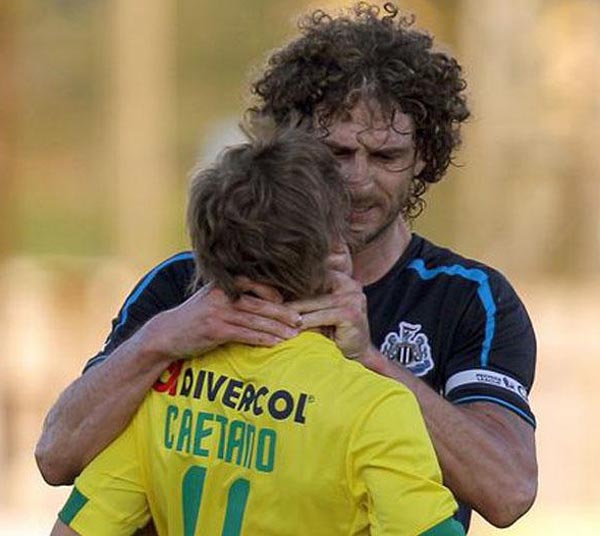 Fabricio Coloccini was sent off for violent conduct as Newcastle's trip to Portugal concluded in disappointing fashion on Tuesday evening, despite an improved performance.

Shola Ameobi's second goal in as many games at least prevented a second defeat to local opposition, but it was Colo's dismissal that will cause manager Alan Pardew most consternation.

Under newly-adopted FA rules though, Colo won't miss any competitive games through suspension as had initially been feared. The nonsensical situation where a ban would be served only if the host FA bothered to inform their English equivalent of any red or yellow cards has now been resolved.

That means that Colo will be available for our season opener at Manchester City (unless of course he pulls a fetlock - or a hairdresser - before then) unlike fellow Magpie Andy Griffin. His red card against Dutch side Helmond Sport in 1999 led to a ban that sidelined him in the early weeks of the following season.

For the second time in as many games, United went behind to an early strike but chances remained at a premium for both sides and unlike Saturday's non-event, conceding a goal had a positive effect on the tempo that the visitors played at.

Tempers frayed on the half hour when Mathieu Debuchy and Helder Lopes clashed on the halfway line and both were booked, the suspicion being that the home player had spat at our man. But just six minutes later Caetano and Colo were both red-carded after some extended pushing and shoving on the edge of the area followed a strong but fair aerial challenged by the Newcastle man.

United deservedly levelled on the hour through Shola before both Santon and Debuchy were presented with half-chances to shoot from outside the Pacos box. However both efforts were wayward and presented no danger to the home side. Anyone in the beer garden across the road may have been sent scurrying for cover however...

United did come close to a second goal with seven minutes remaining, when a deep Gutierrez cross from the left was returned into the area by Debuchy and fell to Haris Vuckic - only for the substitute to head against a post.

The Slovenian however was in the right place to ensure that his side salvaged a draw however - and spared the blushes of colleague Check Tiote. With just seconds left, the Ivorian capped another wayward display by needlessly losing possession just outside his own box, Fernando Neto looking a certain scorer after rounding Elliot, only for Vuckic to hack the ball clear.


Biffa