Date: Saturday 10th August 2013, 6pm

Venue: St.James' Park

Conditions: mostly overcast

Admission: £15

Programme: £3

Newcastle United

SC Braga

1 - 1

Teams
45 mins Alan penalty 0-1

Half time: United 0 Braga 1

60 mins Coloccini header 1-1

Full time: United 1 Braga 1

Alan Pardew said:

"We look like we need a bit of improvement at the top of the pitch. We have (Loic) Remy in and unfortunately heís injured, so thatís still an area we need to improve on.
ďI think there is a lot of players still to move in this window. I think we will be involved in that. There are some big transfers that have been mooted that havenít happened yet and whether they happen or not will have an affect on other events.
"Whether there is a lot of action, well I would be surprised. Players are on international duty and I donít think there will be too many transfers this week.
"You want to keep hold of your best players and Yohan (Cabaye) is one of the best in the world, in my opinion. He has been a fantastic asset for us and has conducted himself in the right manner through all the speculation, and I admire him for that. It can only be good for his confidence if more and more clubs get involved Ė good luck to him.
"We looked at last season when we didnít do so well from corners. We are not the biggest side, so we need to be a little more constructive and imaginative from our corners.
"There were some highlights today. Hatem Ben Arfa looked stronger and fitter; Papiss Cisse looks ready to go. Yohan had some great play, Mapou Yanga-Mbiwa, Steven Taylor and Fabricio Coloccini look good and are ready to go.
"It wasnít really the pace I would have wanted with a week to go before the season, but thatís the pace Portuguese teams play at. We got a really good workout and we had some bonuses out of the game. The only real disappointment was that Jonas Gutierrez got an injury that weíll have to assess.


"
We know we werenít great at corners (last season), weíd been successful the two seasons before that. Ee are a small side so we need to have a game plan, which we have. We have to try to be a bit more creative, very disciplined about the delivery and the runs we make and that was reflected today and all through pre-season, so bodes well for this coming season.

"Haris (Vuckic) wasnít involved as Iím looking to loan him out. Itís important, at his age, that he gets some football under his belt after the injuries heís had.Ē

Fernando Couto said: nowt. yet.

Braga's pre-season preparations had a decidedly English flavour to them, beginning with a 3-1 win over Sheffield Wednesday and 0-0 draw with Hull City - both games played in Albufeira while United were using Braga's training facilities last month.

Braga reserves then maintained the English connection by entertaining Brighton and Hove Albion before the first team play out a 2-2 draw with Norwich City at Carrow Road. Preparations then continued back on the Algarve with a successful return to the Trofeo Guadiana that included a 1-0 victory over West Ham.

United beat Braga 2-1 in that Tournament just over a year ago, since when they've lost the services of toon old boy Hugo Viana. The silverware ended up back in Braga this year though, thanks to a 3-2 success against Sporting Lisbon.



Fabricio Coloccini netted Newcastle's first goal from a corner in a first team match of any description since Demba Ba scored at Wolves in October 2011. Between then and now United participated in 102 matches without profiting from a flag kick.

In seven pre-season games, United used the following 32 players (in order of minutes played):
Elliot 470
Yanga-Mbiwa 464
Sissoko 420
S.Taylor 407
Debuchy 386
Dummett 376
Gouffran 342
Santon 329
Sa.Ameobi 328
Tiote 328
Gutierrez 312
Cabaye 288
Anita 280
Coloccini 280
Ben Arfa 252
Marveaux 238
Sh.Ameobi 227
Cisse 214
Vuckic 172
Williamson 167
Obertan 122
Krul 90
Tavernier 90
Campbell 80
Gosling 75
Alnwick 70
Abeid 22
Ferguson 16
Streete 16
Newton 15
Amalfitano 7
Richardson 7

Bigirimana 0 (reason tbc)
Haidara 0 (reason tbc)
Remy 0 (injured)
R.Taylor 0 (injured)

NUFC - ten home friendly matches since defeat:

2013/14 SC Braga drew 1-1 16,187
2011/12 Fiorentina drew 0-0 12,656 (abandoned after 63 mins)
2010/11 PSV Eindhoven drew 2-2 16,118
2009/10 Leeds United drew 0-0 16,945
2008/09 Valencia won 2-1 31,494
2008/09 PSV Eindhoven drew 2-2 13,477
2007/08 Sampdoria won 1-0 23,078
2007/08 Juventus won 2-0 34,016
2007/08 Celtic won 4-1 30,225
2006/07 Villarreal drew 2-2 20,144
2006/07 PSV Eindhoven lost 2-3 20,175


Waffle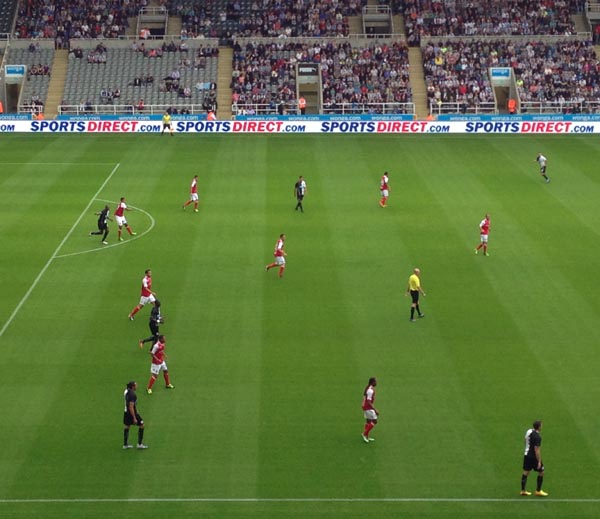 Clad in new black and white halved shirts, United concluded their public pre-season programme on Saturday night with an unconvincing stalemate against Portuguese opposition who extended their own unbeaten friendly record to nine games.

Trailing at the interval to a soft penalty award converted by visiting captain Alan, Newcastle drew level after the break when an unmarked Fabricio Coloccini latched on to Hatem Ben Arfa's flag kick and emphatically head home at the Gallowgate End - our first goal from a corner since 2011.

Aside from that goal though, scoring chances were few and far between for Alan Pardew's side, who were again lacking spark and invention just over a week before the Premier League
resumes.

The game almost got off to a spectacular start when Coloccini drove just wide within the first two minutes of play, but the promise of that bright opening soon faded with visiting 'keeper Eduardo a spectator until palming away a Papiss Cisse effort on nineteen minutes.

With moments to go before the interval, Braga hadn't been sighted as an attacking force, but the merest of contacts by Mathieu Debuchy on Felipe Pardo saw the Colombian winger theatrically tumble over and hapless whistler Lee Mason point to the spot.

Unfortunately the nannyish tendencies of referee Mason and the continued playacting of the Braga players were the most noteworthy aspects of a tepid second half, aside from United's rare scoring success from a corner kick - an

Goalscorer Coloccini illegally halted a 65th minute Braga breakaway by wrestling Yazalde Gomes Pinto to the floor as he sped towards Tim Krul's goal, but managed to avoid what would have been a second red card of pre-season and was merely booked.

The withdrawal of both Shola Ameobi and Cisse left United with only Yoan Gouffran as a recognised attacker, but he almost salvaged a victory with five minutes to play - only to be ruled offside as he diverted Yohan Cabaye's wayward shot home from close range.

Reluctantly subscribing to the logic that the results of these kickabouts are meaningless (although an occasional bout of accurate shooting practice might be nice to witness), there are a couple of positives to be taken compared to our state of readiness 12 months ago.

Although still looking something off his fighting weight, a further runout for Hatem Ben Arfa took his pitch time in pre-season past the four hour mark - compared to the 45 minutes he managed before scoring the winner in last season's Premier League opener against Spurs. A second 45 minute outing for Tim Krul meanwhile hopefully means that he'll be OK to go between the posts against Manchester City, having missed the final five games of last season after undergoing shoulder surgery.

While Gabriel Obertan returned after missing the last three friendlies, there was still no sign of either Massadio Haidara or Gael Bigirimana on the field.

So, what we learnt since the side first took to the field at Motherwell in mid-July? Remarkably little.

The biggest positive in terms of Alan Pardew's standing with the fans since last season limped to its miserable conclusion is a certain collective sympathy for having been landed with JFK the pantomime villain (or 'Billy the Fib', as he's referred to in some quarters....)

On reflection, that's not really much better than crouching in a doorway accompanied by a dog with a bandaged paw. And although Kinnear's outbursts have been a mild diversion so far this summer, once he gets past oblique references to others failing to get bodies over that mythical line, Pardew will once again have the spotlight all to himself once the transfer window shuts.

On that basis he's going to have to buck his ideas up quickly, although this week's excuses were at least original: the wrong sort of lawnmower at Ibrox and the wrong sort of opposition here today - Portuguese teams lacking the intensity required for Premier League preparation. That'll be why we've played three of them this pre-season and faced Braga in 2012.

As ever round these parts there are more questions than answers and we're deluded enough to think that two pages of comments from captain Colo in the match programme would have found space in amongst the meaningless platitudes about great fans supporting the team pre-season in Portugal etc. to mention San Lorenzo and his own personal future.

The reliance on Shola Ameobi and Jonas Gutierrez in pre-season is as depressing as it is predictable, while the bit-part players such as Marveaux, Obertan and Anita remain enigmatic. However the true folly of this pre-season is perhaps summed up in the positive impression made by the fringe trio of Paul Dummett, Sammy Ameobi and Dan Gosling.

Although raised by Pardew beyond the realms of reality, Dummy has done absolutely nothing wrong and benefited from his time in Scotland. But like Sammy and his less than sparkling loan spell at the smoggies, it's all meaningless in terms of the real stuff.

In normal circumstances they won't be involved, because they're not good enough. End of. Go back 12 months and it was James Tavernier, Romain Amalfitano and Mehdi Abeid who ended pre-season with glowing report cards and high hopes.

The fact there's absolutely no excuse for not playing full-strength sides in both domestic cup competitions this season means that the fringe lads really shouldn't get a look in, unless United become active in the transfer market and squad numbers become available.

Gosling takes the biscuit though - looking among our best performers when getting on the field, despite the still-unexplained breakdown of his move to Crystal Palace. Presumably he's busting a gut to try and get away, but something of his industry would have been nice to see from a few of his more illustrious colleagues in recent weeks, in particular the liability that is Cheick Tiote.

The uncomfortable reality is that in the absence of any permanent additions to the squad, toon fans have been left to evaluate the recruitment process that's gone on at other Premier League clubs.

Rather than the likes of Spurs and Liverpool though, the focus is on comings and goings at Hull, Palace, Norwich, Cardiff, Stoke and the mackems - looking to make a case for three sides to finish below us. That certainly appears to be the summit of Mike Ashley's ambition - just to be making the numbers up at the Premier League party, travelling in third class on the gravy train.

It seems to have been largely forgotten that we finished five points off relegation last season, securing our top-flight status in the 37th game. At this point, nothing has changed since last season. And God knows there was plenty in need of alteration.

The blip was explainable though (apparently), due to injuries and the Europa League. Our thinking this season is therefore to reduce the squad size by getting rid of regulars like James Perch and Danny Simpson (due to the fact we'll be playing less games) but keep hold of said injury-prone players. Those who saw the January player influx as August's business done early were right.

While there's much gnashing and grinding of teeth round these parts over the lack of transfer activity though, we remain as concerned by the fact there's little or no discernible pattern of play throughout the club. A failure to effectively organise and deploy the resources we possess is the real hangover from last season, along with deficiencies in taking and defending set pieces.

A straw poll of those still actively watching suggests that the club has succeeded in dampening expectations to an alarming degree, with the most optimistic viewpoint suggesting consolidation amid the expected off-field blood-letting.

PS: after further expressions of respect today, can we now please put away the universal cloak of Sir Bobbyness, curtailing all wistful references from managers and players in interviews to Robson's time in charge of Newcastle, Barcelona, England and/or the Festival of Britain Electricians XI.

He was great, it's all great, the charitable legacy is great. Attempts by his successors to summon up his spirit however are unwelcome, unhelpful and crass. The only sentiment expressed that struck a chord with us was that he would be greatly saddened by this shell of a football club, continuing to reduce the off-field head count despite the apparent financial bonanza.

If they rename the ground again, we'd be tempted to suggest Bleak House.


Biffa