Date: Monday 19th August 2013, 8pm
Live on Sky Sports

Venue: Etihad Stadium

Conditions: breezy, at least for City..

Admission: £45

Programme: £3 and sold in a pre-packed plastic pack with a replica of the 1956 FA Cup Final programme and a pictorial tribute to Bert Trautmann.

No less than eight writers contribute to this programme plus various in-house snappers. How terribly old-fashioned and needless - NUFC could teach them a few things about efficiencies...

Manchester City

Newcastle United

4 - 0

.

Teams
6mins A throw-in on the City right led to David Silva taking possession in a central position just outside the Newcastle area. His pass out to the left found Edin Dzeko, who evaded Mathieu Debuchy and pulled a centre back from close to the byline.

The cross struck the arm of Steven Taylor as he attempted to defend at the near post, ballooning up perfectly for Silva to nod beyond Tim Krul and into the net from 8 yards 0-1

22mins Papiss Cisse cheaply surrendered the ball to Vincent Kompany deep in the City half and he strode forward before moving the ball upfield towards Dzeko. His neat backheel in turn set Sergio Aguero away and although marshalled by Taylor, the Argentinean striker pulled away and squeezed a low right-footed shot diagonally across Krul and in off his far post from the edge of the box. 0-2

Half time: City 2 United 0

50mins the unreliable Mathieu Debuchy conceded a needless free-kick outside the United area that was expertly dispatched by Yaya Toure - Papiss Cisse and Vurnon Anita ducking at the end of the wall. The scoreboard briefly displayed "4-0" before reverting to the correct total......0-3

75mins.... but they may as well have just left the scoreboard as it was....more woeful defending allowing substitute Samir Nasri to evade a lunging tackle from Debuchy to convert from 12 yards.

Given the scorer's usual Acapulco cliff-diving antics, only the fact that the attempted challenge was well outside the box presumably saw him resist the temptation to tumble over, win the penalty and inevitably leave us with nine men for the remainder of the game 0-4

Full time: City 4 United 0

Alan Pardew said:

"I have to say I thought we gave a good account of ourselves up until the sending off. We'd threatened their goal, but the sending off made it a really difficult night for us and you don't want that on the first day.
"It was a silly challenge from Tayls, it was out of character for him, and then we had to work and grind in the second half, which we did.
"I just thought it was a silly action, and I can't really defend him on it, if I'm honest. I know he's a proper fella and he wouldn't mean to be malicious to the guy.
"I thought for Steven it was completely out of character and I canít say any more than that. Heís an honest player and he made a mistake and he must pay the penalty.
"Against a very good side, up to that point, I thought we gave a very good account of ourselves. We tried to be positive but after the sending off we were just digging in, really.
"You look at that bench and youíve got Nasri and Negredo coming on Ė in terms of finances and quality, they make it very difficult for teams to come here. We wonít be the only team to struggle here this season.

You prepare for three days with a player of that talent and that was taken away from us. It had a huge bearing on the result as well.

"Why (Arsenal) couldn't do us the respect and the honour of waiting until Tuesday evening is beyond me. It is pretty obvious that I am upset about it.

"There is a question about the window being closed before we kick off the Premier League season. I know the Premier League asked the European leagues to do it and they wouldn't fall in line.

"But after the summer we have had, the situations we have had, with Wayne Rooney as well, it is definitely something they need to put under the microscope again.

"I don't think we've got too much to be concerned about. We need to put a team out that's a lot more offensive at home, and we won't have that kind of opposition, although West Ham are in good shape.
"It's one out of 38 games, and it's important we try and win the two home games that are coming up. We have 37 games to go and we need to make sure we don't let this game emotionally scar us."

Debutant City manager Manuel Pelegrini:
"The most pleasing aspect was the way the team played for 90 minutes, from the beginning the attitude was aggressive and we continued to play that way for the whole match.
"Itís a very good start but I was very confident that the team would play well, we worked very hard during pre-season, we were trying another style of football and maybe we must continue to improve but for the first match, it was good.

"We are also very happy with both of the new players. Navas and Fernandinho played very well Ė Navas is always running and trying to make important passes inside the area.
"Fernandinho does a lot of work without the ball and he did well - Iím sure when Jovetic and Negredo come in and play 90 minutes they will do very well too. Iím very happy with the squad we have this season; we will need all of them.Ē

Paul Dummett became the 182nd player to represent United in the Premier League, the 74th to be born in England and only the 13th* to be "Tyneside-born":
Sammy Ameobi, Peter Beardsley, David Beharall, Michael Bridges, Martin Brittain, Adam Campbell, Andy Carroll, Michael Chopra, Lee Clark, Paul Dummett, Robbie Elliott, Alan Shearer, Steve Watson.

(*That's our own personal tally and takes no account of players born in Cumbria, Durham or Northumberland or who moved here as bairns)
Dummy's bow maintained Newcastle's record of including at least one debutant in the opening match of every Premier League season.
City v United - Premier League era:

2013/14 Lost 0-4
2012/13 Lost 0-4
2011/12 Lost 1-3 Gosling
2010/11 Lost 1-2 Gutierrez
2008/09 Lost 1-2 Carroll
2007/08 Lost 1-3 Martins
2006/07 Drew 0-0
2005/06 Lost 0-3
2004/05 Drew 1-1 Shearer
2003/04 Lost 0-1
2002/03 Lost 0-1*
2000/01 Won 1-0 Shearer*
1995/96 Drew 3-3 Albert 2, Asprilla*
1994/95 Drew 0-0*
1993/94 Lost 1-2 Sellars*
1993/94 Drew 1-1 Jeffrey (LC)*
(*At Maine Road - all others at CoM/Etihad Stadium)
Total record against Manchester City:

| | | | | | | |
| --- | --- | --- | --- | --- | --- | --- |
| | P | W | D | L | F | A |
| SJP | 77 | 48 | 15 | 14 | 149 | 79 |
| MR/CoM | 78 | 16 | 20 | 42 | 79 | 144 |
| League | 155 | 64 | 35 | 56 | 228 | 223 |
| SJP(FA) | 6 | 3 | 2 | 1 | 8 | 5 |
| MR/W | 4 | 3 | 0 | 1 | 10 | 7 |
| SJP(LC) | 1 | 0 | 0 | 1 | 0 | 2 |
| MR/W | 2 | 0 | 1 | 1 | 2 | 3 |
| Cup | 13 | 6 | 3 | 4 | 20 | 17 |
| Tot | 168 | 70 | 38 | 60 | 248 | 240 |
Newcastle have now failed to beat City in their last fourteen meetings home or away, since Michael Owen scored the only goal of the game at Gallowgate in September 2005.

Opening Days - Premier League:
United's first away fixture of the season in the Premier League has resulted nine defeats, five draws and five victories as follows (final league position in brackets):
1993/94 Coventry City lost 1-2 (3rd)
1994/95 Leicester City won 3-1 (6th)
1995/96 Bolton won 3-1 (2nd)
1996/97 Everton lost 0-2 (2nd)
1997/98 West Ham won 1-0 (13th)
1998/99 Chelsea drew 1-1 (13th)
1999/00 Spurs lost 1-3 (11th)
2000/01 Man United lost 0-2 (11th)
2001/02 Chelsea drew 1-1 (4th)
2002/03 Man City lost 0-1 (3rd)
2003/04 Leeds United drew 2-2 (5th)
2004/05 smoggies drew 2-2 (14th)
2005/06 Arsenal lost 0-2 (7th)
2006/07 Aston Villa lost 0-2 (13th)
2007/08 Bolton won 3-1 (12th)
2008/09 Man United drew 1-1 (18th)
2010/11 Man United lost 0-3 (12th)
2011/12 mackems won 1-0 (5th)
2012/13 Chelsea lost 0-2 (16th)
2013/14 Man City lost 0-4 (??)


Waffle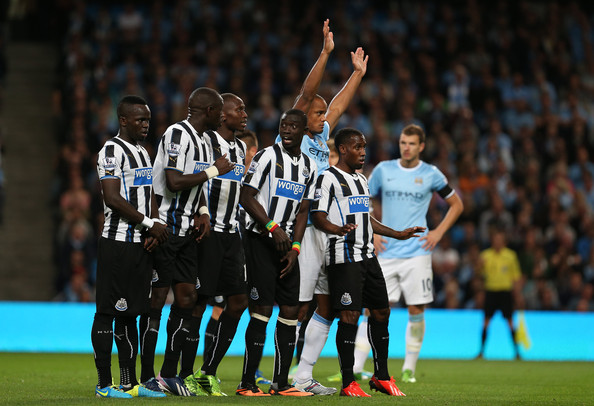 Happy new season - and let's begin with what on many levels was a pointless exercise, every bit as futile, demoralising and miserable as expected.

Confirmation that Yohan Cabaye had been removed from the shop window did nothing to reduce the general sense of foreboding ahead of this game, but his forgettable display during last season's 0-4 loss here meant that few other than his manager believed that he'd be a genuine game-changer.

Similarly, the insane antics and deserved exit of Steven Taylor late in the first half wasn't the point at which this game was lost. Without getting all prosaic and selecting our failure to conclude a deal with prospective football club owner Sheikh Mansour, the return of JFK is a good marker.

That's the point at which whatever tolerance or goodwill the owner had acquired was willfully and inexplicably binned - and along with them, any faint claims at credibility or competence. Welcome back to the comedy club.

As before, was an opportunity to do something properly. Learn the lessons of a below-par season and find a credible way of rectifying it. Adding some genuine football knowledge to the mix seemed a reasonable shout and something worth pursuing - until the identity of the candidate became known.

NB: By "adding football knowledge", we mean the ability to operate effectively in the modern game, not recount lurid tales of lock-ins with Jimmy Greaves, struggle to work your mobile phone and spout erroneous nonsense to anyone within earshot, be they fan or broadcaster.

The inexplicably long contracts doled out to Pardew & Co. presumably meant that binning him was ruled out on cost grounds. So instead, a solution favouring no-one was arrived at, leaving club and fans in limbo and giving players the handy excuse of off-field issues to excuse poor displays.

Five years since we disastrously went down the same road with Wise and Keegan, we appear to be hell-bent on reproducing the same poisonous atmosphere, setting fans at each others throats and causing yet more folks to make the entirely reasonable and logical decision to vote with their feet.

Tonight looked to be an early example of people pulling in opposite directions: Pardew bleating about an ill-timed approach for Cabaye, who then withdrew (or was withdrawn) because he wasn't in the right frame of mind. I might try that line if we get these lot in the Cup.
Odd that Cabaye came over all Greta Garbo though, unlike other players bids for recently. Wayne Rooney summoned up enough mental strength to appear for Manchester United on Saturday, while Leighton Baines and Marouane Fellaini cast their woes aside and put in full shifts for Everton.

The club's eagerness to do business and pull in a transfer fee is the underlying story here. Never mind bankrolling the arrival of new players in this window, we're yet to recoup the cash reluctantly splashed back in January - the fallout from which ultimately saw Derek Llambias depart.

There's no secret to United's transfer policy and wage structure and those fans urging the club to "spend some f*cking money" here will be closer to seeing their wishes granted once Cabaye has been flogged, although Pardew has already mentioned the January window in pre-season, which hardly inspires confidence.

Having missed cashing in on either Cheick Tiote or Hatem Ben Arfa when at maximum value, there's a determination that this won't happen a third time. And after a summer willing other clubs to splash the cash for our main asset and a raft of press links (PSG, Monaco, Manchester United, Spurs and Arsenal), the receipt of a bid is the first tangible sign of JFK doing what he's paid for.

He of course can "pick the phone up at any time of day and speak to ArsŤne Wenger", but to do so would imply that their interest was unwelcome, rather than eagerly anticipated. The last thing we want to do is risk getting our prize asset injured, especially if there's the chance of an auction.

It's all too evident that we've not moved on since last summer and almost instantly the limitations and frustrations of watching a side who still rely on Jonas Gutierrez toiling down the wing for alleged creativity are obvious. New season, same old shite. It's like we've never been away, worse luck.

Presumably the presence of Jonas is necessary to keep Captain Colo happy, but the farce of fielding him when less than fully fit unfolded here exactly as expected; his inevitable withdrawal the second of three first half alterations, following the re-planning exercise caused by Cabaye and ahead of further restructuring caused by the boneheaded antics of the people's champion.

It hardly says much for the rest of our wing wizards though when they remain behind Jonas. Neither Gabriel Obertan or Sylvain Marveaux can be accused of busting a gut for a starting place, while some comparatively lively pre-season cameos from Sammy fail to block out the mediocrity of his loan spell in a lower league earlier this year.
Had James Perch not been ejected in the close season, then he surely would have been utilised at some point this evening - and contributed as much as our illustrious midfield duo from the Ivory Coast and Holland. But we're better than that now, apparently.

And as for Debuchy, his every move at club level still seems to be an attempt to expose the folly of buying him to replace Danny Simpson. Quite what the future holds for him in the wake of Cabaye's expected departure is unclear, but continued links to other right backs suggest that a desire to move on may well be echoed by his employer.

Conceding just once in 40 minutes to last season's runners-up while a man short is as close to a good news story as there's been around here lately, but it says as much about the new faces bedding in on and off the field for City as any great prowess on our part. They'll only improve, our future is a good deal less certain.

Tim Krul's welcome return avoided further punishment, while Coloccini looked as neat as usual when playing his own game, lacking superhuman powers to coax better performances from his three fellow defenders. The incoming Paul Dummett applied himself well however and Hatem Ben Arfa showed welcome glimpses of his pace and control.

Other than that there wasn't much else positive to say: Papiss Cisse seldom got far enough forward to be offside and Moussa Sissoko looks full of running, albeit in a aimless manner. Taylor's apparent mutation into Gazza continues apace though; ludicrous pre-match gurning ritual now deserving of club fines if it's a prelude to this sort of reckless display. Heart on sleeve = brain left at home.

The defeat leaves us bottom of the table, having been on the receiving end of the heaviest defeat of the opening weekend. It's also our worst season-opening scoreline since 1988, when Willie McFaul's side shipped four goals without reply at Goodison Park and went on to be relegated.

This expected defeat won't cost Alan Pardew his job, but losing to less glamorous sides will see any sympathy he's gained since last season evaporate. While we've stagnated, the likes of Norwich, Swansea, Southampton and Villa have all made conscious efforts to move forward. Even West Ham are attempting to purify their approach, while some sort of experiment is happening down the road.

Fed on a diet of lies, rumour and deliberate misinformation, the fans of this club require reassurance that there's actually anything worthy of their time, cash or devotion to be found within the confines of St.James' Park. That has to come from the players themselves, not the manager or the owner.

And no amount of heartfelt twitter apologies or "we'll get it right" newspaper articles will provide that, only performances of competency and conviction, week after week. A cohesive pattern of play and a semblance of discipline and organisation will bring results, sell the tickets and the shirts.

Rather than wittering on like spoilt brats about needing a boost from new signings, just play some football, like you mean it. Like it actually matters. Buying players is proving to be difficult, but actually organising them effectively once here continues to elude us.


Biffa