Date: Saturday 24th August 2013, 3pm

Venue: St.James' Park

Conditions: Gloomy






Newcastle United

West Ham

0 - 0

Teams
Half time: United 0 Hammers 0

Full time: United 0 Hammers 0

Alan Pardew said:

"I have to look at us today and say that we looked, as a defensive unit, more disciplined and more cohesive I thought the back four were terrific with the goalie.

"It was in the offensive area of the pitch that we needed a little bit more, more options on the bench. That probably swayed the result. Defensively, we couldn't have put a better performance in. Offensively, we know we have to do better.
"Sammy (Ameobi) hit a great little cross and I thought it was in, then it came back on the wrong side for (Yoan) Gouffran - he'll be sweating on the Christmas gaffes for misses of the season.
"I think we looked a more disciplined and cohesive defensive unit today but in the offensive areas you could tell we needed a few more options off the bench.

"It would have been nice to have more senior players to bring on, but I can walk out of here tonight fairly happy that we've put in a professional performance, if not a performance that we really wanted. We know we've got some business to do.

"One thing Hatem (Ben Arfa) showed today and against Manchester City is his hamstring is fine and he's still got that burst of pace. I was pleased with his commitment, and that bodes well for us.

"We need to resolve the (Yohan Cabaye) situation. We need to get ourselves in a position where if he stays - great. If he doesn't stay, we need someone equally as good. That's where it's at. I don't want to say anything more than that.
"I thought our fans were brilliant today and Iíve said to the press today Ė we might not be able to compete with big clubs in terms of finance but what we can compete with is in terms of fanbase.

"We just didnít have enough creativity. Would have been nice to have Remy, Cheick, Cabaye or Jonas on the bench but they werenít there today and it probably showed.

"It is a volatile club, it is not easy to manage. I know our fans always expect to win and I know I have to take huge disappointments on the chin a little bit.

"Things that you plan and donít work out. To lose players on occasion like we have lost Andy Carroll and (Jose) Enrique, massive players to lose.

"But we are still fighting, Iím still fighting, Iím determined to make a good success of the season for our fans. The next nine days are very important."


Big Sham said:

ďWeíve got to improve on that scenario - I watched Chelsea beat Aston Villa in midweek and they didnít create as many chances as us today.
ďYouíve got to finish your chances off. It was great to keep a clean sheet again and these are great points for us, but we have got to start being more clinical in front of goal.Ē
ďZero shots on target [from Newcastle] away from home is a pretty good achievement in the Premier League, but I could have been sat here so sick had that fluke cross ended up in the back of the net.
ďSo in the end Iím satisfied with a point and another clean sheet but we are disappointed that we didnít take any of those very, very good chances.Ē


United took to the field for this game with a starting XI composed of players born in:

France 4, Holland 2, Argentina 1, Central African Republic 1, Italy 1, Nigeria 1, Senegal 1.

That meant that for the first time in over a century*, no English-born player was named in the starting lineup by Newcastle United.

* we're checking to confirm that the club did field a team comprised of Scots in the 1890s.

A second successive failure to score means we've not found the net in either of our opening League fixtures for the first time since the 2005/06 season - when it took until our fifth game.

The last player to score a home goal in the Premier League was Papiss Cisse against Fulham back in April. Since then we've endured a 0-6 loss to Liverpool, 0-3 to the mackems, 0-1 to Arsenal and now 0-0 v West Ham - a 360 minute barren run.

Sam Allardyce has now come up against Newcastle five times since his departure from SJP in January 2008 - and he's yet to finish on the losing side:

2013/14 Newcastle 0-0 West Ham
2012/13 West Ham 0-0 Newcastle
2012/13 Newcastle 0-1 West Ham
2010/11 Newcastle 1-2 Blackburn Rovers
2008/09 Blackburn Rovers 3-0 Newcastle

Hammers in Toon - Premier League years:

2013/14: Drew 0-0
2012/13: Lost 0-1
2010/11: Won 5-0 Best 3, Nolan, Lovenkrands
2008/09: Drew 2-2 Owen, Carroll
2007/08: Won 3-1 Viduka 2, N'Zogbia
2006/07: Drew 2-2 Milner, Solano
2005/06: Drew 0-0
2002/03: Won 4-0 LuaLua 2, Shearer, Solano
2001/02: Won 3-1 Shearer, LuaLua, Robert
2000/01: Won 2-1 Cort, Solano
1999/00: Drew 2-2 Dabizas, Speed
1998/99: Lost 0-3
1997/98: Lost 0-1
1996/97: Drew 1-1 Beardsley
1995/96: Won 3-0 Albert, Asprilla, Ferdinand
1994/95: Won 2-0 Clark, Kitson
1993/94: Won 2-0 Cole 2
Total record against West Ham

:



| | | | | | | |
| --- | --- | --- | --- | --- | --- | --- |
| | P | W | D | L | F | A |
| SJP | 60 | 31 | 20 | 9 | 115 | 63 |
| BG | 59 | 15 | 15 | 29 | 65 | 102 |
| League | 119 | 46 | 35 | 38 | 180 | 165 |
| SJP(FA) | 3 | 3 | 0 | 0 | 7 | 3 |
| BG | 2 | 0 | 2 | 0 | 2 | 2 |
| Cup | 5 | 3 | 2 | 0 | 9 | 5 |
| Tot | 124 | 49 | 37 | 38 | 189 | 170 |
Waffle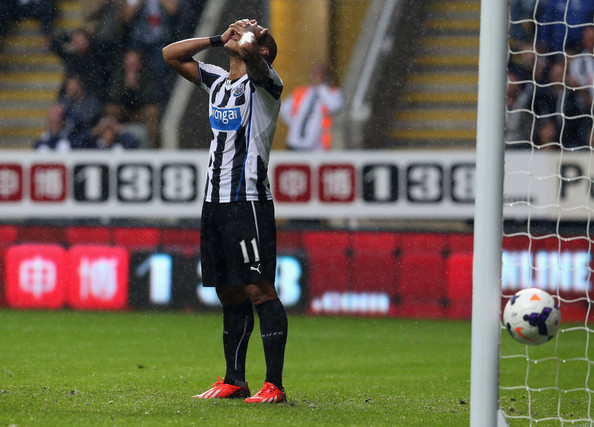 It was a case of new season, old problems for Newcastle at Gallowgate on Saturday, as they subjected their supporters to a fourth successive home scoring blank.

However Alan Pardew's 100th Premier League game in charge of the club almost ended on a high note, with Sammy Ameobi's 92nd minute effort striking the inside of the post - only for Yoan Gouffran to somehow scoop the rebound over the crossbar from within the six yard box.

That ended a frustrating afternoon for a Magpies side missing Yohan Cabaye
for the second game (apparently having again downed tools in his quest to leave) and looking desperately lacking in both confidence and ideas in the first half.

Leaden skies over Tyneside contributed to an almost funereal atmosphere and it was 35 minutes before Hatem Ben Arfa and Papiss Cisse linked up to lift proceedings above the lifeless, Moussa Sissoko shooting over.

A front pairing of Cisse and Shola Ameobi were starved of possession and service, with desperately slow build-up meaning that the attacks were bogged down in midfield.

Things improved after the break as Newcastle moved up a gear and began to press West Ham back into the final third of the pitch, starting to move the ball around with a little more vigour on a surface made slicker by the rain.

Visiting 'keeper Jussi Jaaskelainen was as under-employed as his opposite number Tim Krul though, with one glaring miss from Kevin Nolan on the hour seeing the unmarked former Magpie heading
a
Stewart Downing cross wide

of the Leazes End goal
.

An off the ball collision between Cisse and Winston Reid left both players laid out on the pitch amid concerns over whether the former had been injured. Our number 9 did recover and continue, but was replaced not long after.

Having allowed Adam Campbell to leave the club on loan, United's striking cover on the bench was Yoan Gouffran and Haris Vuckic - the Slovenian finally back to fitness but waiting to see whether projected squad additions in the coming days allow him to be loaned to a Football League side.

Gouffran it was who came on for Cisse, while Sammy Ameobi replaced the unimpressive Sylvain Marveaux and began to find some room to manoeuvre down the left.

We ended the game ruing the ill-fortune of the two substitutes, but grateful to a linesman's offside flag for ruling out an 89th minute effort from Modibo Maiga.

A point represents progress from Monday's mauling and is a step up from the 0-1 defeat to these lot here last season, but victory today would have done much to dispel the gloom that continues to hang over a club where one has to look long and hard to find a shred of optimism.


S
et pieces

were
again wasted and

our c
ontinued inability to hit the target

meant
th
a

t a
draw and a clean sheet were the most Newcastle could have expected today

. Perhaps most c
oncerning

of all though was the fact they routinely
l
ooked like a team coming to the end of a long hard season, not embarking on a fresh one.


Sam Allardyce's side hope to welcome their st
ar striker Andy Carroll back shortly, but his old club remain badly in need of forward reinforcements before the transfer window closes in a week.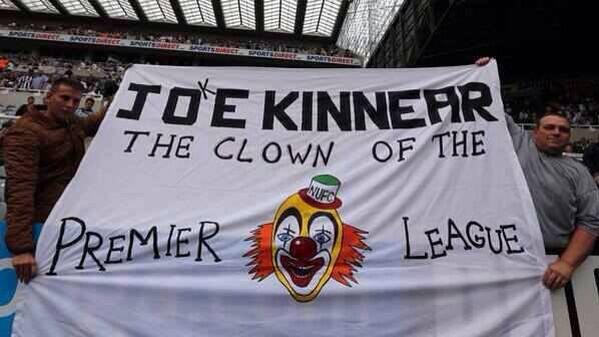 A group of Toon fans displaying a cartoon banner of JFK in the Leazes Stand were forced to remove it by stewards, while songs in support of Pardew were interspersed with chants of "where's the signings Joe Kinnear?"

It's a valid question.


Biffa