Date: Saturday 31st August 2013, 3pm

Venue: St.James' Park

Conditions: painful/exasperating/relieved






Newcastle United

Fulham

1 - 0




Teams
Half time: United 0 Fulham 0

86mins Two of Newcastle's substitutes combined down the left flank; Yohan Cabaye picking up possession in his own half when the ball ran away from Steve Sidwell and advancing before pushing it forward to Loic Remy.

The debutant found himself with space to work in as defender Aaron Hughes dropped deeper and after initially heading towards the corner flag pursued by Matthew Briggs, Remy turned back anti- clockwise and away from the lurking Scott Parker.

Remy's right-footed crossfield ball was chested down by Hatem Ben Arfa a yard outside the angle of the Fulham box and United's number 10 then pushed infield on his left foot to work himself a sight of goal as John Arne Riise and Alex Kacaniklic marked space rather than opponent.

That proved to be fatal as Hatem took an extra touch before swinging his left boot with the ball right on the edge of the box heading towards the "D" and his looping shot whistled beyond the right ear of motionless Cottagers 'keeper David Stockdale. 1-0

Full time: United 1 Fulham 0

Alan Pardew said:

On Yohan Cabaye and whether his appearance in this game meant that the player would remain a Magpie:

"It doesn't because the window is open until 11pm (on Monday) and all our players are vulnerable.

"It's a worry. We've marked his agent's card that he needs to do his business early. If there is a bid to come then let us know.

"We've had no other bids yet otherwise we won't be able to replace him and we won't sell then.

"I thought the fans got it right - it was a mixed reaction. Some were saying to him Newcastle comes first, and others were just glad to see him because he is a great player, and I think that's about right.

"You can't predict when you are going to score but what you can predict is your performance and in the second half we were terrific.

"It was a frustrating day for Hatem (Ben Arfa) - he did some really poor things, poor decision making and then he then he comes up with the goal and that's the maverick he is - you have to take the rough with the smooth with him.

"We would like to bring one key player in who is going to threaten the first team and maybe we have to watch the Cabaye situation, that would be someone we have to replace for sure.
"I think Joe (Kinnear) has got the targets in front of him and it is who he gets across the line, it not easy bringing in offensive players as Arsenal and Spurs have proved, it takes a lot of money and we are in the same boat.
"It has got to be possible, I lost big Andy Carroll on the last day of the January window and that was a massive blow at the time, and we like to think we are armed this time if Yohan goes.
"But you never know, as it is the replacement who is difficult and it would be difficult to replace, I think he is a fantastic player and his head has been turned for sure.

"But if he stays it won't take him long to get his head round and for him to become what he is for us and that is an important cog in our team.
"It is important for our fans, it has been a tough week - the press have given us a hard time - but we are only three games into the season and we have had three clean sheets.
"We knew we needed a goal today, and we were nervous first-half again as you could imagine, but the second-half went really well and we showed the power we have which we hadn't had with Yohan and (Loic) Remy coming on the pitch.
"Suddenly we looked like we could get a bag of goals and their keeper was unbelievable today, otherwise it would have been two or three.
"There was no problem second half, we could have had three or four (goals), Remy came on and we suddenly looked like we doubled our threat, out of respect to our other strikers, he is a class act.
"It was a question of a little more tempo and pressure on the ball as Fulham can be clever, with Berbatov dropping into midfield.

"So we put more pressure on the game and introduced more attacking options and that got us over the line and I am just delighted for our fans as this is a massive club. Trust me, we are in good order."


Disgruntled Fulham boss Martin Jol:

"I donít think it was a tough afternoon. I think we could have done a lot of damage today and got some points on the board. In the first half we looked good in midfield, we played in a different style but the only thing we could be critical of was the lack of a cutting edge.

"We had three or four situations in front of goal where we mis-controlled it through Darren Bent and Alexander Kacaniklic - we could have punished them.
"We looked a bit tired in the second half and that put all the pressure on. Last year was the same, they scored one goal and were over the moon as if they played great, but they didnít. We deserved at least a point.
"I was pleased with my defenders and the midfielders. Bent was always playing off the shoulder. We could have done better and created more.
"We doubled up on him (Hatem Ben Arfa) first half and he couldnít get his shots in. We should have blocked his shot, we had two players there."

Loic Remy became the 183rd player to represent United in the Premier League and the 24th French-born one.

Hatem Ben Arfa's twelfth goal for the club was the first scored in a Premier League game at Gallowgate since Papiss Cisse struck to beat Fulham back in April - an interval of 446 minutes.

That special strike was our first in the league anywhere in 411 minutes, since what proved to be the winner from Yoan Gouffran at QPR back in May - Remy was on the pitch for that one as well, playing for the opposition...

Despite the current doom and gloom, United achieved something today that they failed to manage at all last season, namely back to back Premier League clean sheets. That was back in April 2012 (Bolton Wanderers home, Stoke City home).

Cottagers in Toon - Premier League years:
2013/14 won 1-0 Ben Arfa
2012/13 won 1-0 Cisse
2011/12 won 2-1 Best 2
2010/11 drew 0-0
2008/09 lost 0-1
2007/08 won 2-0 Viduka, Owen
2006/07 lost 1-2 Parker
2005/06 drew 1-1 N'Zogbia
2004/05 lost 1-4 Bellamy
2003/04 won 3-1 O'Brien, Speed, Robert
2002/03 won 2-0 Solano, Bellamy
2001/02 drew 1-1 Dyer
Total record against Fulham:
| | | | | | | |
| --- | --- | --- | --- | --- | --- | --- |
| | P | W | D | L | F | A |
| SJP | 31 | 15 | 8 | 8 | 52 | 37 |
| CC/LR | 30 | 7 | 5 | 18 | 44 | 62 |
| League | 61 | 22 | 13 | 26 | 96 | 99 |
| SJP(FA) | 3 | 3 | 0 | 0 | 15 | 0 |
| CC | 1 | 1 | 0 | 0 | 5 | 4 |
| SJP(LC) | 2 | 1 | 0 | 1 | 4 | 2 |
| CC | 1 | 0 | 0 | 1 | 0 | 2 |
| Cup | 7 | 5 | 0 | 2 | 24 | 8 |
| Tot | 68 | 27 | 13 | 28 | 120 | 107 |
Waffle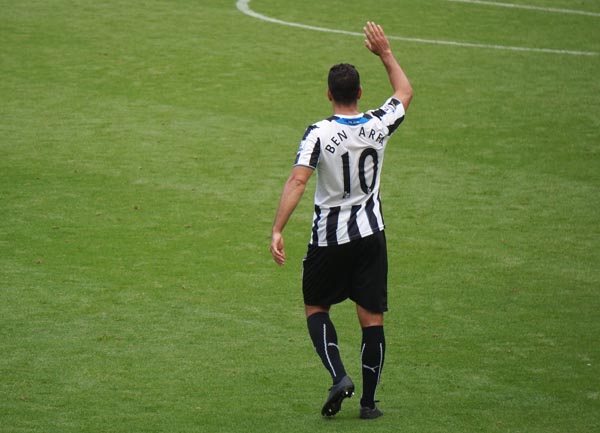 Over seven hours since Newcastle last registered a home goal, things were looking bleak with less than five minutes to go at St. James' Park on Saturday afternoon.

At that point Hatem Ben Arfa stepped into the Fulham area for the umpteenth time in the game, but for once resisted the temptation to try and dribble through the defence and instead cut infield to loop a shot that flew past 'keeper David Stockdale in the Gallowgate goal.

It was a moment to savour for those present and greeted by both scorer and fans alike with scenes akin to those following the late goal by Papiss Cisse that saw off the same opponents for our last home league win in April.

Ben Arfa emerged from the celebratory scrum to be shown a yellow card, but that was a small price to pay for a goal that single-handedly lifted the doom-laden mood that threatened to envelop the whole ground.

For most of the previous 85 minutes, Newcastle never looked in danger of failing to record their third clean sheet in the last eight days, but struggled to create a scoring chance of their own worthy of the name.

An unchanged starting XI from last week's stalemate with West Ham meant that there was again no place for Yohan Cabaye, but this time he was named on the bench along with our sole arrival in this transfer window, Loic Remy.

The latter was warming up before the interval though, as Alan Pardew's side stumbled through an opening half with his forward pair of Shola and Cisse incapable of providing the required goal threat - and a lack-lustre midfield again failing to offer anything in the way of service or support.
As a result, the crowd dozed in the late summer sunshine and it took until the hour mark for a pair of goalbound shots to inject a semblance of an atmosphere; Cisse and Yanga-Mbiwa both denied by defensive blocks.

Then came the introduction of substitutes Cabaye and Gouffran - the former arriving to a mixture of applause and boos after his recent decision to down tools.

A welcome sense of urgency could then be discerned with debutant Remy added to the mix: afforded an unreserved welcome, with all thoughts of his toon rejection back in January and off-field misadventures put to one side.

The on-loan QPR player looked both eager and lively and his energy certainly bucked up crowd and team. Cisse headed against the crossbar before substitute Yoan Gouffran contrived to miss from roughly the same point blank range as his effort against West Ham.

Following the departure of the unimpressive Darren Bent amid hoots of derision, Mathieu Debuchy headed Hatem's corner wide when unmarked before a rare Fulham foray saw Tim Krul stretch out a leg to deny Adel Taarabt.

Then came Ben Arfa's face-saving strike and a fingertip stop from Stockdale to deny Gouffran, before the visiting 'keeper spilled an effort from Cabaye and then blocked Cisse's follow-up.

As was the case after Wednesday's League Cup win at Morecambe, the over-riding emotion here was one of relief at having scraped a win that slackens the pressure on us slightly and delays the next set of negative headlines. The occasional positive scoreline seems to be the only thing we've celebrated in 2013, with accompanying performances of note remaining a scarce commodity.

For much of the afternoon, Gallowgate was a depressing place to be, with home fans as becalmed as their club: a support seemingly beaten into submission as United revert to their default position of continual disappointment.

The list of gripes remains a lengthy one, with the return of Cabaye meaning for another "clap/boo day" to divide supporters and give reporters something to file on, much like our controversial shirt sponsor. The greater decision as to whether to actually attend any more is one that more than a few have taken, but enough fans still roll up to be eulogised, patronised and ultimately exploited. The fanbase of a great club, saddled the task of supporting one that remains an embarrassment.

Many neither support nor critice, just attend to witness what unfolds. Fearing the worst, based on a lifetime of watching this lot endlessly repeat their mistakes. With such low expectations, any flirtation with mediocrity is embarrassingly greeted like the dawning of a new era.

Anyone searching for evidence that nothing has changed round here need look no further than the pair of 1-0 home wins over Fulham five months apart: seconds of pleasure at the end of a grim and instantly forgettable struggle, with the manager celebrating each time as if having just received news of his relocation from death row.

The main solace today was in beating a side whose insipid display was a reminder that beyond the top clubs lies a raft of thoroughly average ones, with bone idle strikers like Berbatov and Bent, the latter no better than Shola.

Amassing enough points to finish above the bottom three shouldn't be an issue, but to settle for that as the limit of our ambitions is unacceptable. Both the manager and Director of F***all may have gone on to record to state loftier intentions for this season, but the evidence of our transfer dealing would tend to suggest otherwise.

Actions speak louder than words.


Biffa