Date: Wednesday 11th September 2013, 7pm

Venue: St.James' Park

Conditions: Evocative

Admission: £10 adults, £5 concessions

Programme: £5






Newcastle United Legends

AC Milan
Glorie

0 - 0



Teams
Half time: United 0 ACMG 0

Full time: United 0 ACMG 0

The shootout (at the Leazes End):

Beardsley saved 0-0
Di Canio scored 0-1
Asprilla saved 0-1 (retaken, saved 0-1)
Costacurta scored 0-2
Harper saved 0-2
Oddo saved 0-2
Thompson scored 1-2
Lorenzini saved 1-2
Barton saved 1-2
Steve Harper said: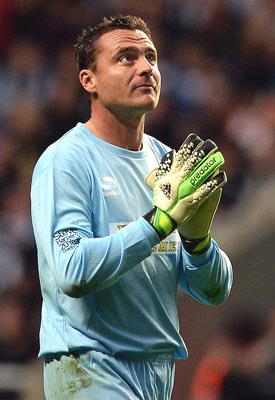 "Barring two fantastic saves from Rossi and Taibi we might have won the game. Sadly the Invincibles came out on top of the Entertainers in a very impromptu penalty shoot-out.
"It was brilliant. I cannot thank the fans enough for buying into the concept of what we wanted to do.

"I cannot thank Milan enough for their help and the lads from my 20 years coming back - the problem was getting them all on the pitch. We managed to do that and I would to thank every fan.
"I thought the tempo of the game got better as the game went on. The oldies were not too happy kicking up the hill in the first half!

"It tells me the fans are the best.

"The whole concept we had here, they all bought in to it. When we came up with the concept of lowering the ticket prices, bringing the kick-off forward and inviting the players who have shared the last 20 years with me, we wanted to engage the fans.
"We wanted to use my time served here to get them to come along and every single penny has gone to charity. I can't thank them enough.
"I was close to checking in to The Priory a few times over the last few days, but not tears this time. The Foundation have done a great job. I was determined not to cry.
"The Arsenal game was all about me. Tonight I had 28 other players in that dressing room, great players coming to this pitch.
"The banter was great in the dressing room. Priceless. John Beresford was complaining that he was on the overlap and never receiving the ball from David Ginola. It was just the like olden days.
"Huge credit to him (Paolo Di Canio). One of the beneficiaries is the Sir Bobby Robson Foundation and he would have loved that - he was a big fan of North East football.
"Paolo came here and played the whole game. It looked like he enjoyed every minute. He got his penalty and got too close to Joey (Barton) at one point."

24 hours before the game, an interview with Harper appeared in the Telegraph:

"If the club was a body, the fans are the heart. Itís a clichť, but the fans do bleed black and white. They are its heartbeat, but the link between the brain and the heart is no longer there.
"Newcastle are bleeding. If that isnít addressed, if the wound is not allowed to heal, whatever is special about the club is in danger of dying.
"The fans make the club tick, but they feel detached from it. Whenever the club has done well over, the fans have been on board. They have been fully behind their team, their club.
"I think their loyalty has been tested far too often in recent years. Itís one of the great clubs, but it should be competing amongst the very best in Europe.
"Itís getting harder and harder to break on to the top table and opportunities have been missed. We finished fifth a couple of years ago, but to sustain that you need investment in the team.
"If I had a message to Mike Ashley it would be to engage with the fans, to repair that relationship. Itís not totally broken, but it doesnít just need a plaster on it, it needs to be fixed.
"Iíve seen players chewed up and spat out by it. Itís not just those who go to the game, itís the whole city.
"Everybody knows what is happening at the football club and when things go badly, they let you know about it. If things go well, itís the one of most amazing experiences you can have as a footballer playing in England.
"When there is a good feeling, when the momentum builds, you swim with the tide and you feel unstoppable. But when things turn sour, when the club is divided, youíre in a rip tide and itís incredibly hard.
"The fans are demanding, even under Keegan and Sir Bobby Robson, theyíd get restless if you werenít winning at half-time, but all they really demand is you put a shift in. They are working class people who want to see players put in the same shift they do in the week to put money in their pockets.
"Iíve said to an infinite amount of players when they signed, just make sure you give everything youíve got. It doesnít matter which country youíre from, what colour your skin is, they want you to be committed to the shirt.
"Thatís the minimum they ask for, but you also have to have a certain character to succeed.
"I think a few players got a shock last season. Itís not only British players who get this club. Itís not a case of Ďyouíre foreign and donít understandí. Look at (Fabricio) Coloccini, Jonas (Gutierrez), they get it the same way Kevin Nolan did.
"Last year was a struggle and whenever you lose home games 0-3 to Sunderland and 0-6 to Liverpool, itís going to open a few wounds and it did. It made a few people realise whatís needed to play here. It made a few players realise the size and the scale of the football club, as well as the situation we were in.
"I think it was a huge wake-up call for some people. Like others before them, itís now up to the players who have come in over the last couple of years to show they can handle the weight of the shirt.
"When youíre here, you have to give 100% to Newcastle United, not worry about whether you are going to get a move elsewhere.Ē
Post-match player quotes: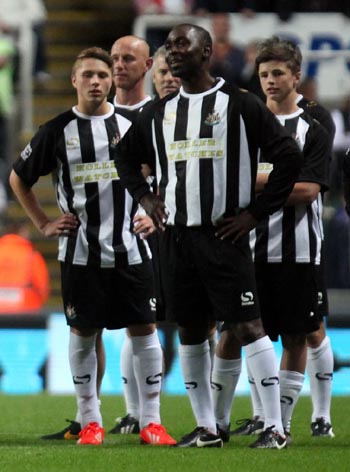 Andy Cole (pictured here with Gary Speed's two sons after full time):

"Only three or four teams can win the league and Newcastle used to be a lot closer to them. Kevin Keeganís team had a fantastic opportunity but they have gone backwards since then.
"Apathy is something Iíve never associated with Newcastle United," said Cole. "To be told their biggest crowd of the season is for a testimonial match is a huge surprise and itís worrying for them. If youíre not going to put finances into the football team and try to improve by buying better players, fans are going to vote with their feet.
ďNewcastle have got a decent first choice team, but the game is about getting injuries and suspensions, players coming in and out of the side. The best clubs have the best squads. They have competition for places.
"Itís a rock and a hard place at Newcastle at the moment. They seem to get themselves on the right track and all of a sudden someone here derails them. The punters were fairly happy a couple of years ago, the team were moving in the right direction and then decisions are made at the top which throw a spanner in the works. Itís almost as if somebody running the club wants to upset the punters and I find that very strange.
"If you keep the punters on board here, itís half the battle. If you upset them, theyíre going to eventually vote with their feet because there is only so much they can take."

David Ginola:

"It is a bit of a shame to see the club struggling. When you look at the stadium and fans you realise they deserve some good results. If the club could get back to having good results again it would be amazing.

"It was great. We spoke in the dressing room together. It was fantastic in one way but terrible in another. Thatís because we would all like to be able to do this every week again. We know that itís impossible. If we could do that more often, that would be interesting. Other teams do it so why not us?
"We miss the game. The response of the fans was amazing. The stadium was full and thatís amazing. It was great for Steve Harper. You have to remember that it was a testimonial, but itís only in a place like Newcastle where you can find this passion for the game.
ďIt wasnít the Premier League it was a friendly with former players but the people still come, they are amazing. It was great to see families there, some of them remember us from the first time. It gives me so much satisfaction.

"I got so many messages saying we canít wait to see you back. They miss us and miss the team. We were sharing these thoughts with the lads and we all feel very emotional about it.
"Thatís what Newcastle is all about.Ē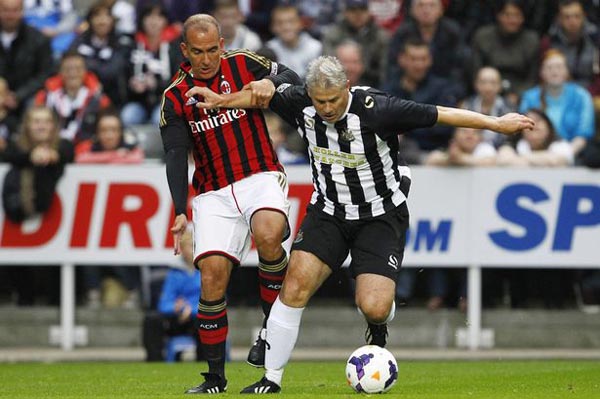 Rob Lee (pictured above with the mackem boss):

"I can see where heís coming from. The fans want to see the club progressing and they want to see the owner spending some money on the team. That hasnít happened. Iíd like to see them spend it on a few more British players. Theyíve not got enough in the squad. Theyíve gone too far.

"Some of the foreign players have been good, but some of them arenít good enough and there doesnít seem to be any desire to invest in domestic talent.

"Against West Ham, it was 0-0 and I couldnít remember playing in a 0-0. It was flat. The atmosphere was flat, Newcastle teams always attacked at home. Itís not a case of the club only need a couple of players and theyíll be very good. Itís more long term than that. There arenít the kids coming through the academy. Since I left weíve had Steven Taylor, Andy Carroll and Shola Ameobi.

"They arenít coming. Players donít want to join Newcastle anymore. Kevin Keegan sold this club to me when I joined. If Joe Kinnear was speaking to you, are you going to join this football club? Iím not so sure."

"If we can get our best 11 out on to the pitch we can compete with anyone, but if we have one or two missing we canít.
"In an ideal world Mike Ashley should step aside, but it isnít an ideal world. Also, if he sold it, you donít know if youíre going to get something even worse. The likelihood is you are going to get a foreign owner as there arenít any Geordie billionaires out there. Ē
Alan Shearer:

"That 1996 team which just missed out on the title may be the best any Newcastle fan sees in his lifetime. That is why they turned out for this game, because that's an era that they loved and enjoyed. They enjoyed being entertained and that is what that team did. It could be a long time before that happens again.
"Yes, I was surprised by the lack of activity on deadline day because I kept on listening to Alan Pardew saying he wanted some players and the club were confident of bringing some in. Reading the lines, I expected a player or two to come in. I haven't got a clue why they didn't.
"Is the ambition still there to be a top six club? I think it takes an incredible amount of money to get there. You've seen what Spurs have spent, albeit they got it back with Gareth Bale money, and Newcastle haven't got anything like that. You have seen what Chelsea, Man City, Man United and Arsenal have spent and Newcastle cannot compete with them anymore, unfortunately.
"The aim now is to try to win a trophy, be it the FA Cup or the League Cup, and to stay in the Premier League. It might be a while before you see Newcastle challenging again for a top four place, which is a shame because the fans here deserve it."
Kevin Nolan:

"I loved it. It was nice coming back, going in the home dressing room and seeing so many old faces around the place. It was a fantastic occasion, I'm delighted for Steve, delighted that he asked me, and I was delighted to accept.

"There were some huge figures from the history of this Club in that dressing room. I'm not including myself in that because I was only here a couple of years, but I had a great time and got to know Steve really well.

"It was great to have banter with all the old boys, and they were calling me the young one! It's nice being in that situation again! "But being on the same pitch as some of those greats was fantastic and something I will always treasure.

"A full house was amazing but that just comes as standard at this place, doesn't it? It shows what Steve means to the people up here and the city. His loyalty to the club was superb and they have rightly shown their appreciation for that.

"And when you look at the players who turned out as well, that tells you what he was thought of by his teammates throughout his career. He is a special guy."
Glorie captain Paolo Maldini :

"Itís the first time I have ever played here and the fans are amazing. The stadium at Newcastle is always packed. You always enjoy playing at grounds like this.
"Newcastle United is such a big club and deserve to be at the top. I never got the chance to play against them in my career but heard so much about them. I loved the idea of playing here.Ē
"We always enjoy playing together. It is always an honour pulling on the AC Milan shirt. Iím not in a perfect shape! But I tried to do well for my team. We always try to enjoy ourselves.Ē
"The main thing was we raised some money for charity in Newcastle. That for me is the most important thing. Thatís why we accepted the game. It was the main reason.Ē
Franco Baresi - second-oldest man on the field at the age of 53 (Pietro Vierchowod is 54):

"It was a fantastic night and a fantastic atmosphere. I want to say thank you to all the fans who filled the stadium. I was very happy for Steve. It was a successful event. It was for charity, but we wanted to play well for the people. We trained hard for this game
"I think Paolo enjoyed the match. He came even though he knew this wasnít the best stadium for him as Sunderland are big rivals of Newcastle. Heís a big player and a big man to play with a smile on his face.Ē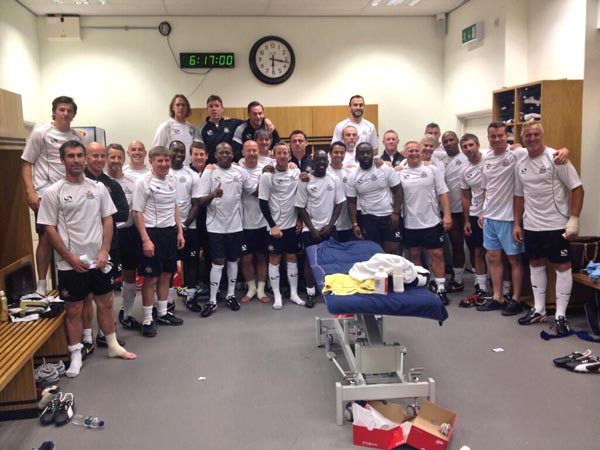 Rolling with the 6.17 crew
This was the fourth testimonial game of the Premier League era at SJP, following games staged in commemoration of Peter Beardsley (1999), Rob Lee (2001) and Alan Shearer (2006).

2013 participants who featured in the previous trio were as follows:

1999 Beardsley, Beresford, Cole, Peacock, Sellars, Shearer, Srnicek, Watson,
(Lee, Stone and Thompson were present but didn't kick a ball)

2001 Bernard, Dabizas, Given, Harper, Solano.

2006 Given, Ferdinand, Harper, Lee, Shearer, Watson.
(Thompson was in the Celtic side)

NB: The 2001 and 2006 games featured many then-current toon players, making Harper's game the first old boys affair at since 1999. There was a 2011 reunion when a side overseen by Kevin Keegan and Terry McDermott played a Liverpool XI at Kingston Park.

Most of tonight's KK era lads featured that day, but dropping out of the 2011 squad were Philippe Albert, Paul Bracewell, Lee Clark, Robbie Elliott and Steve Howey.

Waffle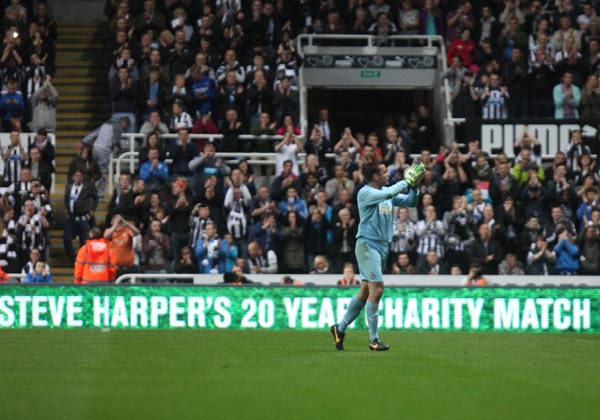 The last farewell


A remarkable turnout of 50,793 were present for the last hurrah of the Entertainers era at SJP on Wednesday, as Steve Harper brought down the curtain on his twenty year career as a Magpie.

Sadly for him though, his star-studded cast of former colleagues proved unable to muster a goal during 80 minutes against their distinguished Italian foes - and then failed from the penalty spot, leaving the Rossoneri veterans to claim the match silverware.

In the absence of memorable moments from the black and white old boys who had assembled, much attention was devoted to a certain 45 year old mackem dweller. The sprightly Paolo Di Canio played the part of pantomime villain and was booed throughout the evening, suffering from the attentions of Joey Barton at one point - to the great delight of those present.

Opting to pass rather than shoot in the first half when presented with sight of goal, Di Canio did net during the shootout but managed only a low key celebration when trotting back to the halfway line. Perhaps he was too knackered to slide along the touchline - or didn't want to get his knees muddy.

Despite a higher average age, the Italians showed the benefits of that Mediterranean diet and looked leaner and fitter than the black and white old boys. Of the former heroes on display, both Darren Peacock and Nicos Dabizas took up where they left off in 1998 and 2004 respectively.

Andy Cole hit a post, while Alan Thompson and Paul Kitson were both denied by Massimo Taibi, before the ex Manchester United custodian pulled out all the stops in the penalty shootout, defying Peter Beardsley, Tino Asprilla (twice, when his first saved effort was retaken) and Harper himself.

10 year-old James Harper had been able to find the back of the same Leazes End goal with a half time spot kick during a shootout and although he only had a mascot clad in a Magpie costume to beat, his dad managed to cannon an effort off Taibi, who was moving to give Harps a free shot...

Pavel Srnicek then blocked two Milan spot kicks before finally Alan Thompson cracked his penalty home, but Barton's failure meant the visitors ended the evening taking the generous applause of the crowd and parading the trophy.

A handful of very welcome guests donned the black and white in the latter stages of the contest, with current United coach Steve Stone taking to the field along with Ed and Tommy Speed - the latter pair representing their much-missed father, Gary - a magnificent gesture.

The result was immaterial; the tributes to Harps and the players he assembled heartfelt and the sizeable sum raised of substantial importance to the various good causes across the region who will benefit as a result. Footfall was the winner.

Above all else though, there was the sense that tonight was about rather more than the testimonial recipient, whose own personal milestone had allowed a packed SJP to salute him and a generation of much-loved players.

Thoughts returned to an era when silverware eluded the club, but the glorious failure to do so resulted in a lifetime of memories over a relatively small period of time - not just the team who almost won the Premier League, but also the players behind our Champions League adventure.

We shall not see their like again, unfortunately. The football world is now a different one and this is a different, inferior Newcastle United that in many ways has gone full circle from when Harper first signed on the dotted line in 1992.

We may be in a stadium that's 50% bigger now and playing in the top flight, but we're as far off the pace as we were back then: also-rans at best, becalmed and reliant on looking backwards into our history for comfort. The only thing to look forward to, the past. High time we had some new heroes.

That we ever flew towards the sun in the 1990s was due to the influence of the man who wasn't here tonight for political reasons, Kevin Keegan. In 2013 though, there's no ringmaster - only a circus.

Thanks for the memories Steve - it wouldn't have suited you though, bowing out clutching a cup.


Biffa