Date: Saturday 14th September 2013, 3pm

Venue: Villa Park

Conditions: Mixed but the sun shone mainly!

Admission: £39

Programme: £3

Aston Villa

Newcastle United

1 - 2

.

Teams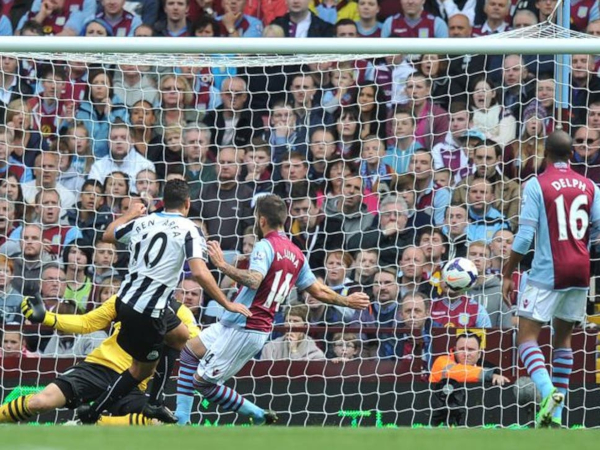 18mins Loic Remy made a great run down the left and pulled the ball back for Papiss Cisse at the near post but when the striker made a weak contact the ball fell perfectly for Hatem Ben Arfa to hammer the ball home left-footed into the Holte End net from six yards out. 1-0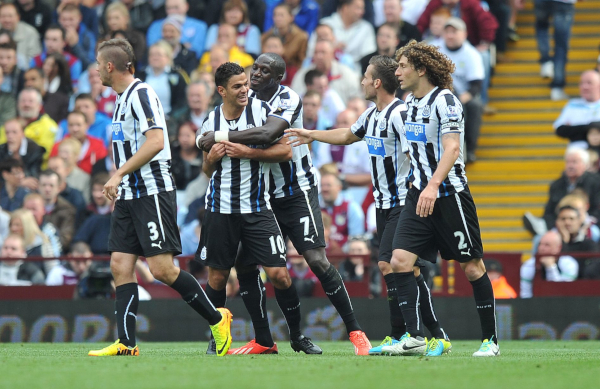 Half time: Villa 0 United 1

67mins A routine-looking corner from the right from Ashley Westwood was misjudged by Tim Krul and after punching fresh air, Christian Benteke was easily able to head past Davide Santon on the line. 1-1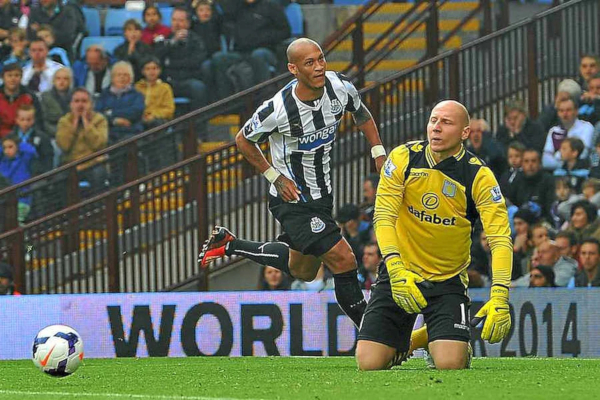 73mins Ben Arfa was allowed to cut across the box from the right again and his shot was poorly parried out by Brad Guzan straight to Yoan Gouffran, who side-footed into the empty net. 2-1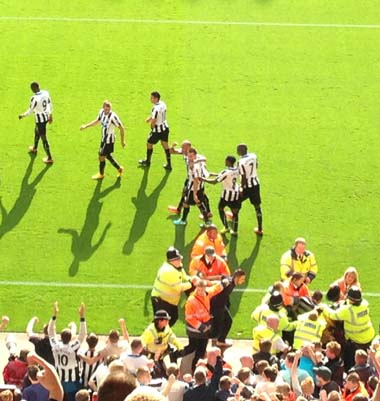 ello, ello, out you go....
Full time: Villa 1 United 2

Alan Pardew said:

"We played very, very well today and I thought some of our play was what it should be at Newcastle. We have a real attacking mode at the club and that's the type of offensive side I want to put out, but I have been unable to do so really since Demba Ba left.

"There were some magnificent performances around the pitch and I thought we were excellent and it bodes well for games coming in the future.

"Injuries last year were a massive problem and it sounds like an excuse that the manager keeps rolling out. But to have the quality of (Yoan) Gouffran coming off the bench fresh makes the difference.
"That's what Newcastle teams should look like today and in Hatem Ben Arfa he was sublime. He was doing things anybody would pay £50 to watch.

"We have put a team on the pitch with so much more offensive credentials and it showed today. It is what our fans want, it is what I want.
"Since Demba left we have not really had that many options but today we did. Remy did well, Cabaye did great, then you had the option of Gouffran or Marveaux to come off the bench, or Sammy Ameobi. It makes a hell of a difference.
"But we had the outstanding performance on the pitch today from Hatem Ben Arfa and our fans would have loved that. He holds onto it, he goes past two players in a moment, it is wonderful Ė if he can keep that concentration and play like that every week, we will be a fantastic team.
"When you are sitting in the dressing room you want to look around and think Ďweíll score goalsí. We used to look around at the back end of last season and think where are the goals coming from?
"Today though we had numerous chances and that is how it should be for a Newcastle team.

"These ex-players that made those comments have earned the right to have an opinion about the club. They have been brilliant servants for Newcastle United.
"Our players can only aspire to what they achieved. We are not in a position to compete financially like they did because the game has changed dramatically.
"Their comments, we accept, itís OK. The only answer is to win games. My job is to get my team out there to win games as we did today.
"When you are manager of Newcastle, it is a bumpy ride. But you just try to be consistent in your work and I try to be that.

"When you are a manager of Newcastle, and you talk about the Europa League and injuries, it sounds like rotten excuses.
"We had our best players available today and anyone who was at the game would say that when that happens we look a good team. If we can keep them all fit then we can have a good season.

"Yohan (Cabaye) is just as important to us as (Wayne) Rooney is to Manchester United. Heís a player who carries the heartbeat and the rhythm of the team, and itís the rhythm of the game that he can dictate, that wins Premier League games.

"Thereís not that many players than can do it like he can. Listen, I think we all know in the modern world that if someone comes along and offers you substantially more money or whatever to join another organisation, it can turn your head, and it did turn his head.

"Iím not saying he was perfect in what he did, but all I would say is that heís been perfect since the window shut, and I canít ask for more than that.

"It was nice that the fans gave him a good reception when he went off, heíll sleep better now knowing that he has the backing of the team, the manager and a huge part of the fanbase."
On the positive fan response to Cabaye:

"I was glad to see that. He hasnít fully repaired the relationship, but that will happen if he keeps playing like that.
"The fans who clapped him off the pitch would have been impressed, but those back home want to see him do it as well.Ē
On Ben Arfa:

"He was brilliant. I think people will have been thrilled by him today. "He was magnificent, unplayable really.

"I thought the reaction to his performance last time was slightly over the top, but I don't think it can be this week. He really was very, very good."
Hatem Ben Arfa:

"It was a good performance. The team tried to play football, to keep the ball and try to score. We had a lot of chances today and scored two.

"It's good because when it was 1-1 we kept going to win that game that means we have a good personality and character. I'm very proud of my team today.

"I play high on the pitch and it's my job to create chances and score and give assists and today was a big performance.

"I'm very happy because for two weeks we've trained very good and we have high ambition for this year and we show that we can be a very strong team this season.

"I had a big pre-season and for me this year is very important - I give all my best for the team and I try to make us play better. I'm very happy because today everyone do his job properly and I did mine properly.

On the encouragement from the fans:

"Today they shout - 'go, go, go, take him on, take him on- you know you can fly - you go and you fly. It's a pleasure to play in front of our supporters."


Villa manager Paul Lambert:
"We never got going in the first half, and you can't lose goals the way we did and expect to get something.
"We started the second half really well. But in the first half we lost a really poor goal, and I think the second one is even worse.
"We had got back into the game, and I think the momentum was with us.
"But we can't defend that way."

On booing from the crowd:

"I'd rather have that level of expectancy on our shoulders. It's important to have that to go and try and win games. I'd rather play with that. The crowd have been excellent since I've come to Villa.
"As a footballer you have to thrive in playing in front of a crowd. It's too big a club not to have a big support, and it's thousands.

"You take the rough with the smooth, that's the game."

Hatem Ben Arfa's thirteenth goal for United (12 in the PL) was the first time that he's scored in back to back appearances.

Yoan Gouffran's fourth goal for United was the same as his previous three, away from home. Unlike any of that trio though (Spurs away, West Brom away, QPR away), this goal was in the second half and notched following his arrival from the substitute's bench.

Papiss Cisse has now gone ten Premier League games and a total of 882 minutes since last netting for United, at home to Fulham in April 2013.

That's his longest barren run to date, surpassing the 763 minutes between his incredible strike at Chelsea in May 2012 and the one that win in off his backside to beat West Brom at Gallowgate in October 2012.

Toon @ Villa Park - Premier League era:
2013/14 won 2-1 Ben Arfa, Gouffran
2012/13 won 2-1 Cisse, Cabaye
2011/12 drew 1-1 Best
2010/11 lost 0-1
2008/09 lost 0-1
2007/08 lost 1-4 Owen
2006/07 lost 0-2
2005/06 won 2-1 Ameobi, N'Zogbia
2004/05 lost 2-4 Kluivert, O'Brien
2003/04 drew 0-0
2002/03 won 1-0 Shearer
2001/02 drew 1-1 Shearer
2000/01 drew 1-1 Solano
2000/01 lost 1-0 (FAC)
1999/00 won 1-0 Ferguson
1998/99 lost 0-1
1997/98 won 1-0 Batty
1996/97 drew 2-2 Shearer, Clark
1995/96 drew 1-1 Ferdinand
1994/95 won 2-0 Lee, Cole
1993/94 won 2-0 Allen (pen), Cole
Waffle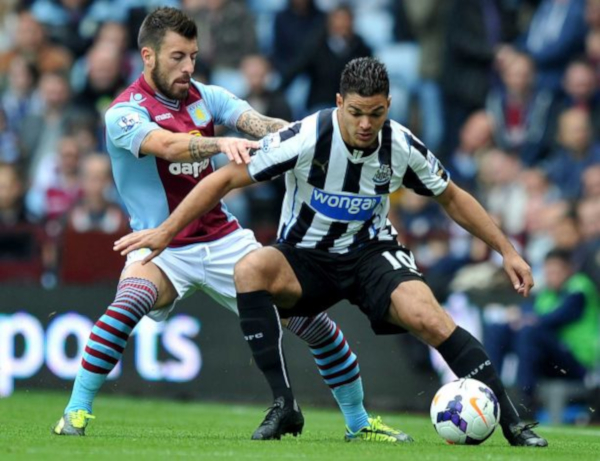 It's always good to get a result here.

Their ignorant, fickle fans and the events of May 2009 give wins at Villa Park an extra resonance. Today was no exception but this one had an element of surprise that made it even more special.

Both teams narrowly survived relegation last year but while there has been doom and gloom on Tyneside, there was massive optimism in this horrible part of North Birmingham. The feeling has been - despite two defeats in their first three games - that the Paul Lambert revolution is about to take off. Benteke and the youngsters will be brilliant this season, so they say.

Errr, well not on this showing they won't. They were as poor as Fulham were a fortnight ago and although Villa squandered better chances, United were far more comfortable in securing all three points, despite an equaliser that the home fans expected to spark a successful comeback.

Alan Pardew raved about his side after the game, especially Hatem Ben Arfa's performance, but to these eyes neither were anything special and made to look better than they were by some shocking defending and sloppy passing from the home side.

Our passing wasn't fantastic either. If it had been and we'd had a centre forward in any sort of form, then we could have won by a far greater margin. Papiss Cisse looks terrible at the moment. Still forever offside, his touch is non-existent and his passing woeful. It's incredible.

Regardless of that though, we secured our first away win of the season as the Gallic contingent came good to deservedly claim victory.

Ben Arfa and substitute Yoan Gouffran found the net, but revitalised displays from fellow Frenchmen Yohan Cabaye, Moussa Sissoko and Matthieu Debuchy did much to achieve United's second successive league victory.

Selecting the strongest starting XI available to him, Pardew's side were on the offensive from the first whistle thanks to a front three that hassled and harried an out of sorts home side without a clean sheet in 2013.

It took twelve attempts to register victory on the road last season when another 2-1 win here improved the mood and offered hope for the future, in the shape of debutants Mapou Yanga-Mbiwa, Sissoko and Gouffran.

Today much of that optimism came from Loic Remy, who made his first start on the left and echoed the threat of Ben Arfa, marauding menacingly down the opposite flank.

Backing them up was an industrious midfield including Cabaye for the first time this season and Sissoko, who seemed to relish the battle in the centre of the park and had the stamina to contribute right through until full time.

Putting aside the reasons for club and player to have departed in the transfer window, Cabaye's return and positive display did much to inspire victory.

That was in stark contrast to his interest levels and demeanour on our last visit to this part of the world, when our hoof ball tactics at the Hawthorns last April left him visibly disenchanted with team and manager.

There was also a vote of confidence in Vurnon Anita from the manager, the Dutchman keeping his place despite the availability of Cheick Tiote.

That was echoed in central defence by the decision to retain Yanga-Mbiwa and consign Steven Taylor on the bench on his return from suspension.

United went in front when excellent work from Remy down the left saw him reach the byline and pull a pass back for Cisse to make contact before the ball fell invitingly for Ben Arfa to steer home left-footed just six yards.

More goals looked likely against a stuttering Villans side who had lost their last three games and struggled to bring their main goal threat Christian Benteke into the game.

Half chances for Cabaye, Remy and Cisse and a penalty appeal denied when Remy was impeded failed to add to our tally however.

After the break, Villa emerged strongly and quickly put the visitors under pressure, winning some early corner kicks. Antonio Luna should have equalised but elected to cross but his error was nothing compared to Gabriel Agbonlahor who missed a virtual open goal.

United looked to ease the pressure by pushing forward and one run and shot from Ben Arfa ended with 'keeper Brad Guzan blocking and managing to push the ball away from the lurking Cisse.

Paul Lambert threw on forward Libor Kozak in an effort to find an equaliser but it was Benteke who got on the end of a corner to nod home - Tim Krul punching at fresh air and our marking all at sea.

That awoke the slumbering home fans but only for a matter of minutes when a smooth passing sequence set up Ben Arfa to skip forward and bear down again to inflict further torture on the Antonio Luna

Guzan again parried the shot, but this time Gouffran reacted first to gleefully side-footed in from 12 yards before celebrating with the away contingent.

Cisse headed narrowly wide and Tiote, on as substitute, had a long range effort saved while yet another Ben Arfa run into the area was halted by an illegal body check, but widespread spot kick calls went unheeded.

Villa rarely threatened a second equaliser though and United comfortably held on through four minutes of added time, Debuchy and late replacement Sammy Ameobi both retaining possession to run the clock down.

Players and fans then both celebrated wildly on another memorable day out at this venue - our eighth Premier League victory on this patch - and what can truly be called out most cohesive and convincing performance since beating Chelsea 3-2 at Gallowgate in February.

Some unpleasantness in the ground translated into blows being exchanged outside with one home fan picking on the wrong youngster and having his jaw seemingly broken by the lad's family. Not good but a lesson learned the hard way for the local agitator.

The feistiness in the ground wasn't dealt with brilliantly by the stewards and police with huge numbers of both required to deal with individual trouble makers who were allowed to return to their seats. Incidentally at one point in front of me stood three stewards and three coppers - ALL bearded. What's that all about...?!

But on a day when a point would have been gratefully accepted, three were deliriously savoured as surprise turned to sheer delight. Marvellous.


Niall MacKenzie