Date: Saturday 21st September 2013, 3pm

Venue: St.James' Park

Conditions: flabby






Newcastle United

Hull City

2 - 3




Teams
10mins Moussa Sissoko pushed forward in possession and centred from the right hand corner of the Hull area, picking out Papiss Cisse beyond the far post. The United striker drove his first-time shot into the ground but the ball bounced perfectly for Loic Remy to head beyond McGregor from six yards out - his first goal since scoring against Newcastle for QPR back in May 1-0

26mins United failed to clear their lines following a previous attack and with Matheiu Debuchy dragged into centre field, Sone Aluko evaded Fabricio Coloccini's attempted block to thread a pass diagonally across the box and beyond Mapou Yanga-Mbiwa to the unmarked Robbie Brady, 12 yards from goal. He strode forward and cracked a grass-cutter through Krul's legs at the Leazes End 1-1

44mins Yohan Cabaye's effort deflected off a defender into the path of Loic Remy, who without further ado, converted his and United's second at the Gallowgate End with an instinctive finish 2-1

Half time: United 2 City 1

48mins Brady's free kick down the City left was deposited on the head of the unmarked Ahmed Elmohamady on the nearside corner of the six yard box and the former mackem defender beat Krul, the ball ending up in the net via the far post. 2-2

76mins Substitute George Boyd made progress down the Hull left and ignored the shadowing Ben Arfa to centre for Sone Aluko to net with a perfectly-executed left foot volley from just inside the penalty area - going in off the same part of the upright 2-3

Full time: United 2 City 3

Alan Pardew said:

"I canít say it is a day I will fondly remember. I was standing on the sidelines and disappointed with a lot of factors about the game. The thing we must improve on is our consistency of performance as individuals and as a team. This is a place where we need to crank it up all the time and keep the pressure on.

"Thatís what we know about this place, itís about momentum and weíve thrown it out of the window. We had that and everyone was feeling good with a victory on the cards. But that is what the Premier League does.

"We started really, really well and got the goal, which is not something we do often at home, get an early goal, and everything looked happy.
"We werenít tight enough as a team today. We were really tight at Villa with the same formation but we were loose today, and Hull exploited those spaces. I thought all three goals were poor from us - as I say, we defended really, really well in these last few weeks.
"Today, itís the inconsistency of performance that this team is searching for. The team that finished fifth, you see similarities with this team, but that team had a consistency about its performance, as a team, not as individuals.
"The formation was the same today, the set-up was the same but we looked not the same. We looked too loose, and gifted goals and you canít do that against any opposition.
"Iíll be the first to pay tribute to Hull, they played very well. But for us, itís a really disappointing day. Itís the commitment and the quality that you need in every game, that we showed at Villa.
"Today, itís not just the looseness of the team but the distance between our units and our selection of passing wasnít as great as it has been in the last two or three games.
"We werenít as solid as we were at Villa, and youíve got to do it home and away in this division. We had a day at the office that we would like to forget quite quickly, and move on.Ē
On Loic Remy:

"Yeah, he got us a couple of good goals. He had a fantastic chance for a third. Itís just unfortunate it came at him so quickly, he took it quick. But his performance was perhaps one of the rare highlights for us today.Ē

Fabricio Coloccini:

"There were bad feelings after Hull - frustration, anger and everything you would expect, but we have a game on Wednesday and we have to turn the page right now. We must look to the next game.
"If we want to be serious about being in the top 10 or look to bigger things or be a big team in the Premier League, we have to start to take the chances we have. If not, we are going to have problems.
"We do not want to be like we were last season. We ended the season fighting against relegation - we can't have that again, so we have to look at our mistakes and keep going.
"When we have chances to beat teams like Hull, we have to take them. We have to learn. Now we have to look to Leeds, get the win and go through in the cup."

Steve "Jacamo" Bruce proclaimed:

"It was some goal that Sone (Aluko) scored to win us the game It's a really, really wonderful goal. Sone will remember it for a long time. For (George) Boyd, and Aluko, one was fifty grand from Peterborough and the other's one's a free transfer, I'm delighted for them to come on the big stage and show what they've got.
"That was certainly the darkest Sunday afternoon I have had in football (losing 1-5 here in October 2010). It was the worst result I could probably ever think of. It's taken a long time to come back, but we have come back and dusted ourselves down, and it's always nice to win here.
"As you know, I'm a Geordie and it's always nice to come back, especially if we can get a result.
"That 5-1 defeat here when I was sunderland manager goes down as the worst experience of my football life. It will still haunt me forever more because theyíre the ones you remember, getting beat in Barcelona (as a Manchester United player) and getting hit for five by Newcastle as sunderland manager.

"What has pleased me more than anything is the manner in which we have played. We have been to Chelsea and we got a bit of a doing in the first half-hour, but we are a little bit bold. We play two strikers and we are a little bit different and at the end of the day, it doesn't surprise me that we can come up here and win because we have got some good players.
"I hope they can keep their feet on the ground and keep enjoying it the way they are. The big thing for me is can we stay injury-free with the big players we have got?"
"I couldnít slide far enough on my knees, otherwise my hip would have gone, but I was tempted, yes I was tempted (to replicate Paolo Di Canio's victory celebrations here last season).



Loic Remy netted his first goals for the club to become Newcastle's 109th Premier League scorer.

It's now just one victory in six Premier League home games for the Magpies (0-3 v mackems, 0-6 v Liverpool, 0-1 v Arsenal, 0-0 v West Ham, 1-0 v Fulham, 2-3 v Hull City).

Newcastle managed to find the net in the first half of a home game for the first time since beating Southampton back in February. Since then they'd failed to do so in nine league and cup games before today (Stoke, Anji, Fulham, Benfica, mackems, Liverpool, QPR, West Ham, Fulham)

Our continued inability to tame the Tigers either home or away now extends to five competitive games in all competitions, since a 2-0 home League Cup success in October 1997.

Tigers in Toon - all-time record:
2013/14 lost 2-3 Remy 2
2008/09 lost 0-1 (FAC)
2008/09 lost 1-2 Xisco
1997/98 won 2-0 Rush, Hamilton (LC)
1990/91 lost 1-2 Clark
1989/90 won 2-0 McGhee 2
1935/36 won 4-1 Pearson, Connelly 2, Weaver
1934/35 won 6-2 Smith 2, Pearson 2, Gallantree, Wilson
1929/30 drew 1-1 Lang (FAC)
1912/13 won 3-0 Hibbert, Rutherford, Hudspeth (FAC)
1910/11 won 3-2 Shepherd 2, Veitch (FAC)
Total record against Hull City

:

P
W
D
L
F
A
SJP
6
3
0
3
16
10
BP/KC
5
2
2
1
9
7
League
11
5
2
4
25
17
SJP(FA)
4
2
1
1
7
4
BP/KC

5

2

2

1

6

2

SJP(LC)
1
1
0
0
2
0

Cup
10
5
3
2
15
6
Tot
21
10
5
6
40
23
Waffle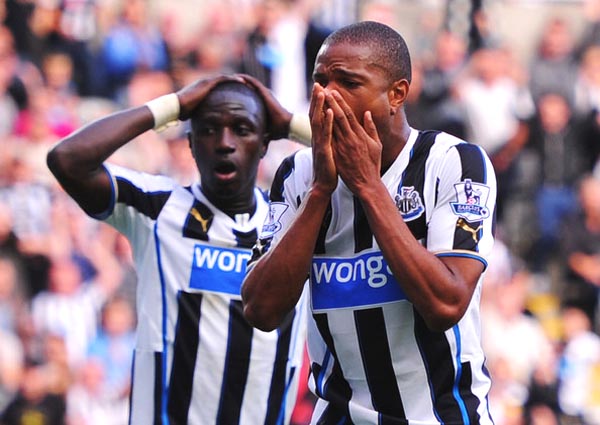 On a weekend when ex-pat Geordies from "Auf Wiedersehen Pet" returned to Tyneside, United's own less-than-happy band of economic refugees inexplicably downed tools, leaving their gaffer in renewed danger of being shipped out.

Things began brightly enough for Alan Pardew, who within ten minutes of the first whistle saw Loic Remy poach his first goal for the club, upping the feelgood factor based on three successive wins and aided by the late summer sunshine. And had he turned around at that point, the manager would have seen broad smiles from the owner, chief scout and director of f***all clustered in the posh seats.

By full time though, the mood around these part was rather different and the only visibly celebrating Geordie was doing a soft shoe shuffle in front of an away dugout where a recent SJP testimonial recipient sat, bewildered by what he later described as a "slightly surreal" experience.

The intervening 80 minutes of play had seen the un-fancied Tigers gradually upping their game, discarding their tin hats and going on the offensive it became evident that Newcastle's defensive foundations were built on sand and the home attack was largely a solo effort from the goalscorer.

If their World Cup credentials are credible, this should have been a game where Moussa Sissoko and Yohan Cabaye dominated the midfield. Instead though, the former rapidly lost his early spark and forward endeavour, while the latter was mostly anonymous save for his part in Remy's second goal.

Similarly, Hatem Ben Arfa found himself surrounded by a posse of visiting players whenever he gained possession but lacked the wit to direct the ball into the vacant space created, perpetually setting off on fruitless attempts to dribble through the entire Tigers team. More balloon seller than Ballon d'or on this performance, but it's unrealistic to expect miracles on a weekly basis from the lad.

Some disgracefully lax marking and defending meanwhile allowed Hull in on numerous occasions with Mathieu Debuchy seemingly turning the corner at Villa last week only to find himself in another blind alley - not aided by having Ben Arfa in front of him. A measure of the full back's awfulness was his substitution late on, with Vurnon Anita dropping back and Cheick Tiote appearing - hardly an obvious ploy for a side seeking an equaliser.

And what of the number nine? Missing in action is perhaps an overly-generous term for a player who hasn't now scored in over 16 hours of Premier League pitch time, but the biggest concern is that Cisse isn't even getting chances to miss. Cabaye's withdrawal through injury around the hour mark looked to have seen a hasty rethink, with Youn Gouffran set to replace the man from Senegal.

That saw 4-3-3 become 4-4-2 and despite the replacement of Cisse with Sylvain Marbeaux, United dropped any pretence of playing the ball through midfield, resorting to a succession of brainless high balls towards Remy and Gouffran that were routinely returned by Hull's centre halves.

The chance of a face-saving equaliser nonetheless arrived deep into five minutes of added time, but Remy fired wide from close range and thus missed out on emulating Malcolm Macdonald's 1971 feat of marking his first home start with a hat trick.

From boom to bust in a week then and back to the gloom army: exactly what Pardew referred to in comments about knee jerk reactions in the media and among supporters. But perhaps the greatest transgressors were his own players, who seemed to believe that their job was done at 1-0.

Of course we've been here before with newly-promoted sides and their support honeymooning on Tyneside, Blackpool, West Ham and indeed Hull coming to mind - this 2013 success a first top-flight away win for the Tigers in 21 attempts and consequently not about the salvation of Steve Bruce.

A home win here would have given Pardew's side ten points from their opening five games; their best return in the top-flight since the 2000/01 season. Instead however, there were strong echoes of previous poor showings with this team and the continued absence of a pattern of play, not to mention ongoing reservations by many over tactics - or lack of them - and use of the bench.

But as one fellow sufferer remarked during the post-match inquest, if we can't beat the likes of these lot, where exactly are the home wins going to come from?

The over-riding thoughts while trudging away were not of the 2008 home loss to Hull and associated "Cockney Mafia" banners though, but rather the defeat at West Brom just over two years later that cost Chris Hughton his job. Messrs Carr and Ashley were at the Hawthorns that day - and within hours Hughton was jettisoned by the club to make way for Pardew.

For that reason alone, losing this game made the current manager vulnerable - unless the chief scout was running the rule over some Hull players, there's no obvious reason for him to be watching Newcastle's first team.

Today's match programme including a page of propaganda attributed to JFK, about as believable as the post-transfer window statement allegedly penned by the manager. If he's not there to help Pardew and value his publicly-stated opinions on the squad, then JFK has another role. Confidante, stooge, agent provocateur, spy - take your pick.

Having failed to convince his superiors into getting anybody but Remy over that mythical line during the last window, Pardew's job consequently ends up being on it far more easily. The madness of Di Canio may now be over, but a taxing quartet of games for United make it unwise to predict who will be occupying either dugout when derby time comes around again in late October. Today didn't help.


Biffa