Date: Monday 30th September 2013, 8pm
Live on Sky Sports

Venue: Goodison Park

Conditions: disturbing

Admission: £33 (£39 in 2012/13)
Lower tier of Bullens only

Programme: £3

Everton

Newcastle United

3 - 2

.

Teams
5mins Romelu Lukaku rounded off a swift-counter attack and hammering the ball past Tim Krul from seven yards, fellow Belgian Kevin Mirallas having broken down the right wing and before providing the centre as Davide Santon looked on in apparent admiration 0-1

25mins Former Magpie Sylvain Distin began the move in his own half when heading an attempted forward pass from Mapou Yanga-Mbiwa out of his own half. Mirallas picked up possession towards the right side of the field and hit a first-time pass into the path of Lukaku.

He advanced before teeing up Ross Barkley as he made a run between United's two central defenders, the England hopeful sneaking a low right foot effort home from 12 yards 0-2

37mins Tim Howard's extended forward clearance bounced for the first time just shy of the "D" on the edge of Newcastle's box. Lukaku followed the path of the ball as Fabricio Coloccini dithered and Krul came off his line, but chose to block with a failed attempt at a star jump rather than fist clear.

Lukaku ensured his second goal of the game and Everton's third by taking the merest of touches, flicking the ball infield as Coloccini slid past him and then whacking it into the unguarded net from close range 0-3

Half time: Toffees 3 United 0

51mins Yoan Gouffran moved the ball in from the United left before laying off a short ball to Yohan Cabaye, who without ceremony battered it with his right foot into the top right hand corner of Howard's goal from outside the Everton box, dipping just as it crossed the line. Holy f**king sh*t as Tim may have said.... 1-3

89mins Cabaye's deep centre from the left flank was nodded goalwards by Mathieu Debuchy and fell to Loic Remy, who took a touch and managed to smuggle his way past Phil Jagielka, before prodding it home from five yards via a deflection off the defender as he went to ground 2-3

Full time: Toffees 3 United 2

Alan Pardew said:

"Unfortunately in the first half, nothing really went right for us and defensively we was not right. This club is better than that.
"We needed to show second half that not only would we defend better that we'd have a little bit more ambition in our game and we showed that and almost apart from getting a bit of pride nearly got something out of the game as well which would have been a real blessing.
"But in the end, we had to take defeat from a first-half performance that I'm afraid wasn't good enough. You know, in football you have to put the ball in behind, you have to run in behind, you have to win headers, you have to win tackles. They're the kind of nuts and bolts of this game we love but we didn't do any of that first half, second half we did.
"The goals were poor, so poor, in the first half, and defensively we've got to be better than we are at the moment. But we've got goals in the team, and we've shown that tonight. We had numerous chances apart from the two goals we've scored, but we've got to tighten up, that's for sure.

"The goals in the first half were not acceptable for me, and we're going to have to tighten up and make a couple of changes there. It wasn't just all about digging in and making some tackles, we showed some real quality in the second half and that will serve us well going forward.
"Some of the goals we've conceded this year really are not good enough for us - the consistency of performance individually and as a unit in the back four - we're gonna have to do some work and there might have to be some personal (sic) changes in there.
"I thought (Mike) Williamson come on and we looked a lot stronger for that and he's got a great chance of playing at Cardiff."
On Yohan Cabaye:
"It just goes to show that he's an important player for us. Me and him had a chat yesterday about him starting and we both felt probably he wasn't right for 90 minutes but thankfully he was alright for 45.
"Hopefully for Cardiff he'll be alright to play because he's an important player. He's got real class and he's the sort of player Newcastle fans love - we let them down first half but kind of gained a tiny bit of respect back for our second half."


Roberto Martinez:
"I thought we were sensational in the first half. We defended extremely well and kept Newcastle to very little threat. Some of the attacking play was fascinating to see. I thought some of the link-up play between Romelu, Ross and Kevin was at its best.
"Sometimes when that happens, you can score too many goals. Sometimes you go in at the break with a one-goal lead that allows you to keep the tension.
"It was normal (that Newcastle responded) in the second half. Newcastle have some terrific individual players that you can get a reaction and momentum from. But after we conceded the first goal, I was pleased with the way we controlled the game. Newcastle had to take risks and they did that. Then you need to take your chances - we had two or three really good opportunities to do that.
"They had nothing to lose and we did. I am very pleased with the manner we held on for the three points. It was a completely different manner than in the first half in which we showed the style - we showed the greed in the second half.
"He's a young man (Lukaku) that has everything as a striker. Sometimes you see a number nine that is powerful and has great physical presence - I think what Romelu also brings is a great technical awareness of what's around him.
"He's really gifted in holding up play with his back to goal. That was our focal point today, but that understanding with Ross Barkley was magic at times. He's a great goalscorer and the reception that he had at Goodison made him a player that looked at home.
"I want him to enjoy his football, to develop and to become as good as he can be."

Papiss Cisse extended his Premier League scoring drought to 976 minutes since netting at home to Fulham in April 2013.

Yohan Cabaye's eleventh Premier League goal for United drew him level with Keith Gillespie, Nicos Dabizas, Robbie Elliott, Keith Gillespie and Steve Watson in the club's PL scoring charts.

Three starts and now three goals for Loic Remy since his arrival - all of which have come from inside the box. The Frenchman managed six in thirteen starts last season for QPR.

United's 52nd away game in the Premier League under Alan Pardew ended in a 25th defeat, with no increase to the win total of 13 and the draw tally of 14. However it's a case of diminishing returns for him on the road, with just three of those 13 wins coming in the last 23 outings.

The 0-3 half time scoreline was our worst deficit at that point since conceding four without reply at Wigan in April 2012. Their manager that day? Roberto Martinez.....

Toon at Goodison - Premier League era:
2013/14 Lost 2-3 Cabaye, Remy
2012/13 Drew 2-2 Ba 2
2011/12 Lost 1-3 og(Hibbert)
2010/11 Won 1-0 Ben Arfa
2008/09 Drew 2-2 Taylor, Duff
2007/08 Lost 1-3 Owen (pen)
2006/07 Lost 0-3
2005/06 Lost 0-1
2004/05 Lost 0-2
2003/04 Drew 2-2 Shearer 2 pens
2002/03 Lost 1-2 Robert
2001/02 Won 3-1 Bellamy, Solano, Acuna
2000/01 Drew 1-1 og(Unsworth)
1999/00 Won 2-0 Hughes, Dyer
1998/99 Lost 0-1
1997/98 Drew 0-0
1997/98 Won 1-0 Rush (FAC)
1996/97 Lost 0-2
1995/96 Won 3-1 Ferdinand, Lee, Kitson
1994/95 Lost 0-1 (FAC)
1994/95 Lost 0-2
1993/94 Won 2-0 Cole, Beardsley
Full record against the Toffees:
| | | | | | | |
| --- | --- | --- | --- | --- | --- | --- |
| | P | W | D | L | F | A |
| SJP | 78 | 42 | 18 | 18 | 141 | 79 |
| GP | 79 | 20 | 16 | 43 | 95 | 153 |
| League | 157 | 62 | 34 | 61 | 236 | 232 |
| SJP(FA) | 1 | 1 | 0 | 0 | 4 | 1 |
| GP | 4 | 1 | 0 | 3 | 1 | 5 |
| SJP(LC) | 1 | 0 | 1 | 0 | 3 | 3 |
| GP | 0 | 0 | 0 | 0 | 0 | 0 |
| Cup | 6 | 2 | 1 | 3 | 8 | 9 |
| CS | 1 | 0 | 0 | 1 | 3 | 5 |
| Tot | 163 | 64 | 35 | 64 | 244 | 241 |
Waffle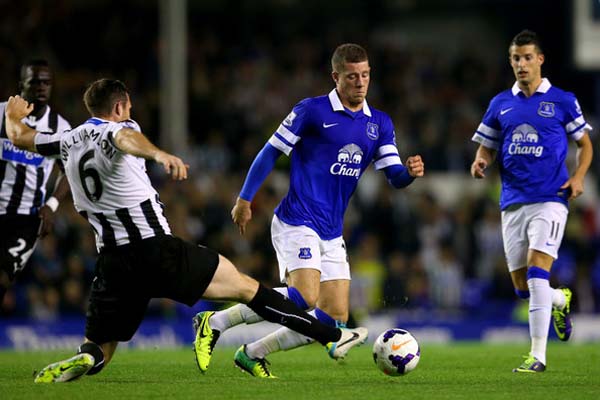 Perhaps it was the small turnout of travelling supporters that meant no flares were discharged in the away end at Goodison on Monday, but a few puffs of smoke blowing across the Park End goal might have proved rather more of an obstacle to Everton than United's inept attempts at defending did.

Mindful of his own side's poor showing against Hull and doubtless conscious of the formidable home record the Toffees boast, Alan Pardew sent his side out in a 4-5-1 formation. With Yohan Cabaye demoted to a substitute role due to fitness concerns and Papiss Cisse also benched, the task of leading the line fell to Loic Remy, with Cheick Tiote and Yoan Gouffran restored to the midfield.

That safety-first approach swiftly translated however into an open invitation for Everton to swarm forward unmolested and Romelu Lukaku took just five minutes of his home debut to score.

Further pathetic defending then allowed the on-loan Chelsea striker to rampage forward and set up Ross Barkley to notch a second, before latching on an upfield punt to embarrassingly elude Fabricio Coloccini and Krul prior to dispatching the ball into an empty net.
At that point things looked bleak indeed for a United side whose sole response had been a weak effort from Hatem Ben Arfa and who served up a collective first half performance that bordered on the criminally negligent.
Lucky to be only three goals behind, our first defeat on the blue side of Stanley Park in three visits looked certain as did a further sizeable hole in our goal difference, given that our four, six and seven goal hammerings last season stemming from smaller half time deficits than tonight's.
That sense of despair was reflected by the number of away fans who preferred to remain drinking under the stand rather than come out to watch the second half. However they failed to witness a double replacement pay almost instant dividends: the woeful Yanga-Mbiwa making way for Mike Williamson and Cabaye replacing Ben Arfa, whose input had been equally non-existent.
Within minutes Gouffran had pinged a shot off the inside of the post, before Cabaye let fly seconds later with a simply stunning strike that flew over Howard into the top corner of the goal. That was the French midfielder's first goal in 12 Premier League games, curtailing a shutout record for the home side at Goodison that had stretched to 687 minutes since a Reading goal last March.

Despite looking like little more than a mere statistic/face saver that point, a general upturn in effort across the field gave notice that a different Newcastle side was now on display - and the first half horror show almost turned into a memorable second half comeback.
Further chances to reduce the deficit opened up as Everton struggled to regain their first half rhythm, Remy looking certain to reach a tempting Davide Santon cross from the left, only for Phil Jagielka to deny him.
Having warmed up both Sammy Ameobi and Gabriel Obertan, Pardew then made his third change on 69 minutes, just as the comeback attempt was beginning to run out of steam. Cisse replaced Vurnon Anita to partner Remy, who had done what he could but looked increasingly isolated up front as the pace began to tell on Gouffran.
A rare free-kick awarded by the irritating Phil Dowd for handball by Gareth Barry then presented Cabaye with a shooting chance but he could only hit the wall. In the closing seconds of normal time though United struck again; Remy reaching Mathieu Debuchy's nod back to poke the ball home and set up a frantic finale.
Just one chance fell United's way in added time though, Remy taking possession on the edge of the box before blasting a fierce effort narrowly over the bar, dashing hopes of a second comeback here in as many seasons.
The defeat leaves Newcastle languishing in 16th position with seven points from their first six games - a total that may not increase greatly in the coming weeks. As was the case with last week's 2-3 loss to Hull City, the suspicion remains that we were undone by a side briefed by a simple scouting report - namely to place pressure on our full backs and wait for the implosion.
And while the second period managed to give a veneer of respectability to proceedings with Cabaye making a good impression, the apparent weakness of both Yanga-Mbiwa and Sissoko is cause for much concern - both punching well below their weight.
There's also a growing unease about the performances of Tim Krul; Everton's third goal seeing him inexplicably fail to meet and clear the incoming ball as it bounced - prompting some post-match speculation as to whether he feared colliding with Lukaku given his recent shoulder problems.
Having seen his beaten three times this season by teams clad in blue, the United boss may be grateful that our next opponents Cardiff have now adopted a red home kit, but a negative outcome on Saturday could leave his superiors feeling decidedly off-colour.

If there was any doubt as to the severity of his situation, one look at the Directors Box tonight confirming the presence of JFK once again provided an all-too-visible reminder of what lies ahead if and when the current incumbent finally falls on his sword.

Any sympathy for the second-longest serving manager in the top flight that was prompted by the return of Kinnear in the summer is rapidly evaporating though, replaced by frustration at the continued failure of a talented squad to become a consistently effective team.

The only real justification for retaining Pardew appears to be the prospect of the foul-mouthed one replacing him - or someone else of similar (in)competence. No manager with any credibility would come within a country mile of SJP. In other words, expect the same sh*t from a different mug.

It's way too convenient to blame the manager though, when alleged international players serve up 45 minutes of drivel as was witnessed tonight and a defence has to be rescued by Mike Williamson. In common with Manchester City when we played them in the season-opener, Everton weren't great tonight but didn't have to be, showing greater awareness and appetite before the skill kicked in.

Some bizarre online claims attributed to Talk Sport that Pardew had tendered his resignation to the owner here after full time were soon rubbished, but a P45 for a desperate first 45 minutes wouldn't have been undeserved at that point.

Had he attempted to pack in though, it's a racing certainty that it would have been accepted by a grateful owner. Instead the circus now moves on to Cardiff, when another poor showing could prompt the opening of talks aimed at achieving a settlement on Pardew's outstanding contract.

That would be a logical outcome, but that's not something we're particularly well acquainted with round these parts. So, instead we'll lurch from match to match with occasional peaks followed by inevitable troughs, achieving precisely nothing due to a lack of ambition and planning, a club seemingly intent on devaluing its greatest asset - the fans. Another night in purgatory.

Biffa