Date: Saturday 19th October 2013, 12.45pm
Live on BT Sport

Venue: St.James' Park

Conditions: engrossing






Newcastle United

Liverpool

2 - 2




Teams
23mins An extended passing sequence from Newcastle ended with an out ball across central midfield from the left to Yohan Cabaye, who had space in front of him. Without further ado, he walloped a shot goalwards that bounced in front of Mignolet and nestled in the Leazes net - a perfect strike for the type of conditions. Tickets and lotteries. 1-0

42mins Tim Krul guessed correctly and threw himself to his right, but Steven Gerrard squeezed his penalty kick between the goalkeeper and the post 1-1

Half time: Toon 1 Reds 1

56mins Cabaye's long forward free kick from midway in the Liverpool half towards the left touchline looked destined for the head of Mike Williamson towards the back post. However the ball instead glanced off a defender's head and into the path of Paul Dummett, who instinctively swept it home from the corner of the six yard box. 2-1

72mins TV replays showed that Suarez timed his run to perfection, taking a pass from Victor Moses and sprinting into the left hand side of the United box before teeing up a perfect cross for Daniel Sturridge to nod home on the run from close range 2-2

Full time: Toon 2 Reds 2

Alan Pardew said:


"I think we just about deserved a point. Liverpool are a great side and we matched them.
"We then have to show another side, a resilience and character - and that got questioned about us last year - but we showed that is in the group and I'm immensely proud of the whole day.

"It could be a defining game this season. Looking back on last year's result, most people at half-time probably would have thought we were going to get beaten.
"But we didn't think that, we honestly felt we could get something out of the game and we did. We showed real resilience and character in the second-half, something the fans probably haven't seen much, and they were right to applaud the team at the end.
"The result felt like a win in terms of what we had to do. It's that belief, if we carry that through, that will get you a good season and a good season for us will be a high league finish and maybe a cup, that's what our fans want.
"I thought it was a tough call today (to show a red card). I don't think Mapou (Yanga-Mbiwa) really pulled him down in a manner that was a definite sending-off.
"He got a little piece of him, he was the last man and I suppose by the letter of the law, he had to go. I haven't got a massive problem with it.
"Our fans were brilliant - Steven Gerrard coming to take a corner and being applauded by our fans and stuff like that, it was just a great day for football.
"If Brendan (Rodgers) is slightly disappointed, he shouldn't be because he's got a good team and I think we perhaps just deserved the point.
"I enjoyed Paul Dummett's goal because we have had him since he was nine. Paul has had to come through some really good class players here to get as close as he has to get that opportunity he got today.
"It's great for the academy and great for us that he scored that goal, and his little bunny-hop after was even funnier, so he'll get a bit of teasing about that."

Brendan Rodgers:

"It's a little bit of frustration in terms of not getting the three points.
"But on the back of an international break and with 13 players away and some not coming back until Thursday night, to come over to St James' Park is never an easy place to come. To go behind twice in the game and to come back and then show moments of real quality I was pleased with.
"It's a point that we'll hopefully look back on at the end of the season and say is a good point having been behind twice.
"I just felt it was one of those games where we couldn't quite make the breakthrough, but everything that the players put into the game was exceptional. A lot of them have played two international games and played around the world, so I've got no complaints.
"I think what I can look to is that we're not getting cut open as a team. No-one is really playing through us and moving us about.
"The goals we conceded were disappointing. We conceded from a set-piece against Crystal Palace and it took a wee bit of the gloss off the performance. Today we could do better. Cabaye is a wonderful player and it was a great shot.
"It dipped at the end, but we can look at that and feel that we can stop it. The second goal was a mistake. We just lost our man and he's nipped in and finished it really well. These are goals that we can avoid, for sure."

Paul Dummett's first goal for the club made him United's 110th Premier League scorer and the first English-born player to find the net for us since James Perch at Old Trafford on Boxing Day in December 2012.

In terms of Tyneside-born players, one has to go back to Andy Carroll and another Boxing Day effort, this time at home to Manchester City in December 2010.

And for the fundamentalists, Dummett became the first Newcastle-born player to score for the club since Alan Shearer's penalty at the mackems in April 2006.

Yohan Cabaye's 12th Premier League goal draws him level in the club scoring list for that competition with Hatem Ben Arfa, Kevin Nolan an Ruel Fox. Our most prolific French scorer remains Laurent Robert, with 22.

Newcastle scored two goals for the fifth successive Premier League game (sixth in all competitions).

Since the two sides drew 0-0 at SJP in February 1974, Newcastle and Liverpool have failed to register a goalless draw in 62 meetings (although the home League Cup tie in 1998 ended 0-0 after 90 minutes, with the Reds scoring twice in the 30 minutes of additional time).

NUFC last five PL seasons after eight games:

2013/14: 11 points, 10th (scored 11, conceded 14)
2012/13: 10 points, 11th (scored 9, conceded 12)
2011/12: 16 points, 4th (scored 11, conceded 6)
2010/11: 8 points, 13th (scored 12, conceded 12)
2008/09: 6 points, 19th (scored 9, conceded 15)
2007/08: 14 points, 9th (scored 13, conceded 10)

Reds @ SJP - Premier League era:
2013/14: Drew 2-2 Cabaye, Dummett
2012/13: Lost 0-6
2011/12: Won 2-0 Cisse 2
2010/11: Won 3-1 Nolan, Barton, Carroll
2008/09: Lost 1-5 Edgar
2007/08: Lost 0-3
2006/07: Won 2-1 Martins, Solano (pen)
2005/06: Lost 1-3 Ameobi
2004/05: Won 1-0 Robert
2003/04: Drew 1-1 Shearer (pen)
2002/03: Won 1-0 Robert
2001/02: Lost 0-2
2000/01: Won 2-1 Solano, Dyer
1999/00: Drew 2-2 Shearer, Ferguson
1998/99: Lost 1-4 Guivarc'h
1997/98: Lost 0-2 (LC)
1997/98: Lost 1-2 Watson
1996/97: Drew 1-1 Shearer
1995/96: Won 2-1 Ferdinand, Watson
1994/95: Drew 1-1 Lee
1993/94: Won 3-0 Cole 3
Full record against the Reds:

| | | | | | | |
| --- | --- | --- | --- | --- | --- | --- |
| | P | W | D | L | F | A |
| SJP | 78 | 31 | 24 | 23 | 115 | 99 |
| Anfield | 77 | 11 | 15 | 51 | 78 | 176 |
| League | 155 | 42 | 39 | 74 | 193 | 275 |
| SJP(FA) | 4 | 4 | 0 | 0 | 6 | 1 |
| Anf/W | 5 | 0 | 1 | 4 | 3 | 13 |
| SJP(LC) | 1 | 0 | 0 | 1 | 0 | 2 |
| Anf | 1 | 1 | 0 | 0 | 1 | 0 |
| Cup | 11 | 5 | 1 | 5 | 10 | 16 |
| Tot | 166 | 47 | 40 | 79 | 203 | 291 |
Waffle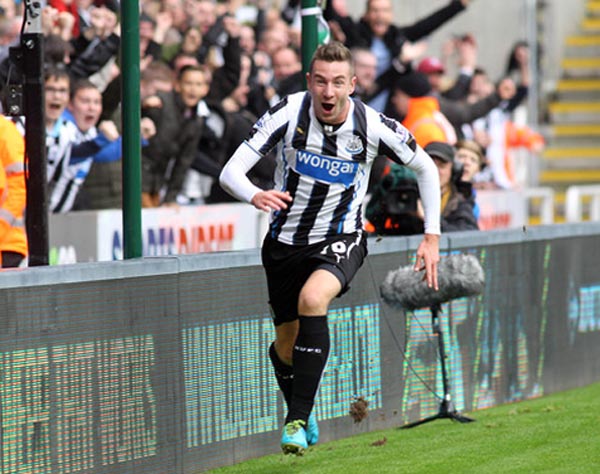 Alan Pardew pledged a response from the players after last season's 0-6 home humiliation by the Reds and Saturday saw his side more than deliver on that promise, in what is already a convincing candidate for Newcastle's match of the season.

A pulsating affair was illuminated by a fine strike from Yohan Cabaye, driving home from fully 30 yards at the Leazes End midway through the first half. And with half time in sight, United looked full value for that lead, Cheick Tiote wearing the captain's armband and seemingly rediscovering the correct level of disciplined aggression that once made him our most coveted midfielder.

The Ivorian led by example as the visitors were hassled and harried out of their stride and the absence of groin injury Fabricio Coloccini was felt rather less keenly than had been feared.

Reality intervened however with three minutes of the half remaining, when Luis Suarez darted into the United area and was illegally restrained by Mapou Yanga-Mbiwa - who received an inevitable straight red card from referee Andre Marriner.

That needed an instant response from the home bench and resulted in Moussa Sissoko - tough luck on the Frenchman who had shown further flashes of form here on the back on an improved display at Cardiff, warming the gloves of Simon Mignolet with one rasping effort.

With Steven Taylor failing to make the bench, Sissoko made way for Paul Dummett to partner Mike Williamson in the centre for his Premier League home debut, having come on for his league bow in identical circumstances during the season opener at Manchester City after Taylor's dismissal.

Steven Gerrard netted the consequent spot kick to complete a century of Premier League strikes, in addition to registering an eighth top-flight goal against United. And at that point, logic suggested that England captain seemed destined to finish on the winning side as he had when notching all of those previous seven - but reckoned without a stirring second half performance from the hosts.

Dummett's headline-grabbing contribution to proceedings came early in the second period and at the sharp end; latching on to a Cabaye free kick at the back post to steer the ball in and provoke wild scenes on and off the pitch at that end of the ground.

Stonewalling the numerically superior Reds for over half an hour always looked to be unlikely, but Dummett played his part in a committed display from the United back four that was ably assisted by the likes of Yoan Gouffran.

Liverpool however extended their unbeaten away record to eight games when Suarez dinked over a cross from the left for Daniel Sturridge to head in from close range - the sixth consecutive time that he's found the net on the road fovr his club and the fourth successive time he's netted at SJP (for Bolton, Chelsea and Liverpool).

Swarming forward in search of the winner, the visitors saw Suarez graze the crossbar while at the other end Loic Remy had the crowd on the feet when heading up counter-attacks, although the on-loan forward never really had a genuine sight of goal and played the bulk of the game in the left channel as Hatem Ben Arfa was given a more central role after the decision to drop Papiss Cisse.

Four minutes of added time were added by Marriner, but the antics of brainless home fans in the Leazes end in keeping the ball* meant that the second period was into its 52nd minute when Suarez crumpled on the edge of the box to set up a shooting chance.

Justice was done however when the Uruguayan's goalbound evaded the wall but not Tim Krul, who made a fabulous stop to hand his side a thoroughly deserved point and draw a line under last season's implosion.

Never mind the context of the 0-6 - and what may have been a certain complacency from the Reds - this result and performance was worthy of praise in isolation, a pleasant one-off surprise, or a Premier League giant-killing if you will.

That's certainly the logical conclusion to be drawn from a match programme article justifying the club's lack of investment and haughtily talking about not spending beyond our means - which currently translates into not spending at all and consequently not attempting to match any club, never mind the big six.

Attributed to well-known financial guru Joe Kinnear, it may as well have been signed by Noddy for all the relevance it had to our Director of f***all - who famously informed us all during his previous period of employment here that Mike Ashley "had lost a billion pounds".

Thankfully, Pardew and his players ignored that downbeat and defeatist assessment of our chances of beating anyone, rode their luck and battled like a side for whom failure wasn't an option.

Never mind the spreadsheets and projections, if Kinnear is the wise old footballing sage that he's cracked up to be, then why can't he see that there's the basis of a decent side here that could do more than give the big lads an occasional bloody nose with just a modicum of investment?

We finished this game tenth, exactly the position that our current master plan declares as mission accomplished. And unless ambition replaces small-mindedness, we'll delude ourselves into thinking that strengthening and improvement are superfluous, as was the case after our fifth place finish.

Days like these do not have to be the exception but if they prove to be, the ambition of the players will contrast with the club's outlook more and more markedly, leading them to the exit door.


Biffa