Date: Saturday 2nd November 2013, 12.45pm Live on BT Sport

Venue: St. James' Park

Conditions: remarkable






Newcastle United

Chelsea

2 - 0




Teams

Half time: Newcastle 0 Chelsea 0

68mins Yohan Cabaye's free kick from the United right was flawlessly dispatched into the Gallowgate End box and perfectly converted thanks to a diving header from Yoan Gouffran 1-0

89mins Loic Remy's forward run and shot was blocked, with the ball ending up towards the left touchline in the possession of Gabriel Obertan and Vurnon Anita. Some brief interplay between the two substitutes led to Anita negotiating two challenges and pulling the back back for Remy to drill home a left-footed shot via an upright.

Celebrating with a young wheelchair-bound in front of the Milburn Stand, the shirtless goalscorer was booked by referee Mason - one hard-core follower within our earshot commenting that the caution was actually for wearing a vest...2-0

Full time: Newcastle 2 Chelsea 0

Alan Pardew brown-nosed:

"This win is for Mike Ashley and all our fans. Trust me, he is a fan and Iím pleased for the club. We are all Newcastle fans. Weíve had to make a stand with the local press. We want them to be onside with us and this was about giving a message to our fans that we are very much alive and kicking.
"We've had some moments where we've not been so great but we're together. I'm pleased for the club. I'm pleased for everyone associated with Newcastle, it's a big win for us.
"We decided to be very cautious from the start, not let them play for us, and we perhaps let them have a bit too much possession and there wasn't enough pressure on the ball. But we knew second half we had enough to exert pressure and the crowd were getting behind us, and that's exactly what happened. The goal came at a great time for us.
"We've got a great spirit in the group. I think we've played well.

"When you look at sides like Borussia Dortmund and Bayern Munich, you see that nowadways your wide players need to work. You have to put (Yoan) Gouffran in that category. He worked his socks off. He literally couldnít move or walk when I substituted at the end. It is that kind of commitment that our fans love.
"We are a working class city and they love that. They love flair, but what they really want to see is that hard work and grind in a dayís work and Gouffran did all that and more today. You canít have any players drifting around at the top top level Ė Jose Mourinho will back me up on that Ė players are beginning to understand you cannot switch off defensively Ė wherever you play on the pitch.
"I just asked him (Yohan Cabaye) to hit it (the free kick) on the back of their back four with shape and a bit of pace because we weren't really getting any joy from balls going into their box. He went for glory, really, but he executed it on the money and I am not going to try to take any credit for that.
"You have to be a top, top player to hit that ball in, and Gouff connected brilliantly and gave us a platform then. The crowd had got involved just before that, we had got the stadium going just before that and it was the perfect time to score. From then on, I was confident we could win.
ďIn the last four games I think we have been consistent. Not in results but our performances and organisation has been strong. Therefore, that gives you an opportunity to win if you have great players.
ďI would like to think we could have had three more points from our first 10 games so we will try to make that up in our next 10, but we have played some really good football. I wouldnít say we were brilliant in the first half today but we were very good in the second.
ďWe did initially start slightly conservatively because Iíve seen Chelsea stamp their authority on games early on many times and keep the ball. If you go chasing at the start you are in for a difficult afternoon.
ďSo we decided to let them have it. Second half we knew we could put a lot more pressure on. We had more energy then to try and put the back four under pressure and that cranked up as we went on. It worked for us today.
"(Mike) Williamson summed it up at the end when they hit a fantastic ball in and heís dived full length to stop Ivanovic scoring. That summed up my back four today. We had a shaky start, (Davide) Santon wasnít quite right to begin with when he was against his old manager, but was terrific in the second half. The back four get a big pat on the back from me.

"(was this a) disaster (if Newcastle had lost) ? No I donít think that at all - itís a big win, but we have beaten Chelsea and thatís it. Letís not get carried away and say we are going to be in Europe and weíll be great, or it would be a disaster if weíd lost three on the trot. I honestly donít see that.
"I think Mike Ashley understands the fine lines we are working in. He texted me this week and he knows we played well at Sunderland and we could have won there. The breaks in the game can make all the difference and we got the breaks today whereas at Sunderland we didnít.
Yoan Gouffran:

"It was really, really difficult. It was an exhausting match for us against Manchester City. We lost in extra-time, so we had to play that much longer.
"Coming off the back of a derby defeat, we were very disappointed. We know we could have done a lot better in the week. It was disappointing to have lost it and we had to go out there and show a really different side of ourselves on the pitch and really make it up to the fans, and we did that.
"At the beginning of the match the manager told us we had to stay solid as a defensive unit - even the attackers had to make sure they stayed solid in our half. In the second half Chelsea had to come forward, they needed to try to score and that's when we were able to go forward and take our chances.
"We were fantastic from the first minute until the very end. We were really solid defensively as a unit and we took our chances when we needed to, and it has given us a really good confidence boost."
"It was magnificent (to score). The fans made one hell of a noise. I really just wanted to go and slide. I hurt my knees a little bit and got some grass burns, but it was really nice and a wonderful feeling."

Loic Remy:

"Before I came here I heard about the fans, the atmosphere, but I didnít really understand until I felt it on the pitch.
"When you get a big win like this Ė wow! I play football to have these kinds of moments. It is an amazing feeling.Ē The on-loan QPR star took his tally to an impressive six, by notching Unitedís second clinching goal, then set himself a target of beating his personal-best goals total while on Tyneside.
"In terms of goals my record season was 16 when I was at Marseille so if I can do better that would be great. My focus is also about the team. Alone, I can do nothing. When I was at QPR, I was only there for six months and I scored six goals. Iím confident at the moment.
"The Gaffer said at half-time, ĎCome on, you can do better. I know your level, you need to up your level a little bití and thatís what I did.
"I feel very good here at Newcastle, but we speak to everybody in July. It depends on QPR, it depends on Newcastle, it depends on me. There are so many things. I will not think about it until the summer.
"It is a good thing that the fans react well to me. Even after last January when I went to QPR instead of signing here. They have stayed behind me, so that is why each game I try to do more and more for the team, to say thank you to them.Ē


Jose Mourinho:

"I have never won here, and I have had champions teams. I have won here in the Carling Cup, I think, never in the league. Of course, itís difficult. They have a fantastic crowd and the crowd is always behind the team. But you have to come here with a certain kind of mentality.
ďIf you want to win matches, you have to come with a certain mentality and today, for sure, we didnít come. I made 11 mistakes - I should pick the other 11 and not this 11.

"It is the feeling I have when my team plays so bad. Of course Iím exaggerating. We had some guys with some normal good performances, but the feeling is that I made 11 wrong choices.
ďOf course Iím worried: I read the previous years and it happened the same. They were successful in cup competitions, not in the Premier League. They finished 20 points behind and 15 points behind. They qualified for the Championsí League because they won it.
"Last year, in December, they were not in the race for the title because they were already 10 points behind. This season we have played five games away from home but we have one victory and two defeats. Of course it concerns me.
"We had lots of space to play where you can hurt the opponent and we were touching the ball side to side, slow, receive the ball and no sharpness to attack spaces and to try and be aggressive. We gave them 45 minutes of a friendly. I have to understand why.
"Iím in this game for many years. I was smelling what happened because the game was quite easy to play in the first half. We had lots of space but we were not sharp or intense with the ball. We defended quite well. Our back four was a simple easy job. We were not fast and intense and aggressive with the ball. We let the game go, waiting for a chance to score a goal or to concede a goal and lose it. That is exactly what I was talking about.
"I donít need reminders. I donít need to use a match to be aware of that. It is something I know. I pass it to my players every game. I know exactly how it is. It is why I was smelling it could go in this direction. The title race is there for everyone, it is open for everybody. I didnít like my team today.

"You have to know why you win and you donít win by a miracle. You win by effort, by commitment, by ambition, by quality, by expressing yourself individually but in the team context. You have to know why you win and I tell my players every time I can, ĎDonít forget why you are getting resultsí.
"I donít know my best team because we have this kind of performance. I know basically which is my best team but it depends on the way we perform, because performances and results alter your decisions. I have to analyse by another perspective, which is the perspective of why we donít do better, especially today. Today was the worst. Today is the kind of match I really have to analyse deeply because it was the worst.
"It is fair to say I am angry and frustrated. I am angry and frustrated with the team and I am part of the team. I will look at myself as well. Every game is important. Wednesday (against Schalke04) is important because we are in a stable position to qualify in the Champions League, but if we lose we are again in a difficult position. It is a very important game for us."


It's now seven starts (plus one sub outing) and six goals for Loic Remy as a Magpie - a tally that equals his haul for QPR last season, achieved in thirteen starts (plus one sub outing). Put simply, he's found the net 12 times in 22 Premier League appearances since moving from Marseille.

Yoan Gouffran netted his second Premier League goal of the season and fifth in that competition as a Magpie. This was his first league effort at SJP, although he did score at Gallowgate against Leeds United in the Capital One Cup earlier this season.

By contrast, Papiss Cisse extended his Premier League scoring drought to 1139 minutes since netting at home to Fulham in April 2013. His erstwhile striking partner/rival Demba Ba wasn't named in Chelsea's matchday squad but apparently available for selection.

Newcastle became the first side to score twice in the Premier League against Jose Mourinho's side this season, as they inflicted only a second league defeat in Chelsea's last 18 league matches.

Blues @ SJP - Premier League era:

2013/14 Won 2-0 Gouffran, Remy
2012/13 Won 3-2 Gutierrez, Sissoko 2
2011/12 Lost 0-3
2010/11 Drew 1-1 Carroll
2008/09 Lost 0-2
2007/08 Lost 0-2
2006/07 Drew 0-0
2006/07 Lost 0-1 (LC)
2005/06 Won 1-0 Bramble
2004/05 Drew 1-1 og(Geremi)
2004/05 Won 1-0 Kluivert (FAC)
2004/05 Lost 0-2 (LC)
2003/04 Won 2-1 Ameobi, Shearer
2002/03 Won 2-1 og(Hasselbaink) Bernard
2001/02 Lost 1-2 Shearer
2000/01 Drew 0-0
1999/00 Lost 0-1
1998/99 Lost 0-1
1997/98 Won 3-1 Dabizas, Lee, Speed
1996/97 Won 3-1 Shearer 2, Asprilla
1995/96 Won 2-0 Ferdinand 2
1995/96 Drew 2-2 Albert, Beardsley (FAC) (lost on pens)
1994/95 Won 4-2 Cole 2, Fox, Lee
1993/94 Drew 0-0

Full record v Chelsea:
| | | | | | | |
| --- | --- | --- | --- | --- | --- | --- |
| | P | W | D | L | F | A |
| SJP | 69 | 36 | 17 | 16 | 104 | 73 |
| SB | 68 | 11 | 19 | 38 | 72 | 129 |
| League | 137 | 47 | 36 | 54 | 176 | 202 |
This was Mourinho's fourth unsuccessful attempt to win a Premier League fixture at Gallowgate. However he has twice seen his team win here in the League Cup:

2004/05 Newcastle 0-2 Chelsea (LC)
2004/05 Newcastle 1-0 Chelsea (FAC)
2004/05 Newcastle 1-1 Chelsea
2005/06 Newcastle 1-0 Chelsea
2006/07 Newcastle 0-1 Chelsea (LC)
2006/07 Newcastle 0-0 Chelsea
2013/14 Newcastle 2-0 Chelsea

At Stamford Bridge though things are rather different for the Special One:

2004/05 Chelsea 4-0 Newcastle
2005/06 Chelsea 3-0 Newcastle
2005/06 Chelsea 1-0 Newcastle (FAC)
2006/07 Chelsea 1-0 Newcastle

NUFC last five PL seasons after ten games:

2007/08: 17 points, 8th (scored 17, conceded 13)
2008/09: 9 points, 15th (scored 12, conceded 18)
2010/11: 14 points, 7th (scored 19, conceded 14)
2011/12: 22 points, 3rd (scored 15, conceded 7)
2012/13: 14 points, 10th (scored 12, conceded 14)
2013/14: 14 points, 9th (scored 14, conceded 16)


Waffle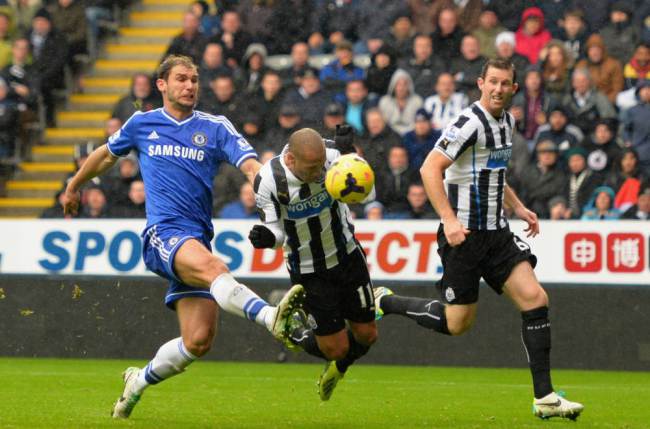 He may have joked about giving his opposite number a slap if he stepped out of line, but it was Alan Pardew's side who meted out their own punishment to Jose Mourinho at a gleeful SJP on Saturday.

Following Sunday's sub-standard display and Wednesday's energy-sapping two hours, the Newcastle manager's upbeat assessment of his side's chances of a third victory over Chelsea in four attempts looked to be a view few others in this postcode held.

Certainly a more general concern was the sense of drift that defeat here and at White Hart Lane next weekend would only serve to exacerbate. At kick-off, this was a downbeat club and the empty seats weren't just due to the prohibitive (£42) price and daft kick-off time - spare season tickets remained unsold at any price, owners and potential buyers seeking solace on licensed premises.

Post-match expressions of gratitude to Mike Ashley and mentions of textual intercourse with him though told the story of a manager who had ended a difficult week on a high and felt sufficiently emboldened to endorse a local press ban which meant various journalists he'd sought support from earlier in the season weren't present to hear his words of wisdom.

This match will be remembered for a public rick by Ashley that sent home fans into raptures, but it was the Chelsea defender of that name rather than the owner whose indiscreet actions put smiles back on faces across Tyneside and beyond.

That came midway through a second half during which United had steadily built up a head of steam, with each attack seemingly boosting the confidence - and noise levels - of home fans.

Correctly spotting that Ashley Cole was becoming rattled by the efforts of Moussa Sissoko and others down the United right, Pardew directed his side to focus their efforts accordingly. That paid immediate dividends when Cole was promptly penalised for a rash foul in his own half, and after consulting with his manager, Yohan Cabaye pumped forward a perfect ball for Gouffran to net.

The opening 45 had given little indication of what lay in store for Toon fans, overcast skies meaning that the floodlights were on from the first whistle. Restoring Davide Santon, Cabaye and Loic Remy to the starting XI after changing his side in midweek, Pardew retained Shola Ameobi in a 4-4-2 line-up, with Hatem Ben Arfa joining Papiss Cisse on the bench.

Fitness issues meant that Mike Williamson and Mapou Yanga-Mbiwa continued in central defence and questions were asked when John Terry saw a 13th minute header rebound off the woodwork at the Gallowgate End. United were seldom sighted as an attacking force for most of the opening 45 minutes, with what possession they did gain largely wasted by some slipshod passing.

However a 38th minute goal-line clearance by Santon was the spur for a forward foray that ended in Sissoko testing Petr Cech. Having produced an inspirational display against Chelsea on his debut in January, Sissoko was in similar mood today - prompting speculation as to the nature of the grudge he seems to hold against the Stamford Bridge mob.

He had the St. James' crowd on their feet after 60 minutes when driving into the box from the right flank before pinging a low shot that was deflected narrowly wide. That was the signal for a black and white assault on the visitors' goal, as United rightly sensed that Chelsea were posing less and less of a threat and three points were there for the taking.

Within a minute Remy shot at Cech before Gouffran saw his 65th minute effort turned round a post before netting soon after with a fine header. One sequence of passing that will be a candidate for move of the season then ended with Remy's shot deflected as Chelsea were reduced to arguing with each other as their manager prowled along the touchline in obvious dismay.

One heart-stopping moment saw Eden Hazard find a yard of space in the box before drilling wide of Tim Krul's goal, but the points were secured when some brilliance from Vurnon Anita set up Remy to hammer in our second of the game. And the margin of victory could have even been larger, had late replacement Gabriel Obertan not inexplicably contrived to lose possession when powering forward.

Whether Chelsea fell into the same trap of Liverpool in taking the victory here for granted is a matter of personal opinion, but getting eleven players on the pitch to contribute fully was certainly an improvement over last Sunday, when too many looked to be coasting.

Playing a striker who can cause some upset as he tries to reach high balls and play with his back to goal on occasion undoubtedly aided our cause, even if Shola does leave himself open to charges of being a "false 9" at regular intervals. Certainly our formation today was ultimately more potent than the poor man's Barcelona tribute that was our first half non-display on wearside.

And while our inability to score from corners is well-documented, successive home games have now seen us profit from free kicks into the box. In a game of percentages that's a vital trick to possess.

And in Loic Remy (surely Mike Ashley's highest-performing bargain outlet) United possess their most successful loan signing in living memory. What the future holds for him is open to question, but it could be argued that the season-long agreement gives him and us more security than with a player on the books like Demba Ba or Andy Carroll, at risk of mid-season bids from elsewhere.

The result and second half display restored some much-needed credibility to squad and manager, as a pre-game mood that was more one of disappointment and disenfranchisement that demonstration was swept away, fans finding both feet and voices to unite in praise rather than protest.

And that in a nutshell encapsulates the simultaneous joy and curse of this club - it's all about the game here, for better or worse. Whatever the romantic/utopian ideals of some (including ourselves) supporters support the team, not meetings, protests or boycotts. They don't want to own NUFC.

Simmering discontent among some sections of the fanbase with our current situation seems to have been triggered by the return of Joe Kinnear, setting the clocks back to 2008 in some households.

Actions such as that enrage many and energise some, but forcing issues like the identity of club personnel, the shirt sponsor or the status of various press box occupants is ultimately divisive and destructive. People who struggle with the concept of pensions and savings are being tasked with understanding the whys and wherefores of corporate finance. It's not meant to be complicated.

Days like this surely just emphasise the aching sense of underachievement and the true potential that remains unrealised. The fervour evident in the closing moments is a hint of what still lies there - even with a split fanbase. That's one where some are content with the status quo, but others demoralised, some to the point of outright conflict or watching from afar as a personal protest.

A change of policy - not necessarily a change of personnel - seems to be the real world scenario in the absence of a willing new owner - and given the madness that has unfolded at Hull, Leeds, Cardiff, Birmingham, Portsmouth and Blackburn that in itself is fraught with pitfalls.

People are waiting to support the club - their club - and Pardew's line about not being able to spend £100m entirely misses the point. Previous attempts to compete with the big lads in transfers and wages played their part in the comparative age of austerity we know live in and left us where we are now, beholden to a sandshoe salesman deemed a fit and proper person by his predecessors.

Sane folks need do no more than refer to the manager's own summer wants list, namely a free transfer centre half and something in the way of striking cover with a physical presence. Surely making adequate preparations for the task ahead is a common-sense policy, especially when the previous two seasons have borne witness to a similar failure to act?

Appointing a competent MD might help, someone who can convincingly convey the club's message publicly and provide some motivation and leadership off the pitch. Today's match programme contained lesson #2 of the JFK guide to football finance, where he explained Financial Fair Play - although in reality he probably thinks that's letting a bank manager beat him over 18 holes....

By the next time we assemble here, Remy's charge of alleged rape will have come before the courts and his fellow countrymen will know whether to start planning for a trip to Brazil next summer. Both of those situations could have a profound influence on the outcome of this season - the quest to collect as many points as possible as quickly as possible remains paramount.

There's one thing that people can agree on at least, even if the jury remains out on whether today was a rebirth or a grand example of papering over the cracks. This isn't meant to be an open letter to the owner, but if it was the message would be simple.

Realise your own potential at your own club, stop creating conflict and confusion and picking fights with your own customers. Opinion is divided over whether you're a fan or a businessman, but it seems to be neither on current evidence.

Biffa