Date: Sunday 10th November 2013, Noon
Live on Sky Sports (who conjured up a ridiculous KO time in order to show three live PL games in succession)

Venue: White Hart Lane

Conditions: Unbelievable, as TK would say...

Admission: £37 downstairs/£41 upstairs

Programme: £3.50

Spurs

Newcastle United

0 - 1

.

Teams
13mins Yoann Gouffran dispossessed Paulinho in midfield and in one fluid movement set fellow countryman Loic Remy in on goal. Outpacing the nearest two defenders, Remy then swerved to avoid the oncoming Brad Friedel before steering the ball with his left foot into the unguarded net at the Park Lane End of the ground from 10 yards.

The goalscorer ran towards the corner flag nearest to the Shelf to celebrate, from where something (possibly a coin) was thrown but whizzed past him. 1-0

Half time: Cockerels 0 Magpies 1

Full time: Cockerels 0 Magpies 1

Alan Pardew said:

"Wow. I think he is the best goalie in Holland and I think he proved that today. His performance level has not needed to be high recently as we have not come under that sort of pressure too often, but we did today.

Certainly in the second half Tottenham really turned up the heat and he answered almost everything - it was an unbelievable performance. We did similar to what we did when we won against Chelsea.

The first save was the best - Soldado's header. The sun was low - and it kick-started from there. Mapou Yanga-Mbiwa put his body on the line to clear one and it shows the commitment, from the back five to the strikers.

"I think we have played better - against Sunderland we played well and lost. If we keep a clean sheet we can win games.

"I thought Remy had a great chance before he scored and I was a little bit surprised he did not take that because he really is in great form. But the second one he made no mistake with and it gave us a platform for the win. He has got a silkiness to the way he moves and a nice kind of gait, the way he runs and everything. He really is a classy-looking performer, which is great if you back it up with goals.

"It kind of elevates him and he stands out, but I thought Shola Ameobi was terrific in the 60 minutes he played. He was as important as Loic, I thought.

"I thought in the first half, for an away team, we deserved the lead. We hit them on the break. We had a few chances. I don't think they caused us real anxiety, apart from a few shots from the outside of the box.

"The second half was different. We became a little bit too deep, and they turned up the heat. They passed it very, very well and we had to ride our luck a little bit thanks to a fantastic goalie and two centre-halves who are bang in form.

"We ended up getting a clean sheet, which is a marvellous, marvellous result. Loic's in red-hot form. I thought he would score the first one. You just don't expect him to miss.

"For the second one he was calm and went round the goalie. He gave us a platform to win the game.

"It was a side to us we will need if we are going to win more games away. It was our third win away and did not have that many last year. We have shown that desire and spirit in those three games.

"We rewarded them (the fans). All the guys who got up early and were on 6.30am trains from Newcastle. It was a tough old day to get here but they supported us as they always do – brilliantly – so it was great reward for them.

"I am the manager of the football team, I am just trying to get performances that are worthy of our fans. I think we have the best fans in the world - we have two home games coming up and we have got ourselves in a fantastic position."

Man of the match Tim Krul: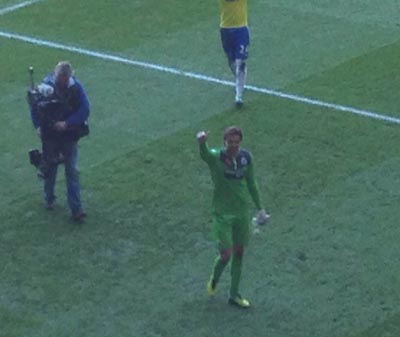 "This is the highlight of my career. It was nice to celebrate with the back four. These kind of games don't happen very often. It was a great result.

"There were a lot of shots on target so actually I was really busy but as a young boy you dream of games like this and like I said, I'm over the moon.

"Hard graft, I think the boys worked their socks off again like last week and we dug it out.

"We know the Premier League is unforgiving. Today we got three points, but it was a hard game. We have got two home games to come, though, so we can look ahead with confidence.

"Mapou followed up (on Krul's triple stop in the second half) because that could have been a goal and it would have been a draw. He put his life on the line for us. That just shows the commitment. The back five, the strikers, everybody, works for each other and we have got a great squad."

AvB:

"We gave the first half advantage to Newcastle, although I think we were very unlucky during all of the game. We had so many good, good chances that I think the result is very unfair.
"Obviously Newcastle came in strong and really played well in the first half. I think they deserved to get that lead, I think we didn't recognise ourselves in the first half. We were not on top of our game and let ourselves be anticipated a lot. It wasn't one of our better first halves.
"Still we had some good opportunities in the first half, then in the second half if we had been a bit more lucky we could have drawn the game and gone on from there. Disappointing because it's not what we deserved. We gave a good response in the second half."
"Last season he had a great game here as well (Krul), and today he was the inspiration. He made the difference today. Our disappointment comes from that, although I still think had one of those opportunities gone in we would have won the game."


A third away success in six attempts this season means that Newcastle have already improved on their miserable tally of two Premier League victories away from Tyneside in the whole of the 2012/13 campaign (Villa & QPR last time round, Villa, Cardiff and Spurs this season).
Win number seven for United in the Premier League at White Hart Lane makes it our second most successful away venue behind Villa Park, where this season's success was our eighth.
United's eleventh Premier League game this season saw them register a fourth clean sheet - they managed just one in the same period last season and six in the entire campaign. And on the road, this was a first clean sheet of the season at the sixth attempt - a feat that took us 11 attempts to accomplish in the 2012/13 season.
Loic Remy netted his seventh goal in Magpie colours, which have come from nine appearances (eight starts). By contrast though, Papiss Cisse has now gone 1155 minutes in the Premier League since scoring (against Fulham at home in April 2013), while Shola Ameobi has amassed a similarly barren 665 minutes (since QPR at home in December 2012).
That's back to back wins in London for the first time under Alan Pardew's guidance, following a 2-1 victory at QPR in May. And a 0-0 draw at West Ham the previous month means it's three Capital trips without a defeat (0-1 at Fulham back in March). Chris Hughton was in charge the last time we won successive away games in the London (West Ham then Arsenal in 2010).
The Opta stats people report that Krul's 14 saves on Sunday is the highest total recorded in a Premier League game since they began recording data in 2006.
NUFC last six PL seasons after eleven games:

2007/08: 17 points, 10th (scored 18, conceded 17)
2008/09: 12 points, 14th (scored 14, conceded 18)
2010/11: 17 points, 5th (scored 20, conceded 14)
2011/12: 25 points, 3rd (scored 17, conceded 8)
2012/13: 14 points, 10th (scored 12, conceded 15)
2013/14: 17 points, 9th (scored 15, conceded 16)

Magpies @ Cockerels - Premier League era:

2013/14: Won 1-0 Remy
2012/13: Lost 1-2 Gouffran
2011/12: Lost 0-5
2010/11: Lost 0-2
2008/09: Lost 0-1
2007/08: Won 4-1 Butt, Geremi, Owen, Martins
2006/07: Won 3-2 Huntington, Martins, Butt
2005/06: Lost 0-2
2004/05: Lost 0-1
2003/04: Lost 0-1
2002/03: Won 1-0 Jenas
2001/02: Won 3-1 Acuna, Shearer, Bellamy
2000/01: Lost 2-4 Solano, Dyer
1999/00: Drew 1-1 Speed (FAC)
1999/00: Lost 1-3 Solano
1998/99: Lost 0-2
1997/98: Lost 0-2
1996/97: Won 2-1 Ferdinand 2
1995/96: Drew 1-1 Ginola
1995/96: Won 2-0 Sellars, Ferdinand (FR)
1994/95: Lost 2-4 Fox 2
1993/94: Won 2-1 Beardsley 2
Full record v Spurs:

| | | | | | | |
| --- | --- | --- | --- | --- | --- | --- |
| | P | W | D | L | F | A |
| SJP | 68 | 28 | 19 | 21 | 119 | 96 |
| WHL | 69 | 21 | 11 | 37 | 78 | 129 |
| League | 137 | 49 | 30 | 58 | 197 | 225 |
| SJP(FA) | 4 | 4 | 0 | 0 | 13 | 1 |
| WHL/OT | 5 | 1 | 2 | 2 | 5 | 5 |
| SJP(LC) | 2 | 1 | 0 | 1 | 4 | 3 |
| WHL | 1 | 0 | 0 | 1 | 0 | 1 |
| Cup | 12 | 6 | 2 | 4 | 22 | 10 |
| CS | 1 | 0 | 0 | 1 | 1 | 2 |
| Tot | 149 | 55 | 32 | 62 | 219 | 235 |
Waffle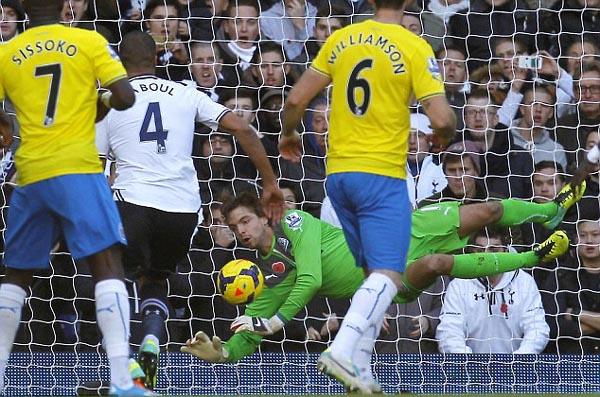 Remembrance Sunday saw the Toon Army on parade at a scandalously early hour, before saluting the pivotal contribution of one of their allies - the Royal Dutch Air Force to be precise.

To say that Tim Krul did his bit for the cause was to almost scandalously underplay his role in this victory, but following crucial stops against Liverpool and Chelsea, today saw Tim Krul almost single-handedly ensure that his side claimed an unlikely three points.

We'd worried early on in this game about his lack of headgear when guarding the Paxton Lane End goal in bright midday sunshine, but the Dutch master was equal to everything that Spurs could conjure up - also defying physics to block to deny a wild attempted clearance from Cheick Tiote.

Both he and opposite number Brad Friedel took in the World Tour Tennis at the 02, but it was the Magpie custodian who served up ace after ace here today. Tottenham's first choice goalie Hugo Lloris has been seeing stars of a slightly different kind lately, which led to his absence from the squad here and saw 42 year-old veteran Friedel pressed into service.

In order to cling on to a lead though, one has to first grab one - and thankfully Newcastle's other potent performer was in the wide awake club; Loic Remy opening the scoring with his second half-chance of the game after a timely intervention from Yoan Gouffran set him off at a gallop.

Donning in their 1970s revival third kit for the first time (itself styled on Brazil's iconic garb) Alan Pardew's yellow perils were quickly into their stride, mirroring the positive starts that yielded victories at Villa and Cardiff - showing the vigour and commitment so sadly absent on wearside.

The remainder of the half saw United continue to probe away with some fine pressing, passing and movement to frustrate Spurs. Krul drew applause when acrobatically tipping Roberto Soldado's header wide and denying Paulinho, but the cheers of the away section at half time were in recognition of a tremendous team performance from the XI that had begun the Chelsea game.

That meant that a fit-again Fabricio Coloccini was benched in favour of retaining the central defensive partnership of Mapou Yanga-Mbiwa and Mike Williamson. Meanwhile the 4-4-2 lineup apparently favoured within the dressing room was retained, Shola Ameobi continuing up top alongside Remy in preference to Papiss Cisse or Hatem Ben Arfa, who were among the subs.
Krul's workload was to increase after the break as a revitalised Spurs side swarmed forward down their right flank, cranking up the pressure on Davide Santon to breaking point. A creeping conviction that this was going to be our day grew when a trio of clearances via an outstretched leg rebounded away from opponents - on another day they'd have fallen perfectly for someone to capitalise on.

The game then truly entered the realms of ridiculousness when Krul pulled off another stunning block, instinctively sticking out his arm to block Tiote and dealing with two further efforts before a miraculous clearance by Yanga-Mbiwa finally cleared the danger. Escape to Victory anyone?
United attempted to boost their midfield presence by adding Vurnon Anita in place of the tiring Ameobi, whose physical presence and ability to hold the ball up had been invaluable. Wave after wave of Spurs attacks continued as chances were created and squandered and the clock ticked away - the crossbar coming into play on the one occasion when Krul was seemingly beaten.
Remy was then replaced by Papiss Cisse - who flashed one half chance over the bar - but Spurs remained more likely to score, Jermain Defoe appearing after having broken the Cockerels' European scoring record here four days earlier. Thankfully he was unusually quiet and with Gabriel Obertan on for Gouffran in the closing stages, United continued to hang onto their slender advantage.

Referee Chris Foy waved away two unlikely home penalty claims for handball, the momentum built up by Spurs ebbing away in five additional minutes as Moussa Sissoko was chopped down in full flight by Michael Dawson. Full time then saw a clearly delighted Krul mobbed by colleagues and coaches alike and celebrating by tossing his gloves into the lower tier of a jubilant travelling section.

Glory, glory Alan Pardew then: cock of the walk once again after some difficult days this season, not all of them down to the performance of his side on the field. We wait to see whether JFK claims credit in his next programme notes for this win though, after having allegedly scouted his former side in advance of Newcastle's visit.

The continued absence of Jonas Gutierrez due to undisclosed personal reasons has seen Gabriel Obertan creep back into the first team picture ahead of Sammy Ameobi as left-side cover, while an evident collective desire to have 11 players contributing looks to have seen Ben Arfa voted off.

Sylvain Marveaux meanwhile has been relegated to the status of a non-person - answers on a postcard for that one please - while occasional outings for Vurnon Anita seem unlikely to promote him to the Dutch World Cup squad, something that doesn't seem to be a concern.

Options and choices then, but the upturn in performances from Sissoko, Gouffran, Williamson and Tiote means that Pardew has the luxury of being able to select and retain players because of displays that warrant their selection, rather than a lack of viable alternatives. In terms of goalscoring though, we remain a one man team - and that is a significant concern.

Andre Villas-Boas may not have taken kindly to Pardew's post-match comments about the downside of European participation, but it's a matter of record that Spurs have lost six Premier League games in the last year - all on Sundays and all after Thursday night Europa League ties. We of course were able to adversely affect our league performance last season for a fraction of Tottenham's outlay...

The perfect opportunity to add six points to our tally now presents itself when ex-Toon interim bosses Chris Hughton and Steve Clarke bring their current sides to SJP on successive Saturdays.

Given Newcastle's sheer unpredictability though, quite simply anything could happen - and more Magpie mishaps could just as easily leave the present incumbent in the clarts as contemplating his acceptance speech for the November manager of the month. The little matter of Remy's next court date on November 21st also remains as a potential fast-track to misery.

The sheer joy of witnessing an away victory remains undimmed and there's always a special delight in sticking it up these lot on their own pitch - that's for 1987, again. Whether we'll ever aspire to be anything more than party poopers is questionable, but as a one-off this was truly glorious.
Biffa