Date: Saturday 7th December 2013, 12.45pm. Live on BT Sport

Venue: Old Trafford

Conditions: what do you think?

Admission: £45/£46/£55

Programme: £3

Manchester United

Newcastle United

0 - 1

.

Teams
Half time: United 0 United 0

61mins Krul's long clearance fell to Moussa Sissoko out on the right and he strode forward before pulling the ball back for Yohan Cabaye to side-foot past David De Gea from the edge of the box at what was once the Scoreboard End. Cue pandemonium in one corner of the ground.

Pursued by his colleagues, Cabaye went to ground by the corner flag in front of the the away fans and was then the unfortunate recipient of what can only be described as a mass pile-on. 1-0

Full time: United 0 United 1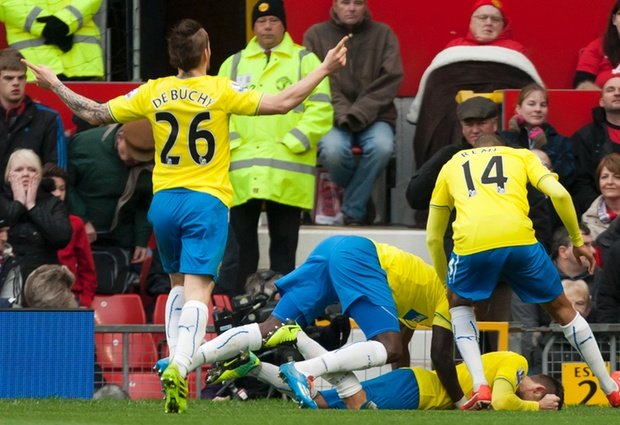 Alan Pardew

(who won here as a player with Crystal Palace almost 24 years to the day) said:



"I'm almost as elated as our fans who were jumping for joy at the end there

-

it was diff

i

cul

t

to get them out the stadium! We deser

v

ed to win

and

we had three or four of the best players on the pitch which is diff

i

cult when you come here

.

"In terms of my three years here, I would say this is right next to us beating Man United 3-0 at home, and the Chelsea performance away when Papiss (Cisse) got that great goal. It was so controlled. It was a pleasure to coach these players.

"I thought it was evident from the kick off, we wouldn't let them settle. We controlled long periods of the game. It was, in the end, about our psychology to win. That was evident throughout.

"It is a long time isn't it? Sometimes when you get victories of this manner it's difficult to digest straight away and obviously the headlines might be elsewhere, but I hope the players get credit for their performance.

"I could still hear our fans singing when I was down the tunnel. It's a huge win for them. I knew our players were very conscious of those 41 years and were determined to put that right, although it is easier said than done.

"United were shocked by our quality. I asked the lads to dominate the ball and they were good enough to. I had been asking them to play a more direct, simple style of football.

"I'm incredibly proud. We switched to a more complicated game, based around possession and control, and it worked. The ability in the squad to do that is a very nice armoury for me to have."


Match winner Yohan Cabaye added:

"To a score at Old Trafford is a fantastic feeling and I'm very happy to have done it and win the game. The manager told us this morning the club does not win here for over 40 years - so it has been a long time but I think everybody is happy after that game and I'm very happy to score the winning goal."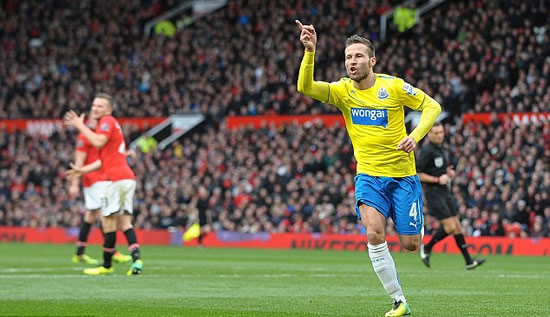 David Moyes:

"I'm disappointed with the result - it could have been much better, we were needing a goal to give us confidence. They got a goal we could have done better with and it changed the game. We did not create enough but we did create some. When you are not quite firing, you need things to go for us; they didn't.

"There were bits of the game where I thought we needed a bit of luck and things to go for us but it didn't happen. We are missing a little bit of creativity at the right times. When we've had chances to make good passes we've not quite made them.
"We've lost the past two games 1-0, probably slightly against the run of play, but we have to expect that and create more chances – to play better. That's the way to do it.
"The boy's hand (Anita) stops the ball from going into the net. On any other day that would be given as a penalty kick. Whether the referee could see it.....
"There will be (an upturn) because it is a transitional period and that was always going to be the case.I hoped it wouldn't have been as poor as it has been in the last few games. When I came here I knew it was never going to be easy and it's proved to be that way."
"I think the United supporters have been great to me and great to the club - they understand there is a big transition going on here and, like me, I don't think they expected us to have lost five games at this stage of the season. We didn't expect that but I think they understand that there is a change going on.

"We'll work hard, try to improve and try to get better."
On the absent Shinji Kagawa, who had to be substituted in the midweek home loss to Everton:
"All of the stats that we look at were low so we felt we had better not take a risk in case we got an injury by playing him. It was a bad sickness. He thinks he ate too much, and he had to get his stomach pumped, but I think he is okay."

After 41 years, Newcastle United won here at the 33rd attempt in all competitions:

It's also the first time that Newcastle United have beaten Manchester United competitively* anywhere away from SJP since that February day in 1972 - taking the record to 36 attempts

* it's open to interpretation whether the Charity Shield is competitive, but our 1994 penalty shootout victory in the Ibrox Tournament was a proper pre-season kickabout.

Magpies v MUFC @ Old Trafford since 1972:


2013/14 won 1-0 Cabaye
2012/13 lost 3-4 Perch, og(Evans), Cisse
2012/13 lost 1-2 Cisse (LC)
2011/12 drew 1-1 Ba (pen)
2010/11 lost 0-3
2008/09 drew 1-1 Martins
2007/08 lost 0-6
2006/07 lost 0-2
2005/06 lost 0-2
2004/05 lost 1-2 Ambrose
2003/04 drew 0-0
2002/03 lost 3-5 Bernard, Shearer, Bellamy
2001/02 lost 1-3 Shearer
2000/01 lost 0-2
1999/00 lost 1-5 og(Berg)
1998/99 drew 0-0
1997/98 drew 1-1 Andersson
1996/97 drew 0-0
1995/96 lost 0-2
1994/95 lost 0-2
1993/94 drew 1-1 Cole
1988/89 lost 0-2
1988/89 lost 0-2 (Mercantile)
1987/88 drew 2-2 Mirandinha
1986/87 lost 1-4 D.Jackson
1985/86 lost 0-3
1984/85 lost 0-5
1977/78 lost 2-3 Martin, Burns
1976/77 lost 1-3 Nulty
1976/77 lost 2-7 Burns, Nattrass (LC)
1975/76 lost 0-1
1973/74 lost 0-1
1972/73 lost 1-2 Nattrass
1971/72 won 2-0 Tudor, Barrowclough

The 'other' ones on neutral grounds:

2004/05 lost 1-4 Cardiff FACSF
1998/99 lost 0-2 Wembley FACF
1996/97 lost 0-4 Wembley CS

NUFC's 1972 Old Trafford winning side by nationality:
England (7), Scotland (3) Northern Ireland (2)

NUFC's 2013 Old Trafford-winning side by nationality:
France (7), Holland (2) Argentina (1), England (1), Italy (1), Ivory Coast (1), Nigeria (1)

In emulating Joe Harvey's achievement of winning here in the league, Alan Pardew ended a sequence of fourteen different Newcastle managers attempting and failing in that quest:

Gordon Lee, Richard Dinnis, Jack Charlton, Willie McFaul, Jim Smith, Kevin Keegan, Kenny Dalglish, Ruud Gullit, Steve Clarke, Bobby Robson, Graeme Souness, Glenn Roeder, Nigel Pearson and Chris Hughton. (Keegan failed in both spells in charge, while Sam Allardyce never managed us here).

Full record against Manchester United:

P

W

D

L

F

A

SJP

74

30

17

27

138

113

OT

75

10

20

45

81

167

League

149

40

37

72

219

280

SJP

(FA)

1

0

0

1

2

3

OT/W/MS

3

0

0

3

1

7

SJP(LC)
1
1
0
0
2
0

OT
2
0
0
2
3
9

Cup

7

1

0

6

8

19

OT/W(CS)

2

0

0

2

2

8

Tot

156

41

37

78

227

299
Away the Lads:

Our tally of four away victories from eight games played is already equal to the total recorded from 10 of our 19 full Premier League seasons:

9 wins: 1993/94, 2001/02
8 wins: 2011/12
7 wins: 1995/96
6 wins: 1994/95, 1996/97, 2002/03, 2005/06
5 wins: 2010/11
4 wins: 1998/99, 1999/00, 2000/01, 2006/07, 2013/14
3 wins: 1997/98, 2004/05, 2007/08
2 wins: 2003/04, 2008/09, 2012/13

Yohan Cabaye's thirteenth PL goal for the club was our 1061st in the competition, 417th on the road and 14th at Old Trafford. He's now one ahead of Ruel Fox, Kevin Nolan and Hatem Ben Arfa.

Two appearances for the yellow third shirt: two 1-0 away wins, here and at White Hart Lane.

There was a first public sighting of Jonas Gutierrez for over two months, named as an unused substitute today and warming up in the closing stages. Since appearing from the bench during the victory at Cardiff in early October, he's spent some time back in his native Argentina with the club's blessing, due to an undisclosed personal issue.


Waffle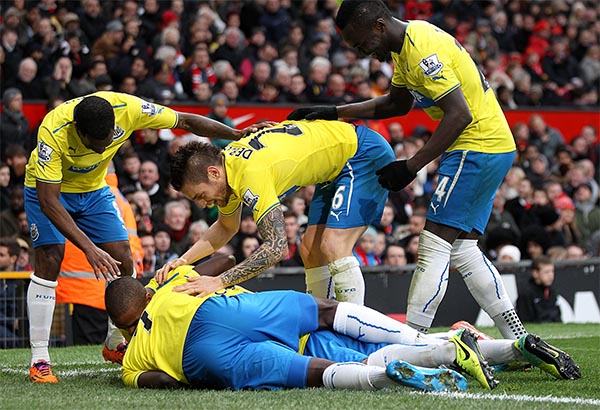 Finally.

Richard Nixon was in the White House. The miners were on strike. Prisoner number 46664 endured his seventh year detained on Robben Island. T-Rex topped both the UK singles and albums charts. And, your correspondent was counting down the days to his fifth birthday; completely oblivious to the fact that Newcastle United won a football match at Old Trafford. Against Manchester United.

41 years and 10 months later, there have been seven successors to Tricky Dicky. There are no miners to strike. Nelson Mandela lived to enjoy his long walk to freedom. Marc Bolan's last big hit was a tree on Barnes Common. And, your correspondent is deliriously aware of the fact Newcastle United won a football match at Old Trafford. Against Manchester United.

32 games in all competitions. Sunny days. Dark nights. Terraces. Fences. Seats. The Doc, Dave Sexton, Big Fat Ron, Fergie. Donkey jackets. Lacoste. Prog Rock. Punk. Acid House. God knows what else. Wait for the football paper. Watch goals on phones - they never did that on Tomorrow's World.

There have of course been near misses: none more so than the last visit here, when The Magpies led three times before succumbing - or the April 1998 encounter, when Rob Lee was cynically chopped down by Ole Gunnar Solksjaer as he bore down on goal to score what would surely be a winner.

On the eve of his third anniversary in charge, Alan Pardew made one change from the side that meekly surrendered their four match winning record at Swansea three days earlier. Out went Shola Ameobi and in came Vurnon Anita for a first League start since the loss at Everton in September.

Clad in their Brazilian-styled change kit, the visitors set about hassling and harrying the home side, no doubt mindful of the indifferent form of David Moyes' side on their own patch that contributed to their ninth position in the table at kickoff - two places below Newcastle.

An opening 45 minutes saw the Red Devils do little to suggest they'd recovered from a 0-1 loss here to Everton in midweek. That was despite the return of Robin van Persie, whose lack-lustre display hinted at both fitness and attitude issues and failed to compensate for the absence of top scorer Wayne Rooney due to suspension.

The out-of-sorts Dutchman gave his compatriot/adversary, Tim Krul, very few problems all game and like his colleagues was nullified by some excellent work by the Newcastle midfield, who collectively were infinitely more coherent, committed and competitive than at the Liberty Stadium.

That was despite the early involvement of Yohan Cabaye, who seemed intent on picking up his fifth yellow card of the season and duly had referee Andre Marriner rummaging in his pocket after barely eight minutes. That led to some half-joking comments that our number 4 was been indulging in some spot fixing - or had already penciled in a visit to the Lille Christmas market next weekend....

Pardew's instructions were evident from the start; stifle and frustrate denying the home side space and time. That ploy that worked well in the first half and saw Krul forced to smother just one shot; Fabricio Coloccini and Mike Williamson block goal-bound efforts during one goalmouth scramble.

After the break, the Red Devils upped their efforts and Patrice Evra had a header that hit the post before Anita cleared off the line; TV replays showing the ball striking his left arm. Thankfully though, it was a case of no Fergie - no problem: Marriner and his assistants stubbornly refusing to revert to type here. Just be thankful it wasn't Howard Webb - unlike Wednesday, he'd have seen that one.

With a Carrick-less home side beginning to find some momentum, the arrival of Hatem Ben Arfa for Yoan Gouffran posted notice that Newcastle's intentions were greater than a point and the newly- introduced substitute was instrumental in his side regaining lost territory upfield, benefiting from the relative calmness of a spell in possession.

The decisive moment came just after the hour when Cabaye drove home Sissoko's low centre, but the first major heart-stopping moment came when van Persie was denied a headed equaliser by an excellent offside decision from assistant Sian Massey.

At that point - and with the clock continuing to tick down nicely - thoughts turned to the notion that maybe, just perhaps, somehow this could finally be our day. Home followers unused to such eventualities were starting to drift away from their seats by the 75th minute, but the concern remained that something would arrive to interrupt our reverie with a brutal dose of reality.

Shola Ameobi replaced Cabaye and proceeded to frustrate the home side by winning various free kicks and corners, but mounting levels of antagonism evident from David Moyes in his technical area weren't mirrored by his players, who singularly failed to mount the expected late charge forward.

And then added time was up, the final whistle blown and a mass outpouring of emotion manifested itself in an orgy of clapping, fist pumping and bellowing skywards. And that was just John Carver. One of those times for hugging strangers and waking up the next day with unexplained bruising.

This is why you keep going, for that one time when the planets magically align and we won. Forget that the assembled media briefed that Manchester United lost and aren't very good at present. We won. Ignore the fact that one national newspaper mentioned the name of the team that actually won this match today precisely once in their report. We won.

This was a reward for every missed connection, diversion and delay, or fuming when surrounded by tourists clad in Red Devils kits with price tickets still on, celebrating a win over your team. It's claimed that a Manchester United fan in Kenya killed himself over this result. No. that's a man who owns a Manchester United shirt. Which was probably counterfeit. Enough.

Whatever comes to pass before next May, we'll recall this as the season when a great weight was lifted from our shoulders. Breaking the Stamford Bridge hoodoo in 2012 was a momentous occasion, but cracking the curse of Old Trafford is genuinely uplifting. Just a cup now. No pressure lads.

We'll close with an appropriate phrase from Fergie back in May 1999:

Football. Bloody Hell.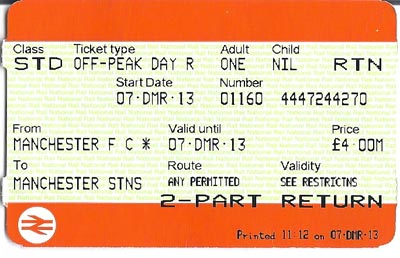 'Halfway to Paradise' or
'This Train is bound for glory'
(yes, I know it's the return half)

Biffa