Date: Saturday 14th December 2013, 3pm

Venue: St. James' Park

Conditions: pugilistic






Newcastle United

Southampton

1 - 1




Teams
27mins Mathieu Debuchy's free-kick was headed back by Mike Williamson and as the Saints defence hesitated, Yoan Gouffran reacted first to collect the ball, sidestep the 'keeper and stroke the ball home at the Gallowgate End.1-0

Half time: Magpies 1 Saints 0

65mins A dreadful pass from Davide Santon deep in enemy territory set Saints away on the counter, Rodriguez swapping passes with Davis firing in amid offside shouts.

Post match TV reviews showed that the goal was valid, but the continued reluctance of the linesman patrolling the Milburn Stand side of the pitch to raise his flag was a constant source of irritation throughout the second half 1-1

Full time: Magpies 1 Saints 1

Alan Pardew:

"I thought it was a t'riffic game - two hard working sides and a lot of quality on the pitch, But Southampton have had a tight defence all year and when you create two big chances you gotta take them.

It was a real Premier League game, good teams at it, but Southampton have got a great defensive record and we had two massive opportunities with Loic (Remy). I thought he played well today, but those two you would expect him to score and at this level it would have made the difference.
"The rest of the game was very, very tight - they had periods, we had periods - two good teams.
"I thought Adam Lallana had an impact on the game, for sure, but having said that so did Hatem [Ben Arfa], he could have won it for us at the end. He made a few nice moments for us.
"That's what these players are paid to do if they are not in the team - come off the bench and make an impact.
"I thought he (Anita) played well, we certainly miss (Yohan) Cabaye's quality and that pass to unlock the door and that composure. In a game like that those players are gold dust and fortunately for us he is back next week.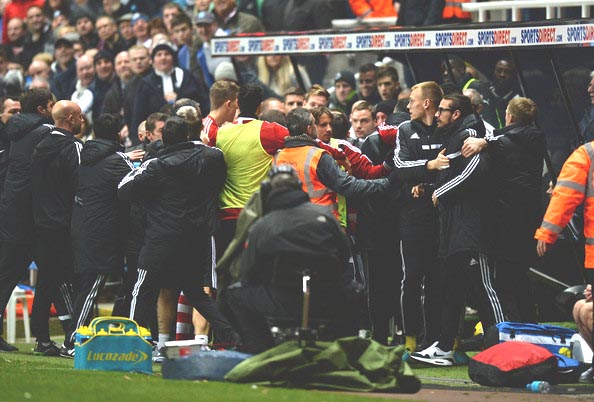 'andbags at 'alf mast, obviously
On the touchline 'incident':

"There was a bit of panto season on the end there. I dunno what role I had in it but as I say, it was 'andbags at 'alf mast really.
"I'm not going to get carried away with that because it shouldn't take the headlines. The battle is on the pitch and that was a terrific battle. The one on the sideline was pretty pathetic, what I saw of it, and best forgotten.

"I had my back to it most of the time. I just said to their manager, 'Just get your staff in, I'll get my staff in and let's get on with it because we want to win the game', and he was of the same opinion as me.

"I'll have a look at the footage of what went on behind me and I'll maybe have a word with one or two if I need to, but it wasn't just us. I said to their manager 'get yourself back on the bench and I'll get mine back on the bench, let's just get on with the bloody battle that's meant to be happening out there, not this silly stuff'. That's what we did."

On the Sissoko/Jones 'incident':

"It was amusing and the ref has taken it in good heart - it was an accident. He got a bloody nose and he will have to tidy himself up for his Christmas party."


Mauricio Pochettino said (via an interpreter):

"I think overall in the analysis of the 96 or 97 minutes played the draw was a fair result. Perhaps we could have even got something a bit more from this game.
"I think both halves were completely different - in the first half it was wide open and both teams were creating good chances for themselves. I think in the second half Southampton was completely dominating the game and could have gone on to win. The overall analysis is the draw is a fair result."
"I think what happened at the end of the game is not a good example. It's not good for football. From our point of view we are going to try our best not to let it happen again because it's not good for anyone, not good for the sport.

"I think it is avoidable but also in a high intensity game such as that any little spark can lead to something else and I think that's what happened. Overall from our point of view it's something we regret and we don't want ever to happen again.
"If there is a committee that is going to make a decision about that then they will make the decision and we will see from there on.

"Overall, I do have to say that there are a lot of other technical staff on benches in the Premier League that create a lot more of these situations, and I have to say this is the first time that it has happened to Southampton. That needs to be taken into account as well."



Yoan Gouffran scored for the fourth consecutive home Premier League game - the first Magpie to accomplish that feat since Papiss Cisse in March/April 2012 (v Norwich, Liverpool, Bolton & Stoke)

Beginning his fourth year in charge of the club, Pardew fielded three players selected in his very first game here against Liverpool in December 2010: Tim Krul, Cheick Tiote and Shola Ameobi.

Saints in Toon - last 20:
2013/14: Drew 1-1 Gouffran

2012/13: Won 4-2 Sissoko, Cisse, Cabaye (pen), OG
2005/06: Won 1-0 Dyer (FAC)
2004/05: Won 2-1 Shearer (pen), Bramble
2003/04: Won 1-0 Shearer
2002/03: Won 2-1 Sh.Ameobi, Hughes
2001/02: Won 3-1 Robert, Shearer 2 (1 pen)
2000/01: Drew 1-1 Gallacher
1999/00: Won 5-0 Ferguson 2, Solano, Dabizas, OG
1998/99: Won 4-0 Shearer 2 (1 pen), Ketsbaia, OG
1997/98: Won 2-1 Barnes 2
1996/97: Lost 0-1
1995/96: Won 1-0 Lee
1994/95: Won 5-1 Watson 2, Cole 2, Lee
1993/94: Lost 1-2 Cole
1988/89: Drew 3-3 O'Neill 2, Brock
1987/88: Won 2-1 Goddard, Mirandinha
1986/87: Won 2-0 Goddard, Gascoigne
1985/86: Won 2-1 Beardsley, Roeder
1984/85: Won 2-1 Reilly, McDonald


Full record v Saints:
| | | | | | | |
| --- | --- | --- | --- | --- | --- | --- |
| | P | W | D | L | F | A |
| SJP | 38 | 28 | 6 | 4 | 89 | 35 |
| St. Mary's | 37 | 4 | 11 | 22 | 30 | 63 |
| League | 75 | 32 | 17 | 26 | 119 | 98 |
| SJP(FA) | 3 | 2 | 1 | 0 | 4 | 1 |
| HCG/TD/SM | 6 | 1 | 0 | 5 | 6 | 13 |
| SJP(LC) | 0 | 0 | 0 | 0 | 0 | 0 |
| TD | 1 | 0 | 0 | 1 | 1 | 4 |
| SJP(FC) | 1 | 0 | 1 | 0 | 0 | 0 |
| TD | 1 | 0 | 1 | 0 | 1 | 1 |
| Cup | 12 | 3 | 3 | 6 | 12 | 19 |
| Tot | 87 | 35 | 20 | 32 | 131 | 117 |
Waffle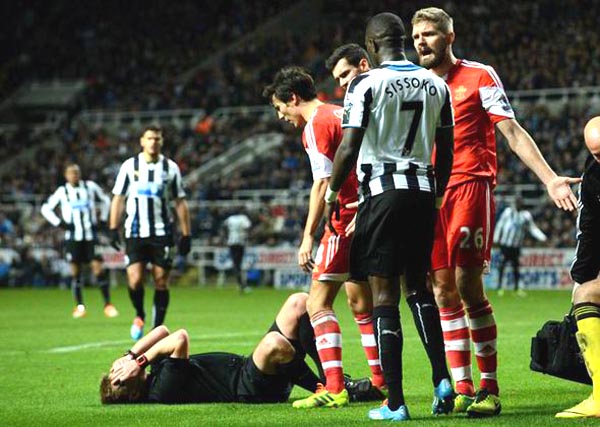 The points were shared at St. James' Park on Saturday as The Saints and Magpies exchanged various types of blows - but proved unable to supply a knockout punch.

Yoan Gouffran gave United an interval lead, only for an improved Saints side to level in the second half through England international Jay Rodriguez. And although Alan Pardew failed in his quest to put one over on his former employers, a point was sufficient to raise Newcastle up to sixth.

Loic Remy endured his fourth goalless game but missed glaring opportunities in each half to net his lack of composure symptomatic of an ordinary performance from a side deprived of Yohan Cabaye through suspension.

Newcastle went in front when Yoan Gouffran maintained his startling home scoring run - saving the blushes of Remy, who had driving his first-time shot against a defender on the goal-line after Gouffran robbed 'keeper Paulo Gazzaniga and adeptly set up his fellow countryman.

A disappointing Saints side were hardly sighted as an attacking force in the first half, but the half time removal of £12m striker Osvaldo in favour of Adam Lallana gave them a genuine boost, Steve Davis leaving Tim Krul rooted to the spot when his 25-yarder struck the post on 64 minutes.

That warning wasn't heeded however and after the visitors levelled, a glaring miss by Remy came after a hurried back pass to Gazzaniga was mis-kicked straight at the number 14 - who contrived to smash the ball wide.

With two minutes remaining, referee Mike Jones was accidentally knocked over the Saints box by Moussa Sissoko. The United midfielder reacted to a grab from the grounded Gazzaniga by flinging out an arm and catching Jones on the nose, who continued following treatment. More raised hands then further extended the period of added time, as a two-footed challenge on substitute Massadio Haidara from Schneiderlin in front of the away dugout prompted a melee between both benches.

A yellow card for the tackle followed, but verbal clashes on the sidelines between the two coaching staffs quickly escalated into some pushing and shoving, United goalkeeping coach Andy Woodman to the fore - presumably enraged by a tackle that was uncomfortably reminiscent of the assault that left Haidara laid out on the field at Wigan last March.

Things calmed down after the intervention of club staff and stewards, Woodman and his opposite number Toni Jimenez both then banished down the tunnel by Jones. There were handshakes all round when the final whistle blew on eight minutes of added time though, both factions regaining their composure and accepting a point that keeps both teams just outside the European places - Liverpool's win at Spurs on Sunday ensuring United held onto sixth.

Amid some post-match frustration that the three points that looked there for the taking at one point weren't collected, the view was aired that a four point return from the last week was still a valiant effort. Had we drawn at Old Trafford and won today, then the mood would still be fairly bullish.

Looking beyond that though and a few areas of concern present themselves. As feared, the absence of Cabaye deprived us of much midfield threat - and resulted in a return to awful corner deliveries.

Vurnon Anita did win the free kick that led to our goal and memorably danced into the Saints box at one point, but neither he nor Cheick Tiote had the necessary finesse required and both Gouffran and Sissoko drifted in and out of the game.

And by the closing stages, Remy had been taken up a deep-lying left midfield role to accommodate Hatem Ben Arfa and Papiss Cisse - the latter extending his scoreless run as did Shola, whose current run of games is a welcome stop-gap but nothing more. It's a year next week since his last PL goal.

Having been bailed out earlier in the season by Remy, Gouffran's goals are now doing something similar, but the paucity of striking options in reserve (Ameobi junior, Campbell and Vuckic) mean that serious consideration has to be given to investing in this area next month.

History shows that we seldom get a clear run in terms of injuries and suspensions (witness Shola knacking himself in the first game after selling Andy Carroll) and to ignore this would be tempting fate - and also entirely typical of our one step forward, two steps backwards approach.

Biffa