Date: Saturday 21st December 2013, 3pm.

Venue: Selhurst Park

Conditions: a yellow tidal surge

Admission: £32
(£29.50 in 2009, £35 in 2004)

Programme: £3

Crystal Palace

Newcastle United

0 - 3

.

Teams
25mins Yohan Cabaye finished off a low right wing centre from Moussa Sissoko with a side-footed effort that deflected in off home captain Mile Jedinak and in at the Holmesdale End.1-0

39mins Home player Danny Gabbidon inexplicably turned Mathieu Debuchy's cross from the right flank past his own 'keeper Julian Speroni, with Loic Remy in the vicinity but hardly breathing down his neck 2-0

Half time: Eagles 0 Magpies 2

86mins Anita's neat ball into the box gave Shola Ameobi the opportunity to get goal side of Damien Delaney before going to ground under the challenge of Norwegian Jonathan Parr.

The linesman situated in front of the away contingent signaled for a spot kick that Shola initially looked set to take - only for Hatem Ben Arfa to claim the ball and set it down on the spot, before crashing home a rising effort that Speroni made contact with as it flew past him. 3-0

Full time: Eagles 0 Magpies 3

Former Glazier
Alan Pardew
:


"We played very well. The flair players will get the headlines, but the warriors deserved them. We controlled the game brilliantly. It will be difficult to pinpoint any one player because it was just a fine all-round performance.
"I love Palace and I love this crowd, but we won well and I couldn't be more happy with how we did it.

I think the continuity in the back four and the goalie is key. We really didn't have that last year. Fabricio Coloccini is a special player and he proved that today. Sometimes you take him for granted, because he is the captain and he has got flowing curly hair, but he was terrific.
"I just think we are in a good place as a club. We're working well together and the owner is really pleased. Hopefully we can keep it altogether and improve on it because the window is opening and it might be an opportunity for us to galvanise.
"Not many teams are going to come here and win 3-0 - I'm delighted with the players - they were terrific. The key was to control possession and make sure the ball didn't come into our box.

"You look at our dressing room today before the game and we had a really good psychology. We knew what was going to happen. There was a swirly wind, a rainy pitch so could we keep it? We did it brilliantly, and you need great confidence to do that.

"(Yohan) Cabaye made a difference. His contribution was important - he gave us the x-factor. (Hatem) Ben Arfa gave us that. Coloccini and (Mathieu) Debuchy were immense, as was (Cheick) Tiote. I don't put Cabaye above the others.

"Five wins away says we have a good spirit. It's difficult to break us down and we score goals in open play. We have just got a team that believes in what it is doing, it has a functionality about it that is thorough in terms of its professionalism, no-one is shirking responsibility. It is making us a difficult team to undo.

"We had a game plan to try and take the sting out of the pressure they exert on you and we couldn't have done it any better really.

"The players were very accurate with their passing today and we looked comfortable almost from the kick-off, but you still need great players to play well and we had some outstanding players out on the pitch today.

"It is difficult to single out individual players because it was such a great team performance and it was a sweet feeling for me to come back to a club that I love and see my team play like that.

"We also went to Man United and played a very different game and got our reward, so this team is becoming one that can handle different platforms. If we can beat Stoke (on Boxing Day), the Arsenal (home) game will be really, really interesting for a lot of people.

"I know we've had some strange opinions about us from the outside but we are working well together. The owner is really pleased. I am really pleased, and more importantly the players are really pleased.

"We've talked about (signing) players (in January). I think that's where we're at. We are making sure we don't miss what might be a key signing.

"You look at the last two January windows and we've done good business. So Graham Carr [chief scout], Joe (Kinnear), myself and the owner are very much on the ball for this window.

"That is the committee for transfers and with Joe's knowledge of football he knows the manager needs certain things and that has helped. I don't really want to say any more than that but I think it gives you a little bit of insight into it."

About Yohan Cabaye:

"I was honest with him all the way along.

"The bottom line is the player has a true character and he added an X factor for us today. When you are at the top of the Premier League you can't stay there unless you have got X factor and he gives us that."

Cabaye added:

"Moussa (Sissoko) is always looking for the little pull-back and I just try to be free and then make sure I can hit the target. I'm happy to score, happy to do it for the team and if it means we get three points then that is even better.

"We love playing in this yellow kit. We have worn it three times now and won three times. It may be the third kit but we like it and maybe we should always wear this kit away from home!"


Tony Pulis:

"The first two goals were poor. We have looked solid since I came here, but today we gifted them two goals. After that you're chasing the game and against a team I think will be in the top eight come the end of the season, that is very difficult. If Cameron Jerome scores, then it could have been very different.

"We have to do well at home – Villa Park and Manchester City are going to be tough - but we'll have good runs and bad runs. You dust yourself down and you go again. But either way, you cannot gift goals like we have today."
"We were unfortunate to lose the two guys who play in midfield (Kagisho Dikgacoi and Stuart O'Keefe), and so we decided to put Joel (Ward) in there and bring Dean (Moxey) onto the left, but Newcastle gave us so many problems on their right that we had to change it at half-time, and I think that probably cost us.
"The own goal was not Danny's fault, he's been caught in the wrong place but Newcastle were putting in so many crosses, that was the problem."
Headline of the day: Miseltoe and Tyne (Croydon Guardian)


Magpies v Eagles @ Selhurst - all time:

2013/14 won 3-0 Cabaye, og(Gabbidon), Ben Arfa(pen)
2009/10 won 2-0 Nolan, Ryan Taylor
2004/05 won 2-0 Kluivert, Bellamy
1997/98 won 2-1 Tomasson, Ketsbaia
1994/95 won 1-0 Beardsley
1983/84 lost 1-3 Beardsley
1982/83 won 2-0 Waddle, Varadi
1981/82 won 2-1 Waddle, Mills
1978/79 lost 0-1
1972/73 lost 1-2 Tudor
1971/72 lost 0-2
1970/71 lost 0-1
1969/70 won 3-0 Davies, Dyson, Robson
1964/65 drew 1-1 Cummings
Full record v Palace:

P
W
D
L
F
A
SJP
13
8
3
2
18
7
SP
14
8
1
5
20
12
League
27
16
4
7
38
19
SJP(FA)
6
5
0
1
13
4
SP
0
0
0
0
0
0
SJP(LC)
0
0
0
0
0
0
SP
0
0
0
0
0
0
Cup
6
5
0
1
13
4
Tot
33
21
4
8
51
23
Newcastle's ninth away game of the season in the Premier League saw them record a fifth win on the road, after taking maximum points from visits to Villa, Cardiff, Spurs and Manchester United. The other four ended in defeats.

That tally is already equal to the total recorded from 11 of our 19 full Premier League seasons:

9 wins: 1993/94, 2001/02
8 wins: 2011/12
7 wins: 1995/96
6 wins: 1994/95, 1996/97, 2002/03, 2005/06
5 wins: 2010/11, 2013/14
4 wins: 1998/99, 1999/00, 2000/01, 2006/07
3 wins: 1997/98, 2004/05, 2007/08
2 wins: 2003/04, 2008/09, 2012/13

This was the first time United have won a Premier League away game by three clear goals since a 3-0 success at Portsmouth in December 2008. It's also the first time that they've scored three times in the top flight since a 4-2 home win over Southampton in February 2013.

This scoreline and the result from Old Trafford mean that United recorded back to back clean sheets away from home in the Premier League for the first time since the August/September 2011 (1-0 at the mackems, 0-0 at QPR)

In terms of successive away wins in the PL, this was the first time we've managed two in a row since March/April 2012 (3-1 at West Brom, 2-0 at Swansea). Were Pardew's side to usher in 2014 by collecting all the points at The Hawthorns, then they'd have won three top flight away games in succession for the first time since December 2001 (Ipswich 1-0, Arsenal 3-1, Leeds 4-3) We should be wearing our yellow shirts against the Baggies that day, so....

This was a third win for United in the yellow change kit in as many outings, following on from Spurs (won 1-0) and Manchester United (1-0). In between those two fixtures, they reverted to the blue kit for that 0-3 reverse at Swansea.

Cheick Tiote completed a century of first team appearances for Newcastle in all competitions (93 starts)

Hatem Ben Arfa converted the first penalty kick that Newcastle have been awarded this season - and a first since Ben Arfa netted from the spot at QPR last April.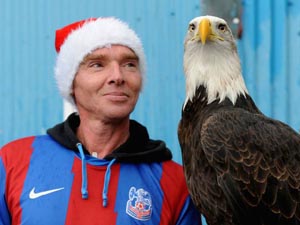 who's a pretty boy then?

Waffle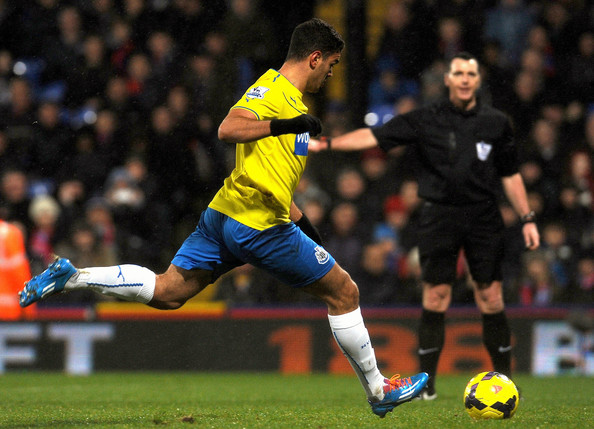 The rain may have been pelting down as the Eagle glided above the pitch before kickoff, but there the similarity between our visits to Benfica and Palace in 2013 ran out.

With only the minimum of disturbance from the home side, Newcastle made it six wins out of eight in the Premier League to consolidate sixth place and strengthen their chances of a return to European competition in 2014.

Clad once again in their lucky Brazilian-styled kit, Alan Pardew's side made light of the windswept and soggy conditions in South London to overcome the Eagles for the fifth successive time at Selhurst Park - and an even larger margin of victory could well have been achieved.

Yohan Cabaye set the ball rolling after 25 minutes with his fourth goal of the season - slightly less impressive than his similar link-up with Moussa Sissoko at Old Trafford - but no less significant and the first goal conceded on home soil by Palace in almost five hours.

Despite forcing a series of corners, Palace failed to create any genuine scoring chances - the only heart-stopping moment for United's defence coming after Tim Krul missed a cross and Mike Williamson inadvertently turned the ball towards his own net. Thankfully Vurnon Anita cleared.

The Magpies doubled their advantage six minutes before the break when Welsh defender Danny Gabbidon ended our run of French scorers by putting through his own net.

Playing conditions had worsened by the time the second half began, with a swirling wind clearly affecting the flight of the ball and giving some encouragement to a Palace side , for whom Tony Pulis had made a double change.

What proved to be their best opportunity though saw former Stoke forward Cameron Jerome blast a good chance over Krul's bar after 65 minutes - a chance that became something of a wake-up call for Newcastle, who then noticeably upped their game from that point.

Dominating midfield and starving the Eagles of possession, United sought to extend their lead and Cabaye's swerving free kick was unconvincingly blocked by Speroni. Introducing Shola Ameobi and Hatem Ben Arfa to stretch the tiring home side, the latter looked intent on making an impact and instantly created havoc in the opposition area, setting up Yoan Gouffran to clip the crossbar.

A third goal duly followed from the spot to seal the win - Ben Arfa winning the battle to take it and end his own goal drought - before the final whistle confirmed an increase in our points total to 30 from 17 games, three more than at this point in 2011/12 and exactly twice as many as last season.

Remaining sixth, we now sit just six points behind leaders Liverpool going into our final two games of 2013. Both of those are on home turf, where we've recorded fewer league wins to date than during what is rapidly becoming a memorable season for away day successes.

While this was perhaps the most predictable of our wins on the road to date when the fixtures came out, the replacement of Ian Holloway by Tony Pulis and a consequent upturn in form made this a little less of a gimme - in-form Everton forced to settle for a scoreless draw here recently.

There was an element of good fortune in that fitness issues forced Palace into changing their team and fielding a couple of players in unfamiliar roles, but United took full advantage thanks to a display of controlled aggression and composure despite tricky conditions.

How much credit the manager can take depends partly on how much blame one believes lies at his feet for the low points of this season. For all his gushing prose, Pardew continues to be at the mercy of his squad and their own internal mood. In other words, they play when they want.

While the benefits of no cup distractions and the welcome lack of a queue for the treatment table are evident, thoughts of next summer's World Cup seem to be galvanising those players who are in with a shout of strutting their stuff in Brazil.

The luxury of a settled side is adding to that but credit has to be given to Pardew for showing loyalty that is being repaid in the case of players such as Mike Williamson and returning his squad back to a point where motivational qualities outweigh personnel and tactical weaknesses.

We really couldn't care less what motivates this lot: playing for the badge, the wedge, the girls, the glory or whatever. Something's happening here - and for a change it's positive. Enjoy.

Biffa