Date: Thursday 26th December 2013, 3pm

Venue: St. James' Park

Conditions: hilarious






Newcastle United

Stoke City

5 - 1




Teams
29mins An aimless header by Mike Williamson to clear Peter Crouch's nod on resulted in the ball dropping for Glenn Whelan centrally in the United half. Williamson recovered to head out a centre played towards the left hand corner of the home area, but that dropped nicely for Assaidi.

With Debuchy backing off, the winger stepped forward before rifling home an excellent right-footed strike that flew past Tim Krul and into the far side of the Gallowgate End net. 0-1

44mins Stoke's counter attack down their left flank following Newcastle's missed penalty was halted by Williamson, who looked to have used his hand to block the ball. Referee Atkinson was close to him though and indicated play on.

With the home crowd roaring him forward, Hatem Ben Arfa picked up possession in acres of space and headed for goal, evading Charlie Adam's tackle before reaching the edge of the Stoke box and laying a pass off to Loic Remy on the left.

He took a touch with his right foot and then cut inside before shooting in move similar to that which saw him score from slightly further out at Cardiff. His low drive from 10 yards took a deflection off both a defender and Sorensen en route to the back of the Leazes End goal 1-1

Half time: Magpies 1 Potters 1

48mins Ben Arfa pulled the ball back from the byline on the United right and his rising cross was headed up by a defender, tempting Sorensen out to complete the clearance. The Stoke 'keeper got above a colleague and substitute Shola Ameobi to punch clear, but the ball fell for Yoan Gouffran in a central position just inside the box and he calmly steered a low left footer home.

TV pundits made much of a camera angle that showed the ball apparently out when Ben Arfa centred (in our fevered imagination very similar to the 1932 over the line FA Cup Final) but no camera angle from the Milburn Stand side ever emerged. That would have given a linesman's eye view and raised real doubt as to whether the whole of the ball was actually out. 2-1

56mins Davide Santon looped over a cross from the left that Moussa Sissoko headed on across goal for Loic Remy to nod in with minimum fuss at the back post from close in 3-1

66mins A contender for team goal of the season. Massadio Haidara checked his left wing run and slipped a pass back to Sissoko, who picked out Debuchy on the opposite side of the area as he pulled back into a space. His header across the box was nodded down by Ameobi to Gouffran, who swapped passes with Debuchy before Yohan Cabaye arrived to side-foot in beautifully. 4-1

80mins Haidara's over-hit cross was picked up by Ben Arfa, who headed back into the Stoke box and looked to beat Erik Pieters, only for the ball to inadvertently clip the back of his heel. Spinning around to retrieve possession, Pieters lunged into the United number 10 and knocked him over.

A second spot kick of the afternoon was confidently swept into the top corner of the net by Papiss Cisse, whose right foot effort sent Sorensen the wrong way. 5-1

Full time: Magpies 5 Potters 1

Alan Pardew:

"It was a funny afternoon, but it wasnít for 35 minutes because the change we made (to the formation) wasnít working and they had got a foothold in the game. We were struggling and I was just trying to get to half-time, Then there were a couple of decisions and the game was completely turned on its head.

"Maybe the first booking was a soft one for Glenn Whelan, but I donít think there was anything wrong with the other decisions. For the second booking, he made no attempt to play the ball and for the red card, he (Wilson) clearly tugs Loicís shirt and heís the last defender.

"Of course I have some sympathy for Mark Hughes because he has gone down to nine men, but we were clinical in the second half. We moved the ball really well and it could have been more. Thatís seven wins out of nine and that is an incredible run.

"I'm still disappointed with the (first) penalty taker. Yohan (Cabaye) takes our penalties. Loic (Remy) said to me at half-time he didnít know that so John Carver was getting it in the ear, thatís his fault 100%.

"So we had a little conversation at half-time about being professional and doing the right things. Then in the second half we get another penalty but then of course, the game was done.
"In all seriousness it was a crucial stage of the game and I really didnít want Loic to take that penalty if Iím honest. He hadnít scored for a little while and thatís not natural for him. He might argue heís a natural penalty taker but not for me.
"But letís not get wrapped up in that because it was a great afternoon for us because second half we couldnít have done the job any better really.
"They (Stoke) couldnít have done any better in the second half. They were professional, diligent, trying to do the jobs but you can only do so much. The way they set up we were going to raid down the sides and weíve got great quality in that area.
"We were just a little bit too lively in the second half. I think if they had 11 on pitch we would have still won.

"I look at the team and we have got some tremendous assets who havenít been seen for a while - Hatem (Ben Arfa) did some unbelievable things today; Papiss (Cisse) scored; Shola (Ameobi) made another telling contribution and Massadio (Haidara) showed his influence with that left foot of his, with which he hit some great balls in.
ďWe have got a lot of assets in the background, and itís about just keeping rolling along and trying to win as many games as we can.
ďWe have been on an incredible run, really. Iím not sure any team has beaten that run over the last nine or 10 games this season, even Arsenal, so we have set ourselves up for what will be an intriguing encounter, and we will probably know a little bit more about this team after Arsenal.Ē


Mark Hughes:

"I think the referee needs to look at his performance. From one of our arguably most senior referees, I was absolutely dismayed by his performance, to be perfectly honest.

"Up to the point where the first sending-off was given, I thought we were totally in control of the game. We were 1-0 to the good, Newcastle were finding it very difficult to really have an impact on the game.

"We were very much in control of the game and then the referee makes a couple of decisions which change the course of the game.

"We all say, managers, players, everybody, that you just want the referees to make decisions that are correct and make the key decisions that don't have a direct impact on the result. Unfortunately, some of Martin's decisions today had a direct impact on the result.

"He booked Glenn Whelan, so he is saying, for kicking the ball away. Well, I didn't hear the whistle, Glenn Whelan certainly didn't hear the whistle, Cabaye didn't hear the whistle because he carried on and went over the top on Glenn Whelan. That's why he reacted."



Papiss Cisse ended a Premier goal drought stretching back to Newcastle's home win over Fulham back in April 2013 - his goal coming at the 1,209 minute mark. Cisse's penalty strike was the first scored by a Newcastle player not born in France since Paul Dummett netted at SJP against Liverpool in October and only the second of the season in the Premier League (excluding OGs).

Yoan Gouffran scored for the fifth consecutive home Premier League game, becoming the first Toon player to achieve that feat since Alan Shearer in 1996/97. Peter Lovenkrands also managed a five game home league run during the 2009/10 Championship season.

Loic Remy scored his 9th and 10th goals in the Premier League, becoming the twelfth Newcastle player to reach double figures in the competition during one season. He emulates Andy Cole, Peter Beardsley, Ruel Fox, Les Ferdinand, Alan Shearer, Obafemi Martins, Michael Owen, Kevin Nolan, Andy Carroll, Demba Ba and Papiss Cisse.

United scored four goals in one half for the first time since recovering from a 0-4 interval deficit at home to Arsenal in February 2011 to memorably draw 4-4.

The 374th home game Newcastle have played in the Premier League saw them record a 200th Premier League home win (drawn 92, lost 82). These came against the following sides:

12: Aston Villa
11: Everton, Spurs
10: Southampton
9: Chelsea
8: Bolton Wanderers, Liverpool, West Ham
7: Coventry City, smoggies
6: Blackburn Rovers, Fulham, Leicester City, Manchester City, West Bromwich Albion
5: Arsenal, Birmingham City, Leeds, Derby, Norwich City, Sheffield Wednesday, Wigan, Wimbledon
4: Manchester United, Nottingham Forest, QPR, mackems
3: Charlton, Portsmouth, Stoke City
2: Bradford, Ipswich, Reading, Watford
1: Barnsley, Crystal Palace, Oldham Athletic, Sheffield United, Swindon Town, Wolves
0: Blackpool, Cardiff City*, Hull City, Swansea City

* yet to play in PL at SJP

And in terms of scorelines, almost a quarter have been by that old chestnut, 2-1:

2-1 49 instances
1-0 35 instances
2-0 27 instances
3-1 27 instances
3-0 19 instances
3-2 8 instances
4-0 8 instances
5-1 5 instances
4-2 5 instances
4-3 4 instances
5-0 4 instances
4-1 3 instances
7-1 2 instances
6-0 1 instance
6-1 1 instance
6-2 1 instance
8-0 1 instance

Today was the 15th time in those 200 games we've scored 5 goals or more.

Potters on Tyne - last ten:
2013/14 won 5-1 Remy 2, Gouffran, Cabaye, Cisse(pen)
2012/13 won 2-1 Cabaye, Cisse
2011/12 won 3-0 Cabaye 2, Cisse
2010/11 lost 1-2 Nolan
2008/09 drew 2-2 Owen 2
2007/08 won 4-1 Owen, Cacapa, Milner, Duff (FAC)
1989/90 won 3-0 Kristensen 2, Quinn
1984/85 won 2-1 Waddle, Anderson
1978/79 won 2-0 Connolly, Withe
1976/77 won 3-0 T.Craig, Burns, Nattrass (LC)
Total record against Stoke:

P

W

D

L

F

A

SJP

38

27

7

4

95

32

VG/BS

3

7

8

10

19

33

59

League

75

35

17

23

128

91

SJP

(TM)

1

1

0

0

2

1

VG

(TM)

1

0

0

1

0

1

SJP

(FA)

4

4

0

0

11

4

VG/BS

3

1

2

0

5

3

SJP(LC)
1
1
0
0
3
0

VG
1
1
0
0
4
0

Cup/TM

11

8

2

1

25

9

Tot

8

6

4

3

19

2

4

1

53
100
Seeing two opposition players red-carded in one game at SJP is a rare event and thoughts went immediately to New Years Day 1985 when the mackems lost Howard Gayle and Gary Bennett during our 3-1 success.

A more recent derby day victory on Tyneside also saw a double dismissal, with the 1-1 draw in March 2012 featuring an early bath for Stephane Sessegnon and the dismissal of Lee Cattermole following the final whistle.

Since beginning his managerial career at Blackburn Rovers in September 2004, Mark Hughes has experienced ever diminishing returns in the away dugout at SJP. Reeling off three successive wins with Rovers (1-0, 2-0 and 1-0), Hughes then saw his Manchester City side held 2-2 before returning with Fulham for a 0-0 stalemate. Debuting as QPR boss in January 2012 at SJP he endured a 0-1 loss before visit number six saw him unexpectedly sample the Directors Box as City lost 1-5.

mackem-loving custodian

Thomas Sorensen faced a penalty kick at SJP for the fifth and sixth time in his career, maintaining his 50/50 record:



2000/01 (mackems) saved from Alan Shearer
2003/04 (Villa) saved from Alan Shearer
2005/06 (Villa) conceded from Alan Shearer
2010/11 (Stoke) conceded from Kevin Nolan
2013/14 (Stoke) saved from Loic Remy
2013/14 (Stoke) conceded from Papiss Cisse

NUFC Boxing Day Record - Premier League era:

2013/14 Stoke City (h) won 5-1
2012/13 Manchester United (a) lost 3-4
2011/12 Bolton Wanderers (a) won 2-0
2010/11 Manchester City (h) lost 1-3
2009/10 Sheffield Wednesday (a) drew 2-2*
2008/09 Wigan Athletic (a) lost 1-2
2007/08 Wigan Athletic (a) lost 0-1
2006/07 Bolton Wanderers (a) lost 1-2
2005/06 Liverpool (a) lost 0-2
2004/05 Blackburn Rovers (a) drew 2-2
2003/04 Leicester City (a) drew 1-1
2002/03 Bolton Wanderers (a) lost 3-4
2001/02 smoggies (h) won 3-0
2000/01 Leeds United (h) won 2-1
1999/00 Liverpool (h) drew 2-2
1998/99 Leeds United (h) lost 0-3
1997/98 Derby County (a) lost 0-1
1996/97 Blackburn Rovers (a) lost 0-1
1995/96 no game
1994/95 Leeds United (a) drew 0-0
1993/94 no game

* Championship

Waffle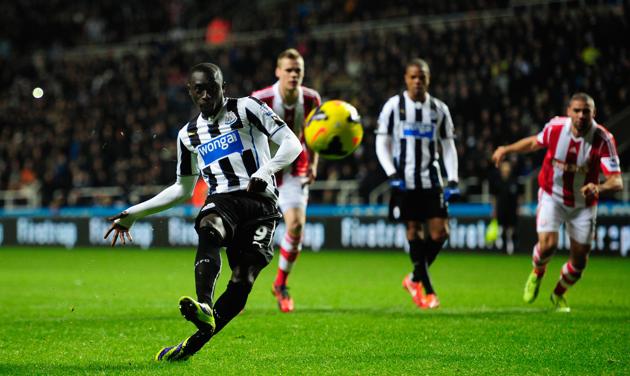 Whether clairvoyance has replaced china manufacture as the main employer in the Stoke area is unclear, but a significant number of Potters followers seemed to have read their tea leaves and opted to stop in the house for this one.

Those Staffordshire non-attendees may have been regretting their decision after a tricky opening half hour for United saw them deservedly behind and reduced to hitting aimless long balls upfield. But with the strains of "Delilah" still echoing round the stadium, the most manic five minutes of action at Gallowgate in living memory saw half time arrive with the scores tied at 1-1, a penalty missed by United and the visitors shorn of two players and their manager. Wow.

Newcastle's biggest win in almost three years came in only their second Boxing Day home game in twelve years, but despite (or maybe) adding Hatem Ben Arfa to the midfield mix to compensate for the suspended Cheick Tiote, the home side were only fleetingly sighted as an attacking force.

The opening exchanges gave little hint of what was to follow, with the most interesting event early on the appearance of an Air Sea Rescue helicopter overhead. Mike Williamson's timely intervention in the tenth minute to block a Jonathan Walters strike followed soon after by a miskick from Mathieu Debuchy that flew across the six yard box but could have gone anywhere.

Moussa Sissoko then made progress down Newcastle's right, only for his pull-back to Yohan Cabaye to be cut out. Cabaye also saw one effort from distance pushed away by mackem old boy Thomas Sorensen, but there was no real shock when a disjointed home side went behind for the first time in five home league games.

Stoke had been full value for a 29th minute lead achieved thanks to a fine strike from on-loan Liverpool winger Oussama Assaidi, but things began to unravel when Glenn Whelan was booked for a nasty challenge on Sissoko and continued a feud with Yohan Cabaye following his caution that was to cost him and his side very dearly.

Barely five minutes later the Republic of Ireland international was heading for the dressing room, shown another yellow card after impeding Cabaye once again. Mark Hughes took great exception to that and was lectured by referee Martin Atkinson - who turned his back as Hughes unleashed another volley of abuse at him.

The fourth official was well placed though to pick up that slack-jawed performance and promptly alerted Atkinson, Hughes tossing his coat away as he was banished from the dugout - and later claiming that his offence was kicking the ball away.

Within seconds further madness had descended, as Loic Remy seized on an incisive pass from Vurnon Anita before clearly being impeded in the City area by Marc Wilson - also red-carded by Atkinson.

Without a goal in his last five game, Remy was entrusted with the duty of taking the resultant penalty. However he looked uncomfortable with the task and his kick was easily saved by Sorensen.

With Alan Pardew fuming at his side's profligacy, they immediately rectified matters as Ben Arfa burst into the box and fed Remy, who saw his shot at the Leazes End deflect in off Ryan Shawcross. That added insult to injury for City, who had just seen a valid-looking handball appeal against Williamson rejected at the opposite end.

The second half began with Shola Ameobi on in place of Anita and a golden opportunity for United to collect another three points and boost their goal difference. A second Newcastle goal wasn't long in coming though, with just three minutes elapsed when Ben Arfa crossed from the byline and Gouffran steered the ball home for his fifth effort in as many home games.

It was just a matter of how many the home side would manage from then on and after Ben Arfa hammered his effort off a post, it was no surprise when Remy nodded home his second from a Mathieu Debuchy cross.

In a run that was eerily reminiscent of Peter Bearsdley, Ben Arfa then inflicted further punishment on the same piece of woodwork before a fine team goal saw Cabaye stylishly side-foot home his fifth of the season for 4-1.

Gouffran then headed wide but it wasn't long before Ben Arfa jinked around in the area and was then brainlessly knocked over by former toon transfer target Erik Pieters. By then Papiss Cisse had been added to United's forward array and despite memories of his awful spot kick against Norwich in 2012 after a previous goal drought, the man from Senegal kept his cool to drive past Sorensen.

5-1 ahead with ten minutes plus stoppage time still to play, hopes were high that further goals would follow. However our best chances in the closing stages came when attacks by Ben Arfa and Massadio Haidara were halted illegally - Atkinson unwilling to award more pens.

Newcastle's first five goal return since a 5-0 home win over West Ham in January 2011 was a fitting way to record our 200th SJP victory in the Premier League. And more pertinently, a seventh win in nine attempts maintained pressure on sides above us - aided by a shock mackem win at Everton.

With one game to play in 2013, Pardew's side now sit proudly in sixth place with 33 points - just one less than the total for the whole of the 2008/09 relegation season and three more than the tally we'd reached at this point in 2011/12, when we occupied seventh and ultimately finished fifth.

The visit of Arsenal promises to be a rather more testing encounter, but we go into that game with a genuine chance of beating them on Tyneside for only the second time in eight attempts. Repeating today's sluggish start on Sunday against the joint top away scorers in the division though would be suicidal - revivals of the sort seen in that memorable 4-4 Gunners game are few and far between.

Biffa

PS: The win had a special satisfaction for NUFC.com reader Billy Kwan, who travelled to England from Hong Kong to see his first Newcastle home game. Landing in London to find that there were no trains on Boxing Day, Billy promptly hired a car and drove to the Toon for the game - a top effort.