Date: Sunday 29th December 2013, 1.30pm
Live on Sky

Venue: St. James' Park

Conditions: sobering







Newcastle United

Arsenal

0 - 1




Teams
Half time: Magpies 0 Gunners 0

65mins Vurnon Anita looked to have been fouled in the shadow of the East Stand, but play continued before Tiote was penalised for clipping Santi Cazorla outside the area.

An innocuous looking free-kick was chipped forward by Walcott and the merest of touches by Giroud was enough to beat Tim Krul in the Leazes goal, although the Magpies 'keeper got a touch to it. At first glance the vain attempt Mike Williamson made at reaching Giroud made him look like the culprit, but replays showed that he was otherwise engaged and Fabricio Coloccini had failed to mark up 0-1

Full time: Magpies 0 Gunners 1

Alan Pardew:

"There was definitely a foul before then (the goal) on Anita, without a shadow of a doubt; there was a foul on Sissoko that he (the referee) didn't give. In terms of the breaks of the decisions, I don't want to say the referee had a poor game, but sometimes he sees those calls and they go your way, sometimes they don't.
"Against Stoke, we had all the calls go our way and today, perhaps we were on the other side of it. It's just frustrating, a little bit, that we have not got something on the scoreboard in terms of a point, no more than that.
"We needed a bit more offensive presence (meaning Ben Arfa came on) I knew with this crowd and kicking that way, we could start cranking it up.
"As I say the goal came literally as he entered the pitch which was a shame for us because I think we could have got them on the back foot and maybe won the game. But the goal gave them something to fall back.
"You could argue we should have started a bit more positive - itís very difficult to beat Arsenal. You canít let them dictate the game and dictate the midfield. It was a real, feel each other out in the first half - almost like the first three or four rounds of boxing when you are finding your feet.
"We knew we had assets on the bench, stronger assets but unfortunately we have come out the wrong side of it.
"It (the goal) came at a good time for Arsenal. We were just starting to crank it up like we do at home and it gave them something to fall back on.
"It was a tight game and a very tactical battle. We were as good as them and certainly didnít deserve to get beat. But it was mistake from a set play that we should have defended better although it was a good quality ball in.
"And then some moments at the end when we had a chance to get ourselves a point. We came out with our confidence renewed even though we lost.

The defending at a set-piece was very disappointing - we have not really been guilty of that this season and we have to make sure it doesnít happen again.

"Iím disappointed for the players and our fans because I donít think we did much wrong, but weíve got a defeat against our name.

"It was a very even, keenly-contested game. My overall feeling is that weíve come out on the wrong side because a few breaks went against us in terms of decisions, and that was probably the difference.

"But we have 33 points, weíre seventh in the table and I think we can better that in the second half of the season.Ē


Arsene Wenger:

"We played against a good team who made it very physical for us. They tried to stop us at any cost and we controlled the game technically quite well until we scored the goal.

"After that we had a chance to score the second and then suddenly we have refused to play and just wanted to protect the score. But we did that with another aspect of our team, the solidarity, togetherness and fighting spirit.

"Everybody threw their bodies in and I'm very proud of the players. What I'm especially pleased with is the mentality, the spirit, the hunger of the team. It's a pleasure to work with them and despite the fact that we play against great teams in the league, if we can keep these qualities in the squad we have a chance.

"We believe in ourselves and we are determined to give our best, absolutely, and to turn back on the season at the end and think we have given our best. I hope it will be enough, of course, but it's a long way to go. It's too early to say that.
"We believe in ourselves and we are determined to give our best, absolutely, and to turn back on the season at the end and think we have given our best. We have come out of very difficult games - we have played Everton, we have played Manchester City, Chelsea, at West Ham and Newcastle.
"We have dropped some points, but I felt it was more down to the heavy schedule and the short recovery time we have had than to the difficulty of the games, but we have to show it on the pitch, and that's what we try to do.

"On Yohan Cabaye, we don't look for a midfielder. We didn't have Mesut Ozil or Aaron Ramsey and we still had three good midfielders and Mikel Arteta on the bench "

United suffered only a second home loss in ten Premier League games: won 5, drawn 3, lost 2.
In the same time period last season, that home PL record was: won 5, drawn 1, lost 4.

Halfway the lads - NUFC last five PL seasons after nineteen games:
2013/14: 33 points, 8th (scored 29, conceded 24)
2012/13: 20 points, 15th (scored 23, conceded 30)
2011/12: 30 points, 7th (scored 26, conceded 25)
2010/11: 22 points, 13th (scored 28, conceded 29)
2008/09: 22 points, 12th (scored 25, conceded 27)
2007/08: 26 points, 11th (scored 26, conceded 29)

Avoiding a booking for the eighth successive game means that the threat of immediate suspension has been lifted from Moussa Sissoko, as PL yellow cards are set aside on December 31st 2013.

Newcastle have now failed to score against Arsenal at SJP in three games, the last registered being "that" goal from Cheick Tiote here in February 2011 in the 4-4 draw.

A year on from losing 3-7 in North London, just five of the fourteen players on duty that day were also involved today (for the Gunners that total is nine)

2012: Krul, Simpson, Santon, Perch, Coloccini, Tiote, Bigirimana, Cisse, Marveaux, Obertan, Ba,
Ferguson, Sh.Ameobi, Tavernier.

2013: Krul, Debuchy, Santon, Williamson, Coloccini, Tiote, Anita, Sissoko, Cabaye, Gouffran, Remy, Haidara, Sh.Ameobi, Ben Arfa.

Gunners in Toon - Premier League era:
2013/14: Lost 0-1

2012/13: Lost 0-1
2011/12: Drew 0-0
2010/11: Drew 4-4 Barton 2, Best, Tiote
2010/11: Lost 0-4 (LC)
2008/09: Lost 1-3 Martins
2007/08: Drew 1-1 S.Taylor
2006/07: Drew 0-0
2005/06: Won 1-0 Solano
2004/05: Lost 0-1
2003/04: Drew 0-0
2002/03: Drew 1-1 Robert
2001/02: Drew 1-1 Robert (FAC)
2001/02: Lost 0-2
2000/01: Drew 0-0
1999/00: Won 4-2 Speed 2, Shearer, Griffin
1998/99: Drew 1-1 Hamann
1997/98: Lost 0-1
1996/97: Lost 1-2 Shearer
1995/96: Won 2-0 Ginola, Ferdinand
1994/95: Won 1-0 Beardsley
1993/94: Won 2-0 Cole, Beardsley
Total record against Arsenal:
| | | | | | | |
| --- | --- | --- | --- | --- | --- | --- |
| | P | W | D | L | F | A |
| SJP | 80 | 40 | 19 | 21 | 142 | 91 |
| H/Em | 79 | 22 | 17 | 40 | 85 | 134 |
| League | 159 | 62 | 36 | 61 | 227 | 225 |
| SJP(FA) | 2 | 0 | 2 | 0 | 4 | 4 |
| H/Em/W/VG | 8 | 4 | 0 | 4 | 7 | 12 |
| SJP(LC) | 1 | 0 | 0 | 1 | 0 | 4 |
| H/Em | 3 | 0 | 0 | 3 | 0 | 8 |
| Cup | 14 | 4 | 2 | 8 | 11 | 28 |
| Tot | 173 | 66 | 38 | 69 | 238 | 253 |
NUFC's year ending results - Premier League era:

2013/14 Arsenal (h) lost 0-1
2012/13 Arsenal (a) lost 3-7
2011/12 Liverpool (a) lost 1-3
2010/11 Spurs (a) lost 0-2
2009/10 Derby County (h) drew 0-0
2008/09 Liverpool (h) lost 1-5
2007/08 Chelsea (a) lost 1-2
2006/07 Everton (a) lost 0-3
2005/06 Spurs (a) lost 0-2
2004/05 Arsenal (h) lost 0-1
2003/04 Blackburn (h) lost 0-1
2002/03 Spurs (h) won 2-1
2001/02 Chelsea (h) lost 1-2
2000/01 Manchester United (h) drew 1-1
1999/00 Leicester City (a) won 2-1
1998/99 Liverpool (a) lost 2-4
1997/98 Liverpool (h) lost 1-2
1996/97 Spurs (h) won 7-1
1995/96 Manchester United (a) lost 0-2
1994/95 Norwich City (a) lost 1-2
1993/94 Chelsea (a) lost 0-1

Waffle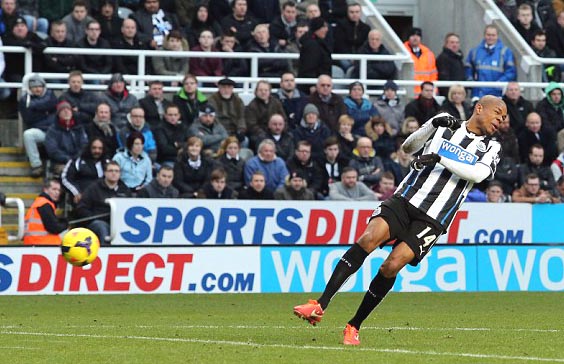 Newcastle ended 2013 with only their second defeat in ten Premier League games, Arsenal moving to the top of the table after a somewhat fortuitous win. A simple header from Olivier Giroud ultimately separated the two sides, with the under-fire Frenchman left unmarked at a Theo Walcott free-kick.

However United were a shade unlucky not to claim a point for a strong and competitive display, in stark contrast to their 7-3 Emirates drubbing exactly 12 months earlier. With Cheick Tiote returning from suspension, the Magpies soaked up pressure from a Gunners side who had registered three goals in each of their last three away games - crucially restricting them to long-range efforts.

Chances at the other end were equally scarce, with few sights of goal for either Loic Remy or Yoan Gouffran. Meanwhile, our ploy of picking out Mathieu Debuchy as he arrived at the back post twice came close to fruition - one mis-control denying the full back the opportunity of a clear shot.

Having failed to get any power on an 18th minute header, Moussa Sissoko almost sent United in with a half time advantage after unleashing a blockbuster effort. Vurnon Anita's interception led to Yohan Cabaye's shot being blocked, Sissoko seizing on the rebound to bring a fingertip save from Wojciech Szczesny before Debuchy headed against the bar from the resultant corner.

By that point, the visitors had roused the largest SJP crowd of the season into life with their diving antics - culminating in two allegedly stricken Gunners requiring attention in different areas of the field on 35 minutes. An unconvincing attempt by Theo Walcott to claim that he'd been elbowed by Cheick Tiote was also met with widespread derision, as Arsene Wenger's side looked slightly rattled and out of their comfort zone.

The second period saw both sides press on in an attempt to break the deadlock, referee Lee Probert attempting to maintain the flow of the game and allow some robust challenges from both sides to go unpunished. Attempting to take the initiative, Alan Pardew had Papiss Cisse, Sammy Ameobi, Shola Ameobi and Hatem Ben Arfa limbering up on the sidelines before opting to replace Gouffran with Ben Arfa just after the hour mark.

Before he'd got up to speed though, the decisive blow came when Tiote was penalised for clipping Santi Cazorla outside the area. An innocuous looking free-kick was chipped forward by Walcott and the merest of touches by Giroud was enough to beat Tim Krul in the Leazes End goal, although the Magpies 'keeper got a touch to it.

With Debuchy clearing a Walcott effort off the line soon after, Shola Ameobi appeared to replace the improving Anita before Massadio Haidara came on for the tiring Sissoko and went to left back -Davide Santon appearing as an extra man in right midfield as Ben Arfa moved inside.

What proved to be the closest thing to an equaliser came when Remy attempted to chase down a back pass, only for Szczesny's clearance to strike the Toon man in the face, rebounding just wide of the unguarded Arsenal goal. Ben Arfa wasn't quite in the same mood as he had been against Stoke with some of his decision-making open to question, particularly one dribble into the box that ended with his pinging a low shot wide of the near post.

Two late corners failing to bring any joy despite the presence of Krul in the area, while other half-chances were made and missed: Shola shooting meekly before failing to connect with a cross and Debuchy going down under challenge from Mathieu Flamini in the box.

Mike Williamson almost capped another sound defensive display with what would have been a first Toon goal - only for the ball to drop too far in front of him to make contact and test Szczesny.
Almost but not quite then: in many ways the story of this game for Newcastle, who approached it with more care than the slack opening that Stoke duly punished.

It's no coincidence that the same starting XI selected for duty in the win at Old Trafford appeared today. Discipline and restraint were again prize commodities, as United tried to show some patience and stay in the game until opportunities presented themselves.

Despite seeing his side drop to eighth, Alan Pardew rightly took pride after the game from the fact that they had come close to matching title challengers Arsenal, and United can look forward to the new year with a level of optimism that seemed scarcely credible just weeks ago.

But while the Gunners have Mesut Ozil and Aaron Ramsey to come back in, looking beyond United's matchday 18 underlines the lack of genuine alternatives - Sylvain Marveaux and Gabriel Obertan both now firmly out of the picture and Jonas Gutierrez the subject of speculation regarding his allegedly uncertain contractual position.

(It's reported that Obertan made a sharp exit from SJP when discovering that he wasn't in the matchday 18 - given his lack of direction, he probably set off for the Tyne Bridge and ended up on the Town Moor....)

Whether the owner has any interest in building on the progress made recently remains to be seen, especially with the Europa League campaign of last season and the consequent domestic cost to us still fresh in his mind. Hopes are high that this squad won't be weakened in the imminent transfer window (although a couple of exits are likely) and while that's a comfort, it remains to be seen whether any strengthening moves are authorised.

Biffa