Date: Sunday 12th January 2014, 2.05pm
Live on Sky

Venue: St. James' Park

Conditions: incredulous






Newcastle United

Manchester City

0 - 2




Teams
8mins David Silva's forward ball released Aleksandar Kolarov, who eluded stand-in right back Mapou Yanga-Mbiwa and slipped a pass from the left flank to Edin Dzeko. The Bosnian striker strode beyond Mike Williamson and Steven Taylor before firing home at the Gallowgate End. 0-1

Half time: Magpies 0 City 1

90+5mins A miscued pass from Cheick Tiote eventually led to ex-Magpie James Milner counter -attacking over halfway down the City left. He picked out the advancing Alvaro Negredo, who showed Davide Santon a clean pair of heels before shooting against the body of Tim Krul. However the rebound deflected back off the Spaniard who touched the ball home into the empty goal. 0-2

Full time: Magpies 0 City 2

Alan Pardew:

"We felt a huge injustice over that goal. It is a great moment for this football club if that goes in. I have gone and seen the referee afterwards and it is a really technical thing he is judging there.

"Tiote has hit a goal that Joe Hart is just not going to save. It goes through a number of bodies but his vision is not impaired. The ball has gone on the inside of Gouffran and the City defenders are obstructing Joe Hart's vision as much as anyone.

"I don't think he was clear in his answers about Joe Hart being impaired - I couldn't work that out.
"I don't understand it. Even if Man City's back four is on the edge of the box and we've got four offside, it's such a clean hit, it's going in the top corner. He's got that wrong and unfortunately that was a massive call.

"In these type of games they have got to go your way. It was probably easier for him to give the goal and I can't understand why he hasn't. We're crying out for entertainment, you hit a goal like that and the place is in uproar, and he's gone on a real tiny technicality, which I think is wrong.
"I apologise for that (TV cameras captured him shouting at Manuel Pellegrini, "shut your noise, you "f**king old cnut"*), but he had words with me first and it was just normal for managers that go unseen most of the time. We're fine, I shook his hand at the end and I'll see him before I go."

*Pardew is 52, Pellegrini 60.

Manuel Pellegrini:

"There was a player offside when the other player kicked the ball. It was offside and was perfectly not valid at all. I'm not surprised because I think it is impossible to complain about every decision of the referee during the match.

"I know they were playing at home and they have an advantage in that sense, but it's impossible for the referee if you are complaining at every decision. That was my only problem with Alan, but nothing important.

"It was a very big result because it's a very difficult stadium to play here. We, Chelsea and Manchester United know how difficult it is to play Newcastle.

"They have a direct style with a lot of physical power, and the whole game, they were trying to score with crosses and shooting, and we were very concentrated in defending.

"Also, we scored two goals and we had two or three more clear chances to do it."

About Nasri:

"It's very serious. It was a very unfair kick and the player of Newcastle, it was directly a red card. I don't understand why he was not sent off. It's his medial ligament. We will see tomorrow how serious it is, but I don't think it's a light thing, I think it's a serious injury."


It's now 280 minutes since Newcastle last scored in the Premier League, when Papiss Cisse hit the final goal in our 5-1 home win over Stoke City on Boxing Day.

This latest failure to beat City was our sixteenth in all competitions since a 1-0 home win in September 2005. And we've been unable to post a clean sheet against them since a 0-0 away draw during November 2006 - a run of fourteen fixtures in all competitions.

PL stats (courtesy of @NUFC_data twitter):

City made 50 clearances (their highest number of the season), compared to United's total of 29.

Only West Ham (70%) and West Bromwich Albion (73%) had a poorer pass accuracy this weekend than Man City (75% - their lowest total this season) Newcastle made a total of 21 interceptions.

City were forced to make 20 tackles - more than any other side this weekend - only the mackems (7) made fewer interceptions than City (8) this weekend.

Cheick Tiote was Newcastle's top passer, completing 62 of his 71 passes, giving him a pass completion rate of 87%. His lowest rate so far this season has been 81%.

Mike Williamson won six headers against City - more than Kompany and Demichelis combined (4).

Magpies v City @ SJP - Premier League Years

2013/14 Lost 0-2
2013/14 Lost 0-2 (LC)
2012/13 Lost 1-3 Ba
2011/12 Lost 0-2
2010/11 Lost 1-3 Carroll
2008/09 Drew 2-2 Ameobi, og(Dunne)
2007/08 Lost 0-2
2006/07 Lost 0-1
2005/06 Won 1-0 Owen
2004/05 Won 4-3 Robert, Shearer, Elliott, Bellamy.
2003/04 Won 3-0 Shearer 2, Ameobi
2002/03 Won 2-0 Shearer, Bellamy
2001/02 Won 1-0 Solano (FAC)
2000/01 Lost 0-1
1995/96 Won 3-1 Ferdinand 2, Beardsley
1994/95 Drew 0-0
1994/95 Won 3-1 Gillespie 2, Beresford (FAC)
1994/95 Lost 0-2 (LC)
1993/94 Won 2-0 Cole 2
Waffle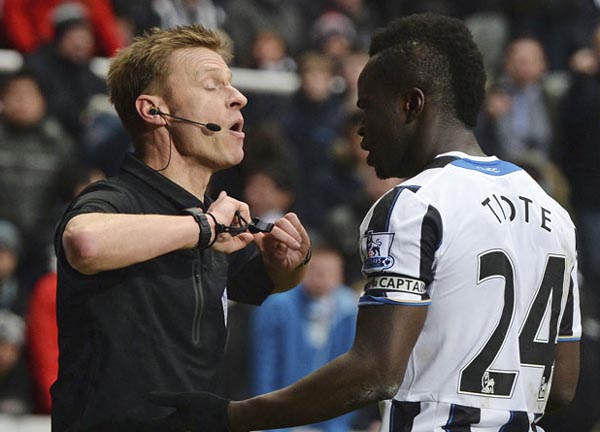 Goals in the opening and closing moments of the game ensured that Manchester City recorded their tenth successive victory against Newcastle in all competitions on Sunday afternoon, regaining pole position in the Premier League as a result. United meanwhile slipped to their fourth straight loss and third successive failure in front of goal in league matches.

Those bare facts however mask an afternoon of utter frustration for Alan Pardew and his side, who recovered from that early setback to summon up a heartening display against a side now unbeaten in their last 15 outings.

Concerns that City would profit from the absence of Mathieu Debuchy and Fabricio Coloccini were quickly realised when Edin Dzeko rounded off a slick passing move by firing the opener - at which point our ploy of resting various players for last week's FA Cup exit looked somewhat irrelevant.

31 years to the day that the Gallowgate faithful were outraged by the antics of referee Trelford Mills in ruling out two legitimate-looking goals against Brighton and Hove Albion, today's whistler Mike Jones created similar consternation among Toon fans in the 34th minute of the first half.

The beginnings of a Magpie revival saw Yohan Cabaye's fierce shot from an acute angle tipped over by Joe Hart for a corner and when the Frenchman's flag kick was only half-cleared, Cheick Tiote sent a sizzling volley into the Leazes net.

Having apparently doubled his Newcastle goalscoring tally after over a century of appearances for the club, Tiote made for the home dugout amid great scenes of celebration on and off the pitch. Even greater pandemonium was to follow seconds later though, with referee Jones urged by City players to consult with the linesman on the East Stand touchline.

To the disbelief of 50,000 spectators and millions of TV viewers, the goal was chalked off with Yoan Gouffran undoubtedly standing offside, but wrongly deemed to have interfered with play by taking evasive action to avoid the flight of the ball - Hart claming he'd been unsighted as a result.

a depiction of Joe Hart's line of sight as Tiote lets fly
In their post-match coverage, the Manchester Evening News summarised the episode as follows:
"Referee Jones consulted with his assistant and ruled out the goal. TV cameras picked up a conversation between the two men, with the assistant asking the referee if the ball had struck (Yoan) Gouffran. Jones appeared to reply, wrongly, that it had, so the assistant told him the goal should be disallowed for offside."

Less a poor decision, more a miscarriage of justice. The only other vaguely related bizarre rulings that came to our warped minds were both at this end of the ground: a 0-0 draw against Blackburn Rovers in 1981 when Mick Harford's late "winner" was chalked off because a Newcastle player was supposedly standing where the goalkeeper would have dived; and Rob Lee's shot from the halfway line in 1993 against Brentford that was chalked off because a visiting player had been offside.

Today's decision really takes the biscuit though. A lifetime of watching these buggers means that something really out of the ordinary has to happen to get under your skin and maintain levels of incredulity when watching reruns. 48 hours later and the size 11's are still almost through the telly...

The source of our annoyance is the random interpretation of the rules by an individual that received absolutely no backing from any quarter - and then saw Jones dropped from the top-flight refereeing roster from the next set of games - the nearest that the Professional Game Match Officials Board ever gets to an admission of wrongdoing (although knowing the asylum Mike Riley presides over, his demotion could actually be for failing to dismiss Yanga-Mbiwa)

One in a million and it had to be us - you couldn't make this stuff up - or the fact that the best goal we've scored from a corner since VE Day didn't count....

Ex-PL whistler Mark Halsey was in no doubt that Jones was wrong:

"Interfering with an opponent is defined as: preventing an opponent from playing or being able to play the ball. For example, by clearly obstructing the goalkeeper's line of vision or movement. It was a tough call but the goal that was disallowed does not meet the criteria to disallow the goal. Technically, the goal should have stood. That is the law. In law, the officials got it wrong."

And that was echoed by fellow former PL referee Graham Poll:

"Newcastle United were denied a perfectly good equaliser for an offside given, unusually, by the referee rather than his assistant. Mike Jones was well placed and clearly thought that there was an issue as the ball flew in to Hart's net from Tiote's well-struck shot. The fact that three Newcastle players were in offside positions was neither in dispute or an offence- players have to interfere with play or opponents for that offside position to become an issue and that did not happen."

The nonsensical nature of the decision is emphasised in footage from our 4-4 draw with Arsenal in 2011. Peter Lovenkrands is in a similar position to Gouffran was today when Tiote nets. Had Jones been in charge of that game rather than Phil Dowd, presumably he'd have disallowed it for the Dane putting off 'keeper Szczesny by being on the pitch....

Inevitably the remainder of the half was played out amid a crescendo of booing, with both Moussa Sissoko (kicking the ball away in disgust) and Cabaye (verbals) booked as the referee made various other questionable calls and gave a fairly good impression of having lost control of proceedings.

Roared on by the crowd, United took the game to City in the second half after Tim Krul made a great block after 55 minutes to deny Silva. Cabaye then tested Hart just before the hour, before firing narrowly over on 68 minutes - Loic Remy then having clear sight of goal seconds later but driving against the goalkeeper's legs. It proved to be our best chance.

Much of our forward impetus however was curbed by a 75th minute incident that saw Yanga-Mbiwa booked and Samir Nasri stretchered off. Despite City claims that the challenge warranted a red card however, it looked more clumsy than malicious on first viewing.

Steven Taylor then found himself in the box only to fire across goal as the linesman's flag went up (although a degree of doubt also surrounded that call), Remy put a header wide from a 90th minute corner and substitute Hatem Ben Arfa darted to the byline before opting to weakly shoot at Hart rather than provide a pull-back.

The final kick in the proverbials was provided by City's breakaway in the fifth minute of eight extra minutes played, Alvaro Negredo profiting from a fortunate rebound off Krul to score a second goal.

Pointless, luckless and goalless then.

There was another of our periodic state of the Geordie nation pieces building in our minds going into this game - partly provoked by last week's meek FA Cup exit and irritation at sound bites from the club via both fan forum minutes and programme notes. By the end though, the events of the afternoon left us devoid of both enthusiasm and inspiration.

When people talk about our season now being over, they're only half right - in that the chances of anything positive happening to us have receded. Hopefully fortune won't be hiding for United at West Ham, when they seek a fourth successive win in the capital. It would be nice to prove that anger is indeed an energy and retain enough bile to right this injustice - although the perennial question of where the goals will come from remains both loud and unanswered.

A failure to improve our points tally from successive away games against ex-Toon bosses Allardyce and Hughton would put our present incumbent on something of a sticky wicket, heading into the end of the transfer window and another intriguing derby match. NUFC: The Jekyll & Hyde XI.

Biffa