Date: Saturday 18th January 2014, 3pm.

Venue: The Boleyn Ground

Conditions: changeable

Admission: £42 (£39 in 2012/13)
Expect a return to real world prices at the wide open spaces of the Olympic Stadium...

Programme: £3.50


West Ham

Newcastle United

1 - 3

.

Teams
16mins Steven Taylor pushed forward in possession, setting Yoan Gouffran away down the left before slipping a pass infield for Yohan Cabaye to finish with a firm low shot in front of the Trevor Brooking Stand 1-0

33mins A smooth passing exchange between Cheick Tiote and Vurnon opened up space for Sissoko to cross from the right and Loic Remy to control the ball on his chest, before poking home from close range. 2-0

45+2mins Razvan Rat's cross from the left was missed by Steve Taylor and then forced beyond Tim Krul from six yards by a combination of Carlton Cole and Mike Williamson, with the defender seemingly getting the final touch. A Premier League panel later credited it to Cole. 2-1

Half time: Hammers 1 Magpies 2

90+5mins Andy Carroll's clumsy foul on Hatem Ben Arfa just outside the West Ham area was duly punished by Yohan Cabaye's perfectly-executed free kick in front of the away section 3-1

Full time: Hammers 1 Magpies 3
Alan Pardew commented
:


"
We were particularly good first half - very, very good.

"We took it on from Man City, where we played very well but didn't get a result. We got it today. We didn't get any breaks against Man City, but we got a couple today because West Ham played well in the second half.

We just edged it, I thought. We made it difficult for them with two good goals. We were livid with ourselves to concede just before half-time because we should have come in at 2-0.

"The second half was always going to be difficult after they got that goal and I thought Sam (Allardyce) and the team played very well second half. We did well to hang in there and secure it at the end.

"We're disappointed (to have no game next week) but we wanted to make sure we went away for our mid-season work, as well as a bit of sun, making sure we really push on in the second half. This has set us up nicely - 36 points now, and that's a good total for us.

"All the transfer windows as manager of Newcastle are nervy and I will be nervous until it closes. Everybody is for sale at some price, but we're conscious that we have a good team and we will try to keep it together.

"Yohan (Cabaye) has almost a free role in the number ten shirt and he has enjoyed that. He has added goals to his game. The first one was a class individual goal – the touch and the way he moved and the sublime moment he took to finish it.

"He was a class act all day. He has been a big player for us and it has helped us get a nice rhythm in midfield".


Big Sham:

"Our defensive frailties were exposed in the first half and unfortunately a spirited fight back in the second half hasn't got us anything, but we'll keep our chins up because we've got 16 games to keep ourselves in the Premier League.

"It was about our defensive lapses rather than Newcastle's quality, even though they were two good finishes. Our back four today never played together. You don't get that solid unit when players don't play together.
"There comes a time when the players have to realise that it doesn't matter about performances any more and it just becomes about results.

"I don't care what anyone says, we do what we have been doing all season - it's the medical side that decide on how we get Andy Carroll back fit and playing, not anyone else.
"My decision, via the medical process, says that if you risk any more than that, then you risk the lad getting injured again. Is that what we want? He is our biggest major asset that we have signed and we want him on the pitch playing every week. We have to do that slowly.

"He has his own procedure to make sure he's doing the right warm-up. When players are left on their own, they wander up and down the touchline and watch the game, like everybody else.

"The FA does not allow a sports scientist to take that warm-up on the touchlines, for whatever bizarre reason. So Andy comes inside and gets a thorough warm-up with the sports scientist, who is not allowed to do it on the sidelines."

Yohan Cabaye's opener was United's first league goal in 296 minutes, since Papiss Cisse netted against Stoke City at SJP on Boxing Day.

This win increased Newcastle's seasonal tally to 36 points - and meant that they passed the 34 point total that ensured their relegation in the 2008/09 campaign.

Defender Paul Dummett made his fourth Premier League appearance - and finished on the winning side for the first time.

Scoring and avoiding defeat meanwhile ensured that a pair of unwanted records were avoided - losing five on the trot in all competitions for the time since September 2008 and failing to score in four successive Premier League fixtures for the first time since January 2008.

Newcastle's eleventh away game of the season in the Premier League saw them record a sixth victory on the road, after taking maximum points from visits to Aston Villa, Cardiff City, Spurs, Manchester United and Crystal Palace. The other five ended in defeats.

That tally is already equal to the total recorded from 15 of our 19 full Premier League seasons*:
9 wins: 1993/94, 2001/02
8 wins: 2011/12
7 wins: 1995/96
6 wins: 1994/95, 1996/97, 2002/03, 2005/06, 2013/14
5 wins: 2010/11
4 wins: 1998/99, 1999/00, 2000/01, 2006/07
3 wins: 1997/98, 2004/05, 2007/08
2 wins: 2003/04, 2008/09, 2012/13

(*1993/94 and 1994/95 were both 42 game seasons, since then it's been 38 games)

United haven't drawn away from home in the league since their last visit here, in May 2013 (0-0).

Andy Carroll has made six appearances against United since leaving in 2011 and is yet to score.
Magpies @ Upton Park: Premier Years:
2013/14: Won 3-1 Cabaye 2, Remy
2012/13: Drew 0-0
2010/11: Won 2-1 Nolan, Carroll
2008/09: Lost 1-3 Owen
2007/08: Drew 2-2 Martins, Geremi
2006/07: Won 2-0 Duff, Martins
2005/06: Won 4-2 Owen 3, Shearer
2002/03: Drew 2-2 Bellamy, Jenas
2001/02: Lost 0-3
2000/01: Lost 0-1
1999/00: Lost 1-2 Speed
1998/99: Lost 0-2
1997/98: Won 1-0 Barnes
1996/97: Drew 0-0
1995/96: Lost 0-2
1994/95: Won 3-1 Lee, Mathie, OG
1993/94: Won 4-2 Cole, Lee 2, Mathie

PL Stats courtesy of @NUFC_data twitter

Yohan Cabaye and Loic Remy had more shots on goal (both 5) than any other player in Saturday's PL games and no PL side attempted more shots from inside the opposition box than Newcastle (9).

Mike Williamson was the most effective PL player in terms of headers on Saturday, winning no less than 9. And only Liverpool's Martin Skrtel made more clearances (24) in total than the Magpies defender, with 22.

Newcastle made no less than 76 clearances against the Hammers, almost double the amount that the home side managed in the game (39).


Waffle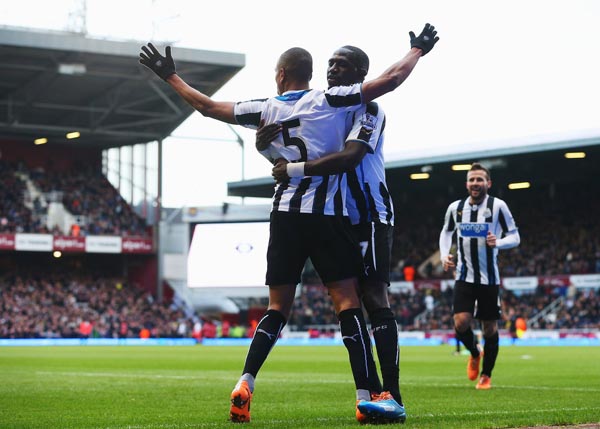 I
nspired by Yohan Cabaye, Newcastle halted their four game losing sequence on Saturday with a deserved but slightly nervy win in what is fast becoming

the club's
second favourite city.

This success means that United have returned with maximum
points from each of their last four visits to London - QPR, Spurs, Palace and now West Ham - blowing away

a
long-standing tradition of underachievement

for the black and whites
in the capital city.


Not for the first time,
Cabaye took centre stage to orchestrate a sixth away victory this season, netting twice to top off a masterly midfield performance. Loic Remy also ended his mini-goal drought and further goals should have followed, as a convincing win looked likely against a pitiful home side.

Fabricio Coloccini's injury and Mathieu Debuchy's ban mean that Newcastle were unchanged from the starting XI who gave Manchester City a run for their money the previous weekend
and they went ahead after sixteen minutes

, Cabaye netting once again on the road.

And barely

three minutes later the lead was almost doubled
, only for

Gouffran
to see

his shot cleared off the line
,
Newcastle
increasingly
dominat
ing the

midfield
area

and
beginning to exploit weaknesses in a makeshift Hammers defence.

Cab
aye then picked out Moussa Sissoko's run to leave him one on one on Adrian, but a weak shot allowed Adrian to save at the second attempt. Cabaye himself then had sight of goal but shot narrowly wide from distance.

Newcastle's ascendancy was reflected by a second goal; k
een-eyed viewers spott

ing
that
Loic
Remy was wearing a nameless no.5 shirt as he netted

. That followed
a head injury minutes earlier that required him to change his own bloodied top. He duly reappeared clad in a fresh Remy 14 shirt for the second half

- and
to further confuse the unwary, Newcastle's unallocated squad number 5 was mistakenly credited to the now-departed Danny Simpson in the programme.


That should have seen the floodgates open, with West Ham looking punch drunk and the visitors rampaging forward to create chances for Cabaye, Tiote and Remy. Rather than taking a deservedly decisive lead into the break though, an unfortunate Mike Williamson own goal
during
first half added time gave Big Sham's side a foothold in the contest that their poor performance barely merited.

It was tough on the visitors and Williamson in particular who had gobbled up the relentless barrage of high balls that Big Sam's masterplan dictated - bringing back bad memories for travelling fans and increasing discontent around the stadium from those currently suffering.

The sight of Andy Carroll warming up as the second half began revitalised Hammers fans and players alike, but before the old boy appeared, Cole astonishingly put an inviting cross from Matthew Taylor wide of the target from close range - a big let-off for Alan Pardew's side.

Sporting a ridiculously bushy beard, Carroll's arrival was the signal for even more aerial bombardment from the Hammers, the Geordie-born forward missing a glaring opportunity to score against his former side on 76 minutes - ballooning a first time shot over from close range.

The replacement of Anita by Shola Ameobi was a clear attempt to try and retain possession up front, but it allowed West Ham to get a toehold in midfield and try to fashion some slightly more intelligent forward forays.
Krul had little to do though as a defence now including Paul Dummett (on for Santon) held firm; James Collins firing wide after a corner was only partially cleared.

As had been the case last week with the Samir Nasri and Mapou Yanga-Mbiwa incident, a stoppage due to injury disrupted the pattern of play - this time an accidental clash of heads between Sissoko and Rat taking some of the heat out of the contest as physios worked on both.

The slightly wayward forward probing of Hatem Ben Arfa then bore fruit deep into added time - the substitute
going down under challenge from Carroll outside the box. Up stepped Cabaye to curl a right-footed free-kick over the wall between Adrian and his right hand post - the 'keeper reaching the ball but

o
nly

able
to tip it onto the upright and into the net - although the hopeless sightlines meant that there was a momentary pause before mass celebrations behind the goal

broke out.


TV cameras caught gum-chewing Allardyce suffering at pitchside - muttering significantly more expletives than Pardew's headline-making rant last week but presumably to himself (he being without doubt a f**king old c*nt....)

The win ensured United remained in what looks to be our designated position for this season - eighth - sitting five points clear of Southampton and a massive 12 ahead of tenth-placed side, Aston Villa.

And in contrast to previous campaigns when the players have seemingly donned flip flops in the game before their mid-season break, our current crop can reflect on a job well done for the most part as they head to Abu Dhabi before the visit to Norwich in ten days time.

Inevitably much of that period will be taken up by speculation over the future of our talismanic number four, who has evolved from a sulky pain in the derriere when the last transfer window closed into a fundamental part of this team. Quite simply, when Cabaye plays, the rest follow suit and our fortunes rise accordingly.

Being at the top of his game though means that's he's also in a position of maximum value. And although he seems happy to complete his World Cup preparations with us, it remains to be seen whether his employers are similarly minded - or cash in as per Andy Carroll. Enjoy him while you can.

Biffa