Date: Tuesday 28th January 2014, 7.45pm.

Venue: Carrow Road

Conditions: rain in first half

Admission: £35

Programme: £3.50


Norwich City

Newcastle United

0 - 0

.

Teams
Half time: Canaries 0 Magpies 0

Full time: Canaries 0 Magpies 0




Alan Pardew commented

:

"We won't appeal, because I think there was enough for Chris (Foy, referee) there, but once he done that stupid reaction, the crowd went all mad and he has got no choice really.

"That is the thing the game will be remembered for because it shouldnít. We had some outstanding chances. We were good all over and I am scratching my head how we have not won that. The incident at the end there was some pushing and shoving.

"They raised their hands and the heads have come together. That is probably just enough for the referee to send them off but Johnsonís reaction to the heads meeting was the catalyst for them both getting sent off. It was his own fault.

"If he hadnít done that maybe the referee would have taken a more lenient view. But he made such a drama out of it that he should be ashamed of himself in my opinion. Once he did that stupid reaction the crowd all went mad and the referee has no choice really.

Speaking about Yohan Cabaye - who left the team hotel on the morning of the game to complete his transfer to PSG:

"We looked a little bit different, but in a good way. This club is never going to be about one player.

"For sure Yohan Cabaye would probably get in my all-time top Newcastle team. For us he was outstanding and we wish him the very best, and I hope our fans do.

"He wanted to leave, we were honourable to him, he has got a dream move. We have to use that money wisely now, like we did with Andy Carroll when we brought in Yohan and a couple of others which took us forwards.

"That is how we are going to have to try to break the Champions League to use this money to good effect to make us better. I was on the phone to the powers-that-be to say 'let's get moving and see what we can get'.

"We have one or two targets which we had earmarked if he went and we are chasing those down."


Chris Hughton:

"They were sharper and better on the ball than us in the first half. We have to be honest enough to say we didnít play particularly well in the first half. Newcastle were sharper, more aggressive and better on the ball.

"I was probably delighted to come in at half-time 0-0 and we got to grips with it better in the second period and had a great chance at the end with Robertís header. We addressed it, and managed to get ourselves into positions, even if we didnít create as much as weíd like to.Ē

On the sending off:


"I think if you look at Bradley Johnsonís actions he hasnít gone down on the floor. Sometimes you see reactions when they are rolling around. All he has done is pull his head away.

"As regards the amount of contact I canít comment on that but Bradley Johnson is not the type of player who would look to get someone sent off. My gut feeling is we will appeal but you have to look at it again. Weíll look in the morning and make the right decisions.

"I had a very good view of the initial incident when Loic Remy moved his head in Bradley Johnsonís direction. I want to speak about Bradleyís sending off which I felt was incredibly harsh. I presumed when I saw him being sent off that something else had happened instead of what I saw, which was him push Loic Remy in the chest.

"I donít believe that was an overly aggressive act. There was some aggression but apparently that was what he was sent off for. I donít think he would have been if the Newcastle player had been.


United's first away draw this season was also our first since a 0-0 draw at West Ham in May.

Although winning six times away from home to date in the PL this season, this was our first away point on a week night in five attempts, following defeats at Manchester City, Everton, Swansea City and West Bromwich Albion.

Loic Remy's dismissal was the fourth red card shown to a Newcastle player this season, following similar straight reds for Steven Taylor at Manchester City, Mapou Yanga-Mbiwa at home game to Liverpool and Mathieu Debuchy away to West Bromwich Albion.

There was a maiden senior callup for Adam Armstrong, two weeks before his 17th birthday. The Tyneside-born England youth international forward took squad number 43, as he had done for our Capital One Cup tie against Morecambe when he ended up as nineteenth man.

Magpies @ Canaries - post WWII:

2013/14 drew 0-0
2012/13 drew 0-0
2011/12 lost 2-4 Ba 2
2004/05 lost 1-2 Kluivert
1994/95 lost 1-2 Fox (pen)
1993/94 won 2-1 Beardsley, Cole
1988/89 won 2-0 Mirandinha, O'Brien
1987/88 drew 1-1 P.Jackson
1986/87 lost 0-2
1984/85 drew 0-0
1981/82 lost 1-2 Waddle
1977/78 lost 1-2 T.Craig
1976/77 lost 2-3 T.Craig (pen), Gowling
1975/76 won 2-1 Nulty 2
1973/74 drew 1-1 Cassidy
1972/73 won 1-0 Macdonald
1964/65 drew 1-1 Robson
1963/64 lost 1-3 McGarry
1962/63 lost 0-5 (FAC)
1962/63 won 2-1 McGarry, McKinney
1961/62 drew 0-0

PL Stats courtesy of @NUFC_data twitter

Hatem Ben Arfa is the second most adventurous PL player so far this season - at least in terms of the number of opponents he's tried to beat. Chelsea's Eden Hazard has attempted 142 "take-ons" and won 78 in 22 appearances (21 starts), while Ben Arfa tried 108 and won 58 from 19 outings (10 starts).

Moussa Sissoko has created 48 chances for his team mates in the PL this season from 23 appearances. His nearest rival was Yohan Cabaye with 33 in 17 games. Six of that Sissoko total came at Norwich on Tuesday, the most by a Newcastle player in the PL all season.

On a night when our passing was of variable quality, Cheick Tiote was the most profligate, completing just 75% of 51 that he attempted.

United attempted 28 crosses at Carrow Road but just three of those were completed. That's a completion rate almost half this season's PL average of 22.6%.



Waffle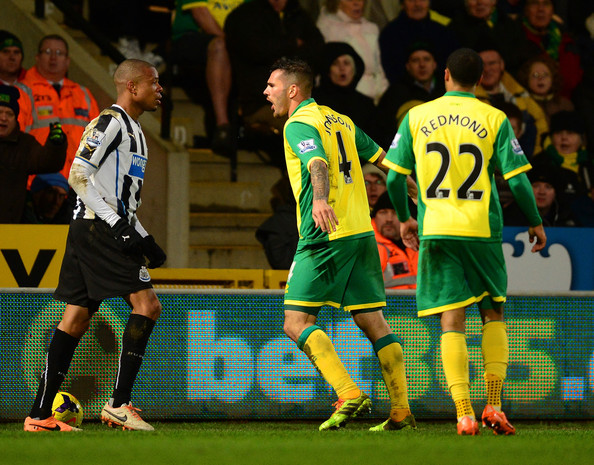 Despite an encouraging team performance in the first game since the loss of Yohan Cabaye, Newcastle failed to collect the win that their domination deserved on Tuesday night and lost another key player ahead of Saturday's derby.

Having struck the woodwork once in each half, striker Loic Remy's frustrating night ended prematurely after an 81st minute touchline tussle with City's Bradley Johnson saw both players shown straight reds for violent conduct that will earn them immediate three match bans.

With injury seeing Papiss Cisse and Yoan Gouffran miss the trip to Carrow Road and uncertainty over whether they'll be available to face the mackems, United's striking options become a player without a league goal since 2012 (Shola Ameobi) and a possible debutant (Luuk De Jong).

There was little mention of Cabaye's departure from the travelling support on a damp evening at Carrow Road, with more terrace tunes devoted to Mike Williamson's World Cup prospects than the absent number four.

The manner of Newcastle's first half display did much to banish negative thoughts, with Matheiu Debuchy's return after suspension boosting the back four. A fluid midfield formation anchored by Vurnon Anita and Cheick Tiote allowed Sammy Ameobi and Moussa Sissoko to forage down the flanks meanwhile, helping front pair Remy and Hatem Ben Arfa lead City's defence a merry dance.

Dominating the opening 45 minutes in the manner that had brought them two goals at West Ham in their last outing, the black and whites proved unable to make the breakthrough though, despite various decent chances.

With the younger Ameobi dazzling down the left wing, Remy shot narrowly wide before striking a post, Ben Arfa blazed over when well positioned and one of several scares for City in their own six yard box ended with a home defender striking the woodwork from close in.

Booed off at the interval (with home fans in the main stand also giving Robert Snodgrass abuse after an apparent gesture aimed at them), Norwich were little improved after the break - even after the arrival of our old nemesis Johan Elmander and after strong penalty claims when Ben Arfa went to ground, Remy again rattled the goal frame.

Cramp saw Ben Arfa make way for Shola on 75 minutes before a rare forward excursion from The Canaries ended with Gary Hooper's shot glancing Tim Krul's crossbar. Remy's red card then came for a fairly tame touchline incident when both he and Johnson raised their hands to each other.

Shoves rather than punches were traded and the City man's made a shabby effort of pretending to have been head-butted. A general melee then ensued, although neither bench intervened this time round. Williamson however was perhaps lucky to escape censure, covering a good distance to get involved with several opponents,

Having beaten Hull here in their last game with a late strike after a similarly inept showing, Chris Hughton's side found some momentum in the closing stages, Robert Snodgrass sending a low header goalward from a left wing cross only for Krul to divert around the post via a leg.

Six minutes of added time failed to produce a goal for either side though, with a second successive nowts apiece result in Norfolk taking us on to 37 points and leaving us in eighth ahead of Saturday's clash with the mackems. Until we get past that it's difficult to know what to think, but aside from De Jong, the remainder of this season will consist of coaxing performances from the current squad.


Biffa