Date: Saturday 1st February 2014, 12.45pm

Venue: St. James' Park

Conditions: unbelievable - again






Newcastle United

mackems

0 - 3




Teams
19mins Brown's diagonal ball over halfway was seized upon by Colback, who turned neatly away from Anita before threading a pass between Sammy Ameobi and Davide Santon to the overlapping Adam Johnson on the right flank.

Spotting a dash into the box by Phil Bardsley, Johnson flicked the ball between Santon and Sammy and the Dutch midfielder barged into his opponent for an obvious penalty. Fabio Borini fired his right footed spot kick into the roof of the net before clambering on to the advertising hoardings beside the Leazes End goal - a celebration that earned him a booking 0-1

23mins Sissoko's attempt to find Mathieu Debuchy on halfway was blocked and with the United right back out of position, Borini pushed the ball forward to Jozy Altidore on the left wing. The visiting forward's first-time lay off infield to Colback took Mike Williamson out of the equation he strode into the box with only Steven Taylor between him and Krul.

The Killingworth-born midfielder tried his luck with a left-footed effort that deflected off Taylor and looped towards goal, Krul palming it away weakly as it dropped but with Santon loitering for no good reason, Johnson followed in for a routine finish. The sort of goal we rarely score 0-2

Half time: NUFC 0 SAFC 2

80mins Tiote's shot pass to Ben Arfa in the centre circle saw the Frenchman fold under pressure from Colback. While Ben Arfa pleaded for a free kick, Johnson took off towards goal with Colback shadowing him. One simple pass in the box and Colback shot across Krul from a narrowing angle as Williamson chugged back 0-3

Full time: NUFC 0 SAFC 3

Alan Pardew:

"The better team won for sure - of course I am disappointed at the result and performance.
"We were not our usual selves today, perhaps we were too hyped up but everyone was giving the ball away, and that is a little unlike us and we struggled to be honest.
"Although we created chances we never really had the conviction to score, and we have taken two big parts of goal scoring out the team and we are going to have to reflect on this result and look at ourselves and make sure we are strong between now and the end of the year and maybe go back to basics.

"We came up against a Sunderland team we knew were in good form and once they got that first goal it raised their game and disjointed us, and we tried to chase it and rush things around the box when we are normally much calmer.
"You don't want to lose to your rivals and in these circumstances which has happened two years in a row now but we have to be strong. We have to remember where we are in the league and how we got there.
"It is about taking stock now. We know how important it is to the fans and the memory is not going to get wiped away but we are professional and we have to get ready for a tough game with Chelsea and get ourselves a game plan that will work as it didn't work today.
"I have to be honest, the decision on Norwich baffles me, that a guy - in my view - cheated like (Bradley) Johnson does and gets off a red card and our guy (Loic Remy) stays on it, I don't get that.

"We lose (Yohan) Cabaye and don't get another transfer in, it has been a tough week, so we have had a few blows leading up to this game.

ďOf course I understand the anger and frustration. It is the third defeat we have had in a derby. It mirrored the game last year to a degree. You have to have to accept the criticism.
"When you lose a player of Cabayeís class, you want a replacement. But he didnít arrive, and I have to accept what was in my kitty today and going forward. I have to try to get the best out of the group I have got.

"Loic Remy was a big loss today because we created chances, but there was a lack of conviction in our finishing today, which he certainly doesnít lack, and he was a big loss today.
"A lot of the play went through Yohan, so weíre going to have to change our style. We havenít played well. We came out of Norwich game with our confidence high.

"After the first goal went in, we chased the game and got edgy - we didnít really trouble sunderland. I think the first goal was an important factor. We made a mistake on the goal - after that everything was forced and rushed.
"In these derby games, youíve got to have composure, and sunderland had more composure. We had chances, but we lacked conviction. The quality of the shot and the quality of the pass was not there.
"That was a key factor, had we got it to 2-1, we could have got the crowd involved. Youíve got to compete in this fixture, but youíve also got to have bravery on the ball. We didnít have that."

Press conference transcript as reported by the Telegraph:

Q: Itís a tough question to ask you but is the club, as it stands, capable of making permanent signings?

Pardew: Well Ö

Press officer: I think thatís an unfair one to ask the manager.

Q: But itís two transfer windows without one now and Alan said Ö

Pardew: Iíve got no comment to make on that one.

Q: You said at the start of last week that the club canít not replace Yohan, but thatís exactly what happened.

Pardew: I didnít particularly say in this window though. I said, you know, weíve got to get players of that class, thereís no doubt about that. So donít try and angle that for this window because I think thatís unfair on me.

Q: You said Ďwe need to bring someone in, for sure. We canít lose someone of his quality and not replace him. That would leave us vulnerableí. Do you stand by that?

Pardew: Well, Iíve said it, ainít I? But Iím meaning in the long-term as well as the short-term, that itís the quality we need. And, you know, today has been a tough day for us and I donít really want to add any more to it, to be honest.

Q: Part of the problem youíve got is that if you donít speak out against not getting a replacement it makes it look as though youíre going along with the decisions the board is making and therefore you get criticism heaped on your shoulders and take the blame for that.

Pardew: Yeah, Iím a professional manager. You know, if I was in charge, solely, of transfers, the answer might be different, but Iím not.

Q: It does feel sometimes that youíre being asked to manage with your hands tied behind your back.

Press officer: These are all quite unfair questions.

Q: Unfortunately the manager is the only person who will speak for the club.

Silence.

Q: Alan, is there a collective blame for today, from the top of the club, right down to on the pitch.
Pardew: The only way I can answer what has happened today is that itís a disappointing day for the club.

Q: What do you say to Mike Ashley and Joe Kinnear when youíre having those discussions on Friday and itís clear youíre not going to get a replacement (for Cabaye)? Do you make your opinions clear on that?

Pardew: I think Iíve made my opinion very clear this week and all the rest of it is confidentiality.

Q: How do you lift yourself?

Pardew: Iíll be alright.

Walks off.

Gus Poyet:

"I know how important it is to the club to beat their local rivals. My first victory here at the club was against Newcastle. We have been under pressure to get back to back wins Ė this is an unbelievable weekend for everybody close to Sunderland football club.
"Every time we were under pressure we were able to regain control of the game. Newcastle started pushing players forward and we had to make the most of that space. We were getting forward and taking advantage of that.

"Adam (Johnson) is on fire at the moment, scoring another goal - the team are in good shape. Iím very happy for Jack (Colback) too; it was an important goal at 2-0 up and it sealed the game for us.

ďI know how to enjoy things and sometimes you cannot control yourself. I remember when we scored the second goal against Newcastle at home in October, I lost it a little bit.
"We needed that goal, that win, so much and in this game at St Jamesís you know the game is still open if it is only 2-0. If they had scored one goal, there would have been so much pressure but when we got the third, especially so late, you finally feel youíre there and thatís why the release.
"I tried to keep my calm in the game but it is definitely up to the players. The players are the ones who have to go there and mark and pass the ball well, be brave and be solid. Look at Liam Bridcutt making his debut.
"People were saying, ĎHow is he going to do in the Premier League?í But there you go. He came here was solid and calm, and passed the ball well and thatís what we need. Sometimes itís a little bit of training, and sometimes itís about having the right players in the right places in the team and this looks like a proper team now.Ē

A debut for Luuk De Jong made him the 184th Newcastle player to represent the club in the Premier League and the fourth Dutch international to do so, after Patrick Kluivert, Tim Krul and Vurnon Anita (Jon Karelse was never capped). Wearing the number 18 shirt, De Jong also became the second Swiss-born player to appear for United, following on from Marc Hottiger.

The 150th Tyne-wear derby was the 48th mackem victory, with Newcastle remaining out in front on 53 wins and 49 draws. Both sides have now scored 222 goals.

United have now failed to win any of the last five derbies, their longest barren run since 1979/80 and lost both home and away derbies in the same season for the first time since 1966/67.

Losing three times off the belt to their biggest rivals hasn't happened in the last 90 years:

11.11.1922 lost 0-2 (a)
15.12.1923 lost 2-3 (a)
22.12.1923 lost 0-2 (h)

(this was the third time we've been beaten in a trio of derbies, enduring that in 1904-06)

The wearsiders are still some way off matching United's record five game winning run:

24.02.2002 won 1-0 (a)
21.09.2002 won 2-0 (h)
26.04.2003 won 1-0 (a)
23.10.2005 won 3-2 (h)
17.04.2006 won 4-1 (a)

(United also strung four victories together in 1991-96)

smb @ SJP since 1980:

2013/14: Lost 0-3
2012/13: Lost 0-3
2011/12: Drew 1-1 Ameobi
2010/11: Won 5-1 Nolan 3, Ameobi 2 (1pen)
2008/09: Drew 1-1 Ameobi (pen)
2007/08: Won 2-0 Owen 2 (1pen)
2005/06: Won 3-2 Ameobi 2, Emre
2002/03: Won 2-0 Bellamy, Shearer
2001/02: Drew 1-1 Bellamy
2000/01: Lost 1-2 Speed
1999/00: Lost 1-2 Dyer
1996/97: Drew 1-1 Shearer
1992/93: Won 1-0 Sellars
1991/92: Won 1-0 Kelly
1989/90: Lost 0-2
1989/90: Drew 1-1 McGhee
1984/85: Won 3-1 Beardsley 3 (1pen)
1979/80: Won 3-1 Cartwright, Cassidy, Shoulder
All Time Tyne-wear stats:
P

W

D

L

F

A

SJP

69

31

18

20

118

104

SoS/JP

69

20

25

24

92

101

League

138

51

43

44

210

205

SJP

(PO)

1

0

0

1

0

2

JP

1

0

1

0

0

0

SJP

(FA)

5

1

2

2

5

9

NR/JP

*

3

1

1

1

3

2

SJP

(LC)

1

0

1

0

2

2

JP

1

0

1

0

2

2

Cup/PO

12

2

6

4

12

17

Tot

150

53

49

48

222

222
Shola Ameobi appeared in his sixteenth - and final - derby match, but failed to add to his goal tally of seven:

21.04.2001 drew 1-1 (a) came off the bench
26.08.2001 drew 1-1 (h) came off the bench
24.02.2002 won 1-0 (a) came off the bench
21.09.2002 won 2-0 (h) came off the bench
26.04.2003 won 1-0 (a) came off the bench
23.10.2005 won 3-2 (h) started - scored twice
25.10.2008 lost 1-2 (a) started - scored
10.02.2009 drew 1-1 (h) started - scored
31.10.2010 won 5-1 (h) started - scored twice
16.01.2011 drew 1-1 (a) started
20.08.2011 won 1-0 (a) started
04.03.2012 drew 1-1 (h) came off the bench - scored
21.10.2012 drew 1-1 (a) started
14.04.2013 lost 0-3 (h) came off the bench
27.10.2013 lost 1-2 (a) came off the bench
01.02.2014 lost 0-3 (h) started

Although they've been on the field together and both started for cup games, this was the first occasion that Shola and Sammy Ameobi were in a Premier League starting XI for United.

This was the sixth time this season that we've trailed at half time - and like the other five, they failed to recover from that losing position. That's no shock though, this being the 73rd occasion that they've failed to turning a 45 minute loss into a 90th minute defeat in a PL game - something not achieved since over-turning a 1-2 deficit into a 3-2 win at home to Reading in December 2006.

PL Stats courtesy of @NUFC_data twitter

No side had more shots on goal (including blocked shots) in the PL this weekend than Newcastle (28). 53% of those shots hit the target, a % only bettered by Everton (75%) and Arsenal (60%).

sunderland, however, were ruthless on the attack. The Mackems finished the game with a chance conversion rate of 19% after scoring 3 goals from their 16 shots. Only Aston Villa (1 goal from 4 shots) had a better chance conversion rate this weekend.

Shola Ameobi had nine shots on goal but the mackem slayer couldn't produce former glories and hit the target just 50% of the time. Adam Johnson was sunderland's nearest challenger with four shots on goal and scoring with his only effort on target.

Our passing was not up to scratch and Tiote looked like he missed Cabaye alongside him. We completed just 236 passes against Sunderland, our third lowest total of the season after the home draw with Southampton (213) and the away victory over Spurs (162).

Cheick Tiote was our top passer against Sunderland; he completed 51 of his 61 passes (84%), but was unable to split the Mackems defence and registered just one key pass.

Shola Ameobi was arguably our worst passer of the day, completing just 12 passes all game - nearly as many as his shot count for the day! Davide Santon was also off-the-pace against Sunderland, he as well completed just 12 passes before being dragged off in the 63rd minute.

Despite the humiliating defeat, Saturday's game saw us create the most chances (23) of any Premier League side this weekend - a figure which is also the most we have created in a single game this season. The previous record was the 19 chances we created in the home drubbing of Stoke on Boxing Day.

No player in the Premier League has created more chances in 2014 than Moussa Sissoko - he has created 17 chances this calendar year, including 1 assist.

Only Spurs (27) won more aerial duels in the Premier League this weekend than Newcastle did (25) - a number that dwarfs Sunderland's measly figure of 16 headers won.

No side made fewer defensive actions combined (interceptions, clearances, blocked shots) than Newcastle did in the Premier League this weekend (38). Although lacking in attack, we should never have lost the game by such a large scoreline.

Mike Williamson won both tackles he went in for and 80% of his 10 aerial duels in the North East Derby, committing just 2 fouls all game. Sadly for him though, the mackems were able to torture him by the simple ploy of playing the ball on the ground.



Waffle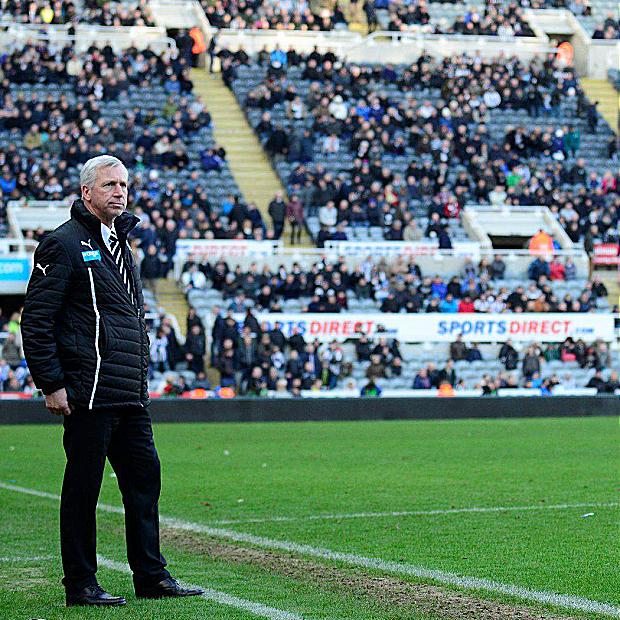 We must stop meeting like this. People are beginning to talk.

The 150th competitive Tyne-wear derby ended in a deserved defeat for Newcastle, as the mackems made it three successive wins over their deadliest rivals for the first time in ninety years.

The last two derby meetings had seen dubious refereeing decisions leave United nursing a sense of injustice, but there was absolutely no doubt this time as a complete non-performance from the home side was duly punished.

With Yoan Gouffran, Papiss Cisse and Loic Remy all absent, Alan Pardew opted for Shola Ameobi to lead the line, naming new loan arrival Luuk De Jong on the bench.

There was never any hint of a breakthrough for the home side though, before the yellow-clad mackems burst into the area on 19 minutes. Vurnon Anita illegally halted the run of Phil Bardsley and Fabio Borini netted the resultant penalty with ease in front of the Leazes End.

Before anything approaching a comeback was sighted, the visitors swarmed forward again and Jack Colback's shot was deflected for Adam Johnson to knock in from close range with Davide Santon a spectator. Mathieu Debuchy then had to intervene as the goalkeeper and left back squared up to each other.

Entirely justified boos and abuse accompanied the half time whistle after a stunningly inept display from the home side that lacked strength, application, leadership, pace and desire. Quite simply, we did nothing properly.

A raft of alleged international players not only showed little appetite and no desire to chase lost causes, but also a criminal lack of commitment and talent. Poor decision-making across a jittery back four was echoed by bone-headed attempts at crossing and passing, while the departure of our dead ball expert made free kicks and corners a total waste of time.

De Jong replaced Sammy Ameobi for the second half with Ben Arfa switching to the left flank, but the improvement was only marginal - Vito Mannone stretched on just one occasion when Tiote's shot was on target.

Without building any momentum, United did contrive to deliver the ball into the mackem box on a few occasions. None of the half-chances created were converted though and a major let-off at the other end saw Johnson smack his curling effort off a post.

Any lingering hopes of a late revival by United were then extinguished after 80 minutes, when Ben Arfa weakly surrendered possession on halfway and Jack Colback swept the ball home after an upfield break to give the mackems a three goal advantage here once again.

Before the game could restart, one home fan invaded the pitch and attempted to hand his season ticket to Pardew before stewards intervened. A second trespasser hoofed the match ball away before being apprehended and a third received similar treatment following the final whistle.

Some post-match confrontations between home followers and police in the city were reported, but nothing on a par with the scenes witnessed here last time thankfully. Official figures confirm that just 11 arrests were made, three of which had been pre-planned and took place before kick off.

Statistics show a fourth successive home defeat in all competitions and a third in the Premier League without scoring, but beyond that lies an overwhelming sense of gloom across Tyneside following the sale of Yohan Cabaye and completely predictable failure to sign a replacement.

Pre-match, the atmosphere seemed one of apprehension rather than anticipation and scarcely got any better on a day when a collective uplift from the team was desperately required, following three successive losses here and gathering post-transfer window gloom.

Those clad in black and white though chose to deliver a woefully clueless performance that wouldn't have been acceptable in a pre-season friendly, let alone a match of this magnitude.

In four games when they faced each other in the dugout, it's now Poyet 4 Pardew 0 and once again the United boss was sadly lacking in tactical prowess, even allowing for the limitations of the squad available to him. Again demonstrating that his motivational qualities are as poor for derby matches as for cup ties, this was Pardew's fifth unsuccessful attempt to claim those mythical "bragging rights" - God alone knows what those next to him on the bench bring to the party.

Add in unconvincing attempts to defend his superiors and any credibility the manager had is draining away once again at a rate of knots. Were our current manager to disappear tonight and never be seen again, barely an eyebrow would be raised.

The issues at hand are far bigger than him though and swapping him for the next out of work boss prepared to be hung out to dry by his employer would solve nothing. Ironically enough, when his position was last in doubt, that successor looked as if it may have been Poyet - who at the time was fielding enquiries while engaged in TV pundit work following his Brighton exit.

And here's some more bad news - there's no more chance of Hatem Ben Arfa inspiring his colleagues and filling the vacant midfield creator slot than another busted flush Sylvain Marveaux, introduced here for his first league appearance in over four months. It showed.

As was the case at the stadium of plight last October, a thoroughly average mackem side collected three points gifted to them by their generous regional rivals, earning their win thanks to a measure application and composure completely lacking by the team higher up the table. Being able to pass the ball to feet also gave them a significant advantage on the day.

Toon fans can feel aggrieved by the transfer dealings (or lack of them), but a large chunk of blame has to lie with those on the field for a woeful performance.

Lacking conviction to a criminal degree, this was simply shameful.

Postscript:

Although the initial horror of this defeat prompted comparisons with last April's 0-3 reverse and the 1-2 monsoon game, on reflection the feelings were akin to the derby playoff semi-final loss in 1990.
Seeing the latest generation of moronic pitch invaders didn't help and witnessing Wembley-bound mackems celebrate at the Leazes End also invoked unpleasant memories of that night.

Then as now, the future is almost too awful to contemplate. Uncertain, but joyless, bleak and starkly underlined by a cowardly derby defeat. Where do we go from here? anywhere but up.

From the comments of Cabaye, it now seems apparent that his departure was inevitable well before the January transfer window - making United's failure to strengthen a deliberate act of sabotage. Deadline day even saw us spared invented stories from Sky - no Aunt Sally outside the training ground this time, even they've not got the brass neck to repeat their phantom helicopter tales.

Where the last minute nature of the Carroll sale has been accepted as a one-off though, going through a second transfer window without making a permanent acquisition is an obvious attempt to sabotage the club and undermine the manager. How can that make commercial sense?

Anchored in seventh when Liverpool coughed up £35m in January 2011, that season saw the club drift off to a final placing of twelfth. Three years on, we're eighth and seemingly steering a similar course to mid-table mediocrity, removing any chance of featuring in that horrid European thingy.

What happens this summer becomes ever more interesting - and concerning. Pardew will still have over six years remaining on his contract and an exodus of players means that business has to be done. Having failed to replace one departure last month though, it's unrealistic to presume that we'll do enough business to even retain our current strength when multiple signings are required.

In normal circumstances, any incoming manager would demand the finance to rebuild the team to his specification - but these aren't normal circumstances. Instead we appear condemned to limp along with the biggest patsy since Lee Harvey Oswald facing the press and covering for the piss-taker who has truly proved himself to be the director of f****all.

Anyone else gets punished for failure, our man is held to account for success. A fifth place finish and a Europa League spot? you don't need to strengthen Alan, you've got Ranger, Abeid, and Ferguson!

Painful though today was, losing another derby is the least of our problems.

Biffa