Date: Saturday 8th February 2014, 3pm.

Venue: Stamford Bridge

Conditions: rain showers

Admission: £55 (upper) £52.50 (lower)

Programme: £3.50


Chelsea

Newcastle United

3 - 0

.

Teams
27mins Eden Hazard exchanged passes with Branislav Ivanovic, who sent over a low centre from the right for the Belgian to collect and tuck a low first-time shot into the far corner of the Shed End goal, Santon idling back for no discernible reason. 0-1

34mins the lead was doubled when Chelsea pushed out of defence through David Luiz and Willian. Hazard took possession and burst into the box from the left, playing a one-two with Samuel Eto'o before converting a stylish second. 0-2

Half time: CFC 2 NUFC 0

63mins Hazard was given a perfect opportunity to seal his hat trick, when a Chelsea corner was dropped in short and cleared - only for the referee to spot that Mapou Yanga-Mbiwa had impeded Samuel Et'o towards the back post. The Belgian coolly slotted past a motionless Tim Krul 0-3

Full time: CFC 3 NUFC 0
Alan Pardew commented
:

"I thought particularly in the first half we played very well with the players we had available. We had a fantastic chance at 1-0 to throw some real confusion into the game.

"But unfortunately Moussa Sissoko missed and they went straight up the other end when we were carrying an injured player (Debuchy) and they go get the second.

"Chelsea are a good team. I thought Their workrate was phenomenal for a such a technical side. I have to say, however, that we came out of the game with a few positives ourselves.

"I thought Sammy Ameobi, Paul Dummett and particularly Luuk De Jong gave performances that will be important to us over the last 13 games.

"I was a little bit disappointed by the penalty decision in terms of my player. I donít know why he has grabbed him in that manner. I think Mapou is scratching his head as to why he got himself in that position. It was a really soft goal.

"Most of the recent results have been impacted by the injuries weíve sustained. We took another one today in Mathieu who is a big player for us. He got a kick in the calf. I think it will stop him playing on Wednesday.

"Papiss is out. Loic is out. We are missing Cheick. And Colo is not with us. We need those players back, especially for games of the level of Chelsea. I know Iíve said that Sammy Ameobi and Paul Dummett have played well here, but youíve got to understand the level they are at.

"When Chelsea play with the intensity they did today, itís a tough ask to play in these type of games. You need your best players.

"Tottenham is a game I would like to think we could get through and hopefully get a strong result. And after that, a lot of our big players will come back to us and I think we will be strong over the next 13 games. Then in the summer we have got work to do.

"I don't think Papiss will be back for Spurs. He is obviously a player that we are looking to in these last 13 games to pick up his season. And maybe Cheick wonít make the game. Weíll have to wait and see.

"I have been to many, many games at this place and a goal can change the atmosphere in this stadium quite quickly. We just didnít manage to get one today.

"I saw Jose said itís better to work at a crazy big club than a small club, and heís right. I enjoy it. I know sometimes I donít look like I am. Iím ageing by the day, but I love Newcastle and I love working there.

"Itís always a rocky road, but the good days are fantastic and no one will take them away. The fans are absolutely phenomenal and when things go right, itís such a great high.Hopefully weíll have another on Wednesday.

"I have played against Chelsea teams under Mourinho many times and this is as good as heís had. They are a good team. Can they win the league? They have a chance.

"He (Hazard) has a great platform because itís a strong base behind him. That gives him the stability to go and create the damage that he did. I thought his second goal was real class. Heís at the top of his game.Ē


Jose:

"The horse is dead, it is time to kill the horse (a reference to his description of the Chelsea team as a little horse in the big title race following the previous Monday's victory at Manchester City). We are playing well. The first half was not the best, but we have been playing well for a long time.
"Individually, we are in a good moment and the team is getting results and we are top of the league. Itís something we canít hide from, but I still say the same, I donít change. We wonít win the league - I want to stop with that story of the horses, but I don't change my idea.

"Manchester City is a Jaguar. You cannot put an L-plate behind a Jaguar. We are what we are and we know where we want to go and this season, we have only one objective, which is to finish top four.

"I say as I feel it. I don't feel the change. We are playing well and have been for a long time. People individually are in a good moment and we are getting results. We are top of the league and that's something we can't hide.

"Today, his (Hazard's) performance was no different to his other performances. The difference is that he scored a hat-trick for the first time. I think he has played basically the same recently.

"Obviously a hat-trick is different but he is playing really well with a big evolution (in his play). He is consistent, he shows ambition.

"Eden Hazard is this player, a player for some reason he didn't get one single player of the month in this Premier League and this performance today was just different than other performances because today he scored three goals.

"But he had other performances exactly the same as he did today, so it is quite surprising for me that such a young player with what he is showing this season is never player of the month. So I don't know if it is something with him, or with us or this country is full of tremendous players.
"We were aware that Newcastle also had some injury problems, bigger problems than us, so we decided not to risk JT (John Terry) and protect him. He has a muscle problem, when two muscles are inflamed.
When told by hacks that Chelsea were the bookies' favourites to win the title, he replied:
ďI donít bet."

Another blank day in front of goal means that United have now failed to score in six of their last seven Premier League games.

Toon @ Stamford Bridge: Premier League era
2013/14: Lost 0-3
2012/13: Lost 0-2
2011/12: Won 2-0 Cisse 2
2010/11: Drew 2-2 Gutierrez, S.Taylor
2010/11: Won 4-3 Ranger, R.Taylor, Ameobi 2 (LC)
2008/09: Drew 0-0
2007/08: Lost 1-2 Butt
2006/07: Lost 0-1
2005/06: Lost 0-1 (FAC)
2005/06: Lost 0-3
2004/05: Lost 0-4
2003/04: Lost 0-5
2002/03: Lost 0-3
2001/02: Lost 0-1 (LC)
2001/02: Drew 1-1 Acuna
2000/01: Lost 1-3 Bassedas
1999/00: Lost 0-1
1998/99: Drew 1-1 Andersson
1997/98: Lost 0-1
1996/97: Drew 1-1 Shearer
1995/96: Drew 1-1 Ferdinand (FAC)
1995/96: Lost 0-1
1994/95: Drew 1-1 Hottiger
1993/94: Lost 0-1

Full record v Chelsea:

P
W
D
L
F
A
SJP
69
36
17
16
104
73
SB
69
11
19
39
72
132
League
138
47
36
55
176
205
SJP(FA)
5
1
1
3
5
9
SB
6
2
2
2
7
7
SJP(LC)
2
0
0
2
0
3
SB
3
1
0
2
5
6

Cup

16

4

3

9

17

25

SB(CS)
1
0
0
1
0
3
Tot
154
51
39
64
193
230
Eden Hazard became the first player to record a hat trick against Newcastle since Theo Walcott in Arsenal's 7-3 victory at the Emirates back in December 2012.


Waffle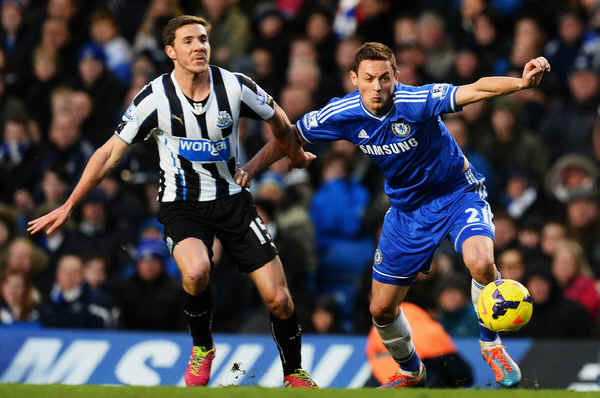 For the second time in as many seasons United suffered in the garden of Eden as Belgian wizard Hazard ran riot at Stamford Bridge, prompting his side to a routine victory and compounding a miserable ten days for Newcastle.

Despite winning their previous four games in London, Alan Pardew's side were rated
at up to 14/1 by the bookies to end Jose Mourinho's 73 match unbeaten run in the Premier League - and they duly departed empty-handed.

Hazard's two first half efforts capped an eye-catching performance that took Chelsea to the top of the Premier League but a depleted Newcastle side passed up scoring opportunities of their own to make a game of it.

Moussa Sissoko and Luuk De Jong both wasted excellent chances to score before the break, Sammy Ameobi had a couple of tries and late substitute Sylvain Marveaux blasted wide when well placed late on - when even a consolation goal would have rewarded the defiant and noisy away support at that end of the ground.

Unbeaten on their own patch in the league for over a year, the Blues have triumphed in the majority of this season's home games by only a goal or two - a 4-1 win over Cardiff City the only time before today they'd amassed a three goal margin.

And again Mourinho's men failed to capitalise fully here - in one of their most comfortable games of the season. Should this season's title be decided on goal difference, then a lack of urgency, poor shooting and pass selection against the Magpies may prove to be their undoing.

Despite a second consecutive 0-3 defeat, United put in a reasonable performance for the most part, given that the starting line-up included both Paul Dummett and Sammy Ameobi. A lack of viable midfield options meanwhile saw Davide Santon pushed forward into that area.

Hatem Ben Arfa was included while De Jong made his first start since arriving on loan - completing 90 minutes in a competitive club fixture for the first time since April 2013. Sadly though his aerial efforts were undermined by an absence of support from others in black and white.

After a reasonable opening 15 minutes, Mathieu Debuchy fell awkwardly on his ankle and although he continued, a lack of mobility put our defence on the back foot and it was no surprise when Chelsea
went ahead just before the half hour mark and doubled that advantage within ten minutes - both goals coming from the enviably talented team play of Hazard.

That killer second came seconds after Sissoko spurned a great chance to equalise, bearing down on goal only for a heavy touch to allow Petr Cech to smother. Chelsea then charged straight upfield and made the points safe
before
t

he hobbling Debuchy made way for Mapou Yanga-Mbiwa
.

Krul had a moment to forget
early in the second period when coming off his line to clear a David Luiz clearance but slipping over and injuring himself - the ball thankfully running out just before Hazard could reach it.
The goalkeeper continued on, although Rob Elliot was called upon to warm up.

Yanga-Mbiwa was then booked for a foul on Hazard and a few minutes later ridiculously ended the contest with a mindless foul on Eto'o that Howard Webb correctly punished by pointing to the spot.

Frank Lampard's free-kick was clea
r

ed for a corner that was then delivered to the near post, Yanga-Mbiwa seemingly taking his cue from the Six Nations matches to wrestle Eto'o to the ground near to the back stick.
The United defender was lucky not t
o receive a second yellow and Hazard made no mistake, Krul offering no obstacle to Eden completing his first Chelsea treble.

Forgotten Mag Dan Gosling replaced the ineffective and seemingly uninterested Ben Arfa and although United continued to play some neat football, it was just a question of how many the home side would register.

Debutant Mohamed Salah fluffed a couple of excellent chances while Marveaux should have got a consolation goal but hit the side-netting with just Cech to beat (it was later claimed that he'd been flagged offside).

Sissoko received his seventh booking of the season for a trip on ex-Mag Demba Ba (who had replaced Eto'o) and Ameobi was also cautioned, treading a fine line near the end and risking a second yellow after questioning Webb's decisions on a couple of occasions.

Southampton's failure to beat Stoke ensured that United retained eighth spot in the table, but the top seven are likely to pull further away in the coming weeks.

The dark clouds that had dumped occasional deluges on SW6 broke again towards full time, soaking the away fans as they departed - not the only time that they've been precipitated on from a great height in 2014....

And the mood was hardly lifted by Pardew's inexplicably upbeat press conference,
more

ill-advised comments coming on the back of his toe-curling farewell to JFK
days earlier
and further undermining his diminishing credibility.

A failure to keep his trap shut about Loic Remy after Norwich made it easy for the FA to dump our futile appeal and today he indulged in an old pal's act with Mourinho as if his team were remotely on the same level. Suddenly it seems like an awful long time since that win at SJP.

Talk of squad rebuilding in the summer has a distinctly hollow ring to it, for those who have just seen a entirely predictable conclusion to the January transfer window - Gosling's return from the depths of the Championship to plug a Cabaye-sized gap in midfield entirely predictable for a club who have already called time on the season.

And equally, the knowledge that better Newcastle sides have been beaten here by greater margins within our lifetime was no comfort at all to those who invested £50+ for the privilege of having their worst fears realised.
As has been the case on far too many occasions recently, carelessness and a lack of discipline cost us again today. Bleating about the inadequacies of match officials has a hollow ring to it, whilst simultaneously presiding over ongoing incidents of stupidity.

Be it Debuchy's brainless tackle at West Brom, Remy's shadow boxing at Norwich or the needless conceding of penalties by Vurnon Anita and Yanga-Mbiwa in the last two games, the players seem to be taking that "we're Newcastle, we do what we want" chant a bit too literally...



With Debuchy and possibly Krul adding to our injury woes
,

the visit of Spurs to St. James' Park on Wednesday sees Pardew's squad stret
ch
ed further. That's a far from ideal preparation for a side seeking their first home victory in five attempts in front of fans who may have opted not to boycott the game but who righ

tly remain restless.

Scoring the first goal in the contest will be vital if the ongoing negativity that deservedly surrounds the club isn't to engulf the whole team. Sadly the leadership lacking
off the field seems to be mirrored by a lack of character on it - leaving us with bland platitudes, bland performances and a deafening silence about where we are heading.


Biffa