Date: Wednesday 12th February 2014, 7.45pm

Venue: St. James' Park

Conditions: pitiful






Newcastle United

Spurs

0 - 4




Teams
19mins Williamson and Sissoko were left for dead down the left by Bentaleb but his cross shouldn't have caused Krul a problem but the 'keeper spilled the ball straight to Adebayor who tapped in from close range. 0-1

Half time: Magpies 0 Cockerels 1

53mins Adebayor hit a low shot from the edge of the box that Krul saved but a statuesque defence allowed Paulinho to reach the ball first and tuck it past the prone 'keeper. 0-2

82mins Townsend hit a long range shot from the right that was pushed out by Krul and hit into the turf and over the 'keeper's head by Adebayor. 0-3

88mins Chadli bent the ball expertly into the Leazes net for his first league goal to complete the rout and notch Spurs' 100th league goal At St. James' Park. 0-4

Full time: Magpies 0 Cockerels 4

Alan Pardew:

"We're in at 9.45am (tomorrow, for training).

"I'm not really going to say too much in front of you guys (the media), other than to give a message to our fans to say that that wasn't good enough and against Aston Villa, we need to make sure it is good enough.
"For the first time, we looked a little bit unconfident, a little bit unsure what we were doing. We lacked energy in certain areas. I'm not going to elaborate on that - I made my views very clear in the dressing room. That's where they will stay.
Explaining the decision to haul off Davide Santon:

"I thought we needed a left-footer down that side. I thought (Paul) Dummett did well, actually, when he came on. He and Mathieu Debuchy were probably the only two players who came out with any credit, in my opinion.
"The opposition completely dominated us almost from start to finish really and I felt that the team didn't look balanced or right. I will certainly have to make changes for the Aston Villa game and expect us to do better.
"Obviously Loic (Remy) hasn't been available because of suspension but I don't think that had a major impact on tonight.
"We looked a little bit unsure at the back and nervous and for the first time for a long time we didn't look confident so I have got a bit of work to do. It's certainly a worry because of the manner of the defeat. We have got to have a lot more fight on the pitch for these fans.
"I was more upset about the performance. That wasn't an honest display from us. I mentioned a few things in the dressing room that I hope hits home - I won't mention them to the media.

"Tottenham dominated proceedings from the start to the finish. They won with a bit to spare - that shouldn't happen at St James' Park regardless of who I have and don't have available. We lacked confidence.

"We need a break in front of goal. Their keeper made two or three outstanding saves. The overall performance is a concern, it's not the result or the fact we haven't scored."


Tim Sherwood (who shared the visitor's bench with coach Les Ferdinand):
"It was a great performance. We've been critical in recent weeks about the way we've started games but not this time. We came out firing, as soon as the whistle went, we were off. We really set the right tone.

"We knew the crowd would be important here, they can be the 12th man but we got on the front foot, pressured them into giving us the ball back and when we had it, kept it and that's very frustrating for any crowd, especially at home.

"Ade's done brilliantly again, they all have. It's hard to single anyone out after a win like that. They were excellent."



United suffered their worst home defeat of the season and were beaten by the greatest margin since Liverpool scored six without reply here in April 2013.

* a few folks have queried why we went with 1978 and various other media outlets asserted that 1987 was the last time that we lost four home league games in a row.

The latter stat consists of the closing home game of the 1986/87 season (0-3 Charlton) and the opening trio of home games in the 1987/88 campaign (Forest 0-3, Wimbledon 1-2 and Liverpool 1-4).

The 1978 stat is a run of four home defeats between December 1977 and February 1978 (Forest 0-2, Liverpool 0-2, smoggies 2-4 and Ipswich Town 0-1)

Papiss Cisse started his first Premier League game since the 2-1 win at Cardiff in October 2013.
Spurs in Toon: Premier League Era:
2013/14 lost 0-4
2012/13 won 2-1 Ba, Ben Arfa
2011/12 drew 2-2 Ba, Sh.Ameobi
2010/11 drew 1-1 Coloccini
2008/09 won 2-1 N'Zogbia, Duff
2008/09 lost 1-2 Owen (LC)
2007/08 won 3-1 Martins, Cacapa, Milner
2006/07 won 3-1 Dyer, Martins, Parker
2005/06 won 3-1 Bowyer, Sh.Ameobi, Shearer
2004/05 won 1-0 Kluivert (FAC)
2004/05 lost 0-1
2003/04 won 4-0 Shearer 2, Robert 2
2002/03 won 2-1 Speed, Shearer
2001/02 lost 0-2
2000/01 won 2-0 Speed, Cordone
1999/00 won 6-1 Shearer 2, Speed, Dabizas, Ferguson, Dyer (FAC)
1999/00 won 2-1 Glass, Dabizas
1998/99 drew 1-1 Ketsbaia
1997/98 won 1-0 Barton
1996/97 won 7-1 Shearer 2, Ferdinand 2, Lee 2, Albert
1995/96 drew 1-1 Ferdinand
1994/95 drew 3-3 D.Peacock, Gillespie, Beardsley
1993/94 lost 0-1
Full record v Spurs:

| | | | | | | |
| --- | --- | --- | --- | --- | --- | --- |
| | P | W | D | L | F | A |
| SJP | 69 | 28 | 19 | 22 | 119 | 100 |
| WHL | 69 | 21 | 11 | 37 | 78 | 129 |
| League | 138 | 49 | 30 | 59 | 197 | 229 |
| SJP(FA) | 4 | 4 | 0 | 0 | 13 | 1 |
| WHL/OT | 5 | 1 | 2 | 2 | 5 | 5 |
| SJP(LC) | 2 | 1 | 0 | 1 | 4 | 3 |
| WHL | 1 | 0 | 0 | 1 | 0 | 1 |
| Cup | 12 | 6 | 2 | 4 | 22 | 10 |
| CS | 1 | 0 | 0 | 1 | 1 | 2 |
| Tot | 150 | 55 | 32 | 63 | 219 | 239 |
Waffle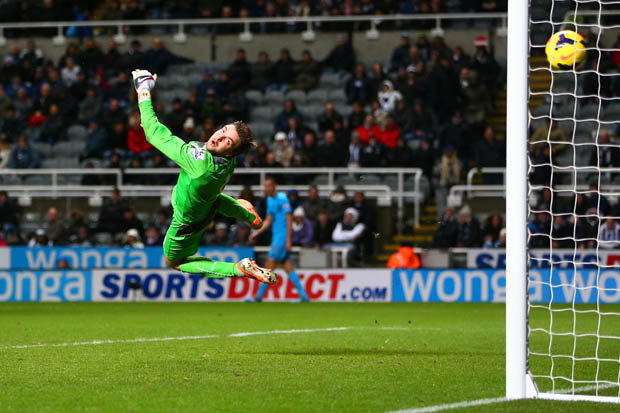 United's season continued to disintegrate on Wednesday evening with a fifth successive home defeat, as Tim Krul and the rest of his colleagues served up yet another nightmarish display in front of their own supporters.

The Magpies goalkeeper won deserved plaudits for his man of the match performance at White Hart Lane last November, but the first three goals he conceded on Tyneside all came directly from sub-standard parries.

Krul had no chance with a spectacular late fourth, but by then the home side had completely surrendered and each Spurs attack had the look of a training routine, with an absurd number of visiting players swarming forward.

The ultimate margin of defeat could have been larger as Newcastle's Premier League goal drought reached the six hour mark, Alan Pardew marking his 150th game in charge by presiding over our worst home run since 1978*.

And never mind long-standing season ticket holders who have provided a vote of no confidence by wrapping in, those poor souls who bought half-season packages starting on December 29th must be wondering how to claim a refund after witnessing 0-1, 0-2, 0-3 and 0-4 defeats so far in exchange for their hard-earned.

That barren run shows every sign of continuing as the so-called team remain becalmed on 37 points, unwilling or unable to fashion a performance worthy of the name. Either the manager is giving them the wrong instructions - or they are collectively ignoring his words of wisdom.

On a night that can instantly be confined to the dustbin, some decent chances were spurned by Papiss Cisse, Mathieu Debuchy and substitute Sylvain Marveaux who were all unable to find the net from well inside the box.

Boosted by the return of messrs Debuchy, Gouffran and Cisse to the fray, United began in a 4-4-2 formation with Davide Santon restored to left back and Gouffran on the right wing, allowing Sammy Ameobi to continue on the opposite flank. Hatem Ben Arfa was demoted to bench duty as Cisse partnered Luuk De Jong up front.

Despite enjoying the best away record in the division, Spurs had been criticised by their boss Tim Sherwood for starting recent games too slowly. They were quickly at it here though, aided by slipshod defending from Santon - Krul making his first block of the game on six minutes.

United themselves fashioned a great scoring chance just moments later, when Santon's long free kick forward was nodded down by De Jong for Cisse to place his first-time shot from within the six yard box straight at Hugo Lloris.

In-form Emmanuel Adebayor made no mistake in the 19th minute, when Nabil Bentaleb's cross was spilled by Krul and the forward tucked the ball into the unguarded goal.

Cisse then had half a chance to level, but his attempted lob from the edge of the box dropped just wide of the Spurs goal - and from that point on, it was a case of diminishing returns for those supporting the stripes.

Aaron Lennon hit the post just after the half hour as United made it to the break without conceding further, emerging for the second half with Paul Dummett on in place of Santon - presumably the Environment Agency had no sandbags spare to help shore up our defence....

The inevitable second came eight minutes into the second period, Paulinho benefiting from another Krul spill to tuck the ball home after Adebayor's first shot was parried.

The anonymous De Jong was replaced by Hatem Ben Arfa and Sammy Ameobi - arguably United's best player - made way for Marveaux. It did little to improve things in front of goal, with Gouffran and Debuchy bringing saves from Lloris but nothing remotely approaching a revival to trigger any sort of response from a silent home crowd.

The third goal and Adebayor's second came after 82 minutes and this time it was Andros Townsend whose shot was pushed out by Krul and hit into the turf and over the 'keeper's head by the Togo forward.

With the ground rapidly emptying, Nacer Chadli bent the ball expertly into the Leazes goal for his first league goal to complete the rout. That sealed a first league win here for Spurs since 2004 - and their biggest margin of victory on Tyneside since a 5-1 success back in August 1959.

Those fans that were still in their seats at full time were scanning the turf for the sink holes that had presumably swallowed up the Newcastle team and a season that now looks to have been willfully lost without trace. Nice to see that acting captain Sissoko had time to catch up with his Spurs pals in the centre circle after full time though, ambling off the field with a broad smile....

Spurs ended the game in fifth spot and also still in the Europa League, something missed in the latest round of lamentation over that dreaded competition and the negative effects on clubs - and managers - taking part.

Quite where we go after this latest debacle is unclear, but a ten day break before our next fixture gives plenty of scope for media-led inquests - along with the usual we must do better / do it for the fans player claptrap.

At any other club, the position of the manager would be called into question, but here that won't happen - partly for those well-documented contractual reasons and also because Pardew continues to do his master's bidding and now very publicly toe the party line in the process.

So, another night when you find yourself wondering why you should give a toss - when those with the ability to make a difference on and off the field clearly don't.

It's not enough to blame the departure of Yohan Cabaye and consequent failure to replace him though - there's something seriously awry at St. James' Park. A clutch of players appear to have already turned their minds to summer departures - on vacations or otherwise.

We don't appear to be in danger of relegation this time round, although where our next point and goal will come from is unclear - even with the return of Loic Remy from suspension. At this rate though, we deserve to be rated among the favourites for relegation.

Is Pardew's silverware plan actually to challenge for the Championship?

Biffa