Date: Sunday 23rd February 2014, 1.30pm
Live on Sky Sports

Venue: St. James' Park

Conditions: Light drizzle but mild. The emotional relief was certainly very tangible....





Newcastle United

Aston Villa

1 - 0




Teams
Half time: Magpies 0 Villans 0

90+2 mins De Jong tried a snapshot on the right edge of the box that was blocked and the ball looped up and landed at Remy's feet. He still had to control it and side-step Vlaar before thumping the ball left-footed past Guzan. 1-0

Full time: Magpies 1 Villans 0

Alan Pardew:

"I thought Remy was the one player on the pitch to have that composure in the 92nd minute to score that goal. He was the best player on the pitch.

"I gave us six out of ten but what got us there was ten out of ten for effort and commitment for the cause. We created that chance for him and it was a fabulous goal for him.

"We should have scored before then. Papiss missed a sitter and I was desperate for him to scorer. We had a hand ball as well. Remy should have scored from Luuk cut back and I was beginning to wonder.

"We had a set play where I felt we should have scored from and you are beginning to wonder. It was a strange game because our crowd was deathly quiet up until the interception from Williamson and a strange thing like that that lifted the players and the stadium.

"That's that this place is. This stadium is like a breathing living animal and we needed it to come alive to help us.

"Williamson was fantastic today against Benteke who is probably the best aerial player and he was outstanding. We really needed a clean sheet. If we had drawn 0-0 I would have been raving about our defensive display.

"Colo wasn't really ready. He had a few balls down the channels where I think he was a bit uncomfortable. He only trained for eight or nine days and his presence was everything today and if we was going to be a little bit uncomfortable with some of their pace then we accept that.

"The result sometimes justifies the ends and he was a big part of the clean sheet. There was a lot of calmness from him when there was a lot of erratic people on the ball today, but not him because he never gets in that mode.

"I was a little bit happier when it went in. As a manager we are on 40 points and I think we have had a decent season. The recent run has put pressure on my staff and my team. I don't feel comfortable with that, my staff being under pressure.

"You can be very resilient as a manager but I was desperate to get a result for my team and our fans, who have had to be very, very patient at home. We haven't been brilliant at home since Stoke.

"The win will settle us down. I would like to think we can now show more composure around the box. Players were doing things around their box which they shouldn't have I know they are better than that.

"You hear managers talking about momentum and there will be a huge difference around the training ground. They can be a little bit calmer, individual players at this club making poor mistakes.

Asked about turning towards the press box when the goal went in:

"I thought the media have been a little bit miserable this week. A couple of stories were definitely aimed to put me under pressure. There is pressure enough in this job without having a couple of stories which were untrue. So it was it was a bit of a smile to them, cheer up and let's move on.

"The game seemed a little bit slower when he was on the ball, not as frantic. The high class players like him can slow a game down like Cruyff. He is going to be hot property this summer and I will leave him out of the next XI!"

Ahead of the game, Pardew said:

"I think I'd be foolish not to worry. You worry about the next game, you worry about what lies ahead. Forget about any individual, the most important thing is the club and that performance did not represent the club, quite frankly. I am hurt by the Tottenham performance.
"Your relationship does change with players because you give them faith and then you take it away by leaving them out of the team and you have to give credibility to that.
"I can forgive and I always leave my door open, I have never really shut a door on any player but if it gets to a stage where I feel it has crossed the line, then I will not be using that particular player as often.
"The reaction is what I expected but it really is irrelevant. It does not matter what goes on on the training ground because the fans have not seen that. It is what turns up on Sunday that is important, otherwise it will be empty words.
"In this city, it is difficult when you are not winning home games. I don't care whether you are top or bottom of the league, in the championship or even when you are fifth, you cannot lose at home here. It means everything to our fans and we need to understand that and play under that pressure.

"Regardless of how they feel about me, any individual player or the owner or anything else, they come for the team and they will come for the team on Sunday.

"We need to nudge the performance the right way and the place will be roaring. I know that. I have been here before when it has done that after a tricky run."

Paul Lambert:
"I don't think we deserved to lose it. I think, especially in the first half, we created chance after chance and looked really threatening.

"In the second half I didn't think anybody was going to score, albeit Newcastle had a bit of pressure, but it was a defensive error that got punished.

"I thought a draw was probably fair.

"It was a defensive error that hurt us and we should have taken our chances in the first half.

"We can take a lot from the way we played and if we can keep playing like that we will win more than not.

"There are a lot of games still to play and we just have to try and win the next one."


The Magpies completed their first double of the season, following a 2-1 victory at Villa Park last September.

A first victory in five games was United's 300th in the Premier League (201 at home, 99 away from home).

Tim Krul's clean sheet was the first recorded at home in Newcastle's last ten league and cup fixtures.

Loic Remy returned from a three match suspension to net his 12th goal for United, all of which have come in the Premier League. That total already betters or equals the club's top PL scorer in nine of our 19 previous seasons:

NUFC PL Top scorers:

1993/94: Andy Cole 34
1994/95: Peter Beardsley 12
1995/96: Les Ferdinand 25
1996/97: Alan Shearer 25
1997/98: John Barnes 6
1998/99: Alan Shearer 14
1999/00: Alan Shearer 23
2000/01: Carl Cort/Nobby Solano 6
2001/02: Alan Shearer 23
2002/03: Alan Shearer 17
2003/04: Alan Shearer 22
2004/05: Alan Shearer/Craig Bellamy 7
2005/06: Alan Shearer 10
2006/07: Obafemi Martins 11
2007/08: Michael Owen 11
2008/09: Michael Owen/Obafemi Martins 8
2010/11: Kevin Nolan 12
2011/12: Demba Ba 16
2012/13: Demba Ba 13
2013/14: Loic Remy 12

Villans @ SJP - Premier League Years:

2013/14: Won 1-0 Remy
2012/13: Drew 1-1 Ben Arfa
2011/12: Won 2-1 Ba, Cisse
2010/11: Won 6-0 Barton, Nolan 2, Carroll 3
2008/09: Won 2-0 Martins 2
2007/08: Drew 0-0
2006/07: Won 3-1 Milner, Dyer, Sibierski
2005/06: Drew 1-1 Shearer (pen)
2004/05: Lost 0-3
2003/04: Drew 1-1 Robert
2002/03: Drew 1-1 Solano
2001/02: Won 3-0 Bellamy 2, Shearer
2000/01: Won 3-1 Glass, Cort, OG
2000/01: Drew 1-1 Solano (FAC)
1999/00: Lost 0-1
1998/99: Won 2-1 Shearer, Ketsbaia
1997/98: Won 1-0 Beresford
1996/97: Won 4-3 Ferdinand 2, Shearer, Howey
1995/96: Won 1-0 Ferdinand
1994/95: Won 3-1 Venison, Beardsley 2
1993/94: Won 5-1 Bracewell, Beardsley 2, Cole, Sellars
Full record against Villa:
P

W

D

L

F

A

SJP

75

47

14

14

160

89

VP

75

20

18

37

80

136

League

150

67

32

51

240

225

SJP

(FA)

2

1

1

0

5

3

PB/VP/W/CP

5

1

0

4

3

15

SJP(LC)
0
0
0
0
0
0

VP
0
0
0
0
0
0

Cup

7

2

1

4

8

18

Tot

157

69

33

55

248

243
This was our 69th league and cup victory against the Villans which is second only to the 70 victories over Manchester City and three more than the 66 against Arsenal. However, it has come in just 157 games, rather than the 170 against City and 173 games versus Arsenal.

The 248 goals scored matches the 248 scored against Manchester City and four more than 244 netted past Everton.

PL Stats courtesy of @NUFCdata

Newcastle didn't have to make a single tackle inside their own box against Villa bute made more interceptions than any other side in the PL this weekend with 24.

The mackems were the only side to create fewer chances (four) than Aston Villa did (six). Newcastle created 14 and had 23 shots on goal, hitting the target five times (22%). Only Southampton had a worse shot accuracy (28%) than Villa (29%) and Newcastle (31%).

Cheick Tiote created 3 chances for Newcastle, the most creative played on the field. He also topped the passing charts, completing 47 of his 56 attempted passes (84%) but won just four of his 11 tackles, conceding five fouls.

Ron Vlaar made a whopping 11 clearances inside his own penalty area, while the seven tackles Leandro Bacuna won was the highest anywhere in the PL this weekend.

Loic Remy has now been directly involved in 42.4% of Newcastle's goals in the PL (12 goals & two assists). He
had more shots from outside the box (five) than any other player in the PL this weekend.

Christian Benteke won an enormous 21 aerial duels, the highest number for a player in a PL game this season.
Waffle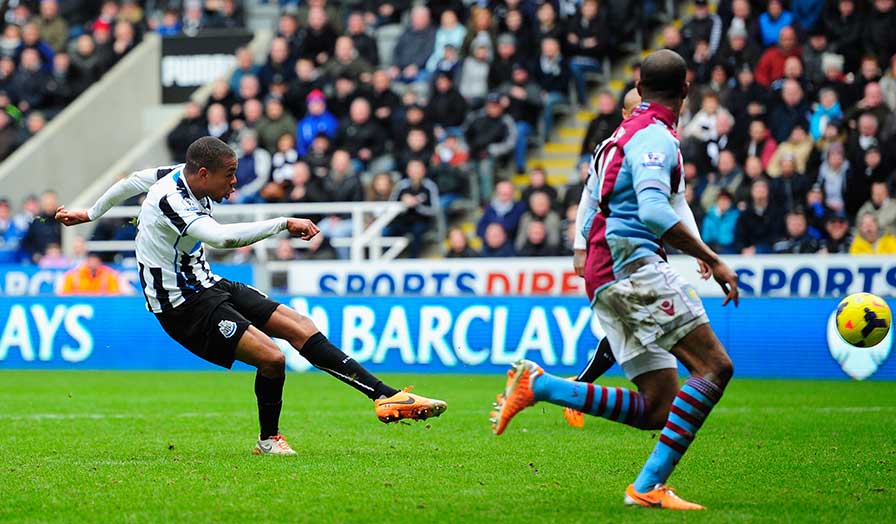 Walking out of the ground after this one, it was difficult to know whether to laugh or cry. Probably both.

To have stolen the three points so late in this contest was a fantastic feeling but that was mainly due to the 91 minutes of utter frustration and exasperation that preceded it.

Villa boss Paul Lambert did his usual trick of talking up his distinctly average side post-match but he could certainly feel aggrieved not to have at least taken a point from a game where both sides were equally unimpressive.

The defences had somehow managed to hold firm as added time was entered but that was mainly due to their side's out-of-form strikeforces, than any outstanding defensive displays. Having said that, the returning Coloccini looked assured and his quality couldn't help but inspire his partner, Williamson, who once again performed beyond his ability.

They kept messrs Benteke, Agbonlahor and Weimann at bay with surprising ease, although all three could look back on missed opportunities as their lack of accuracy and Krul's goalkeeping denied them.

But as Pardew accurately summed up, there was one player who looked like he had the class to decide the fate of this contest and that was our on-loan Gaul, Loic Remy.

With just 90 seconds of added time remaining on this mild but damp Sunday afternoon, United's winless home run looked all set to be extended to a lamentable six league and cup games.

A match of apparently unending mediocrity had finally come to life around the 80 minute mark, when a crowd who had mostly suffered in silence found their voices in response to a belated assault on the Aston Villa goal.

However, that late flurry of activity looked to have been in vain, with a massive penalty shout for handball in the 80th minute ignored by referee Martin Atkinson and some frantic attacking failing to bring about a breakthrough.

When Luuk De Jong robbed Ron Vlaar after 88 minutes, only for Loic Remy to fire his shot against the post, Newcastle's home goal drought clicked towards the 460 minute mark and the meagre return of a point against an insipid Villa side looked to be our own tangible return.

Remy though had other ideas and after latching on to a deflected effort from De Jong, side-stepped Vlaar before slamming the ball home at the Gallowgate End.

The scorer and his colleagues celebrated in front of the Strawberry Corner, before Remy guided the ball down to the same corner from the restart to run down the final seconds before the full time whistle.

Until that late push paid dividends, neither side looked as if they had a goal in them - welcome returns for Remy, Fabricio Coloccini and Cheick Tiote steadying the home defence but doing little to aid our creative void.

A bright start had seen Remy fire against Guzan within the opening 90 seconds but United's early promise soon faded and Villa then enjoyed their best period, Gabriel Agbonlahor forcing a save from Tim Krul on 19 minutes.

First half added time brought a brief flurry of attacking activity from the black and whites, but when Remy laid the ball across the six yard box, strike partner Papiss Cisse contrived to blast over the bar from close in.

Off-target efforts from Yoan Gouffran and Paul Dummett (preferred to Davide Santon) after the break were then followed by the introduction of De Jong from the bench.

However, it was the energy of fellow Dutch international Vurnon Anita that ultimately made a crucial difference - the diminutive midfielder driving on whenever possible as both Gouffran and Moussa Sissoko began to fade.

How much of a crack-papering exercise the Remy goal was is a matter of personal opinion, but while rightly welcomed it was an isolated moment of competence.

A 50,000+ crowd looks great on paper, but the thin fare they were offered up for 90 minutes reinforced the idea that many present were there in body only, attending out of a sense of duty. SJP has seldom been as silent.

On a day when the manner of performance was as vital as the victory, United may have collected the points, but failed to convince many that better times lie ahead here.

The win took us on to 40 points and back to eighth - cause merely for relief, rather than satisfaction or pleasure.

Pardew seems to have the handy knack of coming up with a vital victory when the pressure starts to look unbearable - the home success over Chelsea earlier this season being another example.

Despite his pre-match protestations and the banning of a newspaper for the story suggesting he would get the chop if we had lost, another heavy home defeat might have just persuaded the fans to finally give up patience.

It's not clear what the owner's thinking would have been - Pardew has done the perfect job for him this season; secure Premier League status and allow the massive transfer surplus of selling Cabaye and bringing in a couple of loan deals. Just the job.

Another month before the next home game has bought plenty of breathing space again and trips to Hull and Fulham should see successive defeats avoided before the visit of Pardew's old club, Crystal Palace.

But a limp to the end of the season still looks more likely than a sprint finish and as any fan of any club will testify, playing for nothing is incredibly uninspiring. That must also be true for the players and coaches who rely on some sort of motivation to inspire the crucial extra 5% that is probably the difference.

The run of home defeats ensured we squeezed out that vital victory today but with most of our upcoming opponents having something to play for, you could make an argument for this being our last victory of this campaign. Hopefully not. It's still officially Winter...!

Niall MacKenzie/Biffa