Date: Saturday 1st March 2014, 3pm.

Venue: KC Stadium

Conditions: bright

Admission: £30

Programme: £3


Hull City

Newcastle United

1 - 4

.

Teams
10mins Krul's lengthy fling to Moussa Sissoko on the left initiated a quick counter-attack and as the ball was fed between Yoan Gouffran, Cheick Tiote and Loic Remy, Sissoko strode upfield to crash the ball home from 12 yards when Mathieu Debuchy delivered from the right flank. 1-0

42mins City's Honduran defender Maynor Figueroa player tapped a hopeful ball back towards his goalkeeper from just over the halfway line - only to sadly misjudge the strength of it and be rapidly overtaken by Loic Remy. The United forward hurtled upfield before evading McGregor and slotting the ball into an empty net. 2-0

Half time: Tigers 0 Magpies 2

46mins Mike Williamson illegally halted the progress of Shane Long on the Hull left, giving Tom Huddlestone another opportunity to ping the ball into the Newcastle area. This time his delivery tempted Krul into a vain lunge to reach the ball, Curtis Davies beating him to hit and heading in 2-1

55mins An aimless sideways pass by a City player was mis-controlled and reached by Cheick Tiote in his own half. Tiote's header was taken in his stride by Sissoko, who drove powerfully towards the half way line and clipped a forward pass towards the advancing Loic Remy.

Although a covering defender made the crucial contact, Remy's presence did enough to allow Yoan Gouffran to take the move on and he picked his way diagonally across the field before attempting a right footed effort. That was blocked by McGregor but fell nicely for Moussa Sissoko to arrive and score from just inside the six yard box, with Luuk De Jong lurking behind 3-1

90+2mins Substitute Dan Gosling made his way into the City area before stumbling and although McGregor blocked Paul Dummett's shot from the left side of the six yard box, he couldn't keep hold of the ball and Vurnon Anita was able to supply a first-time side-foot home from close in. 4-1

Full time: Tigers 1 Magpies 4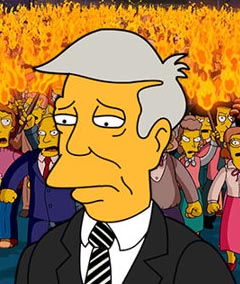 Alan Pardew commented
:


"I tried to push him away with my head and I shouldn't have done that. My team were terrific and it's only myself who had a poor performance. It was a heat of the moment thing. I massively regret it and I will have to sit down from now on.
"Of course I didn't mean to do anything aggressive. I did move my head forward and that's enough. Perhaps I need to sit down from now on. It's a shame because it's taken the gloss off a terrific performance.
"Of course I apologise; I represent a big club".

It was just a heat of the moment thing. Obviously I massively regret it. I think I am going to have to sit down from now on because that's about two or three incidents I have been involved in on the line.
"I didn't mean to do anything aggressive, but I did move my head forward and that's enough. It was just because of the situation, if I was on the other side of the line, that wouldn't have happened, perhaps it will teach me to sit down.
"It's a shame, because it took the gloss off a fantastic performance from us. That's really upsetting as well.
"He was right on top of me and I wanted to just ease him away from me but obviously I put my head in a forward motion. I want to apologise to him, everyone at Hull and obviously my own fans as well. I don't think it was a head butt. It wasn't a motion that was quick.
"Sometimes when you're on the sideline like that you can get involved in a moment like that. It was an incident that just flared up all around me. I just wanted to get him away, but with the forward motion... you can't do that.
"Of course, I'm not stupid enough to accept there's going to be no punishment. I'll have to accept whatever comes my way. I believe my behaviour over the years has not resulted in too many fines and sitting in the stands, but this one probably will."
About the game:

"It was a great performance, it is very difficult to know where to start.
"We were in control, we got the early goal. The goalie (Tim Krul) had to make a magnificent save at 0-0 but after that, we were in total control. Every time we were on the break we looked like we were going to score.
"It's a great performance and I'm sorry for the players and our fans that I am going to take the headlines away from it, probably. I'm representing a big, big club here and I shouldn't be involved in stuff like that, so apologies to everyone concerned.

"We set the team up to be fast on the break, but we had to be strong defensively. Luuk (De Jong) had a lot of responsibility on Huddlestone. I thought he had a terrific game for us. He impressed with his all-round performance.

"Obviously, Mapou (Yanga-Mbiwa) came in for Colo. I thought Mapou and Luuk deserved special praise as well as Moussa (Sissoko), who had an outstanding game.

"I think his best performances have been down that side - people questioned putting him there at the start of the season, but he's proved that that's probably his best role."

Statement on official NUFC website, Saturday evening:

"Newcastle United are disappointed with the actions of its manager Alan Pardew this afternoon (Saturday, 1st March).

"His behaviour was unacceptable and is not the behaviour we expect from the manager of Newcastle United.

"It is most disappointing that this incident has taken the focus away from what was a fantastic performance by the team and an excellent result away from home which leaves the club in eighth place in the Barclays Premier League.

"Sadly, the headlines tomorrow will not be focused on the result or the efforts of the players, but instead on the actions of our manager.

"Alan unreservedly apologised immediately following the game to the player, to Hull City Football Club and its fans, and to the fans of Newcastle United.

"We have held discussions this evening with Alan who has offered his sincere apologies to the Club and it is clear he deeply regrets his actions. Alan has accepted a formal warning from the Club in relation to his behaviour today and also a Club fine of £100,000.

"The Club is now drawing a line under this matter and will be making no further comment."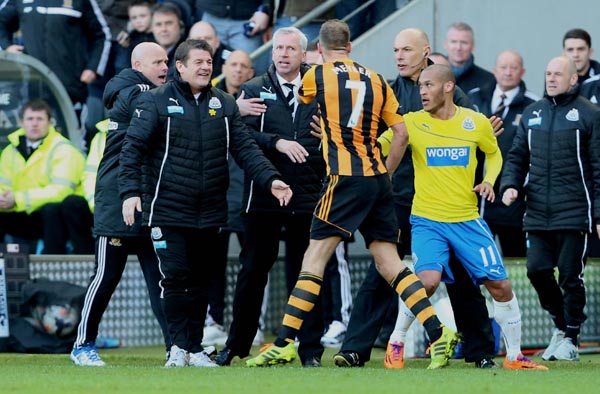 Steve Bruce expanded:

"I would see most roll around the floor in agony, David (Meyler) didn't.

"He handled himself impeccably. he restrained himself. He was desperate to get after the ball, Alan steps in his way and there's a tussle. After that it's there for everyone to see. I won't let it become a distraction.

"As far as we're concerned it's over for us. We accept his apology. I'm sure there will be huge ramifications and rightly so. I'm not going to shy away from that. I've never seen anything like it but we'll let the FA and powers-that-be deal with it.
"We're obviously outraged that the incident has happened and it's a good job Meyler didn't react in the way most people would have done. Then Alan would have been in big trouble. The whole thing is going to be about Alan Pardew rather than the result. In that respect it's decent for us.
"We're totally disappointed because we've had such a good week. Everyone was feeling good about themselves and we've shot ourselves in the foot. That's what happens when you're not at your best in the Premier League and making stupid mistakes.
"We've got to move on. It's one of those awful ones where we've lost the game because of individual errors. That's what's difficult to accept. If your team doesn't show or doesn't try and you get well beaten then you hold your hands up, but we just made too many individual errors.
"It's so unlike us. The reason why we've had such a good season is because we've prided ourselves on being difficult to beat and our organisational skills. Also our defenders playing well, but we gifted them goals.
"The second one is something you'll see in a Sunday League game and it's cost us the game. The third one is just as laughable."

From the FA, Monday:
Newcastle United manager Alan Pardew has been charged in relation to an incident in his side's game against Hull City on 1 March 2014. t is alleged that in the 72nd minute of the fixture, Pardew was involved in an incident with a Hull City player that amounted to improper conduct.
Due to the serious violent and/or aggressive nature of the reported behaviour this case has been designated as non-standard. Pardew has until 6pm on Thursday 6 March 2014 to respond to the charge.
From Chief Inspector Rich Kirven of Humberside Police, Monday:
We have been working with the FA and the football club to progress the matter appropriately.
Having reviewed the circumstances of the incident it has been agreed that the matter will be dealt with by the FA rather than considering any criminal proceedings. There has been no complaint received from the player involved or Hull City Association Football Club at this time.
Whilst we appreciate that some people may have found the behaviour displayed at the game on Saturday offensive, Humberside Police will not be taking any further action.

Toon @ Tigers - competitive games:

2013/14 won 4-1 Sissoko 2, Remy, Anita
2008/09 drew 1-1 (PL) S.Taylor
2008/09 drew 0-0 (FAC)
1990/91 lost 1-2 (Div 2) McGhee
1989/90 won 1-0 (FAC) O'Brien
1989/90 won 3-1 (Div 2) McGhee, Anderson, Brazil
1935/36 won 3-2 (Div 2) Pearson, Smith, Imrie
1934/35 won 5-1 (FAC) Bott 2, Cairns, Pearson, og
1934/35 drew 1-1 (Div 2) Pearson
1929/30 lost 0-1 (FAC)
1912/13 drew 0-0 (FAC)
Total record against Hull City

:

P
W
D
L
F
A
SJP
6
3
0
3
16
10
BP/KC
6
3
2
1
13
8
League
12
6
2
4
29
18
SJP(FA)
4
2
1
1
7
4
BP/KC

5

2

2

1

6

2

SJP(LC)
1
1
0
0
2
0

Cup
10
5
3
2
15
6
Tot
22
11
5
6
44
24

Although we did win here in a friendly back in 2003, a maiden Premier League success at the KC Stadium has further reduced the "hit list". Having broken our duck at the homes of both Cardiff City and Manchester United this season, only the City of Manchester Stadium remains to be conquered from the current venues (Leicester City's ground looks odds-on to be added to that list).

Vurnon Anta scored his first Premier League goal for Newcastle, making him the 112th different goalscorer for the club in that competition (excluding OGs).

Loic Remy's thirteenth Premier League goal of the season was enough to nudge him into the club's top 20 scorers in that competition:


| | |
| --- | --- |
| Alan Shearer 148 | Peter Beardsley 46 |
| Andy Cole 43 | Shola Ameobi 41 |
| Les Ferdinand 41 | Nolberto Solano 37 |
| Robert Lee 34 | (OG 34) |
| Gary Speed 29 | Demba Ba 29 |
| Obafemi Martins 28 | Craig Bellamy 27 |
| Michael Owen 26 | Kieron Dyer 23 |
| Laurent Robert 22 | Papiss Cisse 22 |
| Yohan Cabaye 17 | Andy Carroll 14 |
| Hatem Ben Arfa 13 | Loic Remy 13 |

United's fourteenth away game PL game of the season saw them record their seventh victory on the road, after taking maximum points from Aston Villa, Cardiff City, Spurs, Manchester United, Crystal Palace and West Ham.
That tally is already equal to the total recorded from 16 of our 19 full Premier League seasons*:

9 wins: 1993/94, 2001/02
8 wins: 2011/12
7 wins: 1995/96, 2013/14
6 wins: 1994/95, 1996/97, 2002/03, 2005/06,
5 wins: 2010/11
4 wins: 1998/99, 1999/00, 2000/01, 2006/07
3 wins: 1997/98, 2004/05, 2007/08
2 wins: 2003/04, 2008/09, 2012/13
(*1993/94 and 1994/95 were both 42 game seasons, since then it's been 38 games)
Newcastle's 379th Premier League away game saw them complete a century of victories away from SJP (173 losses and 106 draws), which have come as follows:
8 Aston Villa
7 Tottenham Hotspur, West Ham United
6 Leeds United, smoggies
5 Everton, mackems
4 Arsenal, Bolton Wanderers, Crystal Palace
3 Blackburn Rovers, Coventry City, Derby County, Fulham, Queens Park Rangers,
Sheffield Wednesday, West Bromwich Albion
2 Birmingham City, Ipswich Town, Leicester City
1 Cardiff City, Chelsea, Charlton Athletic, Hull City, Liverpool, Manchester City, Manchester United, Norwich City, Nottingham Forest, Oldham Athletic, Portsmouth, Sheffield United, Southampton, Stoke City, Swansea City, Wigan Athletic, Wolverhampton Wanderers.
0 Barnsley, Blackpool, Bradford City, Reading, Swindon Town, Watford, Wimbledon.

United scored four goals away from home in a Premier League fixture for the first time in almost six years and reached or exceeded that total for the tenth time in that competition:

Mar 2014 Hull City 4-1
Mar 2008 Spurs 4-1
Apr 2006 mackems 4-1
Dec 2005 West Ham 4-2
Sep 2001 smoggies 4-1
Oct 2001 Bolton Wanderers 4-0
Dec 2001 Leeds United 4-3
Sep 1998 Coventry City 5-1
Mar 1999 Derby County 4-3
Mar 1994 West Ham 4-2

Almost unnoticed, victory on Humberside meant that our 2012/13 points tally was exceeded:

NUFC PL seasons, placing, points:
| | |
| --- | --- |
| 1993/94 3rd 77 | 1994/95 6th 72 |
| 1995/96 2nd 78 | 1996/97 2nd 68 |
| 1997/98 13th 44 | 1998/99 13th 46 |
| 1999/00 11th 52 | 2000/01 11th 51 |
| 2001/02 4th 71 | 2002/03 3rd 69 |
| 2003/04 5th 56 | 2004/05 14th 44 |
| 2005/06 7th 58 | 2006/07 13th 43 |
| 2007/08 12th 43 | 2008/09 18th 34 |
| 2010/11 12th 46 | 2011/12 5th 65 |
| 2012/13 16th 41 | 2013/14 8th 43 |
(*1993/94 and 1994/95 were both 42 game seasons, since then it's been 38 games)
PL Stats courtesy of @NUFCdata

Luuk de Jong won more aerial duels (12) than any other player in the Premier League today.

Only Everton (18) had more shots on goal than United today (17). Everton (10) were also the only side to have more shots from outside the box than Newcastle (7).

Cheick Tiote completed more passes (50) than any other player on the pitch, posting an 82% completion rate.

United made 56 clearances against Hull, compared to just 16 for the home side. Mapou Yanga-Mbiwa made 17 of those - more than any other PL player today.


Waffle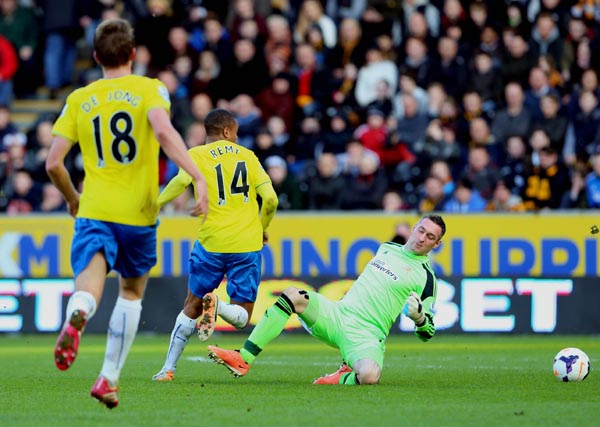 United notched up a seventh away victory of the season in emphatic style on Saturday, breaking their KC Stadium duck in the process and also completing a century of Premier League successes on the road.

Rather than glorifying in our first back to back wins of 2014 though, Alan Pardew made headlines of his own after a second half clash with a City player ended in the Newcastle manager attempting to head-butt him. When he talked recently about bringing the spirit of the SAS into the remainder of our season, this wasn't quite what we thought he meant....

Following previous touchline incidents and consequent FA disciplinary action, Pardew now faces hefty punishment and an extended sojourn in the Directors Box while that well-known cool head John Carver assumes control.

Confirmation followed from the FA that they will stage their own formal investigation, while a contrite Pardew was quickly assured of retaining his position by United - but landed with a £100K fine and a formal warning.

Goals from Moussa Sissoko and Loic Remy gave the yellow-clad Magpies a half time lead, but City briefly threatened a revival when Curtis Davies headed in Tom Huddlestone's free kick straight after the resumption.

Sissoko then struck again to restore Newcastle's two goal advantage, before Vurnon Anita's first league strike for the club in added time rounded off the rout. By then though, assistant manager John Carver was overseeing proceedings, following Pardew's dismissal in the wake of a clash with ex-mackem David Meyler.

That followed the ball going out of play for a throw in close to the United dugout and Meyler shoving past Pardew as he attempted to retrieve it, the United boss retaliating by leading with his head and making contact. Whilst not quite "a Glasgow kiss", there was enough intent from Pardew to make any claims of self-defence laughable.

Match referee Kevin Friend consulted with fourth official Howard Webb and contented himself with booking the home player before sending Pardew off.

With Fabricio Coloccini returning to Argentina after a family bereavement, Pardew had elected to replace him in central defence with Mapou Yanga Mbiwa. Up front meanwhile Luuk De Jong was preferred to Papiss Cisse.

After Yoan Gouffran shot narrowly wide, the game sparked into life in the ninth minute when Tim Krul's exceptional double save twice denied Alex Bruce from point-blank range. And just seconds later, a fine team-worked move ended with the ball in the back of City's net

Once the celebrations died down though, the songs from the away section were in tribute to the goalkeeper rather than the goalscorer - underlining Krul's pivotal role.

The Tigers continued to look dangerous when crosses were delivered from either flank, Nikica Jelavic heading narrowly wide and Elmohamady coming even closer as United worryingly failed to prevent the input of crosses. Jelavic was also denied when his dangerous free kick in a central position glanced off De Jong in the wall and clipped Krul's crossbar as a consequence.

A momentary lapse from Figueroa was then punished shortly before the interval. Remy had scored twice against Hull at SJP and his pace earned him another one here - his second in as many games since returning from suspension and further evidence that he's intent on making up for lost time.

A free kick into the Newcastle box was then played in and headed home by Curtis Davies to set up an interesting second half - Krul unable to perform heroics this time following a similar deep free kick from Huddlestone.

Sissoko soon forced a deflected Gouffran shot home though and further Newcastle goals could well have followed, Gouffran seeing one effort hacked clear in the six yard box and Remy clipped in the box for no reward.

The visitors took a firm grip of midfield and by the time Anita capped an industrious display with a fourth in added time, the Tigers were as bedraggled as United had been in the latter stages of our recent home humping by Spurs - disheartened City fans exiting at a rate of knots after seeing their side fail to win a fourth successive league game here.

Full time saw the whole team join in celebrations on the field, as a jubilant away section hailed a performance significantly better than last week's last gasp Villa victory. The cohesion evident in those post-match festivities echoed that seen during the game, the departure of Yohan Cabaye finally dealt with.

Our comments following NUFC's announcement of a £100K fine and formal warning:

That's a responsible reaction from United and a decent attempt to diffuse a massive media backlash, with legions of "experts" gleefully assuring viewers, listeners and readers that Pardew should and would, be sacked.

Our view from the away end was that it initially looked no more than a bit of pushing and shoving; subsequent texts confirming head contact on Meyler genuinely surprising.

There's no excuse for Pardew's over-reaction to a fairly innocuous incident at a point when the game seemed wrapped up in his side's favour and whatever sanction the FA add to that already given by the club will be justified - not least because of his well-documented "previous".

However, Meyler's portrayal by many observers - including his manager - as an innocent victim and worthy of praise for not going down clutching his face is simply baffling.

His unnecessarily aggressive and provocative shove on Pardew initiated the clash and while referee Kevin Friend deemed Meyler's actions worthy only of a yellow card (as advised by fourth official Howard Webb), other more independently-minded whistlers could have shown red.

Three or four players had to restrain an incandescent Meyler after he retaliated by shoving Pardew again and haul him away from the ensuing melee - Gouffran doing some good work for his manager in blocking him off.

As the club statement says, it's a huge shame that a fantastic team performance - including the miraculous double save by Tim Krul at 0-0 - was overshadowed.

For anyone doubting the job security that Pardew enjoys though, the events at Hull and the club's timely response confirms that he remains in credit with the owner. Had that not been the case, then this regrettable episode would surely have been used as grounds for his dismissal.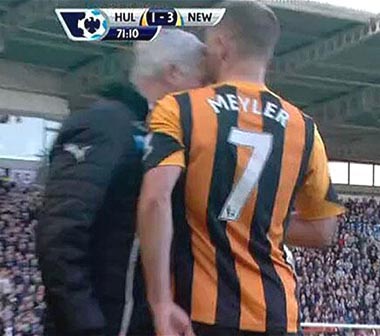 Biffa