Date: Saturday 15th March 2014, 3pm.

Venue: Craven Cottage

Conditions: suffering in the sunshine

Admission: £40

Programme: £3.50


Fulham

Newcastle United

1 - 0

.

Teams
Half time: Cottagers 0 Magpies 0

68mins Cheick Tiote's forward pass from the halfway line was directed towards Luuk De Jong, who was running across the pitch towards the touchline when he received in and was promptly upended illegally by Hangeland. Fulham actually stopped in the expectation of a free kick before Howard Webb waved play on and a ball played through midfield took out the idling Vurnon Anita and Tiote.

Lewis Holtby drove on towards goal before poking a pass out to recently-arrived home substitute Ashkan Dejagah. Shepherded by Mapou Yanga-Mbiwa, the Iranian stepped inside and fired a low right footed effort from just outside the box that Tim Krul misjudged and allowed to slip under him.
0-1

Full time: Cottagers 1 Magpies 0




With Alan Pardew serving the first game of his ban (3 stadium + 4 touchline), John Carver took control of team affairs at Craven Cottage and said:

"I spoke to him (Pardew) coming off the pitch at half-time. It was only a couple of points, then I spoke to him towards the end of the game. We had an analyst in the hotel with the gaffer and one on the bench with us.

"It was pretty brief. He was really calm at half-time. The manager has been OK this week, he has been lively, he has had a big part to play this week on the training ground.

"Other than him not being here for the three-and-a-half hours, heís been right at the front of things.

"It's been a difficult day and we lacked quality. Papiss gets in there but David Stockdale makes a fantastic save. Then it breaks, then Luuk de Jong gets caught from behind, then they break on us, we defend poorly, let the guy come inside on his right foot and we lose the game.

"I can't fault the lads for their effort, but we lacked quality. The game hinged on a few key decisions.

"I've just had a look at it (the added time penalty appeal) - and it hits his arm. There's no pace on the ball so it's not like it has happened quickly.

"I had a nice, sensible conversation with Howard Webb and he says he was in a difficult position to see it so he hasn't given it. Sometimes when you're not quite sure you think 'let's end the game now.' We have to accept it....I certainly had to count to 10. After what's gone on in the last few weeks we have to be on our best behaviour.

"Tim (Krul) was a bit animated. He wanted to go to see him but I said no. It's not worth it.

"I'm a little bit disappointed with the decision about the challenge on Luuk De Jong that led to their goal. Again, it's something I've just looked at and he goes straight into the back of him - you wouldn't get away with that on a Sunday morning.

"What we should have done is defend a little bit better. He (Dejagah) comes inside on his right foot and we shouldn't open up the goal - he should go on the outside.

"We warned Mapou (Yanga-Mbiwa) how to deal with it, and we didn't deal with it.

"At the moment, Papissís (Cisse) confidence is down because he hasnít scored goals. The pleasing thing is that he keeps getting in the positions to score. If heís not doing that, then weíve got an issue.

ďAdamís (Armstrong) deserved that taste. Heís been hanging around it for five or six weeks now. Eventually, heís got that opportunity. The thing is, heís a level-headed boy - heíll take it the right way, and continue to work. Itís great he had that opportunity.

ďWe think Loic (Remy) is out for two to three weeks and Mathieu (Debuchy) three to four weeks, so we have the next three or four games where theyíre likely to be missing and these guys will have to step up."

Tim Krul:

"In my opinion it was a penalty. I controlled it on my chest and his arms were up in the air. Sometimes it's difficult for the referee to see it but that's when you need his assistants to help him a little bit and unfortunately it didn't fall for us.

"He told us it was very close and he thought his hands were by his side, but they weren't. His arms were up in the air and in my opinion it was a penalty.

"Iím devastated because I would have loved to put it right for what happened at the other end. The shot has dipped and 'diedí on me. I need to be saving those.

"We got lucky in that instance (when "hawkeye" ruled that the ball didn't cross the line). I didn't know where the ball was after it hit the crossbar and we were lucky that the linesman made a great decision. We trust the technology and the referee in that. So that's a huge help.

"It's not the same without the manager on the side because he gives you the extra confidence and maybe a little bit of help, but he did everything in his power to help us.

"We had a team meeting at the hotel and then he rang John Carver at half-time to give him some instructions. It didn't affect the team, we just had to take our chances and we didn't today."


Felix Magath summoned up the spirit of Brian Wilson:

"I thought in this situation the older players would be more confident but the young players like Woodrow are more exciting. They give us a good mood, good vibrations. They have nothing to lose.

"We are very proud and we are very happy. I think that this is now the point where it turns. We need confidence and I know it takes time. We hoped we could get a win and of course, that was the one thing that we need.

"I was hopeful at half-time, and I'm lucky and glad we have managed it. I had to make some changes for today and you never know how it works, but fortunately it was good for us. It now gives the players confidence in the next games.

"The idea was that Maarten (Stekelenburg) is a quiet keeper and David (Stockdale) is louder and more exciting. I thought we needed someone who gives more excitement to the players. It was a hard decision for Maarten but he has taken it very well. Fortunately it worked and David made some excellent saves. He was very good and we can thank him for his very good performance.

ďWe are happy. Itís extraordinarily important to get a first win and I am more convinced than ever we will stay up. It was a brilliant result. We were the better team today and it will give us the confidence that we can avoid relegation.Ē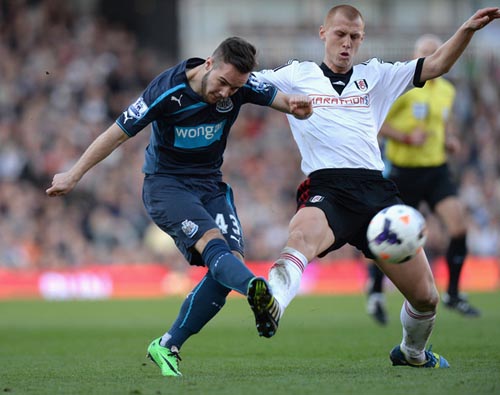 Adam Armstrong became the 185th player to represent United in the Premier League and the 25th player we've used in the PL so far this season (compared to 32 in the PL during 2012/13).

Just over a month after celebrating his 17th birthday, Armstrong (at 17 years, 33 days) becomes the youngest player to feature for United in the Premier League after Kazenga LuaLua (who was 17 years, 40 days when facing Bolton Wanderers at SJP in January 2008).

Armstrong becomes just the fourteenth "Tyneside-born"* player of that 185 total as follows:

Sammy Ameobi, Adam Armstrong, Peter Beardsley, David Beharall, Michael Bridges, Martin Brittain, Adam Campbell, Andy Carroll, Michael Chopra, Lee Clark, Paul Dummett, Robbie Elliott, Alan Shearer, Steve Watson.
(*That's our own personal tally and takes no account of players born in Cumbria, Durham or Northumberland or who moved here as bairns)

A senior debut completes a busy week for the lad from Chapel House, who collected up the Wor Jackie trophy at the Sport Newcastle awards, scored against Chelsea at SJP in the FA Youth Cup and was selected for England U17 duty.

As a reward for their performances in the FA Youth Cup the previous Tuesday, defender Lubo Satka and winger Rolando Aarons were both included in the Newcastle party to gain experience.

Toon away to Fulham - post-WW2:

2013/14: Lost 0-1
2012/13: Lost 1-2 Ben Arfa
2011/12: Lost 2-5 Guthrie, Ben Arfa
2010/11: Lost 0-1
2008/09: Lost 1-2 Ameobi
2007/08: Won 1-0 Barton (pen)
2006/07: Lost 1-2 Martins
2005/06: Lost 0-1
2004/05: Won 3-1 Ambrose, Kluivert, Ameobi
2003/04: Won 3-2 Robert, Shearer 2*
2002/03: Lost 1-2 Shearer*
2001/02: Lost 1-3 Speed
1983/84: Drew 2-2 Beardsley, Keegan
1982/83: Drew 2-2 McDermott, Varadi
1981/82: Lost 0-2 (LC)
1979/80: Lost 0-1
1978/79: Won 3-1 Connolly, Withe, Shoulder
1967/68: Lost 0-2
1966/67: Lost 1-5 B.Robson
1965/66: Lost 0-2
1960/61: Lost 3-4 Allchurch, Hughes, Woods
1959/60: Lost 3-4 Eastham, Hale 2
1955/56: Won 5-4 (FA) Casey, Keeble 2, Milburn, Stokoe
1951/52: Drew 1-1 G.Robledo
1950/51: Drew 1-1 Walker
1949/50: Lost 1-2 Milburn
1947/48: Lost 0-3
1946/47: Won 3-0 Bentley, Wayman

* at Loftus Road (all others at Craven Cottage)
Total record against Fulham:
| | | | | | | |
| --- | --- | --- | --- | --- | --- | --- |
| | P | W | D | L | F | A |
| SJP | 31 | 15 | 8 | 9 | 52 | 37 |
| CC/LR | 31 | 7 | 5 | 18 | 44 | 63 |
| League | 62 | 22 | 13 | 27 | 96 | 100 |
| SJP(FA) | 3 | 3 | 0 | 0 | 15 | 0 |
| CC | 1 | 1 | 0 | 0 | 5 | 4 |
| SJP(LC) | 2 | 1 | 0 | 1 | 4 | 2 |
| CC | 1 | 0 | 0 | 1 | 0 | 2 |
| Cup | 7 | 5 | 0 | 2 | 24 | 8 |
| Tot | 69 | 27 | 13 | 29 | 120 | 108 |
Blue away kit outings 2013/14:

Cardiff City won 2-1
Swansea City lost 0-3
Fulham lost 0-1


Waffle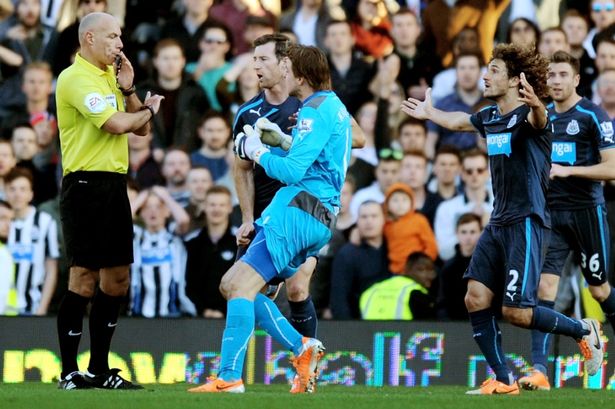 Newcastle deservedly slipped to their fifth successive loss at Craven Cottage on Saturday, looking desperately short of ideas and badly missing their high-profile absentee. However it wasn't the banned United boss Alan Pardew whose non-appearance was bemoaned by the travelling toon contingent, but rather injury victim Loic Remy.

The on-loan QPR striker returned from international duty with a calf problem and without him, stand-in strike duo Luuk De Jong and Papiss Cisse seldom looked like piercing the leakiest top-flight defence in the country.

United took to the field in their blue change kit and with Mathieu Debuchy joining Davide Santon and Hatem Ben Arfa on the sidelines, took some time to create a chance worthy of the name.

One of several fouls on De Jong saw Paul Dummett try his luck from distance on 22 minutes, but his effort flew into the Hammersmith End. Cisse then saw one effort blocked following De Jong's miskick during what was an all-too -brief period of United pressure before the interval.

What was said and by whom in the away dressing room at the interval is unknown, but Fulham came out looking to make an impression and had the ball in the net within seconds - although an offside flag was already raised against Steve Sidwell.

They then came even closer to scoring after 54 minutes, when Pajtim Kasami's blocked effort fell for Jonny Heitinga to blast an 18 yard shot against the crossbar - the ball dropping on the Toon goal line before ending up in the net via Cauley Woodrow who was clearly offside.

After some debate with referee Howard Webb (who had presumably been reassured by goal-line technology that generates a message sent to a device on his wrist) the game restarted.

Some eight minutes later the stadium scoreboard then displayed the "hawkeye" graphics confirming that not all of the ball had crossed all of the line - but that it was a desperately close decision.

A game that looked likely to finish scoreless was decided by a 68th minute rick by goalkeeper Tim Krul, who allowed recently-arrived home substitute Ashkan Dejagah to fire through his grasp from the left side of the box.

Adding insult to injury, that unexpected goal came within seconds of a misplaced pass that allowed Cisse a clear run and sight of the target at the other end of the field.

Sadly but not unexpectedly, the tragically out-of-form number 9 placed his shot straight at David Stockdale - Webb's failure to punish Brede Hangleand's foul on De Jong on immediately afterwards set Fulham off - clear echoes of the Swansea away game he refereed before Christmas.

That goal settled the destination of the points, Cisse being hauled off soon after amid audible cheers, replaced by Shola Ameobi - who if anything was even worse.

A misplaced header late on by De Jong was also followed by his departure, with youngster Adam Armstrong given his senior debut and doing his best to make a difference by embarking on a direct run at goal before placing his shot narrowly wide. We'll soon get that out of him....

Added time then saw a flurry of activity in the Fulham area, with Krul popping up at a corner to try a shot on goal, leading strident protests for an obvious handball by Heitinga that Webb ignored as he blew the final whistle.

But while the blame is rightly apportioned to the United forwards for dereliction of duty, a tragic lack of talent and application in midfield was also our undoing - both Cheick Tiote and Moussa Sissoko choosing this game to post patchy displays that reduced their side to swiping aimless forward balls that were gobbled up.

This defeat plus Southampton's victory was enough to drop United back to ninth place in the table and bring fresh hope to Fulham in their bid to avoid relegation.

A tepid Cottagers side missing SJP old boys Damien Duff and Scott Parker weren't great but provided us with a stern enough test in avoiding a fifth successive home loss, posting a first clean sheet in fifteen attempts and taking three points for the first time in ten games.

And while Cottagers boss Felix Magath was celebrating a first win since taking over, his opposite number could be forgiven for chucking the telly out of his hotel room - having been forced to tune in to this witless rubbish. It didn't look any better from behind the goal...

Whether the owner was watching somewhere is unclear, but hopefully someone who doesn't fear for their position will have the guts to tell him that a front pairing of Cisse and De Jong next season will leave his side well short of the mid-table mediocrity that we aspire to.

With Remy set to miss the next three games, quite how we'll find goals to defeat Crystal Palace, Everton and Southampton is a moot point. At times this was simply painful to watch - with little prospect of improvement.

Biffa