Date: Saturday 22nd March 2014, 3pm

Venue: St. James' Park

Conditions: elongated - thankfully







Newcastle United

Crystal Palace

1 - 0




Teams
Half time: Magpies 0 Eagles 0

90+4mins Papiss Cisse was on hand to head home Hatem Ben Arfa's deep cross from seven yards at the Gallowgate End 1-0

Full time: Magpies 1 Eagles 0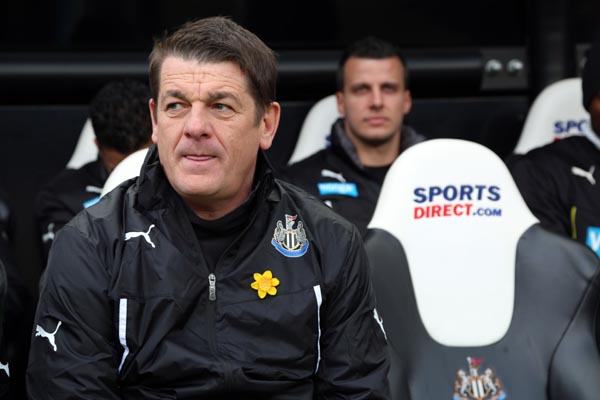 John Carver (taking charge of team affairs and on the phone to Alan Pardew, watching the game with a video analyst back at the training ground):

"When Hatem (Ben Arfa) came inside, I thought he was going to shoot, but he had the sense to stick it on Papiss' head and he probably took the hardest chance, because it came quickly.

"Of all the chances he had today, he guided it past the goalkeeper, and there's nobody more pleased for him than me.

"Last week, we didn't create a great deal, but the two chances fell to Papiss. I said after the game last week how hard he does work on the training ground to put that right, and he certainly did that today.

"He's not going missing, he's not hiding and sometimes you can when you are lacking in confidence.

"You'd like to think so. There are only eight games left, so if he goes on a run from now until the end of the season, he'll have had a good season, I think.

"I'd like to think so. He is a confidence-type player and you know what strikers are like, if they get one goal, sometimes they get two, three, four goals, so hopefully.

"I'll be asking him (Mike Ashley) for a new contract I think! It's good that he's shown his support.

"I take credit for everything today! We (Carver and Pardew) had a number of conversations, just before half-time and as the game was going on.

"But in fairness, the manager never once said to me 'we should do this' or 'we should do that'. He always gave me an option, some of them we used and some of them we didn't.

"But like he said during the week, he trusts people and he trusts the staff, and because we're in the stadium, we can get a sense for a feel of what's going on and we have to make the final decision, so it works both ways.

"I've spoken to Alan and he is delighted, obviously. He's pleased for myself because there has been a bit of a pressure on me, with being a local lad and the manager not being there.

"I don't feel it because my job does not really change – he is still the manger. He is just doing it from seven or eight miles away. But he is pleased.

"He's coming to the stadium later on because I think his ban finished when the ball went into the back of the net. He's coming to have a chat and I will have a beer with him."

The goalscorer:

"I say thank you to the fans. All the time, they're here for the team - away or home, singing for the team. I think today has been my day. I kept going and it's given me a punch - Papiss, go, go, go.

"It's good, but the players say all the time, 'try to score quickly' and 'don't leave it until after 90 minutes to score because it's not good'.

"I try to score - I like to score quickly and we can relax, but my chance came after 90 minutes. It's okay. I am very, very happy to score because it's a long time. I am a striker and I know sometimes strikers have these moments and it's very, very hard.

"Now it's nine years I have played in the big championships and I have a little bit of experience. In my head, I say all the time, 'go to training and work hard, and if you start the game or if you come on for 10 minutes or five minutes, you do your job and keep going all the time'.

"Maybe you have one day and this day, you start to score. I have a contract with the Newcastle team and I work hard. If they need me, I am ready.

"Like today, the striker (Loic Remy) was injured and today the team needed me and I was here. I scored in the last minute and gave three points to the team."


Tony Pulis:

"You talk about the final few seconds. He (the fourth official) put three minutes up and he (Lee Probert) played over three minutes.

"In the first half it was over when he's given the free-kick and he's played 15 second over that. He allowed them to take the free-kick before he blew up so he's waiting for them to finish their play before he blew up, so we're really disappointed with that.

"One or two of the players tired late on and to get beat with the last kick of the game is really disappointing.

"We created some good chances. You know you're going to come to Newcastle and they're going to create opportunities and chances because they've got some good players.

"But I thought we had good opportunities first half and into the first quarter of an hour, 20 minutes second half. The fixtures haven't been kind to us but the performances the lads have put in have been absolutely fantastic.

"The players have done really well and to be beaten by the last kick of the game was disappointing. I think we created some good chances, we had good opportunities in the first half and in the first 15 minutes of the second half.

"I thought for an hour we did very, very well. We tired at the end, they had a couple of chances at the end, but I thought we'd really seen it out. The disappointing thing is, if you look at the video, we think we should have had a free-kick outside their box with 20 seconds to go.

"Then they come down and they score, which is over time. First half he played a minute and 40 seconds over time. And in the second half I think it's 3.40 when they score the goal.

"We need a break, we need one or two things going for us. We missed a great chance at sunderland last minute and today we've got done in the 48th minute, which was 30 seconds over time."



Registering his last Premier League goal from the penalty spot at home to Stoke on Boxing Day, Papiss Cisse netted from open play for the first time in the PL since his 94th minute winner at home to Fulham in April 2013.

Today's goal ended a 350 minute scoreless run in the Premier League for the man from Senegal, a mere blink of the eye compared to the 1,209 minutes between those previous PL goals against Fulham and Stoke.

Cisse's strike ended a depressing sequence of matches when Loic Remy hasn't featured for United, this being the seventh game the on-loan striker has missed - and the first in which we've scored a goal without him present.

Deja vu again - Cisse's last-gasp interventions:

2011/12 Chelsea (a) 94 mins won 2-0
2012/13 West Bromwich Albion (h) 93 mins won 2-1
2012/13 Stoke City (h) 92 mins won 2-1
2012/13 Anji (h) 94 mins won 1-0
2012/13 Fulham (h) 94 mins won 1-0
2013/14 Crystal Palace (h) 94 mins won 1-0

Anyone who has exited at the 90 minute mark in the last four games Newcastle scored in really has missed out:

West Ham (a) Cabaye 95 mins
Aston Villa (h) Remy 92 mins
Hull City (a) Anita 92 mins
Crystal Palace (h) Cisse 94 mins

Having recorded a 3-0 victory at Selhurst Park back in December, Newcastle registered their second double of the season - also beating Aston Villa home and away.

Eagles @ Magpies - all time:

2013/14 Won 1-0 Cisse
2009/10 Won 2-0 og(Derry), Ranger
2004/05 Drew 0-0
2001/02 Won 2-0 Shearer, Acuna (FAC)
1998/99 Won 2-1 Speed, Shearer (FAC)
1997/98 Lost 1-2 Shearer
1994/95 Won 3-2 Fox, Lee, Gillespie
1987/88 Won 1-0 Gascoigne (FAC)
1983/84 Won 3-1 Waddle, Keegan, Ryan
1982/83 Won 1-0 Waddle
1981/82 Drew 0-0
1978/79 Won 1-0 Shoulder
1972/73 Won 2-0 Hibbitt, Nattrass
1971/72 lost 1-2 Dyson
1970/71 Won 2-0 Robson 2
1969/70 Drew 0-0
1964/65 Won 2-0 Suddick, McGarry
1946/47 Won 6-2 Bentley, Pearson, Shackleton 2, Stobbart, Wayman(FAC)
1919/20 Won 2-0 Dixon, Hall (FAC)
1906/07 Lost 0-1 (FAC)

Full record v Palace:

P
W
D
L
F
A
SJP
14
9
3
2
19
7
SP
14
8
1
5
20
12
League
28
17
4
7
39
19
SJP(FA)
6
5
0
1
13
4
SP
0
0
0
0
0
0
SJP(LC)
0
0
0
0
0
0
SP
0
0
0
0
0
0
Cup
6
5
0
1
13
4
Tot
34
22
4
8
52
23
Pardew's ban:

Sat March 15th Fulham (a) stadium ban
Sat March 22nd Crystal Palace (h) stadium ban
Tue March 25th Everton (h) stadium ban

Sat March 29th Southampton (a) touchline ban
Sat April 5th Manchester United (h) touchline ban
Sat April 12th Stoke City (a) touchline ban
Sat April 19th Swansea City (h) touchline ban

Mon April 28th Arsenal (a) (8pm)

Waffle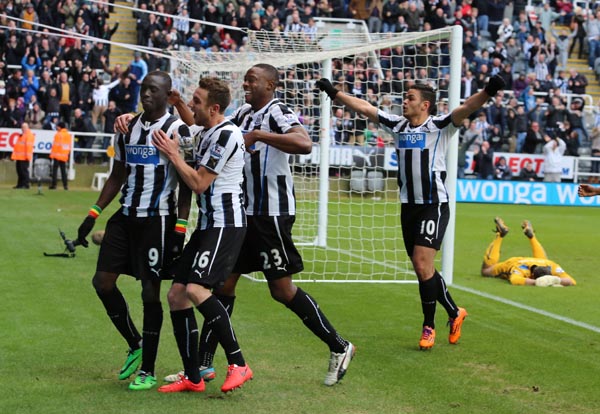 For the second successive home game, Newcastle struck deep into added time to secure all three points and wipe away the mundanity of the previous 90 minutes.

Today's late show star was Papiss Cisse, who ended his latest goal drought with the only goal of the afternoon - rewarding those home fans who resisted the temptation of the early metro/pint to remain in their places.

A goalless draw had seemed inevitable once Cheick Tiote had struck the bar in the closing moments and Cisse failed to turn home the rebound. Thankfully though, he quickly atoned for that by heading a cross from substitute Hatem Ben Arfa into the Gallowgate net in the 94th minute.

Fresh from registering a 0-0 draw on wearside last week, Tony Pulis' Palace side returned to the region looking for another point, packing their defence and wasting large amounts of time from an early point in proceedings.

However, a less cautious adventurous approach from the division's lowest away scorers could have paid dividends against a stuttering United, with the physical presence of Cameron Jerome once again testing our back four.

The Eagles came closest to a goal when Yannick Bolasie's shot flicked off Tim Krul's goalframe early in the second half, while Cisse was denied three times by Julian Speroni - and also twice missed the target when well placed.

Both of those misdirected efforts came late on, as the United number 9 headed a right wing centre from Ben Arfa over. He then somehow contrived to miss the ball when Mapou Yanga-Mbiwa controlled the rebound from Tiote's piledriver and rolled the ball across the face of the goal.

Speaking to the press on Thursday, Alan Pardew had made little secret of the fact that Ben Arfa's standing within the squad had diminished due to his lack of industry - and that fielding him would risk something approaching a mutiny. After almost an hour of failing to make a breakthrough on the straight and narrow though, the opportunity of playing our wld card was duly taken.

With both Moussa Sissoko and Yoan Gouffran noticeably below-par, the introduction of Ben Arfa injected some desperatly-needed pace and invention into our forward play. Almost inevitably though his contribution mixed fine dribbling with misplaced passes, over-elaboration and wild shooting.

Deep into added time and with a rare foray upfield from Palace ending in a sizeable shout from their travelling contingent for a Mike Williamson handball, United pushed forward for what would surely be the final time.

Recently-arrived substitute Sylvain Marveaux switched play from the left flank infield, Williamson then finding Ben Arfa, who cut infield from the opposite wing and set off for goal leaving Joe Ledley in his wake.

Having ended his previous push into the box by blasting widly into the crowd, this time Hatem's left-footed centre fell perfectly for the unmarked Cisse to spring and bullet a header past Speroni.

In contrast to his team mates and coach John Carver (in the technical area in the absence of his manager), the goalscorer seemed almost sheepish in his celebrations - no leaping charge into the crowd this time round. And like many present, he sneaked a quick look at the linesman just to make sure that a flag wasn't raised.

Carver's decision to leave Cisse on the field ultimately proved fruitful, with welcome hints of his previous potency evident and more chances arriving at his feet - and head - than in recent memory. Evidence of some improved timing also came in his remaining onside.

Alleged strike partner Luuk De Jong was withdrawn before the hour though, a seventh outing in our colours doing little to enhance his reputation - or hopes of securing a permanent move. Tracking back well to make a vital first half clearance was admirable, ducking under two far post crosses rather less so - and given that the geezer who signs the cheques was present, perhaps fatal.

Securing back to back home wins for the first time since November halted a sequence of results that had seen United fail to score in the absence of Loic Remy. The three points meanwhile took us back up to eighth in the table, leapfrogging Southampton once again. United then retained that position on Sunday when the Saints lost 2-3 at Spurs, with Alan Pardew present at White Hart Lane.

It's always pleasurable to beat a Pulis side and the tracksuited and cap-wearing moaner inevitably berated referee Lee Probert at full time for playing beyond the three minutes indicated by the fourth official. Rather than snipe at the referee though, Pulis may reflect that his own goalkeeper's obvious delaying tactics gave Probert every encouragement to keep the clock running - and possibly consign Palace to the Championship.


Biffa