Date: Saturday 29th March 2014, 3pm.

Venue: St.Mary's Stadium

Conditions: cataclysmic

Admission: £37 (£35 in 2012/13)

Programme: £3


Southampton

Newcastle United

4 - 0

.

Teams
45+1mins Southampton began their attacking move with goalkeeper Artur Boruc, who threw the ball out to Steve Davis just inside his own half. With no visiting player in his vicinity, Davis turned and floated a ball down the line towards Rickie Lambert - who had easily pulled away from the idling Massadio Haidara into acres of space.

Lambert had time to steady himself before rolling the ball across the empty United area from 12 yards for Jay Rodriguez to arrive and dink it over the diving Elliot from 6 yards at the end where the travelling support were gathered. Simple, slack, sickening. 0-1

MOTD pundit Alan Hansen commented: "This is the worst goal ever conceded - if Southampton were playing against nobody then it could not have been easier."

Half time: Saints 1 Magpies 0

49mins Davis again was involved, winning a header from Haidara in midfield and finding a colleague who promptly sprayed it towards the advancing Adam Lallana in the right channel.

Cutting inside both Haidara and Gouffran, Lallana's floated cross to the back post found Lambert who casually thumped it into the roof of the net - with Santon realising too late that he'd allowed the home striker to get behind him. Replays showed that Fabricio Coloccini had failed to respond to the threat, leaving partner Mike Williamson with two attackers 0-2

70mins Greater desire to win the ball took Jack Cork through challenges from Vurnon Anita and Cheick Tiote just in the Newcastle half - the latter leaving Cork on the floor and Tiote attempting to claim that he'd been fouled.

Play rightly continued though and Davis took possession before allowing Lallana to take up the running and head for goal. With messrs Coloccini and Williamson both back-pedalling, the England international pulled the trigger from outside of the box and slammed in the goal of the game 0-3

89mins Saints substitute Gaston Ramirez had time and space to check in the centre circle and flight a fine ball out to the left, picking out Rodriguez as he galloped past Williamson - Santon once again a non-combatant viewing proceedngs.

Rodriguez took two touches to check back infield towards the left hand corner of the six yard box, eluding Williamson and firing between Elliot and his far post to complete our misery 0-4

Full time: Saints 4 Magpies 0
Alan Pardew:

"The performance was lack-lustre from us. The (difference in) energy levels between the teams was marked. If you don't threaten the opposition, they're going to keep coming. That's what Southampton did. It was a great game for them.

"They played very well and made it really difficult for us but that's a performance that we need to make sure never happens ever again – certainly not for the next six games.

"I can't explain (the lack of energy) compared to theirs....we didn't really have a player than excelled above a Southampton player in almost every area they won today. I have made it clear to the players that we expect to see a reaction against Man United.

"After what was a tough game in midweek we gave the players plenty of rest, thinking that was the best option, but this week, for sure, we're going to have to work on our process of how we're going to score goals and win games. We really had no chance today.

"I don't think that's a major issue (his touchline ban) because we have John Carver on the sidelines but it was our lack of energy – wherever you were sitting in the stadium – that looked the problem.

"If you're going to play a team like Southampton, you can't give them the space we did, keep turning the ball over and not offer a threat.

"The criticisms that we'll get this week, we'll have to accept and make sure this week – not starting against Manchester United, starting on Monday – that we train very well and put a performance in that is relevant to this club.

"When we turn to the fans, what can we say? They left at half past five this morning and they've come to watch a performance that isn't 'us'.

""I can't think of too many occasions of a performance where we haven't threatened the opposition because, even in some of our defeats this season, we've certainly threatened.

"I'm not really going to talk about individual players - I think, collectively, we have to accept responsibility. It wasn't good enough - we lost the battle almost everywhere on the pitch.

"It was a really tough day and we didn't get any breaks in the game. All four goals are almost identical in terms of holding a line that wasn't there.

"We're desperate to freshen up a bit, but we're down on numbers and that's costly. But for all of our fans that have travelled down here, all this way and all the way back, I'm afraid that isn't good enough.

On Elliot:

"He did (play well), but he had far too much work to do.

"When you come here and you give the space to the quality that Southampton have got, you're going to be in trouble. We were in trouble from the kick-off to the end."

Mauricio Pochettino:

"We had an amazing performance today and not just the final result but the way that we played today was outstanding. There have been games in the past where we played very well but the final result didn't show how well we played - today that did not happen, I think overall we're still a developing team, we're a growing team.
"We're still improving and the result today is a very important result for our development as a team and I'm just very happy overall with the performance of the players today.
"It's clear that for the three England players that we have here at Southampton, it's very good to maintain those high standards that they're showing throughout the season. That is only going to increase their chances of actually going to Brazil so it's very good for them. It's good for us as well."
The Saints recorded their largest margin of victory ever over Newcastle in 35 league and cup meetings since 1898. Profligacy in front of goal meanwhile cost them the chance of registering a record Premier League win - or at least equal the 6-3 win over Manchester United in 1996.

Toon @ Saints - last 20:

2013/14: Lost 0-4
2012/13: Lost 0-2
2004/05: Won 2-1 OG, Carr
2003/04: Drew 3-3 Ameobi, Bowyer, Ambrose
2003/04: Won 3-0 Dyer 2, Robert
2002/03: Drew 1-1 Bellamy
2001/02: Lost 1-3 Shearer
2000/01: Lost 0-2 No scorer
1999/00: Lost 2-4 Shearer, Speed
1998/99: Lost 1-2 Hamann
1997/98: Lost 1-2 Lee
1996/97: Drew 2-2 Ferdinand, Clark
1995/96: Lost 0-1 No scorer
1994/95: Lost 1-3 Kitson
1993/94: Lost 1-2 Cole
1988/89: Lost 0-1 No scorer
1987/88: Drew 1-1 O'Neill
1986/87: Lost 1-4 A.Thomas
1985/86: Drew 1-1 Beardsley
1984/85: Lost 0-1 No scorer
Full record v Saints:

| | | | | | | |
| --- | --- | --- | --- | --- | --- | --- |
| | P | W | D | L | F | A |
| SJP | 38 | 28 | 6 | 4 | 89 | 35 |
| SM/TD | 38 | 4 | 11 | 23 | 30 | 67 |
| League | 76 | 32 | 17 | 27 | 119 | 102 |
| SJP(FA) | 3 | 2 | 1 | 0 | 4 | 1 |
| HCG/TD/SM | 6 | 1 | 0 | 5 | 6 | 13 |
| SJP(LC) | 0 | 0 | 0 | 0 | 0 | 0 |
| TD | 1 | 0 | 0 | 1 | 1 | 4 |
| SJP(FC) | 1 | 0 | 1 | 0 | 0 | 0 |
| TD | 1 | 0 | 1 | 0 | 1 | 1 |
| Cup | 12 | 3 | 3 | 6 | 12 | 19 |
| Tot | 88 | 35 | 20 | 33 | 131 | 121 |

Loic Remy has now missed nine Premier League games United - and we've failed to score in all but one of them (Cisse's added time winner against Palace at SJP being the sole exception).

Luuk De Jong has now made nine appearances for United (six starts) totaling 553 minutes without finding the net. He's yet to score this season at all, having made thirteen sub appearances in the Bundesliga for Munchengladbach (albeit for a combined total of just 74 minutes).

We've now failed to score in four of our last five away games.

Pardew's ban:

Sat March 15th Fulham (a) stadium ban
Sat March 22nd Crystal Palace (h) stadium ban
Tue March 25th Everton (h) stadium ban
Sat March 29th Southampton (a) touchline ban

Sat April 5th Manchester United (h) touchline ban
Sat April 12th Stoke City (a) touchline ban
Sat April 19th Swansea City (h) touchline ban

Mon April 28th Arsenal (a) (8pm)


Waffle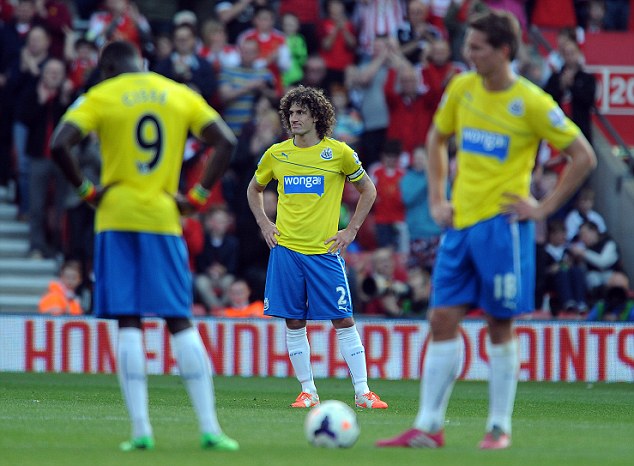 The United players were clearly delighted by Pardew's return
England trio Jay Rodriguez, Ricky Lambert and Adam Lallana enjoyed the freedom of St. Mary's on Saturday afternoon, as United somehow escaped a landslide defeat despite a pathetic showing.

Rodriguez netted in the final seconds of an opening half that the Saints had completely dominated - fashioning a dozen scoring chances before finally beating Rob Elliot, who despite conceding four goals in the match was the only Newcastle player to emerge with a shred of credit.

Any notion that donning the "lucky" yellow change shirt would help us in this battle for eighth place were soon dispelled in an atrocious display that left Alan Pardew squirming with embarrassment in his stand seat.

Far from projecting his self-proclaimed winning mentality on the dressing room after serving a three match stadium ban, the United manager's return - and team selection - had a thoroughly debilitating effect.

Taking Paul Dummett out of the firing line after a three game stint, Massadio Haidara returned at left back for his first league start since April 2013. Tim Krul's knee injury meanwhile saw Elliot make his seasonal league bow.

With Loic Remy missing once again, Luuk De Jong paid the price for his lack of impact and was dropped in favour of Hatem Ben Arfa. That policy had a catastrophic effect on the rest of his colleagues, seemingly tired of his variable effort levels and questionable commitment to the team.

Unfortunately though, that manifested itself in the rest of the outfield players seemingly downing tools in an opening 45 minutes that rivaled the shambles that was the first half of the last derby match. Inept doesn't describe it.

Southampton started well and after Lambert put his seventh minute effort into the side netting, missed a succession of chances - Elliot twice denying Lambert, Rodriguez once, and seeing a raft of other opportunities whistle past his goal.

As early as the 23rd minute, Cheick Tiote and Mike Williamson had to be separated by team mates as a verbal spat threatened to escalate into something more.

Just when United seemed to have survived though, Lambert had time and space to roll the ball across the area to Rodriguez to open the floodgates. Pardew will surely have taken full advantage of his permitted return to the dressing room to say a few choice words, but may as well have saved his breath and queued for a pie...

Ben Arfa failed to reappear for the second period and was sacrificed for De Jong, while Davide Santon came on at right back in place of the troubled Mapou Yanga-Mbiwa.
Saints doubled their lead within five minutes though, when a cross floated to the back post by Lallana found Lambert who casually thumped it into the roof of the net.

Having taken a 2-0 lead at Spurs the previous weekend before losing momentum and ending up on the wrong end of a 2-3 loss, Maurico Pocchetino's side began to snooze in the sunshine and United enjoyed some possession.
However that failed to see the creation of a single scoring chance and once Southampton rediscovered their rhythm, their third goal following almost immediately.

Lallana slammed in the goal of the game after taking a pass from Jack Cork and setting off towards the United goal, pulling the trigger from outside of the box as our defence back-pedalled and leaving Elliot grasping air.
With virtually no support or service, Papiss Cisse finally registered Newcastle's first shot on target after 72 minutes only to be denied by the legs of Artur Boruc.

Elliot then pulled off a double save three minutes later to foil James Ward-Prowse either side of Lallana hitting the post, as more home goals looked inevitable. Perhaps the lowest point of a shambolic day came with four minutes of normal time remaining as United came forward with something approaching competence and Dummett delivered a fine centre from the left.

Right in front of the away support, the ball arrived at an unmarked De Jong towards the far post just six yards out. A header, a shot, a chest or even a thrust of his gonads at it would surely have got him a first Newcastle goal.
Instead though he allowed the ball to brush harmlessly against him before Yoan Gouffran vainly attempted to steer it home. The attacking instinct of a cuddly toy.

Take your pick on who he reminds you of: thoroughbred carthorses such as Guivarc'h, Andersson, Pingel, Kuqi or McDonald. Bring back Leon Best; he's more fit for purpose than this complete and utter bloody duck egg.

The final nail in the coffin came on 89 minutes, when yet more woeful defending allowed Rodriguez to turn and fire across Elliot to equal our worst defeat this season.

Having tried to urge the team on during the game, many of those still in the away end after full time deservedly booed and abused the players, who cut short their attempt to applaud the crowd and sloped off. Elliot did receive a better reception for at least keeping the score down (even if his distribution is pathetic) as he tossed his gloves into the crowd.

While our criticism is across the board though, it has to be recorded that a large part of the problem here came firstly by the lack of viable alternatives to our "first XI" - and the miserable excuse for performances served up by senior players like messrs Tiote, Coloccini and Sissoko. Quite what planet Gouffran now inhabits is also unclear.

Overdue ticket price reductions may have slightly eased the burden, but the cost of travel and the time taken to attend games like this simply cannot be justified when the reward is as miserable and gutless as today. The remaining games this season at Stoke, Arsenal and Liverpool stretch out before us like a prison sentence.

If Old Trafford and White Hart Lane were high spots this season, then this was an all-too predictable low point. When ripped to bits on this ground last season, we trotted out the midweek Europa League refrain - now it seems we're no longer capable of even playing midweek Premier League matches and functioning afterwards.

It can be argued that Everton had a motivation to win in midweek that we lacked, as they attempted to attack a European spot. The same cannot be said of Southampton though, who began the day trailing us by two points and have as little to play for as Newcastle.

They appear to have sort of ambition, structure and spirit though, in contrast to the con men masquerading as footballers who receive support they do not deserve.

Final word to one of the four lads in the away end who had cycled here from Tyneside and raised a few grand for cancer charities in doing so. His verdict on the game?

"all we wanted was 90 minutes effort".

Every outfield Newcastle player here today should be fined for this effort-free abomination of a performance and the proceeds given to those charities - having the brass neck to draw a wage for this is simply shameful.


Biffa