Date: Saturday 5th April 2014, 3pm

Venue: St. James' Park

Conditions: depressingly predictable






Newcastle United

Manchester United

0 - 4




Teams
39mins A clumsy challenge by Gosling on Darren Fletcher provided Juan Mata with a perfect chance to score, arrowing home a free kick as Rob Elliot scrambled along his line in the Gallowgate goal. 0-1

Half time: United 0 United 1

50mins Further comical defending from Fabricio Coloccini saw him chest down Lindegaard's upfield punt, only to inexplicably pause and allow the ball to get away from him. Kagawa strode towards it and headed the ball forwards into the path of Hernandez as he scampered into our penalty area.

Williamson committed himself and slid out of the way as Hernandez pulled the ball back towards the advancing Kagawa - who politely paused as Mata appeared on his shoulder to provide a precise finish from seven yards, Coloccini having caught up and then gone to ground in front of Elliot to open up the target still further for the scorer. 0-2

64mins The visitors came forward down the left flank through Januzaj, who spotted that Kagawa had found space running into the box as Cheick Tiote declined to track him. The Japanese midfielder needed to do no more than pull the ball back to give Hernandez the easiest of tasks of nipping in ahead of Williamson and sweeping the ball home from six yards 0-3

90+3mins Exactly the sort of goal we continue to concede in the closing stages of games, as the buoyant opposition meander towards goal - this time Januzaj and Nani - swapping passes as they arrived in the box, before Mata's neat back heel took out Gosling and allowed Januzaj to slip the ball home. 0-4

Full time: United 0 United 4

Alan Pardew:

"It was a tough afternoon for us and we weren't at our best.
"We are lacking a bit of quality at the moment and we are trying to get that on the pitch. We had some good effort and commitment today, certainly better than Southampton, but I'm afraid it wasn't good enough against a decent Manchester United.
"We have got loads of players missing and it is really hurting us at the minute. We are desperate to get another three points, a win and a goal for them (the fans) but it is just not happening for us at the moment.
"It was difficult because we were coming off the back of a couple of bad defeats. The first goal was important today and their tails went up once they got it. We made a mistake for the second goal and then we were really chasing it and we had a problem.

"It is a problem for us, scoring goals. We've had a couple of big chances today and I think we just need a goal to give us a lift.
"(Manchester) United were good, you have to say, they settled down and played well. We are lacking a bit of positivity on the pitch and we need to try and get that in training this week.
"We are getting tagged with having a poor season but we have had a great season until we lost Loic (Remy) to his last injury. There's no doubt that we're lacking a bit of cutting edge - Loic's not far away. It would be a boost for all the squad if we could get him back in and around us - hopefully we can for Stoke because that's a big game for us.
"We've lost two games heavily at home, we lost at Southampton. We need to make sure we get back on track - we have 46 points. We need to push on if we can.
"I thought in the first half it was pretty tight - a little bit tense for both teams, trying to find their way. The first goal, really and truly, was a tough decision on us. I thought it was offside and wasn't a foul either. When Mata scored I thought it settled United down and they looked a much better outfit after the goal.
"Unfortunately for us we just couldn't get into the game. The second goal was a mistake and then we had an uphill task in the form that we're in.
"We know as a team that we can defend well, but we need more threat and sometimes when you have got no threat, the opposition get more confident and they keep coming on like Southampton, and this was the same.
"At the end, Manchester United were coming forward and looking for goals and we weren't offering enough threat, and we have got to change that.
"Having said that, we have played three good teams in the last three and we know we are a little distance away with the injuries we have got in terms of quality. Manchester United can lose five players and it doesn't really affect them too much; it does us.
"But we have to make sure we go to Stoke with a team that's focused and try to win the game."

David Moyes:

"It was a perfect performance in the Premier League, which is most important. We didn't start the game as well as I'd have liked but after the first 20 or 30 minutes we got to grips with it and there were some really good performances.
"I think he (Mata) has been terrific. I also bought him for his goals, and in the first five or six games he didn't score, but his two goals today and his assist, he has made a big contribution. He has made us better.
"I thought Shinji Kagawa was very good, and Darren Fletcher in midfield, and there were some really good performances. It was a great team performance. We had to defend well and the goalkeeper made two or three great saves, and I am really pleased with the result.

"Maybe there's a big expectation at Old Trafford to go and be a bit gung-ho and play in a real attacking style. We've lost a few games by narrow margins - 1-0 (against) Newcastle United, Everton. We've lost a few games like that, whereas maybe away from home there's not as much expectancy to go and be like that.
"Pat Evra had a bit of a sore knee, Ashley Young looks like he's torn the ligaments in his hand and Marouane Fellaini was dizzy."

Goal shy United:

Shola Ameobi: 1286 minutes without a PL goal

Luuk De Jong: 614 minutes without a PL goal

Hatem Ben Arfa: 520 minutes without a PL goal

Papiss Cisse: 270 minutes without a PL goal
(ending a 350 minute run since the last one and 1,209 minutes since the one before).

With two home games to play, United have managed to score just 19 times in the Premier League at SJP to date - with five of them in one game, against Stoke City.

Just 8 of the 19 have come in the first half of games, while the "end" split is 16/3 in favour of the Gallowgate, with Leazes End spectators seeing just Yohan Cabaye's shot against Liverpool, a Yoan Gouffran back header against West Brom and Loic Remy's Boxing Day opener against the Potters.

Our lowest seasonal total in the Premier League to date is 22 (reached in 1997/98 and 2006/07), while last season and the 2008/09 relegation campaign saw 24 netted.

Having won at Old Trafford earlier in the season, Newcastle failed in their quest to record what would have been a first league double against the Red Devils since way back in 1931.

Dan Gosling made only the second Premier League start of his NUFC career in this game, over two years after the first - at Norwich in December 2011. That also ended in his side conceding four goals (United losing 2-4) and Gosling being red-carded. Today saw him complete 90 minutes in the Premier League for the first time since October 2009 (for Everton versus Bolton Wanderers).

Red Devils @ SJP - Premier era:

2013/14 lost 0-4
2012/13 lost 0-3
2011/12 won 3-0 Ba, Cabaye, OG (Jones)
2010/11 drew 0-0
2008/09 lost 1-2 Lovenkrands
2007/08 lost 1-5 Ab.Faye
2006/07 drew 2-2 Milner, Edgar
2005/06 lost 0-2
2004/05 lost 1-3 Shearer
2003/04 lost 1-2 Shearer
2002/03 lost 2-6 Jenas, Ameobi
2001/02 won 4-3 Robert, Lee, Dabizas, OG (Brown)
2000/01 drew 1-1 Glass
1999/00 won 3-0 Ferguson, Shearer 2
1998/99 lost 1-2 Solano
1997/98 lost 0-1
1996/97 won 5-0 D.Peacock, Ginola, Ferdinand, Shearer, Albert
1995/96 lost 0-1
1994/95 drew 1-1 Kitson
1994/95 won 2-0 Albert, Kitson (LC)
1993/94 drew 1-1 Cole
Full record against Manchester United:

P

W

D

L

F

A

SJP

75

30

17

28

138

117

OT

75

10

20

45

81

167

League

150

40

37

73

219

284

SJP

(FA)

1

0

0

1

2

3

OT/W/MS

3

0

0

3

1

7

SJP(LC)
1
1
0
0
2
0

OT
2
0
0
2
3
9

Cup

7

1

0

6

8

19

OT/W(CS)

2

0

0

2

2

8

Tot

157

41

37

79

227

303
NUFC seasonal comparison:

2008/09: NUFC after 33 games: 30 points, 18th position (scored 37, conceded 52)
2010/11: NUFC after 33 games: 40 points, 9th position (scored 48, conceded 47)
2011/12: NUFC after 33 games: 59 points, 5th position (scored 50, conceded 42)
2012/13: NUFC after 33 games: 36 points, 13th position (scored 33, conceded 51)
2013/14: NUFC after 33 games: 46 points, 9th position (scored 38, conceded 51)

Named on the bench by the visitors was 18 year-old striker James Wilson who is yet to make a senior debut. Wilson netted six goals against Newcastle last season in two games at U18 level, including a remarkable haul of five in 44 minutes on Tyneside in a 1-7 away victory.


Waffle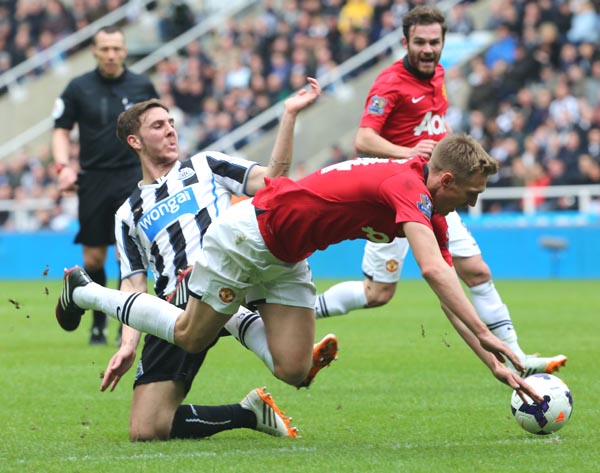 On Grand National day, Newcastle were simply never at the races, as a weakened away side won at a canter - without even breaking stride. Conceding eleven goals in three games without netting once themselves, a sixth defeat in eight home games has tested the patience of the most stalwart Toon follower. The result? a club safe in mid-table, but in free fall.

Three changes to the starting XI that was humiliated at Southampton last week made not one iota of difference to the overall performance, as the Magpies shipped yet more goals and never really looked like finding the net.

With Hatem Ben Arfa relegated back to the bench, Alan Pardew drafted in Dan Gosling to the midfield for a first senior start since returning from his loan at Blackpool. Davide Santon continued at right back while another attempt was made at pairing Luuk De Jong with Papiss Cisse.

The highlight of a drab opening half hour was a 22nd minute centre from Santon that Cisse headed firmly towards goal - only for Anders Lindegaard to parry. However a clumsy challenge by Gosling on Darren Fletcher led to a free kick on the right hand side of the penalty area from which Juan Mata fired the visitors ahead going ahead six minutes before the break.

Given our ongoing failure to recover from going behind, that opener meant that the game was as good as over and Javier Hernandez shot against the post as the Red Devils sought to extend their advantage. And within five minutes of the second half David Moyes had seen his side wrap up their tenth away league win, Mata providing a precise finish as our defence stood in admiration.

Fully ten minutes later came the arrival of Ben Arfa, replacing the pathetic De Jong to what was just about the loudest reaction from home fans in the entire game. A third Manchester United goal just after the hour mark then saw SJP begin to empty, Hernandez having the easiest of tasks after Januzaj and Kagawa combined.

At the other end, occasional forward raids resulted in Cisse missing two further opportunities to end a club goal famine that now extends to just two strikes in eight home games, Lindegaard denying him on both occasions.

Opting to replace Yoan Gouffran late on, Pardew then inexplicably preferred Shola Ameobi to rookie Adam Armstrong. With the game lost, seeing the youngster making his home debut would have been a rare uplifting moment on an otherwise awful day. Instead though the carthorse clad in the number 23 shirt lolloped on amid booing.

Adnan Januzaj then deepened the misery with another in added time via Mata's back-heel, control and movement from them coupled with shabby defending from ourselves.

Aside from the fleeting moments when Cisse had the ball in front of goal, we looked as disinterested as last week, heads dropping and confidence visibly draining away.

Content in the knowledge that if they turn up on time with their boots they will play, the senior players on view once again went through the motions and delivered a two fingered salute to their fans. The promised response to last week's debacle appears to have gone the same way as the pledge to right wrongs after the Everton cuffing.

Aside from a boisterous away following, the atmosphere in a sold-out stadium bordered on the funereal with home fans attending only from a sense of duty and loyalty. In times past this game had the hairs on the back of one's neck standing up, but not today. Where is our famous atmosphere? gone, beaten into submission like the fans.

The absence of apparently key figures from the visiting lineup and their upcoming Champions League D-Day should surely have given rise to a feeling that they were there to be beaten, but that never translated itself into any meaningful pressure from a tepid Newcastle side.

Never mind that our opponents are away day specialists though, such was the poorness of our display that it's hard to believe that any visiting team would have lost here today - such is our downturn that the recent wins scraped over Villa and Palace here in all likelihood just wouldn't have been achieved.

With no anticipation of positive or enjoyable play and no expectation of anything other than the dross that was served up again today, the absence of Loic Remy has removed the last hint of excitement or optimism.

What remains isn't worth watching, doesn't merit support and looks now to be in clear defiance of their manager. It doesn't bear thinking about what damage would be done today had the visitors been at full strength, with messrs Rooney, van Persie and Welbeck all absent on Tyneside.

The comfort of checking the league table though is surely only fleeting, with our worst run of form since relegation already casting a shadow across next season.

Putting it bluntly, we're now in so much sh*t here and unraveling at such a rate of knots that the notion of effectively regrouping for August under the current leadership seems inconceivable. Quite who this lot are playing for is questionable, but it ain't "Pards."

Far from this being a season of consolidation, it's difficult to see how and where we've progressed. As the manager admitted again today, we're basically a one man team, existing on the goals of an on-loan striker - this was a tenth game without Remy and a ninth blank return.

At any other club, the downturn in form and lack of effort and organisation on the field would be punished by the removal of said manager, who had taken the team as far as he could and was now firmly stuck in reverse. And while it's no secret to point out that this isn't any other club and that Pardew is currently doing his owner's bidding, at what point does that situation alter?

Would a poor start to next season see the manager remain in post to witness another January signing spree, or are we destined for a return to that old NUFC ploy of discarding a manager ludicrously early in the season? If a change is to be made, let it be sooner rather than later.

The lack of large-scale unrest regarding our plight doesn't mean that Pardew enjoys widespread support - and what sympathy he did enjoy for working here in constrained circumstances has trickled away week by week, game by game, press conference by press conference.


Biffa