Date: Saturday 12th April 2014, 3.07pm.

Venue: Britannia Stadium

Conditions: the usual sub-standard toss

Admission: £20: a £10 reduction on the £30 ticket price was funded by NUFC from their Premier League away fan fund.

Programme: £3.50


Stoke City

Newcastle United

1 - 0

.

Teams
42mins Surely possessing thoughts only of crossing for one of his striking colleagues, Erik Pieters lofted over a centre from the left wing that dropped over the head of his former junior international colleague Tim Krul and into the net via the far post. 0-1

Half time: Potters 1 Magpies 0

Full time: Potters 1 Magpies 0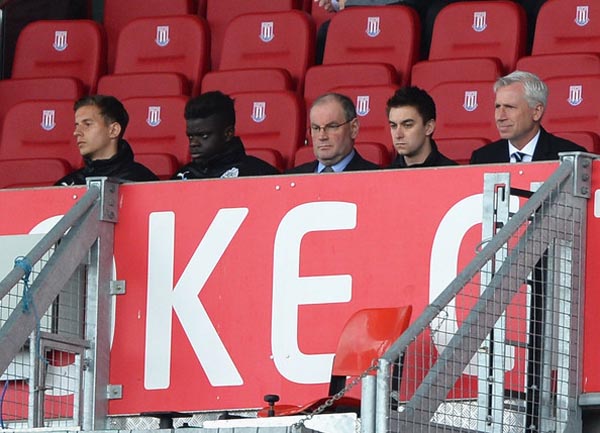 Alan Pardew's newspaper press conference as reported by the Chronicle:

National journalist: Are things harder when you are beaten by a goal like that?
AP: "Heh, yeah. It was a bit of a fluke goal and the wind I thought caught hold of it which made it almost impossible for Tim to save.

But you know it was, there was a call before that when we should have had a penalty. It was a turning point for us, because we need a goal - That would have been a nice opportunity."
National journalist: You thought it was a penalty?

AP: "Yeah."
National journalist: The fans seem to be turning against you Alan is it something you noticed from where you were sitting?
AP: "Well of course four defeats as Newcastle manager...we have 10 senior players missing."

(Anyone able to justify that stat? The only way we can do so is by including a) players who have been sold b) players we haven't yet bought c) players out on loan d) players in the current XI but "missing" in terms of form...)
"It is a difficult hold to try to fill at the moment - their frustration has boiled over a little bit. We need to settle it down, the way to settle it down is to get a win. Unfortunately it hasn't come today."
Lee Ryder: Do you think you will be able to win the fans back round?
Lee Marshall, club's PR manager: "We won't take questions from you today I'm afraid."
National journalist: Alan, how will you win the fans back round, do you think you can do that?
AP: "The only thing you can do is try and get a performance on the pitch which gives us a chance of winning. I thought it was close today - I thought we had good character in the group.
"I thought it was an honest performance but we lack creative flair and we lack a little bit of ability in and around the box. Loic's return, which I think will happen next week, will be important to us."
National journalist: In a way are you the victim of what you did in the first half of the season?
AP: "Possibly. In terms of the Cabaye and Loic losses, it has made it difficult for us to create and dictate games prior to them both being in the team, but I can't fault the players today - they gave the maximum as they could."
Pardew: "Thank you."
(Leaves rooms after 129 seconds)
SCFC tea lady: "What was all that about?"
Other AP post-match quotes reported by Sky etc:

"I thought that we gave an honest performance. It was a close game, a fluke goal for them - which is our luck at the moment.

"It's a difficult place to come and we gave a good account of ourselves today - but it wasn't enough. It's tough - especially when you're Newcastle. They've been a tough four fixtures and hopefully next week when we're at home we'll get a win.
"I'd like to see a win or two that will secure our position and secure our confidence going into the summer. We've got a good opportunity in the summer to bring players in, but we need to get ourselves a couple of wins just to steady everyone down.

"I don't feel safe - I never feel safe as a Premier League manager. We live five to six Premier League games at a time, in terms of the pressure building from the media.
"I actually don't think the media in the north-east helped us this week. I think they whipped it up, for whatever reaso
n. I know one or two of them are banned from the stadium and they probably used that as a bit of an agenda, which is a shame for us because we want them to support us.

"There's not much to add to it really, if you lose in the manner that we've lost, but also to the quality of the opposition.
"We've had four really tough games and unfortunately they've all resulted in defeats but no goals, and I think that's a tough spell to have as a Newcastle manager.
"So the frustration I understand, but I can only do the best job I can with the group I have, and I'm obviously trying to do that.

"Loic's return, which I think will happen next week, will be important to us. He's been running this week, so we'll hopefully get a performance out of him that I think the club and the team need, particularly in terms of confidence.
To have somebody like that spearheading the team, in the form he was in before he went out – he's so important for us.

"In terms of the Cabaye loss and Loic on top of that, it has made it difficult for us to create and dictate like we did prior to both of them being in the team. I can't fault them."


Mark Hughes:

"Invariably, the supposedly more difficult characters (Arnautovic) give you that spark that can change games, so you have to understand their issues, if they have issues, work around them and get the best out of them - that's what I try to do and my staff try to do.
"It's fair to say he came with a little bit of baggage, but we were probably exactly what he needed to get out of the environment he found himself in. German football, maybe because of a few episodes there, hadn't taken too kindly to him.

"He's come into an environment that appreciates him, appreciates what he can do for the team, and his personality is different and players enjoy being around him.
"It's not easy to come in and have an impact, certainly as a creative player. It's easier for defensive-minded players. When you are a creative player the onus is on you to win games and that's more difficult, but once he's got to grips with it, the second half of the season has been good for the team and good for him. In terms of his ability to cross on the run, he's one of the best I've seen.
"We haven't done anything yet - people were trying to pat us on the back for getting to 40 points, but that was never the aim. There's four games to go and who knows where we will get to?
"Newcastle are in our sights now and I would suggest our momentum is better than theirs, so who knows, we might catch them?"
"We had the vast majority of chances, any of them could have been converted. Newcastle put good balls into good areas, but defensively we were nice and sound and any pressure we came under we dealt with."

Potters v Magpies - post-WW11:
2013/14 lost 0-1
2012/13 lost 1-2 Cisse
2011/12 won 3-1 Ba 3
2010/11 lost 0-4
2008/09 drew 1-1 Carroll
2007/08 drew 0-0 (FAC)
1995/96 won 4-0 (LC) Beardsley 2, Ferdinand, D.Peacock
1989/90 lost 1-2 K.Scott
1984/85 won 1-0 OG
1978/79 drew 0-0
1976/77 drew 0-0
1975/76 drew 1-1 Gowling
1974/75 drew 0-0
1973/74 lost 1-2 Tudor
1972/73 lost 0-2
1971/72 drew 3-3 Macdonald 2, D.Craig
1970/71 lost 0-3
1969/70 won 1-0 Robson
1968/69 lost 0-1
1967/68 lost 1-2 Davies
1966/67 won 1-0 Robson
1965/66 lost 0-4
1962/63 lost 1-3 Thomas
1961/62 lost 1-3 Hale
1952/53 lost 0-1
1951/52 won 5-4 Davies 2, G.Robledo 2, Duncan
1950/51 won 4-2 (FAC) Milburn, Mitchell, G.Robledo 2
1950/51 won 2-1 Milburn 2
1949/50 lost 0-1
1948/49 drew 1-1 Milburn

(At the Victoria Ground until 1995/96 then Britannia Stadium).
Total record against Stoke:

P

W

D

L

F

A

SJP

38

27

7

4

95

32

VG/BS

38

8

10

20

33

60

League

76

35

17

24

128

92

SJP

(TM)

1

1

0

0

2

1

VG

(TM)

1

0

0

1

0

1

SJP

(FA)

4

4

0

0

11

4

VG/BS

3

1

2

0

5

3

SJP(LC)
1
1
0
0
3
0

VG
1
1
0
0
4
0

Cup/TM

11

8

2

1

25

9

Tot

87

4

3

19

25

1

53
101
Pardew's ban:

Sat March 15th Fulham (a) stadium ban
Sat March 22nd Crystal Palace (h) stadium ban
Tue March 25th Everton (h) stadium ban
Sat March 29th Southampton (a) touchline ban
Sat April 5th Manchester United (h) touchline ban
Sat April 12th Stoke City (a) touchline ban

Sat April 19th Swansea City (h) touchline ban

Mon April 28th Arsenal (a) (8pm)

It's now 1,376 minutes since Shola Ameobi scored a goal in the Premier League.

Newcastle were defeated in a fourth successive Premier League fixture for the seventh time, mirroring runs in the 1997/98, 2004/05, 2007/08 (twice) & 2008/09 seasons. They have never lost five PL games in a row. Yet.


Waffle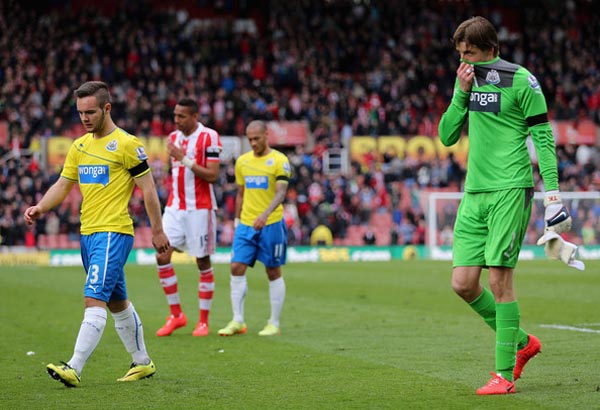 Saturday saw the Britannia Stadium host Newcastle's latest attempt at posting a performance competent and committed enough to "repay" their fans. And like other recent attempts at atonement, they failed completely.

A forgettable encounter was ultimately decided by a wayward cross from one-time toon transfer target Erik Pieters that evaded Tim Krul and went in off a post.

The Potters made and missed various other noteworthy chances to record a more resounding margin of victory, but United's all-too-familiar forward failings meant that once again, it was a case of first goal wins.

Since beating Stoke 5-1 at SJP on Boxing Day, Alan Pardew's side have failed to score in twelve of their sixteen Premier League games and given their followers just a single strike to celebrate in the last nine hours.

And having largely suffered in silence at Fulham and Southampton (at least until full time), a more partisan travelling support finally lost patience with their owner, manager and players as a fourth successive scoreless reverse unfolded in grimly familiar style.

Having started the day heartily praising the imminent demotion of their derby foes ("we're gonna have a party, 'cos sunlun's going down"), a good number of the 2,900 away supporters focused their energies on backing the bench-consigned Hatem Ben Arfa.

The enigmatic/tubby Frenchman was again unable to claim a berth in the starting XI, Dan Gosling retaining his midfield place alongside Yoan Gouffran and Cheick Tiote.

Wearing what used to be our lucky yellow change kit, Massadio Hadiara and Davide Santon dropped out while Steven Taylor made his first start in eight games in a back three with Fabricio Coloccini and Mike Williamson.

That left Paul Dummett and Vurnon Anita at wing-back, while Papiss Cisse was joined up front by Shola Ameobi, making a low-key return to his former club (six games on loan here back in 2008....0 goals. Funny that.)

It looked odd on paper but even more strange on the pitch with Anita looking totally lost down the right and Gouffran chasing his own shadow in midfield. Didn't he once used to be capable of playing up front?

From the first whistle, United looked totally disorganised and lacked any sort of cohesion - something that Pardew perched high in the stands must have seen.

With Pieters and Marko Arnautovic doubling up on Anita it seemed only a matter of time before a cross from the left would cause problems and Peter Crouch headed against a post from an Arnautovic centre after nine minutes.

United should have scored a couple of minutes later when Shola headed down for Gosling, who somehow contrived to thump his shot over the bar from close range.

The criticism of today's match referee Mike Jones that followed his disallowing of Tiote's screamer at home to Manchester City then came into effect on 23 minutes, Cisse clearly fouled in the box but no penalty kick awarded. If that's not payback, then nothing is.

City gained the upper hand again and three minutes before the interval, a mis-hit left win cross from Pieters drifted over the head of fellow Dutchman Krul and into the top corner of the net.

The goal had been coming and there was no surprise it stemmed from a cross from City's left. The manner of the goal was certainly unfortunate though and in home eyes doubtless payback for the events of December 26th that left them with nine men and their boss in the stand.

Attempting an instant reply, Tiote saw one shot easily gathered by Asmir Begovic (the only time the home 'keeper was called into action) before Gosling again found a good position in front of goal, but failed to connect with his header as the ball was powered across the area.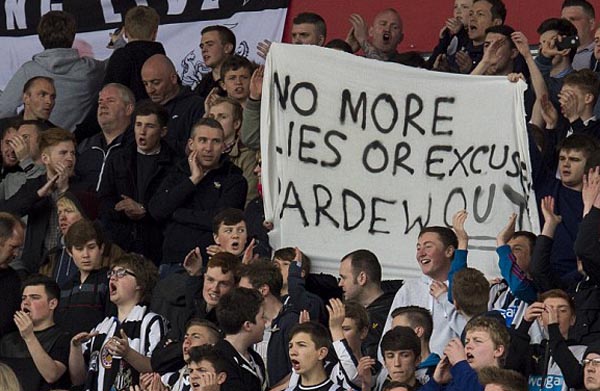 Situated adjacent to the players tunnel, Toon fans made their discontent with the poor first half display apparent, accompanying criticism of the manager ("everybody's right, Pardew's shite") waving bed sheets on which a variety of messages were scrawled: "no more lies or excuses Pardew out", "Pardew is a muppet" and the unequivocal "Pardew Out".

At this point the criticism - and support for Ben Arfa - remained mixed and noticeably less audible from one section of the away end, with the older lot seemingly retaining some patience. Again though, the sight of Newcastle followers arguing among themselves was further evidence of this increasingly divisive season.

Again resisting the temptation to alter the side at half time, the second period was little different and Crouch missed a couple of headers before Taylor appeared to pull a calf muscle and was replaced by Mapou Yanga-Mbiwa.

Williamson then had the chance to break his Newcastle duck, only for Ryan Shawcross to blocked after Cisse's cross to the far post and the ball fell to the defender.

With no further prospect of an equaliser, Gosling and Cisse made way for Ben Arfa and Adam Armstrong. But despite our line-up looking even more random, United began to make some inroads into a Stoke side for whom ex-Magpie flop Stephen Ireland had gone off after completing an hour of half-paced posturing - but was still superior to our lot.

Ben Arfa almost instantly suffered a dead leg and looked intent on departing before a touchline conflab resulted in his magically recovering
.*

(*our original match report went on to note that
"t
he lack of any Newcastle substitutes warming up from that point
was

significant
"
- thanks for those who have correctly pointed out that we had by then used all three permitted replacements, Steven Taylor having previously been forced off).

Anita had the chance to head in at the far post but the smallest player on the field couldn't direct his header downward and the ball cleared the bar.

Williamson stayed forward and had another shot blocked and Yanga-Mbiwa sliced horribly wide as our final efforts to salvage a point came and went and four minutes of added time ebbed away in typical aimless fashion.

By then though a more concerted and united away support had turned their fire on the manager, "Pardew Out" shouts increasing in volume and boos and catcalls greeting the away bench occupants and players as they retreated to the sanctuary of the dressing room.

Pardew sought later to blame the local media for inciting those supporters into that negative response, a situation that whether true or not is of course entirely due to the club banning said titles. That gives them free rein to slag them off, rather than throw a lifebelt to the beleaguered manager in the form of supportive press coverage.

The Sunday Sun responded with this back page

Remaining in ninth spot with only a three point cushion above Stoke, even achieving our "incentivised" tenth place finish is now less certain, West Ham sitting nine points behind us
with a game in hand.

The need for a positive home display - and result - next Saturday is now imperative to try and prevent this rift from becoming a chasm. Like our other home opponents Cardiff though, Swansea will travel to Tyneside in dire need of points and knowing that they are there for the taking by the simple expedient of finding the net first.

And for all the understandable bluster about the wheels coming off the Gus Bus, the reality of the situation is that we're no better and on course to suffer a similar fate in twelve months without drastic surgery to this team.

In terms of tactics and motivation though, the mood of the support is hardening against the manager - and his players look to be offering a similar no confidence vote, both on the field and in the treatment room.

While dumping Pardew would be a short-term remedy, the constraints any manager here has to work under would mean that like Hughton, his replacement would be of a similar level, with similar underwhelming and limiting aspirations imposed on his shoulders.

That continues to be the greater issue.


Niall/Biffa

Dedicated to Graham Helling aka "Big Issue" from all your pals. RIP.