Date: Monday 28th April 2014, 8pm.
Live on Sky Sports

Venue: Emirates Stadium

Conditions: the usual

Admission: £25.50: a £10 reduction on the £35.50 ticket price was funded by NUFC from their Premier League away fan fund.

(AFC charged £35.50 in 2012/13).

Programme: £3.50


Arsenal

Newcastle United

3 - 0

.

Teams
26mins Moussa Sissoko needlessly conceded a free kick that was swung into the Newcastle area by Santi Cazorla and touched home by Laurent Koscielny - a soft goal that mirrored Olivier Giroud's winner at Gallowgate last December.0-1

42mins Olivier Giroud got beyond the United defence when running on to a through ball from Mikel Arteta and although Krul blocked his first two shots, the ball ran free for Mesut Ozil to score 0-2

Half time: Gunners 2 Magpies 0

66mins Giroud claimed his goal, latching on to a fine Ozil centre from the left wing to head past Krul 0-3

Full time: Gunners 3 Magpies 0
Alan Pardew:
"I know they're disappointed and angry at the moment (the fans) that we haven't got a result.

"I'm looking at the job as a long-term opportunity for myself. That's how you have to focus.

"I've got the greatest support in the country but not when you have six defeats next to your name. It's not comfortable and it's a pressure that's on us all.

"It's important if you're leading a group to be strong. The media don't leave you alone and you have to show character. The only way we can get out of this run is to show more character on Saturday like we did in the second half tonight.

"I know the fans will make the stadium positive for us because the players need that confidence. We've been in the top 10 all year and we intend to stay there.

"In the first half of the campaign people might say we excelled to a degree but I thought we gave good value for money for this football club.

"But in the second half we haven't and next season we have to make sure we give the fans full value for the investment we have made through the 38 games.

"We're going to work hard in the summer to make sure we have a team that can make this city proud."



Arsene Wenger:

"They (Newcastle) have gone through a difficult period but they have been safe for a long time. It is always difficult to maintain your focus when there is nothing to go for. You need that urgency in the top level.

"It is not done yet (to qualify for the Champions League). I am long enough in the job to know that to get over the line is always difficult. We have suffered enough this season in periods not to be complacent. The pain we went through will remind us to focus and do the final job well. We are in a strong position now.

"One more win will be top four for sure. It will show that the club has been consistent over the years, but we want more. Overall this season I think we have been 17 times top of the league, but at the crucial period of the season we have lost many players.

"We have got to the FA Cup final having played against Liverpool, Everton, Tottenham and in the Champions League we went out against Bayern with 10 men. We have shown we have potential, but we want more next season and hopefully we can do it. But first let's finish this season.

"We have to live with reality. We have shown quality but at the moment we have 73 points, we can make 79. Letís finish as high as we can and analyse after where we can improve, what was right and what was wrong."

In 2014, Alan Pardew's side have taken just 13 points from a possible 51:

West Bromwich Albion (a) lost 0-1
Manchester City (h) lost 0-2
West Ham (a) won 3-1
Norwich City (a) drew 0-0
mackems (h) lost 0-3
Chelsea (a) lost 0-3
Spurs (h) lost 0-4
Aston Villa (h) won 1-0
Hull City (a) won 4-1
Fulham (a) lost 0-1
Crystal Palace (h) won 1-0
Everton (h) lost 0-3
Southampton (a) lost 0-4
Manchester United (h) lost 0-4
Stoke City (a) lost 0-1
Swansea City (h) lost 1-2
Arsenal (a) lost 0-3

A fourth successive failure to score on our travels means that it's now 360 minutes since Vurnon Anita struck from close range at Hull City on the first day of March. Since then we've conceded nine times without scoring away from home:

Fulham (a) lost 0-1
Southampton (a) lost 0-4
Stoke City (a) lost 0-1
Arsenal (a) lost 0-3

With one game to go, we remain on seven away wins this season, after taking maximum points from Aston Villa, Cardiff City, Spurs, Manchester United, Crystal Palace, West Ham and Hull City. That tally is equal to the total recorded in 16 of our 19 full Premier League seasons*:

9 wins: 1993/94, 2001/02
8 wins: 2011/12
7 wins: 1995/96, 2013/14
6 wins: 1994/95, 1996/97, 2002/03, 2005/06,
5 wins: 2010/11
4 wins: 1998/99, 1999/00, 2000/01, 2006/07
3 wins: 1997/98, 2004/05, 2007/08
2 wins: 2003/04, 2008/09, 2012/13

(*1993/94 and 1994/95 were both 42 game seasons, since then it's been 38 games)

With one game to go, we remain on 19 away goals scored this season. That tally is equal to the total recorded in 8 of our 19 full Premier League seasons*:

34 goals: 2001/02
31 goals: 1993/94
28 goals: 1995/96
27 goals: 2002/03, 2011/12
22 goals: 1998/99, 2004/05
21 goals: 1994/95, 1999/00, 2012/13
20 goals: 2007/08
19 goals: 1996/97, 2003/04, 2005/06, 2013/14
18 goals: 2000/01
16 goals: 2008/09
15 goals: 2006/07, 2010/11
13 goals: 1997/98

(*1993/94 and 1994/95 were both 42 game seasons, since then it's been 38 games)

With two games to go, we have conceded 57 goals this season. That tally is equal to the total conceded in 16 of our 19 full Premier League seasons*:

68 goals: 2012/13
65 goals: 2007/08
59 goals: 2008/09
57 goals: 2004/05, 2010/11, 2013/14
54 goals: 1998/99, 1999/00
52 goals: 2001/02
51 goals: 2011/12
50 goals: 2000/01
48 goals: 2002/03
47 goals: 1994/95 2006/07
44 goals: 1997/98
42 goals: 2005/06
41 goals: 1993/94
40 goals: 1996/97, 2003/04
37 goals: 1995/96

(*1993/94 and 1994/95 were both 42 game seasons, since then it's been 38 games)

Arsenal became the fifth and final side to complete a win double over us in the Premier League this season, after Manchester City, Everton, the mackems and Swansea City.

The Gunners won their fifth successive game against Newcastle and haven't lost to us in the last seven meetings - all which came under the management of Alan Pardew. United's last victory was the 1-0 Emirates success in November 2010, when Andy Carroll's header separated the sides.

Magpies @ Gunners - Premier years

2013/14: Lost 0-3
2012/13: Lost 3-7 Ba 2, Marveaux
2011/12: Lost 1-2 Ben Arfa
2010/11: Won 1-0 Carroll
2008/09: Lost 0-3
2007/08: Lost 0-3
2007/08: Lost 0-3 (FAC)
2007/08: Lost 0-2 (LC)
2006/07: Drew 1-1 Dyer
2005/06: Lost 0-2
2004/05: Lost 0-1
2003/04: Lost 2-3 Robert, Bernard
2002/03: Lost 0-1
2001/02: Lost 0-3 (FAC)
2001/02: Won 3-1 O'Brien, Shearer, Robert
2000/01: Lost 0-5
1999/00: Drew 0-0
1998/99: Lost 0-3
1997/98: Lost 1-3 Barton
1996/97: Won 1-0 Elliott
1995/96: Lost 0-2 (LC)
1995/96: Lost 0-2
1994/95: Won 3-2 Keown og, Beardsley, Fox
1993/94: Lost 1-2 Beardsley
(@ Highbury until 2005-06 season, Emirates thereafter)
Total record against Arsenal:
| | | | | | | |
| --- | --- | --- | --- | --- | --- | --- |
| | P | W | D | L | F | A |
| SJP | 80 | 40 | 19 | 21 | 142 | 91 |
| H/Em | 80 | 22 | 17 | 41 | 85 | 137 |
| League | 160 | 62 | 36 | 62 | 227 | 228 |
| SJP(FA) | 2 | 0 | 2 | 0 | 4 | 4 |
| H/Em/W/VG | 8 | 4 | 0 | 4 | 7 | 12 |
| SJP(LC) | 1 | 0 | 0 | 1 | 0 | 4 |
| H/Em | 3 | 0 | 0 | 3 | 0 | 8 |
| Cup | 14 | 4 | 2 | 8 | 11 | 28 |
| Tot | 174 | 66 | 38 | 70 | 238 | 256 |
Unhappy Mondays - we've now lost our last four Monday matches:

2012/13 Wigan (h) won 3-0
2012/13 Fulham (a) lost 1-2
2013/14 Manchester City (a) lost 0-4
2013/14 Everton (a) lost 2-3
2013/14 Arsenal (a) lost 0-3


Waffle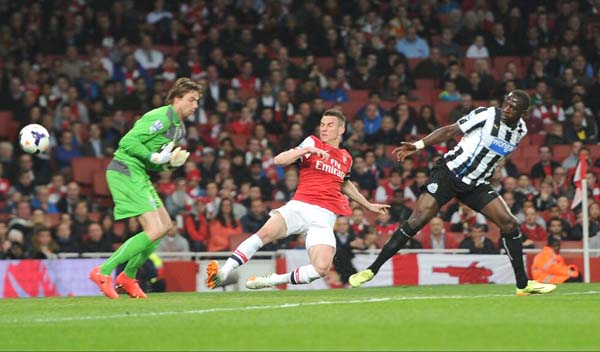 An entirely predictable home win at the Emirates Stadium on Monday left the Gunners on the verge of Champions League qualification and
consigned

Newcastle
to a six game losing league run - their worst sequence of results since 1987.

Losing to a side beaten just once on their own pitch this season with the best home defence in the league was neither a disgrace or a surprise, but another toothless and tame United display did nothing to lift the gloom currently enveloping the club and manager.

Alan Pardew's return to the dugout after a seven game absence during which his side took three points from a possible 21 had little discernible effect on a side who
are

clearly suffer
ing

from a crippling lack of self-belief.
And the mood amongst many of the 1,800 fans present was just as depressed, support rapidly translating into abuse and gallows humour once Tim Krul had conceded.

"Alan Pardew, it's six in a row", "Alan Pardew, it's never your fault" and "You're nothing special, we lose every week" tell the story of a club stumbling towards the end of a season that is now completely toxic. And that's from the fans who haven't yet voted with their feet....

While other teams attempt to park the bus,
United's defensive strategy was more reminiscent of a pogo stick propped up against the goal frame, Arsenal making their usual slow start and showing little early on.


That

attempt at damage limitation tonight lasted for 26 minutes before Laurent Koscielny
's opener
set the tone. One goal is usually enough to beat us, but Arsenal took a stranglehold on the points - ensuring bragging rights over North London rivals Spurs again - after 42 minutes
.

With only Cheick Tiote threatening Wojciech Szczesny's goal before the break, Yoan Gouffran then broke forward around the hour mark, only for his effort to be blocked by the Gunners custodian.

That's as good as it got.


Once Giroud made it 3-0 on 66 minutes

the game ceased to have any element of a spectacle, Paul Dummett volleying over in the closing moments to deny the away support the scantest of consolations
as the Arsenal crowd and players tuned up for next month's Wembley date.

Losing by three clear goals was a smaller margin than the 3-7 reverse endured on our last visit to N7, but that night we showed far more spirit before succumbing to a side who were forced to work rather harder for a win bonus. Had Arsenal needed to score six, they would have done.

Tonight saw Pardew's team post a display which may well have registered on spreadsheets that record effort levels, but which lacked any endeavour, heart, spirit or soul.

Along with a certain element of streetwiseness, those were the attributes that brought about a 1-0 win here back in 2010 and a 4-4 at SJP the following year. They seem a million miles away now though, with no hint of a personality on or off the pitch to cajole or rabble rouse.

The meek shall inherit the earth apparently - and they've already made base camp in our dressing room....

Post-match chatter centred on attempts to gain support for a mass walkout after 60 minutes of Saturday's visit of Cardiff City. Given this team's current rate of implosion though, even sticking around for an hour might be beyond the call of duty for many Magpie malcontents.

In the face of adversity, we used to summon up defiant chants that "Newcastle, United will never be defeated." After six demoralising losses though, the lack of unity is glaringly evident and mirrors the fractured relationship between manager and fans. There's a clear need for a figurehead at this club to restore some self-respect, organisation and belief.

That man is not Alan Pardew.


Biffa