Date: Saturday 3rd May 2014, 3pm

Venue: St. James' Park

Conditions: disturbed


| | | |
| --- | --- | --- |
| Five different programme covers were on sale, picturing a quintet of internationals in the shirts they'll hope to be wearing at the World Cup Finals in Brazil | | |
| | | |
Newcastle United

Cardiff City

3 - 0




Teams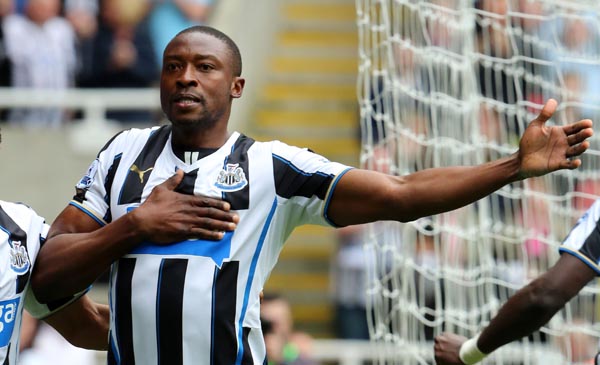 18mins Moussa Sissoko advanced down the Newcastle right before supplying a fine cross that was headed home at the far post in front of the Gallowgate End by an unmarked Shola Ameobi 1-0

Half time: United 1 City 0

87mins Cheick Tiote progressed down United's right flank before picking out Loic Remy for the simplest of finishes to control the ball and poke it home to claim his fourteenth Toon goal. 2-0

90+1 mins A flag kick played short from the North East corner was pulled back from the byline by Dan Gosling for Remy to nod down and as Marshall attempted to clear, the ball went in off Steven Taylor's chin from a yard out, although he then followed up to lash the ball into the net. 3-0

Full time: United 3 City 0

Alan Pardew managed to completely miss the point when asked about the negative reaction from fans:

"It is understandable. We had gone so long without winning and they are very frustrated. They want to see us challenging at the top of the league.

"That is difficult with the finances that we have, but we have got the chance in the summer to hopefully to bring in some quality players and try to get into the top five or six.

"We are all frustrated. But I have to take my hat off to the players because the environment was very, very tough for them and they showed tremendous character. It was that depth of character that we needed.

"I am frustrated a little bit, of course. Some of the criticism has been a little bit left-field and a little bit over the top, and that's fuelled the anger here. You have to accept that, unfortunately, when you lose six as a Newcastle manager.
"They are upset, they are angry - I understand that. I apologise to them for the last six games and hopefully, we have taken a very, very small step towards them.
"Coming to the sideline, I was only antagonising them and I don't want to do that and make the atmosphere worse for the players, so it made a lot more sense to let John (Carver) do that and take a seat.
"You have to be resilient in the modern day. We have lost half the Premier League managers this year - we might even lose another four or five in the summer.
"It is sometimes a thankless task. It was difficult today, I'll make no bones about that."

Getting rather more of a grip on the situation was former manager Alan Shearer:

"There has to be a big improvement and I think he's well aware of that (Pardew). Newcastle fans don't expect them to be in the top three but they want to have belief. They want to have hope that they can go out and score goals and defend properly.

"They want to have hope that when decent players become available that they can go out and buy them in the transfer market. And also when they do have good players they don't want them to be sold.

"It's been so frustrating for them, they're angry - and rightly so."


Ole Gunnar Solskjaer:

ďI have to face the facts -Iím not one to hide, I face things head on and I knew what I was coming into. I didnít make the impact I hoped for and believed I could, but thatís something for me to chew on for a little while.

"The realisation weíre down is very, very disappointing, itís probably the hardest moment in many of those playersí careers Ė and mine as well. But Iím a warrior, might not look like it, but Iíve had times in my football career that were very disappointing and youíve just got to stand up and fight for yourself. Iíve never given up in my career and itís never nice to be relegated but weíve got to show we can bounce back up.
ďThe club has been at the top of the Championship for the four seasons before this one, a club used to challenging at the top, and we have to take advantage of that experience and use this one to learn lessons.

"Before this year we had four seasons at the top of the Championship, now we have gone down and taken a step back, next season will be about showing character and bouncing straight back.

"I have a contract. We have had meetings. Of course I am just planning for the next game right now, and then I will be planning forward. I always knew it was going to be a tough job but we have stuck at it.

"We have been unlucky at times, and we have done well at times. Against Newcastle, we played really well and created a massive amount of great chances, but we just didn't take them.

"My players are obviously very disappointed - with the effort they put in against Newcastle, they did not deserve to lose. They are a fantastic bunch who have given everything for the cause, but it was not enough.

"It will not be easy to lift them for the final day. We wanted something to play for in the last game apart from our professional pride to give our supporters a good send off for the summer.

"But this is not the time to reflect on the season. We want to go and do ourselves proud against Chelsea next week."

Bluebirds in Toon -all time:
2013/14 won 3-0 Sh.Ameobi, Remy, S.Taylor.
2013/14 lost 1-2 Cisse (FAC)
2009/10 won 5-1 Carroll 2, og, Lovenkrands 2
1983/84 won 3-1 Waddle, Keegan 2
1981/82 won 2-1 Varadi, Trewick
1980/81 won 2-1 Clarke, Shoulder
1979/80 won 1-0 Shoulder
1978/79 won 3-0 Connolly, Withe, Robinson
1964/65 won 2-0 Hilley, Anderson
1963/64 lost 0-4
1962/63 won 2-1 Fell 2
1960/61 won 5-0
1956/57 won 1-0
1955/56 won 4-0
1954/55 won 3-0
1953/54 won 4-0
1952/53 won 3-0
1947/48 won 4-1
1938/39 won 4-1 (FAC)
1928/29 drew 1-1
1927/28 won 2-0
1926/27 won 5-0
1925/26 lost 0-1
1924/25 lost 1-2
1923/24 drew 1-1
1922/23 won 3-1
1921/22 drew 0-0
Full record v Cardiff:
P
W
D
L
F
A
SJP
25
19
3
3
60
16
NP/CS
25
4
9
12
29
44
League
50
23
12
15
89
60
SJP(FA)
2
1
0
1
5
3
NP/CS
2
1
1
0
2
0
SJP(LC)
0
0
0
0
0
0
NP/CS
0
0
0
0
0
0
Cup
4
2
1
1
7
3
Tot
54
25
13
16
96
63
The win was the first time that United have closed off their home league programme with three points in eight attempts (both Premier League and Championship):

2013/14 Cardiff City won 3-0
2012/13 Arsenal lost 0-1
2011/12 Manchester City lost 0-2
2010/11 West Bromwich Albion drew 3-3
2009/10 Ipswich Town drew 2-2
2008/09 Fulham lost 0-1
2007/08 Chelsea lost 0-2
2006/07 Blackburn Rovers lost 0-2
2005/06 Chelsea won 1-0

Steven Taylor's added time effort ensured that United exceeded their lowest previous seasonal home goal total in the Premier League of 22 (in 1997/98 and 2006/07).

United eventually crept up to the 23 goal mark in their 19th Premier League match at SJP this season - with five of them in one game, against Stoke City (the only other occasion we scored more than twice in front of our own supporters). Last season and the 2008/09 relegation campaign both saw 24 home goals netted.

Just 9 of this season's 23 came in the first half of games, while the "end" split is 17/6 in favour of the Gallowgate.

United went in for their half time cuppa at SJP ahead for the first time in thirteen home league and cup games, not enjoying an interval advantage since Southampton's visit here back in mid December.

Shola Ameobi's goal was the 79th of his SJP career and 43rd in the Premier League. He now occupies joint-third in the club's all-time Premier League goalscorers list:

1. Alan Shearer 148
2. Peter Beardsley 46
3. Andy Cole 43 / Shola Ameobi 43

Steven Taylor netted for the fourteenth time as a Magpie - his first goal since May 2010, when forcing the ball home from close range at the same end in a season -closing 3-3 draw against West Bromwich Albion.

Waffle

A tale of two Uniteds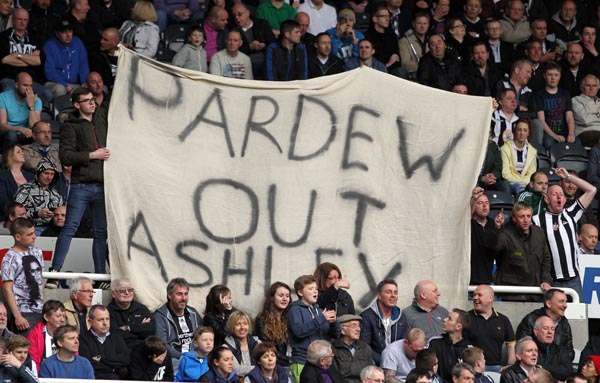 60+ minutes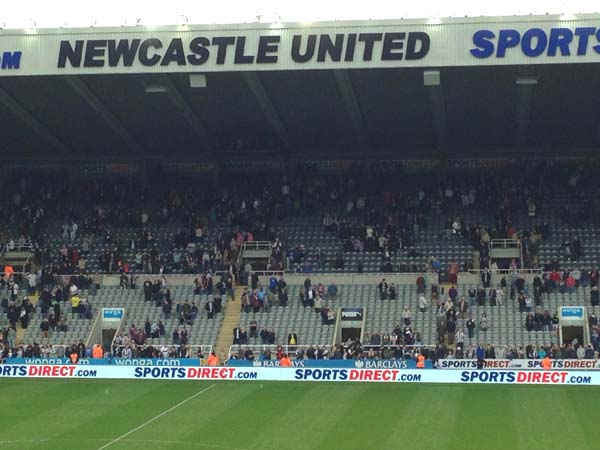 90+ minutes
Where to start?

Newcastle's six match losing run was ended and Cardiff's return to the Championship confirmed, but they were side issues on one of the strangest days at SJP in memory.

What on the face of it looked like a resounding win that came close to sealing a top ten finish for the home side and triggering bonuses for staff and players was in reality somewhat different - and rather less comfortable.

The final home game of this campaign will be remembered though for off-field events, as the level of discontent with the current state and direction of the club felt by some fans was made evident beyond any question.

That manifested itself in the noisiest backing for the team on home turf all season, but also sustained and vitriolic abuse of both owner and manager - and ultimately the promised second half walk-out from some supporters.

Such was the level of abuse directed at Alan Pardew that he left coaches John Carver and Steve Stone to patrol the technical area, after his early forays from the bench prompted loud booing from all sides of the ground - a far cry from conducting the SJP "choir" in seasons past.

The fractured nature of our support was then underlined when greater numbers than had walked out remained in their places to applaud the squad on a lap of honour - although the vast majority of the crowd had exited in the moments before and after the full time whistle.

Interlude - a short history lesson:

"I can't stop the reaction of the crowd. They are what they are. We thanked the ones who stayed behind...the expectation here is so high."

Alan Pardew's comment? nope, the words of Sir Bobby Robson after the final home game of the season in May 2004, when a spontaneous vote of no confidence in him and his team resulted in a collective walkout at full time before the planned lap of honour. We finished fifth in the league that season and exited from the UEFA Cup at the semi-final stage.
Right, back to 2014:


United opened brightly; Loic Remy hesitating when well placed after just 40 seconds and failing to shoot, before Mathieu Debuchy saw his header touched on to the Gallowgate crossbar by 'keeper David Marshall.

Shola Ameobi then opened the scoring after 18 minutes, supplying a close range headed finish to a peach of a cross delivered from the right flank by Moussa Sissoko. Almost inevitably though, after deflected Sissoko efforts twice struck the woodwork, United failed to kick on and were grateful to Tim Krul for preserving their half time lead, his outstretched foot denying Wilfried Zaha.

With ex-Magpie Craig Bellamy taking to the field for the second period, the visitors continued to press forward, United clearly looking to stonewall Ole Gunnar Solskjaer's side and showing precious little attacking invention.

The visitors made and missed two gilt-edged chances, ex-mackem Kenwyne Jones almost announcing his arrival from the bench with a side-footed effort saved by Krul before only Fabricio Coloccini's miraculous goal line clearance prevented Aron Gunnarsson from a certain equaliser.

That incident came after the promised walkouts: some choosing the 60th minute to leave, others departing nine minutes later and a steady stream thereafter seeing the crowd shrink considerably by the time Remy made it 2-0.

Given that the published 50,000 crowd reflected tickets sold rather than numbers actually present, estimating the exact size of the protest is tricky, but between 2,000 and 4,000 fans look to have heeded the called-for exit strategy.

The majority of those leaving came from the Strawberry Corner and Gallowgate End - where various banners and bedsheets had been displayed and resulted in flare-ups that involved fans, police and club stewards.

However, departures from all four sides were noted at this point - including one or two from within the Directors Box. While some of the departed doubtless headed for the pub, others saw out the remainder of the game gathered in the vicinity of SJP, many around the Jackie Milburn statue.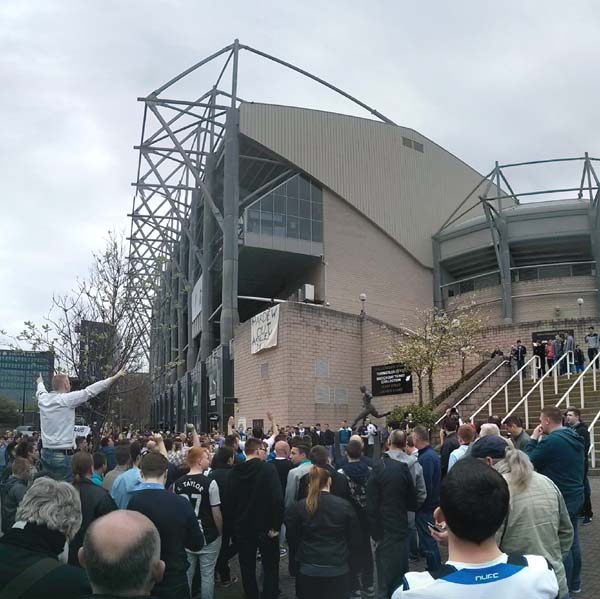 Into the closing stages, the game was reminiscent of our final day misery at Villa in May 2009 - Cardiff slipping out of the league after conceding once and being unable to rouse themselves into scoring against a six-man home defence, who were inviting them to make a game of it.

Added time then added a veneer of credibility to the full time score, Cardiff's desperation to push on for a goal finally creating defensive gaps that even our soft shoe shufflers couldn't fail to exploit.

First, Cheick Tiote set up Remy to finally make the game safe before a double rarity - a goal stemming from our corner (sort of) and a delighted Steven Taylor getting on the scoresheet, substitute Dan Gosling setting up Remy to head goalwards and Taylor gobbling up the scraps.

Sissoko also ran the length of the field before blazing over when a simple sideways pass would have surely brought another goal before the final whistle sounded, Pardew shaking hands with City staff before disappearing down the tunnel after a brief clap towards the Milburn Stand.

The manager then failed to emerge for what began as a drift towards the centre circle, but became a lap of the pitch led by messrs Carver and Stone and witnessed by an estimated 8,000 fans who had remained behind.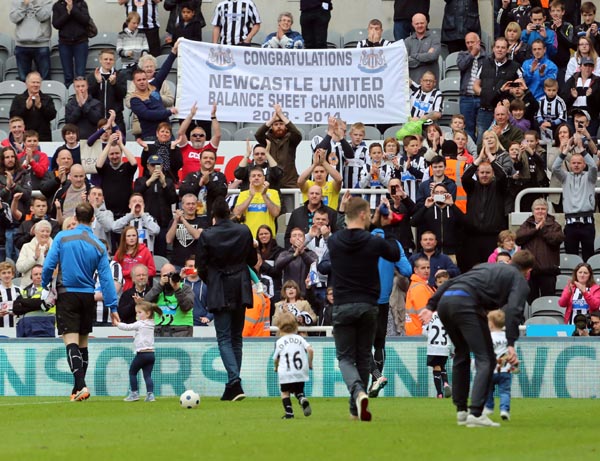 Among that support were dissenting voices and banners, and some who remain unhappy with their lot but still opted to stay and acknowledge the likes of Shola and Steven Taylor.

That pair may well have appeared here for the last time today after over 20 years, 600 games and 90 goals combined. And while their current presence in the team underlines our drift, they were at least worth applauding for efforts in happier times like Barcelona, Bayer Leverkusen and strikes against that lot from down the road.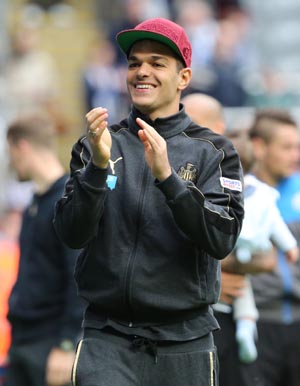 Many of the players were accompanied by their bairns - including Ryan Taylor (strongly applauded) and Hatem Ben Arfa - who had watched the game from the players section in the North West Corner, where he acknowledged various songs name-checking him.

(Far away in another galaxy, almost in that part of the ground, Mirandinha's appearance mid-match in a season closer against Millwall provoked similar scenes. He never played for us again either...)
Following the final whistle, Debuchy approached the Gallowgate End before throwing his shirt into the crowd and applauding all four sides of the ground - gestures which strongly suggest this may well have been a personal farewell to SJP.

Which of his playing colleagues will be here when hostilities recommence is anyone's guess (although Cheick Tiote reportedly pledged his allegiance) and the same can be said for those in the stands.

Unless there's a shift in ambition and investment - or a managerial/ownership change - then protest in some form will presumably continue at games next season, when the current points cushion we enjoy will vanish and the threat of relegation becomes real.

Similar unrest played a part in our last demotion and today's scenes had unpleasant echoes of the Hull City home game in the 2008/09 season - not least seeing supporters of the same club clashing with each other. Others of course have already opted to stage their own walkout by canceling season tickets and direct debits - a silent protest that may prove to be rather more effective in prompting a rethink.

When the emotions subside, it's balance sheets not bed sheets that tend to count. As long as he's got your money, he doesn't give a ****. For many present here today the over-riding reaction may have been one of anger, but sadness summed up our post-match feelings. To be walking out of this ground in such a joyless fashion after a 3-0 home win is nothing short of tragic.

Surely someone can see that getting the crowd back onside means that great things are possible, or the alternative is continue like this into oblivion.


Biffa